What to expect at Tiger Kingdom Phuket?
The Tiger Kingdom Phuket might not be to everyone's taste and opinions. While it aims to educate and raise awareness about these magnificent creatures, concerns have been raised about the ethics of such interactions and the impact on tiger welfare. We went to see for ourselves if the animals were well treated. The place is surprisingly large, clean and very well organised and as soon as you enter, you'll see the several options offered to the visitors.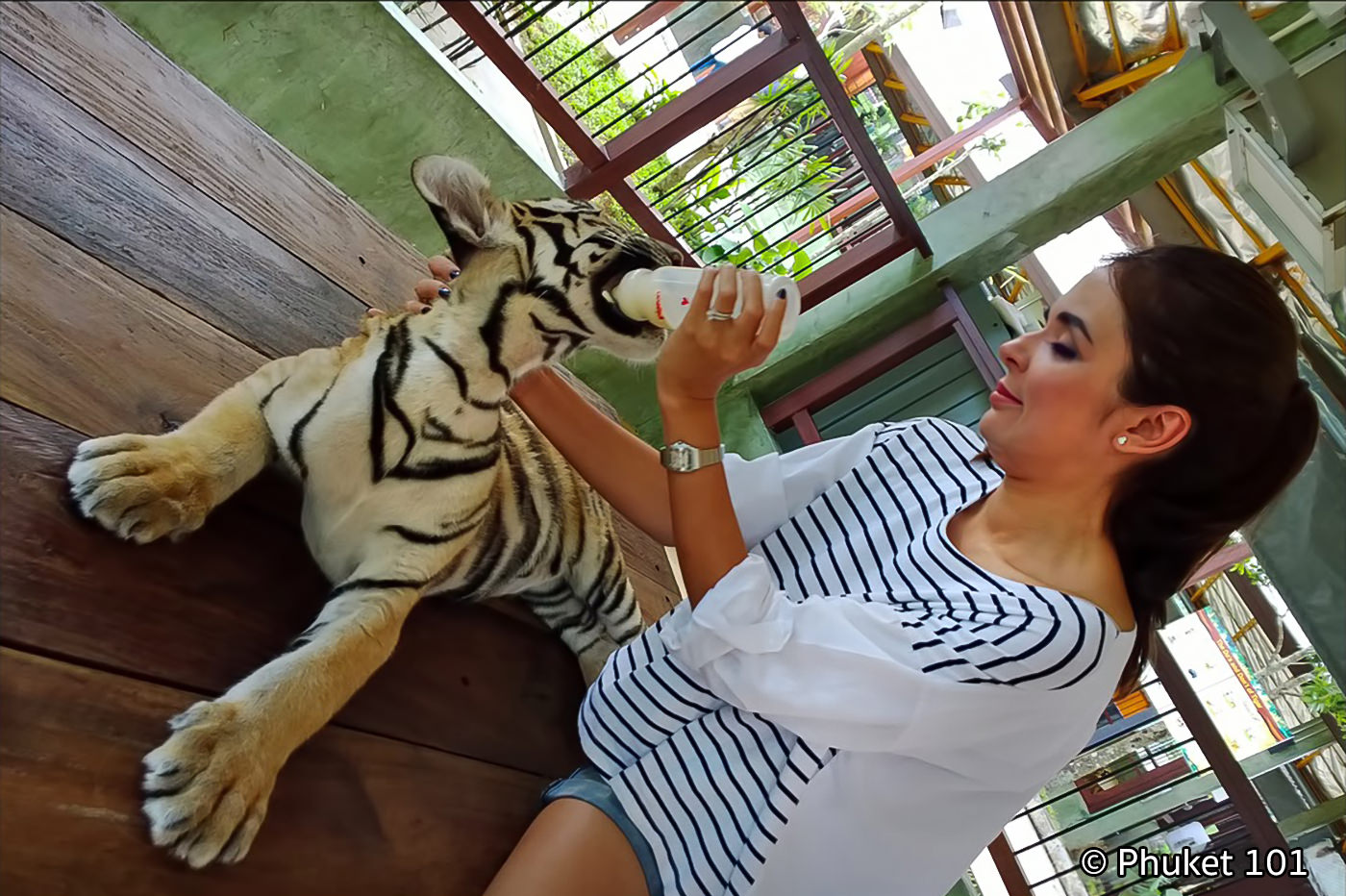 There are five sizes of tigers at Tiger Kingdom Phuket, plus a couple of cheetahs: newborn, smallest, small, medium and big, and the price is according to popularity. The cute cubs and the massive adults are the most popular, but you can choose all combinations according to your budget, be aware that it doesn't come cheap.
We went in and asked lots of questions. The animals are in excellent condition, nicely groomed with beautiful fur, no bad smell and the enclosures are kept spotless. Many of the tigers are lazing around, leading inevitably to the general statement 'tigers are drugged', which no one can prove nor demonstrate. The guide's answer was they were not; this is the daytime behaviour of well-fed tigers born in captivity. He said we should return at 5 pm when tigers get hungry and see how restless they become. Tigers responded well to the attention given to them.
The guide gave us a lot of interesting information, so don't hesitate to ask anything as they speak English. For your safety, there are rules to respect: wash your hands before walking in (tigers are cleaner than you are :D). Don't bring your bag inside, as tigers love to play with the straps. Don't use flash, don't walk alone in the parks and don't make a loud noise. Once we saw the size of the beasts, we certainly didn't feel like doing anything that could upset them. The young tigers might be considered 'small', but just one of their paws is as big as your face!
We went around several rooms and gardens and took our photos, and whether we agree with the idea of tigers being kept in captivity, it is hard not to have a broad smile when holding a baby tiger or lying down next to a full-grown feline. So we did our inspection and were reassured that the animals were extremely well treated. Now it is entirely up to you to decide whether you want to see the tigers.
Photos of Tiger Kingdom Phuket
---
Tiger Kingdom Phuket Prices
Prices at the time we visited The Tiger Kingdom Phuket are as follows:
New Born: Adults: 2,500, Kids: 1,500 baht
Smallest: Adults: 1,300, Kids: 1,000 baht
Small: 900 baht
Medium 900 baht
Big: 1,000 baht
Giant: 1,200 baht
---
---
Then you can get combinations:
Two tigers (big or medium + small) 1,700 baht
Three tigers (big or medium + small + smallest) 2,500
Four tigers (big + medium + small + smallest): 3,500 baht.
Since everyone who enters the enclosure has to pay the full price, the total bill can be quite steep, whether you want to take your photo with the feline or not.
Tiger Kingdom Phuket Info
Location: Kathu
Address: 118/88 Moo 7, Kathu, next to Go Kart
Open: 9 am – 6 pm
Phone: 076 323 311
Price: starts from 900 baht per person to 2,500 baht per person
Note: there is a photographer on-site to take your photo if needed (500 baht)
---
Tiger Kingdom Phuket Map
---
More reading