Zipline Adventure in Phuket Jungle
Flying Hanuman Phuket is an immense zipline adventure in the jungle above Kathu village, somewhere between Phuket town and Patong. If you need a break from your lazy day on the beach and if you travel with friends, this is an unforgettable adventure. It's actually a perfect way to spend a cloudy day with a good laugh and some amazing stories and photos to take home.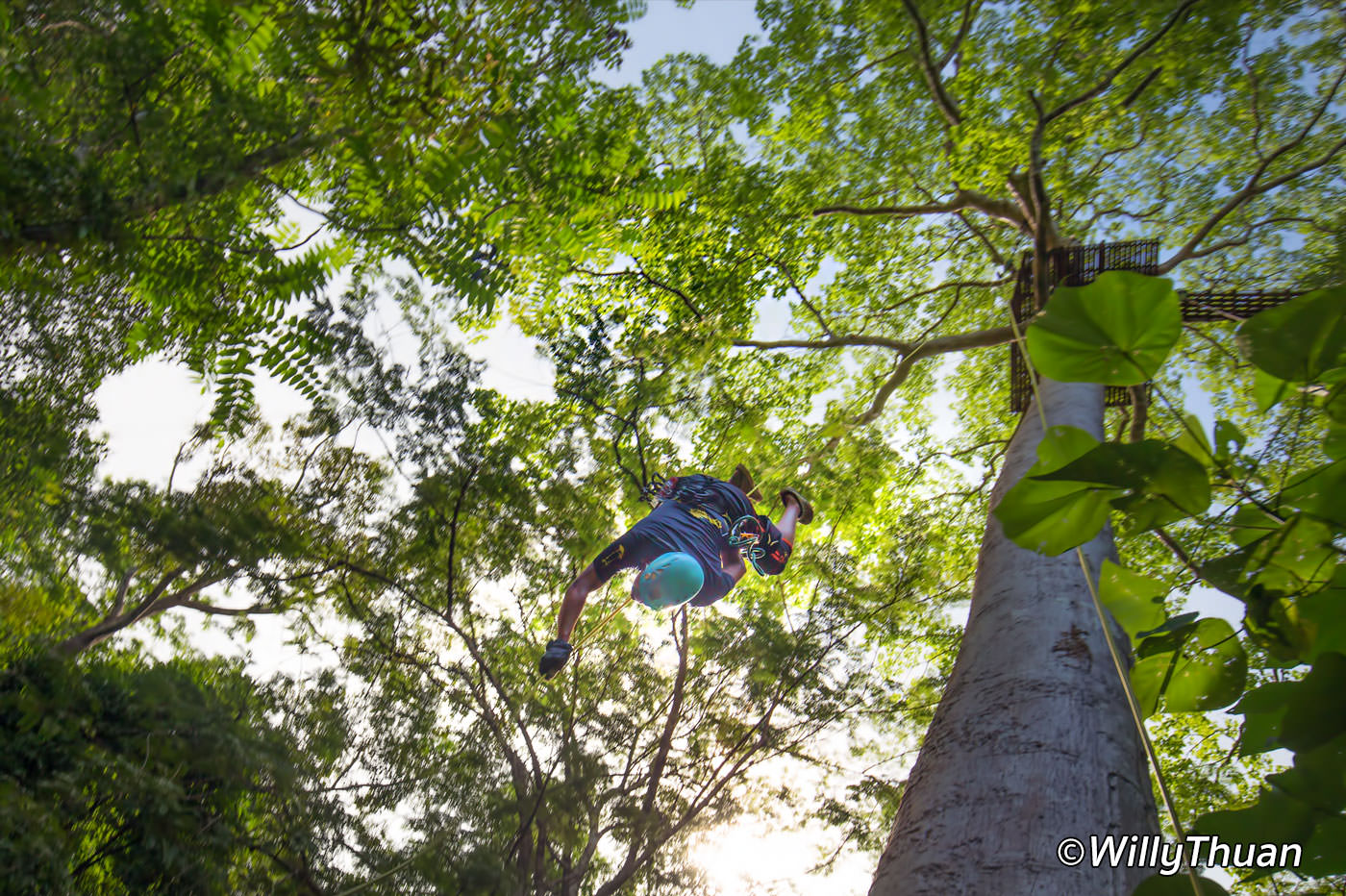 It's incredibly impressive and slightly intimidating. And yet, it's easy, fun and of course very safe. Just to give you an idea (and probably put you to shame, kids from 4 years old can join and the adventure. Seriously. I saw one kid as you can see on the photo and she was less scared than was (see photos lower).
The setting itself is superb. Your mini van will drive up a hill of Kathu and drop you at the reception. Here, all the houses: reception, office and bar are beautifully designed with natural materials in the middle of immense trees. There are 4 courses per day so if you are a little early and finished your registration, just relax enjoy the bar under the immense trees.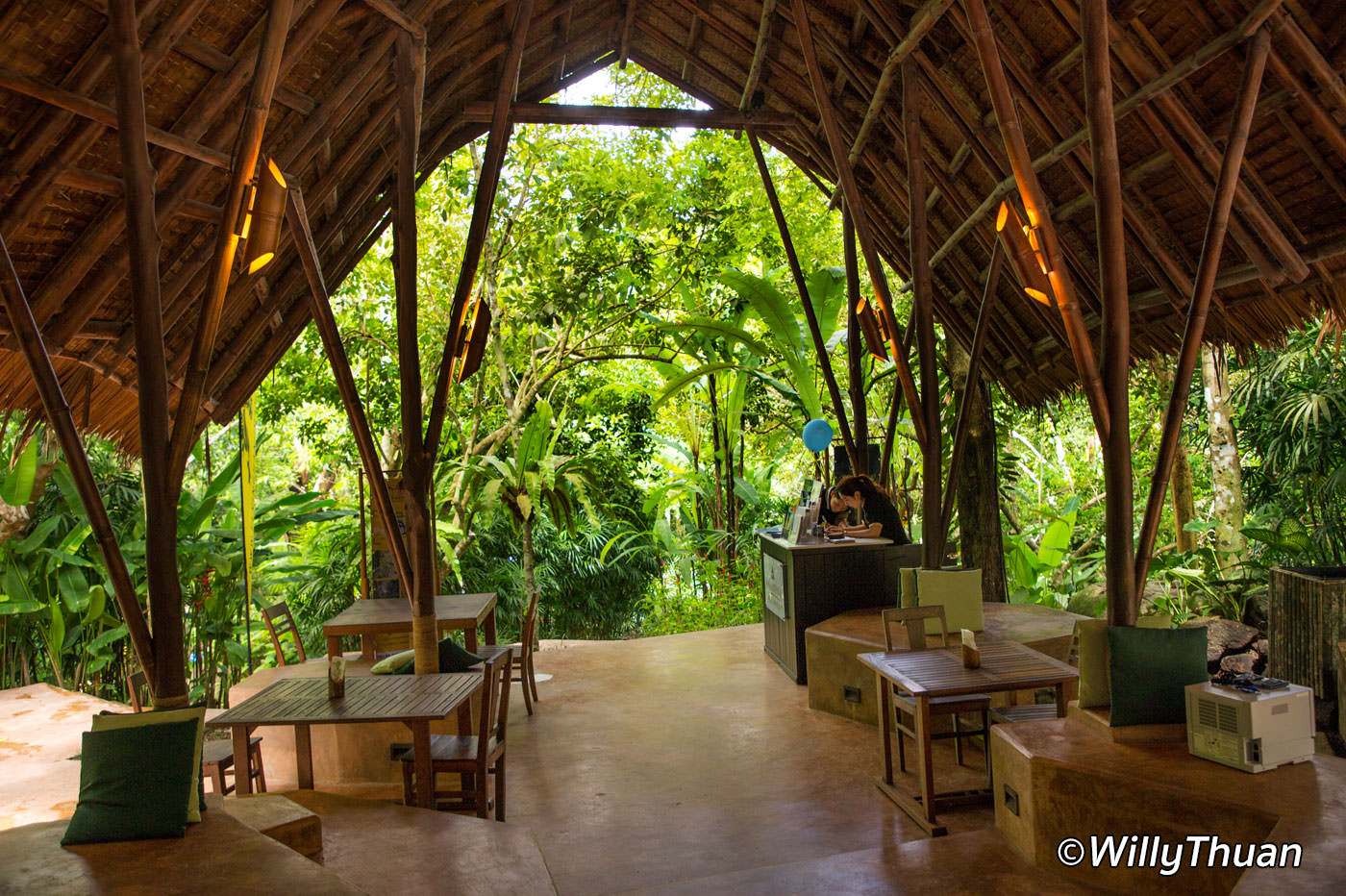 Preparation
When it's your group's turn, staff will equip with a safety harness and a helmet. The team is super friendly, fun and very serious about safety! As a photographer I had to go on through an off-the-beaten-track path to reach a good photo location but my assistant made sure my harness was always secured to the closest safety line. Very impressive.
You will then be taken to the first platform and your jungle adventure will start. It can be rather impressive as platforms are often very high, up to 40 meter, but everyone does it (including that little 4 years old girl!)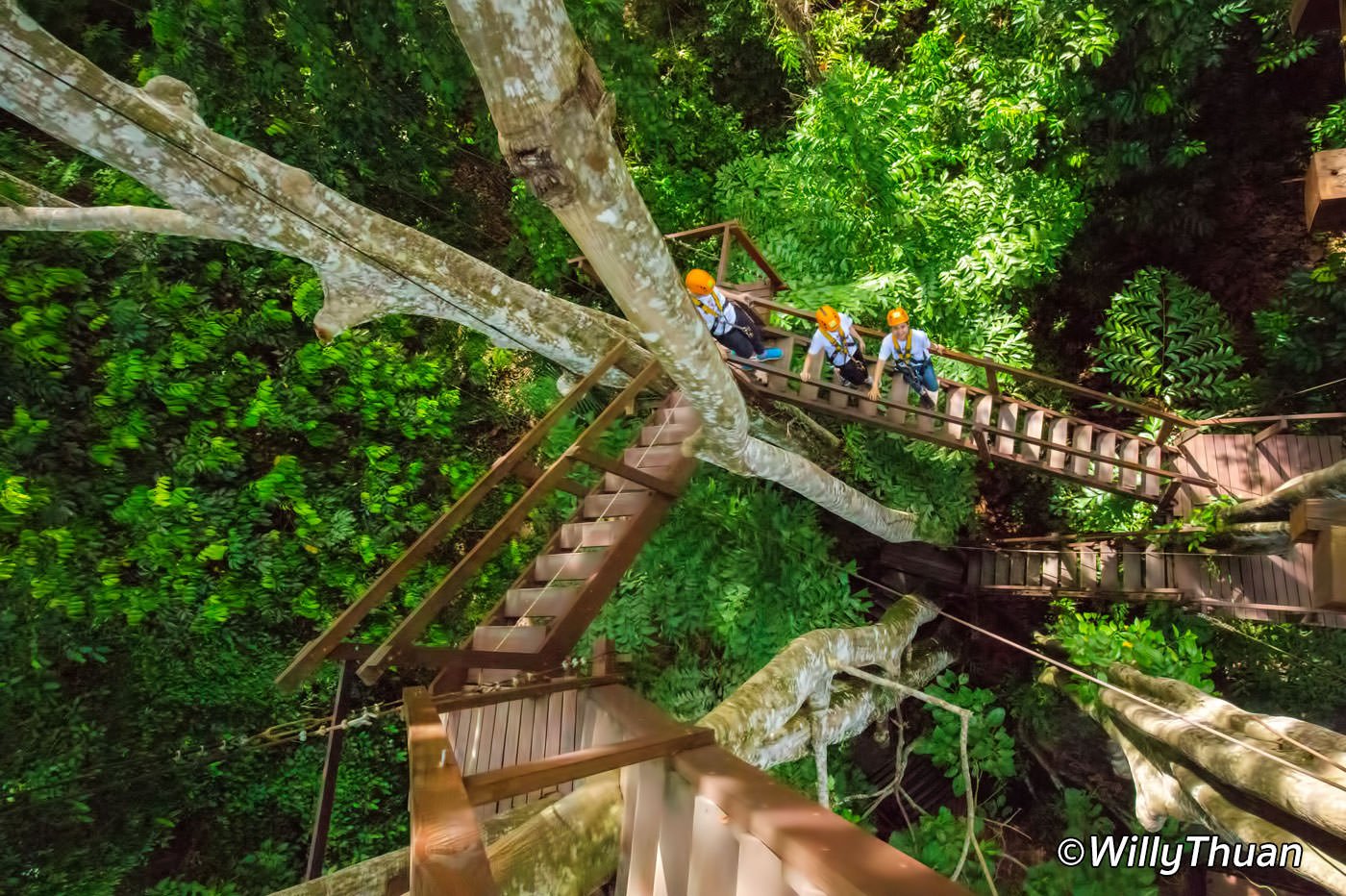 The Course
The course consists of 28 wooden platforms built in an eco-friendly way to respect the trees and connected by 2 sky bridges and 15 ziplines. The park covers 80,000 square metres of forest, the highest platform is 40 meters high and the longest zipline is 400 meters long!  And in case you wondered, Hanuman is the god-king of the apes and the patron of martial arts and an example of courage, fortitude and excellence in Thailand.
There will be screams and laughs and unforgettable moments as you walk on wobbly wooden bridges and zip down incredibly long cables (the longest one is no less than 400 meters!)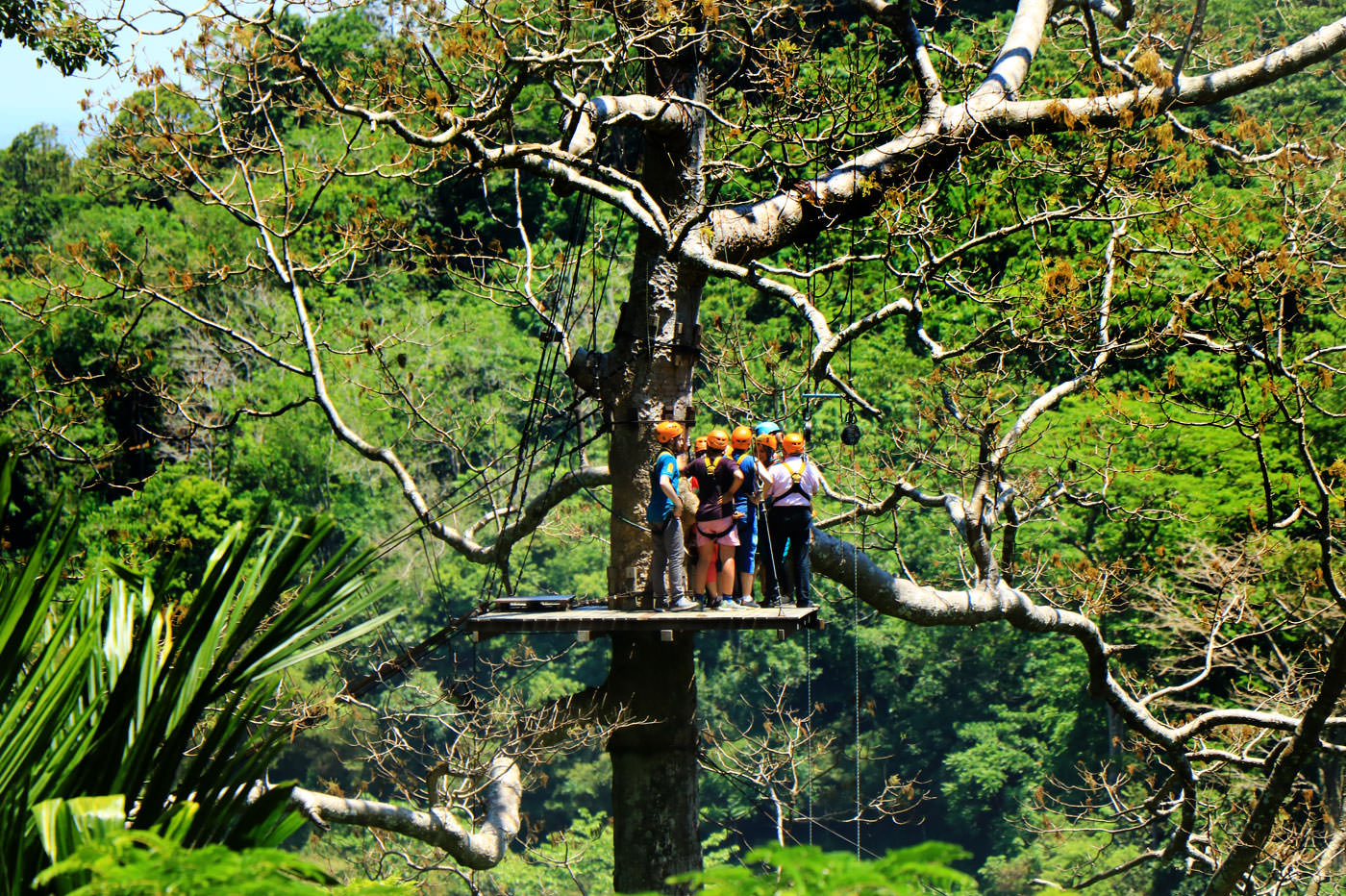 Most people have just enough courage to hold on to their harness as they zip down (rather fast), but the braves can try more challenging adventures: glide down horizontally like superman does, or hang upside down like a real monkey. Honeymooners can even go down the line together and get their romantic photo taken (very popular). The whole course takes about 2 hours and each group start at 8 am, 10 am, 1 pm and 3pm. You can book online or ask your hotel.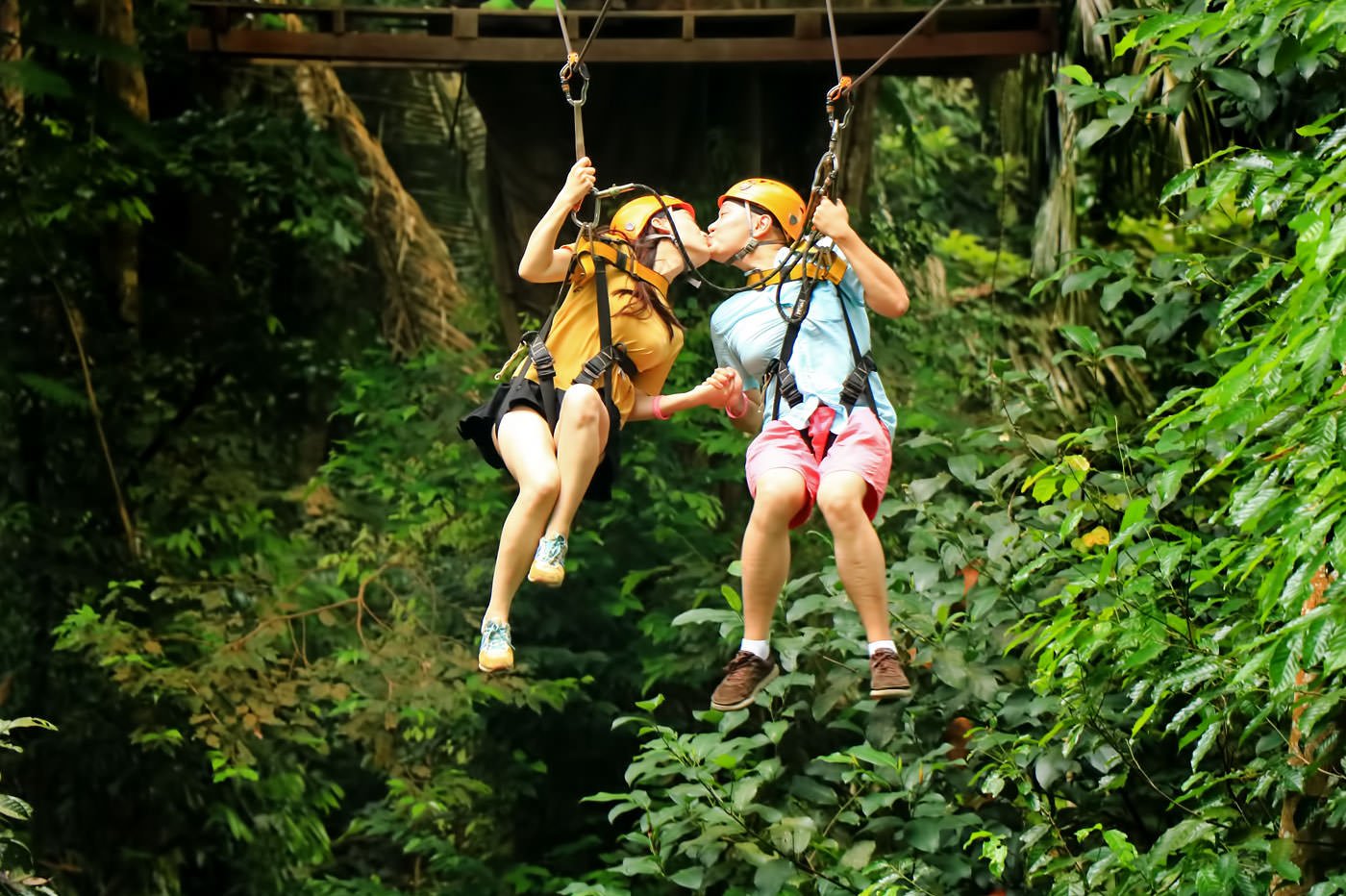 As there are 4 or 5 photographers always on duty, you can be sure to take home the proof of your courage in the jungle of Hanuman! (300 baht per framed photo). And when you post your amazing photo on your Facebook of Instagram, you can even add that the Kardashians themselves were at Flying Hanuman! (You just don't have to specify it was not on the same day)
Map of the Forest Course

Photos of Flying Hanuman
Flying Hanuman Prices
Location: 89/16 Moo 6, Soi Namtok Kathu, Wichitsongkram Road, Kathu, Kathu, Phuket 83120
Open: 8am – 5pm
Courses: 8am – 10am – 1pm – 3pm
Phone: 076 323 264-5, 081 979 2332
Prices: 3,250 baht (28 platforms), 2,300 baht (16 platforms), 3,490 baht (28 platforms + meal)
Map of Flying Hanuman