A fun rooftop bar in Patong Beach
The KEE Sky Lounge rooftop bar at the Kee Resort in Patong Beach has been popular for years, but it got a significant facelift, and it sure looks right now! The rooftop bar invites you to the sun deck of a luxury cruiser, one of the best places in Patong, to enjoy a sunset with a cocktail and great music. The rooftop is in a very strategic location, near Bangla Walking Street and the beach.
KEE Sky Lounge is on floors 6 and 7 of the Kee Resort Phuket, and you access it via an elevator near the ground floor bar (not far from the reception desk). The 6th floor is not much different from what it used to be: a circular illuminated central bar surrounded by dining tables where customers sit for dinner. It's a lovely setting; the above floor is where you should aim.
On the 7th floor, enjoy cocktails and tapas on one of the few loungers distributed on a wooden deck. In the back part of the rooftop, you can also relax in an oversized jacuzzi surrounded by a large circular sofa. Overall, the cruise liner setting is beautiful, and it starts to be known, so you should come early to get one of those super comfortable loungers before they all get taken!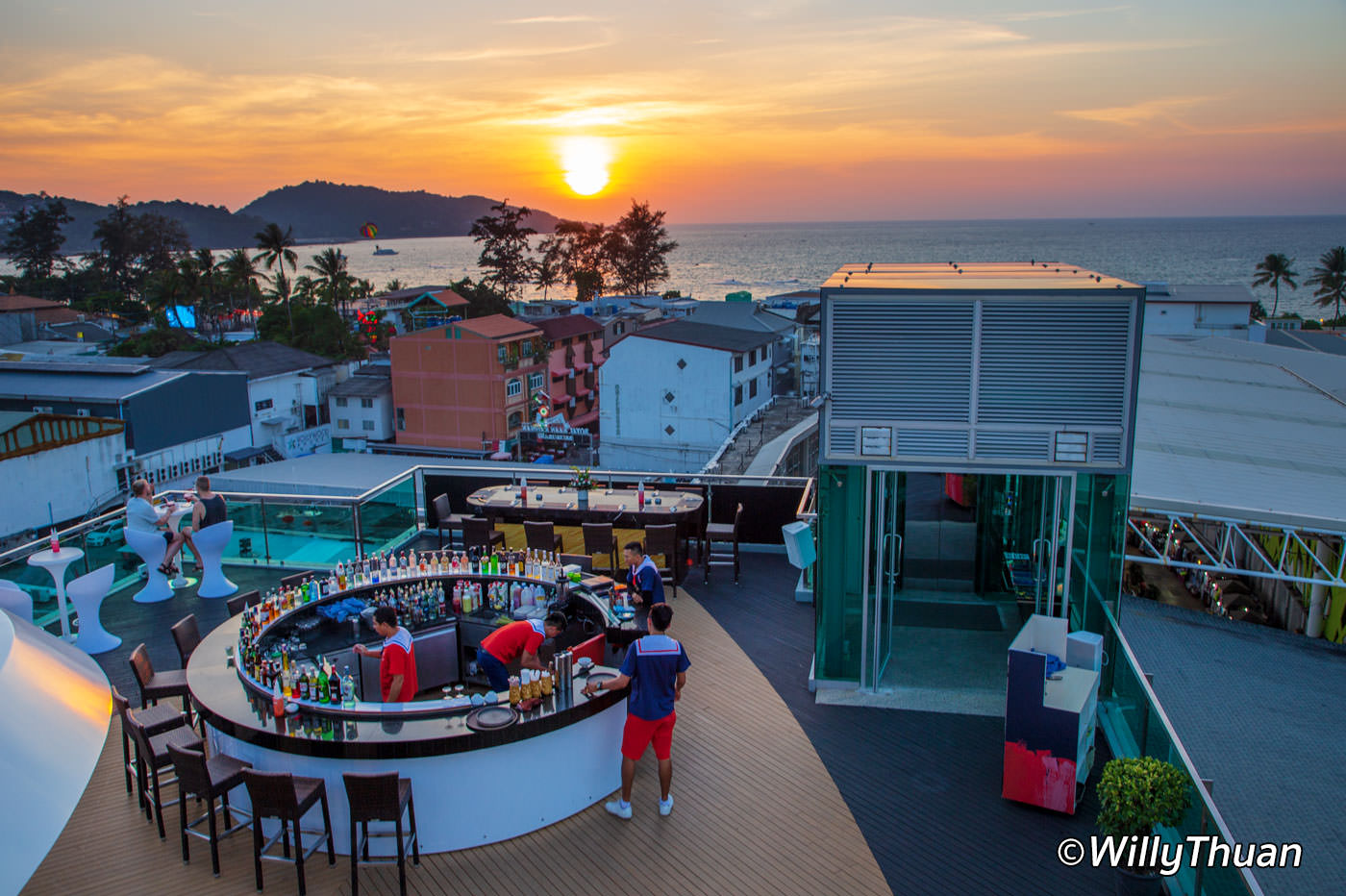 Prices are reasonable, and Sky Lounge is an excellent escape from Bangla madness with a cocktail and a sunset as a backdrop. The Kee Resort is also benefiting from a great location, just between the beach and the notorious nightlife of Bangla road.
What to Eat
We only had a few tapas but didn't try the restaurant, which serves an impressive choice of dishes. US scallops salads (550 baht), grilled tiger prawns (1,100 baht), Wagyu beef (1,100 baht), Australian lamb (1,100 baht), Australian mussels (850 baht). Deserts look equally delicious.
The staff is amiable and attentive, I really felt like being on board a cruise liner gliding over the crowded streets of Patong Beach.
KEE Sky Lounge Photos
KEE Sky Lounge Info
Location: Patong Beach
Address: The Kee Resort, 152/1 Thaveewong Road, Patong Beach
Open: 5 pm – 12 am
Phone: 076 335 888
Floor: 6th and 7th
Price: A little high – Happy Hour available
---
KEE Sky Lounge Map
Things to Do at Night in Phuket
More places to visit
See also: