A fun and colourful kids club in Phuket Town
(Advertorial)
Happy Kids Club is a great children's playground conveniently located inside Central Floresta, on the outskirts of Phuket Town. The kids club is a perfect location if you decide to go shopping, need a bit of time to pamper yourself at the spa or have dinner alone as a couple. It's a convenient place to safely leave the kids while you are having a hair treatment or go to the nail salon. (Which would be impossible with the kids running around). It's also a perfect way to keep the little ones happy on an occasional rainy day.
The Playgrounds
The Kids Club is superbly designed, very colourful and with so many fun activities, toys and games that the kids will probably be impatient to see you leave so they finally can go bouncing on the big trampoline, play on the pirate ship or go down the slides!
Happy Kids Club is vast, safe and divided in several rooms; each dedicated to a type of activity and an age range (but children are free to go from one place to another, under the supervision of the crew of course)
Little Submarine (Kids 1 to 3 years old) is a safe playground with soft surfaces, great for the toddlers who can play with toys and fluffy animals, or in the supervised painting and play dough area.
Zero Gravity is a big trampoline protected by a net.
Pirate Adventure is a huge and fun wood ship with slides and a sea of rubber balls. Kids will love to can climb on its decks or play hide and seek in the cabins.
Aquarena is a cool movie theatre with children's movies and some big-screen child-friendly games.
Imagination Tree is a creative space with all kinds of activities and workshops.
Activities
You can let the kids play by themselves, or sign them up for a fun and creative workshop, which is free or only 100 or 150 baht! They will learn how to make peacock origami, so they'll be so proud to teach you too once back home. The free workshops will teach them how to draw an animal handprint, build a balloon lantern, a bird kite, a rainbow rice collage or a unicorn hat. So much for them to enjoy and proudly bring back to mom and dad.
A Happy Bag design, T-shirt painting, and mini aquarium cost 150 baht. Space Playdough, and which kid wouldn't love to make a magic snow globe or a dino egg soap for only 100 baht!
Babysitting
A dedicated babysitter can take care of babies under 1 year, and up to 4 years old. The minimum time is 2 hours and the maximum is 4 hours. Some packages are available if you have 2 or even 3 toddlers. Just keep in mind to call in advance on weekends to make sure a babysitter is available since this is the time when many parents have the same idea!
Birthday Parties
Whether you are in Phuket for a long time or his or her birthday happens to be during your holiday, you can make this special day fun and memorable!
Happy Kids Club team can organise all kinds of birthday parties with themed decorations and fun cakes! Just call 091 826 8353 in advance to make the necessary arrangements.
'Famous Coffee & Cake'
Alternatively, if you want your child to have a fun time with the many activities and other kids without having to worry about you, you can enjoy a drink at the Famous Coffee & Cakes coffee shop just opposite. From there, You can see how they play on their own while having a little break!
Safety
Safety and cleanliness are taken extremely seriously. The entire playgrounds, toys and equipment are cleaned regularly with approved products. The team is trained for first aid assistance. They also casually check kids' temperature at the welcome station before entering, to make sure other kids don't catch anything.
Happy Kids Club Prices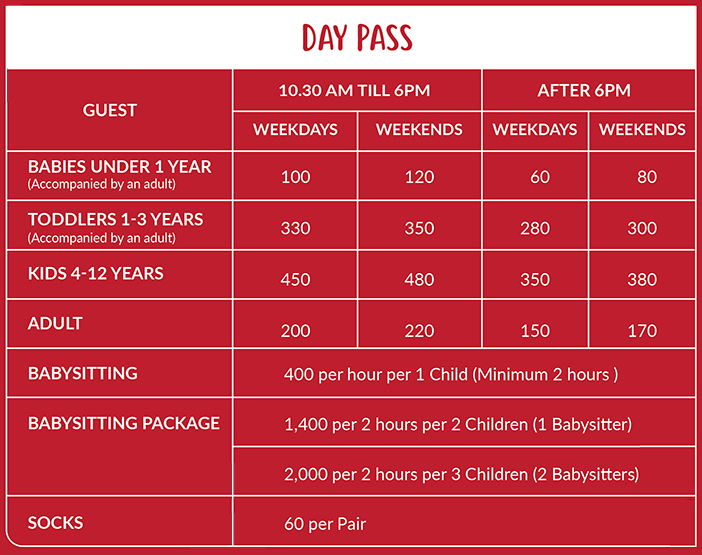 ---
Happy Kids Club Information
Location: Phuket Town
Address: 199 Moo.5, Central Floresta Phuket (B Floor, Vichitsongkram Rd, Muang, Phuket 83000
Open: 10.30 am – 9 pm
Phone: 091 826 8353
Facebook: https://www.facebook.com/happykidsclubphuket/
Website: https://www.happykidsthailand.com/
---
Happy Kids Club Map
FAQs about Happy Kids Club