A water park near Bangtao Beach
Blue Tree Phuket Water Park is an immense playground designed for adults and kids to spend a day of fun in the warm waters of a tropical island. With its multicolour and brightly decorated buildings, the park is easy to spot on the roadside of Cherngtalay, on the way to Bangtao beach. This 17,000-square metres lagoon is gigantic, with an impressive restaurant building and a vast array of water activities, water slides, zip lines and paddleboards.
The main attractions are, of course, the several sets of water slides around the Blue Tree Lagoon. The one that catches everyone's attention is, without a doubt, the quadruple 'slip n fly' slides. This imposing set of ramps is 30 meters long and throws people up high in the air, followed by a rather impressive water landing in a big splash.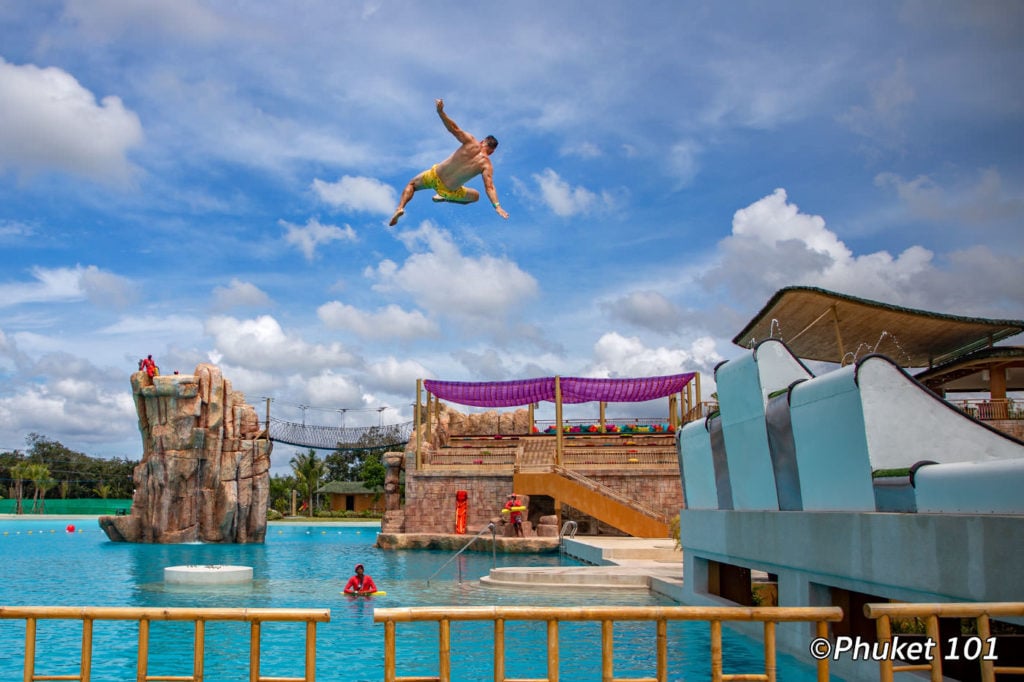 Some of the landings looked painful. There are four parallel slides, each a little higher than the next, and while it seems only higher by a couple of meters at the top part, it will project you much higher at the end. People seem to think twice before picking the highest one. You can choose to slide down head first or feet first. Feet first appeared to be most beginners' choice, but it seems that headfirst is safer since you will land feet first in the water.
Other slides around are more gentle, and kids love them a lot. Safety is taken very seriously everywhere, and you can see staff in their blue outfits everywhere, making sure that the landing area of each slide is clear for the next person coming down.
Dining and food
Blue Tree has five restaurants and bars: Treehouse beach lounge, Treehouse restaurant, Treetop, Bay grill and Sunset bar, plus some additional food trucks for fun. Some are open all day, and the one at the top of the main building opens only in the evening. We had a light lunch there, and it was surprisingly good.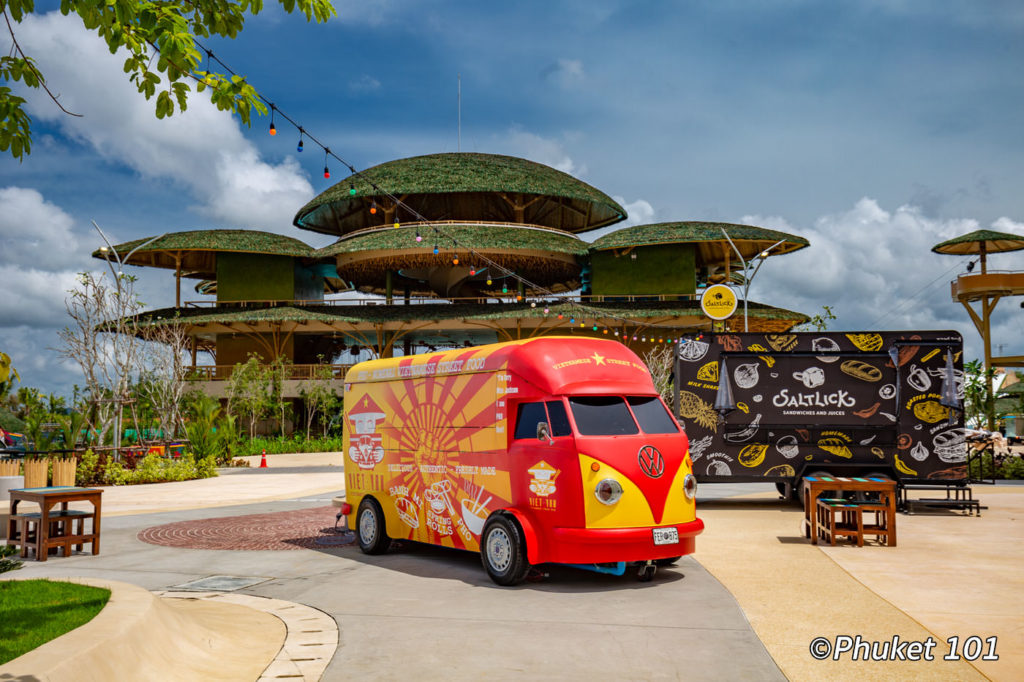 Land activities
Blue Tree offers more to visitors than just water activities. Kids (and adults too) can enjoy a considerable amount of land activities as well as an impressive trapeze training and a skating rink. The exercise Parcours looked fun but also intensive — something the young ones will love.
Shopping Village
At the front of the Blue Tree water park is the shopping village. Very colourful and reminds us of old Phuket town with the covered arches of Thalang road shophouses. As we visited, the workers were adding the last touches and all the shops were empty, with a stingy smell of fresh paint. Some tenants were starting to move in. This kind of shopping village in the middle of nowhere can be a real challenge. Most of them barely survive; many just close because o the lack of visitors.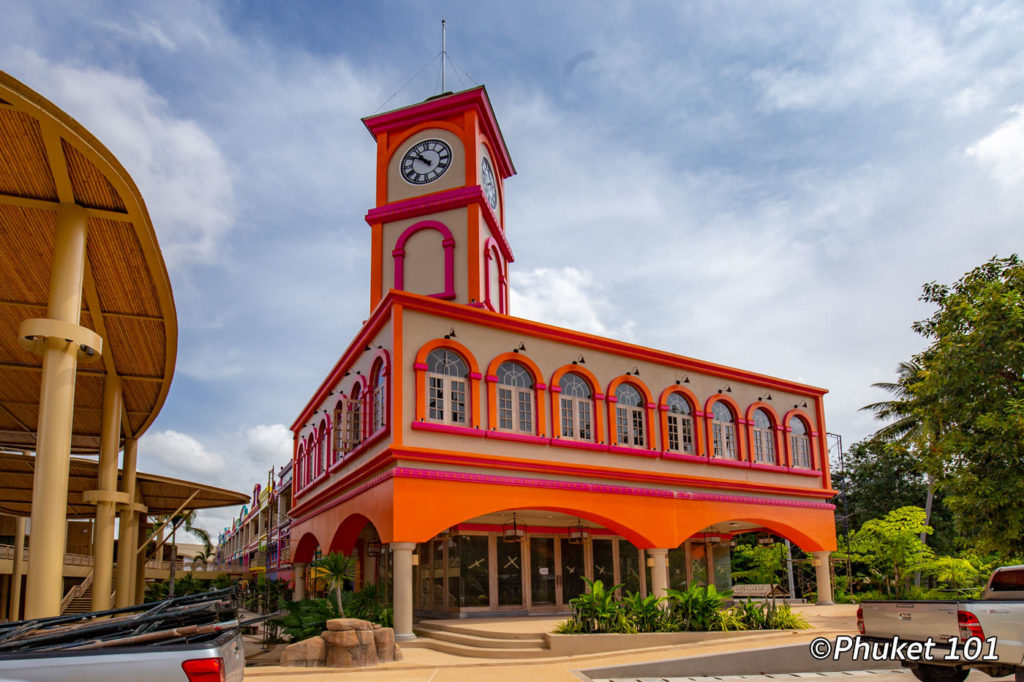 More photos
---
Blue Tree Phuket info
Location: Cherngtalay
Address: 4/2 Srisoonthorn, Cherntalay, Phuket 83110
Open: 10 am – 6 pm
Phone: 076 602 435
Price: 950 baht for adults, 350 Baht for kids
Contact: https://www.facebook.com/BlueTreePhuket/
---
Blue Tree Phuket Prices
Adults: 950 baht for adults, full access to all rides, 650 baht to swim and relax (no rides included),
Kids less than 120 cm: 350 Baht
Day Package: 1,350 baht with full access and 500 baht credit on food and beverages.
---
Blue Tree Phuket Map
Get the directions on your phone: https://goo.gl/maps/tt6p3YyfMMxFgivEA
Book these Waterparks
More reading