Where to fin great Kanom Jeen in Phuket
Kanom Jeen is without a doubt our favourite Thai breakfast on weekends and we'll never miss a chance to go to 'Pa Mai Kanom Jeen Restaurant', on Satun road in Phuket Town, just next to the Blue Elephant restaurant. If we manage to wake up on time of course. Pa Mai Restaurant is open from 5.30 am to 11 am as well as 'Mae Ting', the relative's shop just down the same road. Pa Mai Restaurant might not be as popular as the original one, but we like it better. Not only because it's easier to get a parking and there is always a table available, but also because we like the taste of their Kanom Jeen.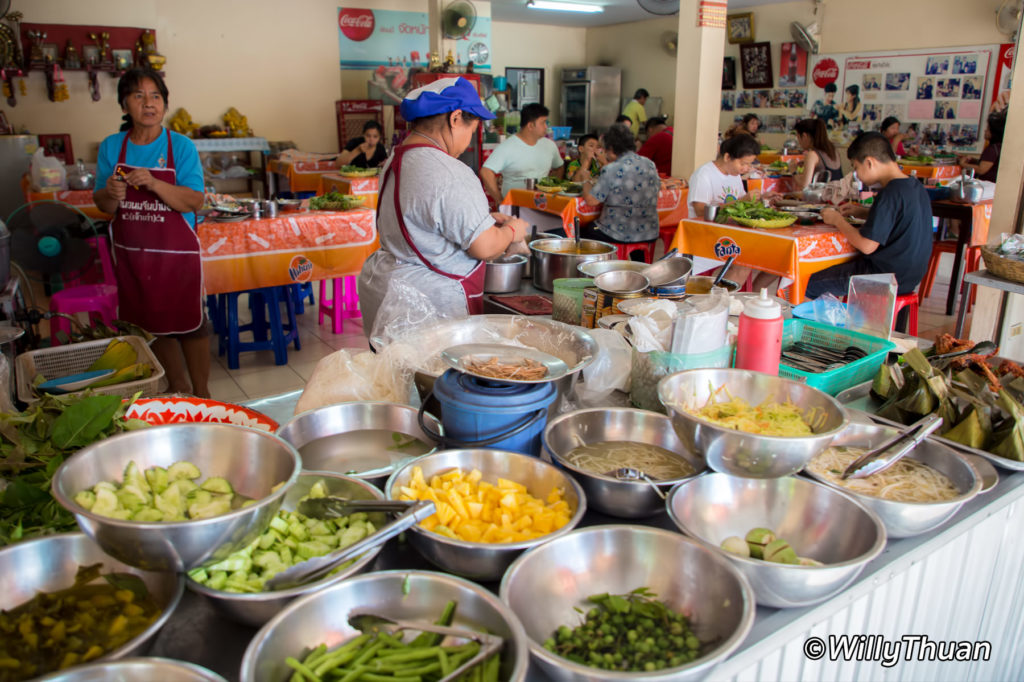 ---
Types of curries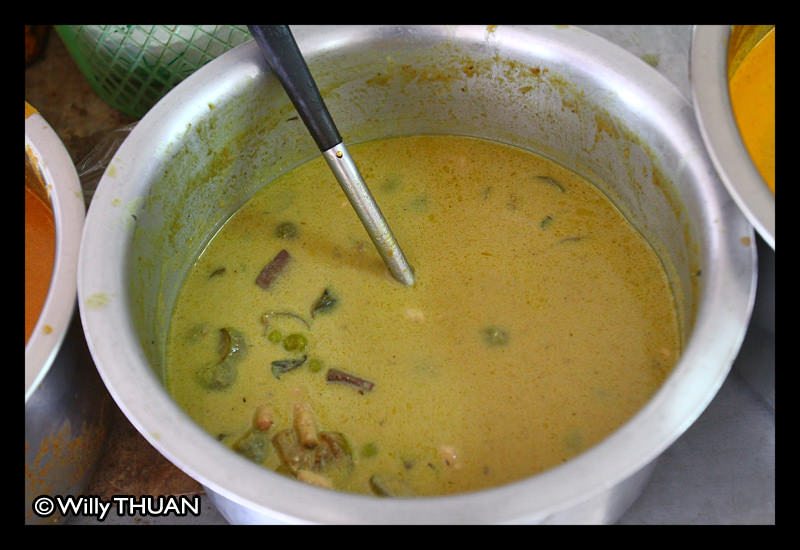 There are of course days we can't make it before 10 am and we still think Kanom Jeen would be a perfect brunch. The shop is open until 11 am, but past 10, ingredients become scarce, for those days, we have a plan B! In Saphan Hin, just next to the circle and its unmistakable sculpture is 'Kanom Jeen Sapan Hin', a nice and peaceful restaurant that runs all day. Maybe not as great as Pa Mai Restaurant, but it is perfect for a late and peaceful breakfast. Another super Kanom Jeen restaurant in Phuket town is Nom Jeen Phuket, set in a beautiful house surrounded by a large garden.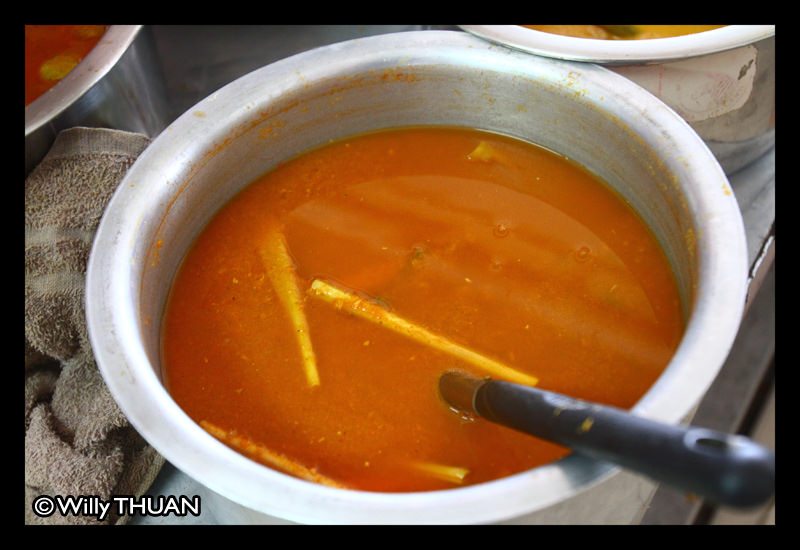 Kanom Jeen is really in the heart of Thai breakfast and consists of cold rice noodles with a sauce of your choice, often curry-based. The first times I tried, I completely missed the point, I found it too soft and not so great, I was wondering what I was missing and never gave it another look.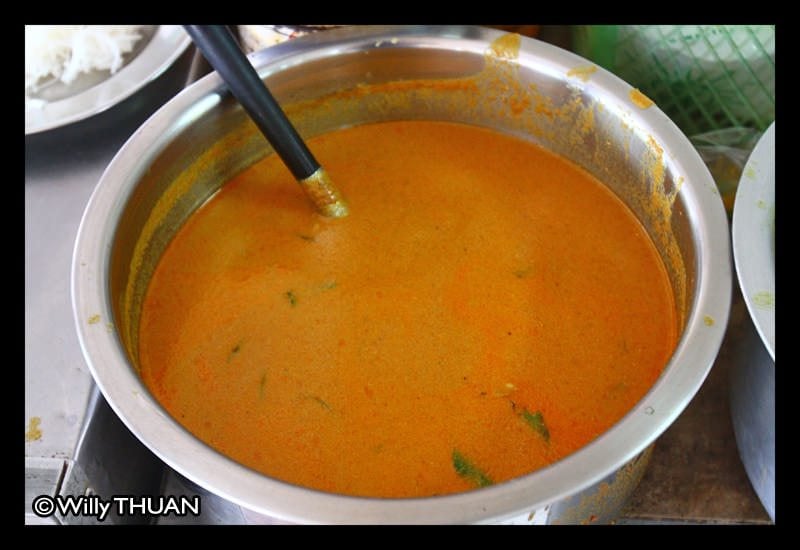 A few years ago, I happened to go there again to give it another chance, probably because Faa loves it so much. And with her advice, I picked another sauce, a beef curry called Kang Nua, and found the secret of a great Kanom Jeen plate: add the many veggies displayed on the table in front of you! These, of course, have to be here for a good reason! So I experimented a few to start from and found my perfect mix… now I'm an addict too and I would rarely say no to the idea of breakfast at Pa Mai Restaurant.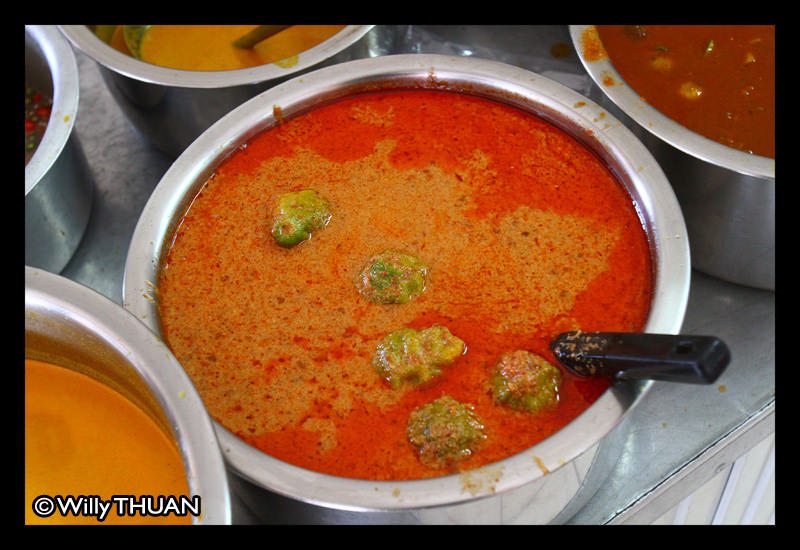 My favourite mix is grated radish, lightly boiled and chopped morning glory, some boiled soybeans, but best of all: finely sliced banana flowers! All these fresh ingredients give a gently crunchy consistency that was missing in my first experience.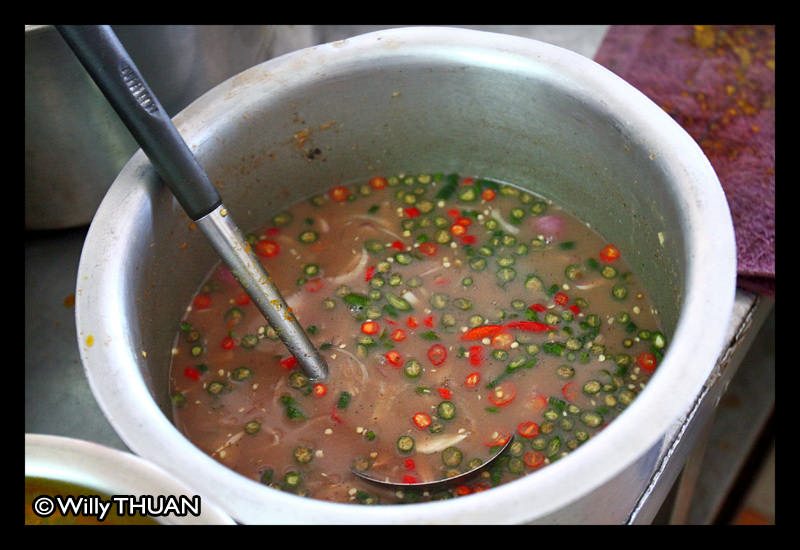 Try it and maybe you too might become a Kanom Jeen lover!
How it works:
Beef curry (Kang Nua)

Some kind of fish curry (Nam Ya Pa)

Chicken curry (Kang Kai)

Sweet prawn curry with nuts (Kang Nam Prik)

Fresh shrimp paste with lots of chillies (Nam Shoop Yum)

Fish guts curry (Kang Tai Pla)

Shredded fish curry (Nam Ya)

Crab curry (Kang Poo)
Add the condiments you like from the counter of directly at your table and don't forget to pick up fork and spoon. You also can take one of the few nice side dishes on display, such as Hor Mok or grilled chicken. Order your drinks directly at your table, staff usually understands drinks names in English, but you'll sound cooler by ordering 'Cafe Yen' or 'Cafe Ron' (iced coffee or hot coffee), 'Cha Yen' or 'Cha Ron' (iced tea or hot tea). Coffee and tea come with condensed milk, the way it has always been in traditional restaurants in Thailand.
More Kanom Jeen Photos
| | |
| --- | --- |
| Shredded fish curry (Nam Ya) | Crab Curry (Kang Poo) |
Where to find Kanom Jeen in Phuket
---
More stories you may like