Best Kanom Jeen in Phuket Town
Kanom Jeen Saphan Hin (ขนมจีนสะพานหิน) is a long time favourite restaurant in Phuket Town where mostly locals come for a late breakfast, lunch or even dinner. The restaurant is vast with plenty of space between the table, superbly clean and spotless with a friendly team.
The atmosphere is very pleasant, open on one side to let the breeze flow in and with a view on the Saphan Hin 'Shell Monument'. Inside the restaurant is a beautiful painting by one of the most famous Thai graffiti artist on one wall, plus a superb collection of Phuket photos by local photographers on another.
How to eat Kanom Jeen
The first thing to do as you arrive is to walk to the main counter where a dozen stainless pots are neatly aligned. The staff will pick a plate of cold rice noodles and wait for you to tell or point at which curry you want on your noodles.
Step 1: Pick your favourite curry
Here are some of the many curries usually available in a Kanom Jeen Restaurant
Gaeng Nua – Beef curry (usually our favourite)
Gaeng Kai – Chicken curry
Gaeng Poo – Crab curry
Nam Ya Pa – fish curry
Gaeng Nam Prik – Sweet prawn curry with nuts
Nam Shoop Yum – Fresh shrimp paste with lots of chillies
Gaeng Tai Pla – Fish guts curry
Nam Ya – Shredded fish curry
---
Step 2: Pick up a condiment tray
Once you have your plate, drop it at your table. The next step is to pick up a tray full of leaves, pickles, fresh and boiled veggies. On the tray is a surprisingly wide choice, among which you can pick what inspire you: sliced cucumber, boiled morning glory and soya beans, tiny dry fish, pickled cabbage, tiny eggplants, chopped cabbage and even chopped banana flowers (Banana flower is another favourite but it often runs out early) and tons of aromatic leaves.
---
Step 3: Find your perfect mix!
By experience, this is the most crucial part. Noodles and curry alone can taste ok, but the first time you might wonder what the fuss is all about, why do we drive so far for this simple dish. The key of a delicious Kanom Jeen is to find which of the many condiments creates the perfect balance, and not only of taste but also of consistency in your mouth. It can take time, but once you find it, it will all make sense!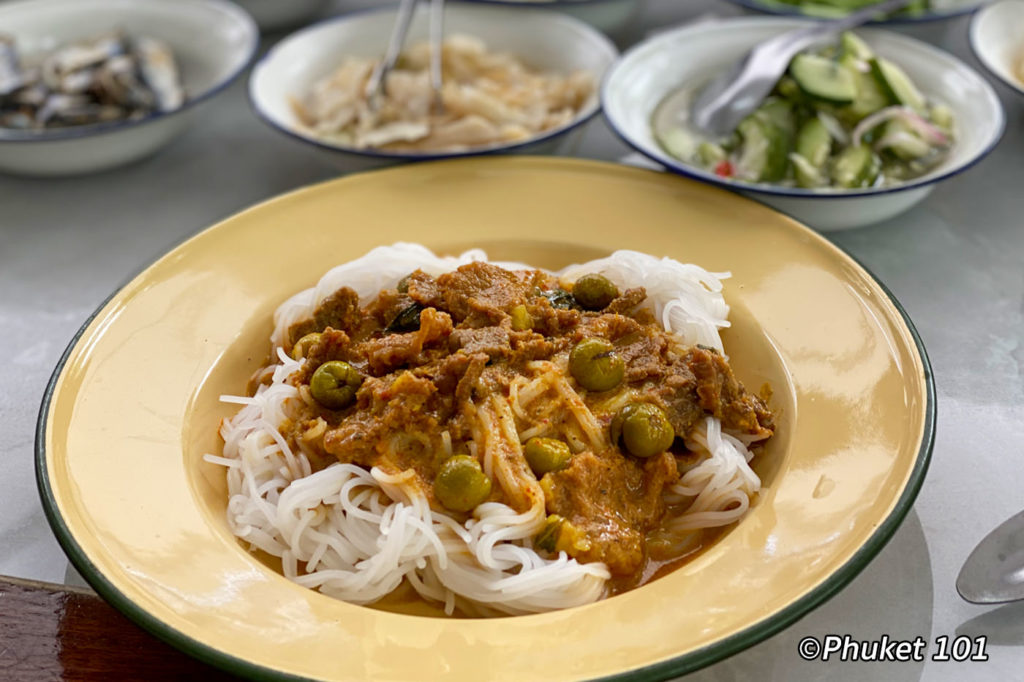 ---
More Photos
---
Kanom Jeen Saphan Hin Info
Location: Phuket Town
Address: 66/2 Phuket Rd, Talat Yai, Mueang Phuket District, Phuket 83000
Open: 9 am – 7 pm
Phone: 083 175 5571
Price: cheap
---
Kanom Jeen Saphan Hin Map
---
More Restaurants in Phuket Town
---
Your Phuket Town Travel Guide