---
What to do in Saphan Hin?
---
Saphan Hin in Phuket Town doesn't look like much during the day: a dull-looking rectangular lake, a waterfront with not much to enjoy except for a sunken boat, a vast empty parking, and a massive abandoned shopping mall once called 'Lucky Plaza' and a Chinese shrine. Now come again around 6 pm, and you will feel transported in a buzzing fitness and jogging playground city public park with hundreds of families, friends, and couples picnicking on the lawn along the seaboard. And in Thailand, where there is a crowd, there is food!
Food carts in Saphan Hin sell everything you need for an easy-going evening by the sea, the unavoidable chicken barbecued, Som Tam (green papaya salad), mountains of fried noodles and all the meat sausages and balls you can think about. If you are in a sweet mood, try some of the colourful extra sugary drinks the way they like it here, or maybe some 'Chao Kuay' black jelly drinks that taste like liquorice or a cup of shaved ice with syrup, corn and red beans (yes!). But best of all what always attracts the travellers, the fried insects!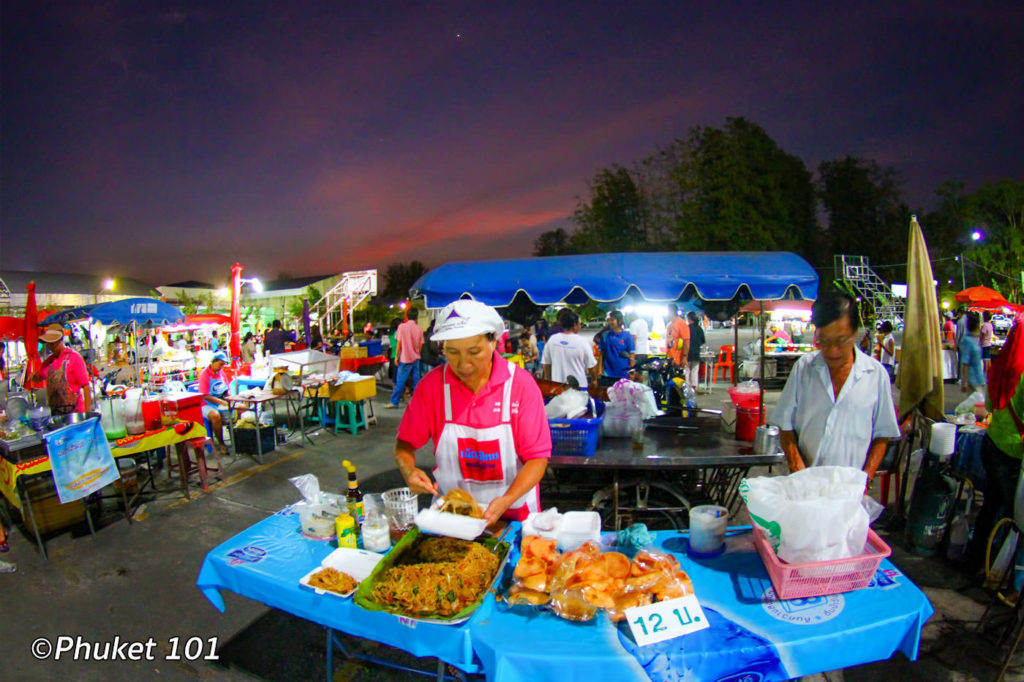 The parking you saw empty earlier often hosts huge events with a massive stage where shows or live bands perform loudly. The markets or funfairs are a right mix of things to buy, things to eat, and things to play, with all these silly but fun games Thai people seem to enjoy so much. Across the road from this parking is a permanent mini funfair with an inflatable castle and some tiny ferries' wheels.
---
Kio Thian Keng Saphan Hin Shrine
The Sapan Hin Chinese shrine named 'Kio Thian Keng Saphan Hin' is also very active at the end of the day and looks beautiful with its lighting in the sunset colours. This shrine is one of the important temples during the Vegetarian Festival, but to many other small events throughout the year, you might get lucky as we did.
Once a year, Saphan Hin lake attracts large crowds of locals for the Loy Krathong Festival, when everyone releases small floats made of banana leaves decorated with flowers, incense and candles. On that day, it seems that the whole of Phuket Town has come and finding parking is almost out of the question. Songkran is also one of those days where crowds battle all day and a good part of the night near every water point they can find.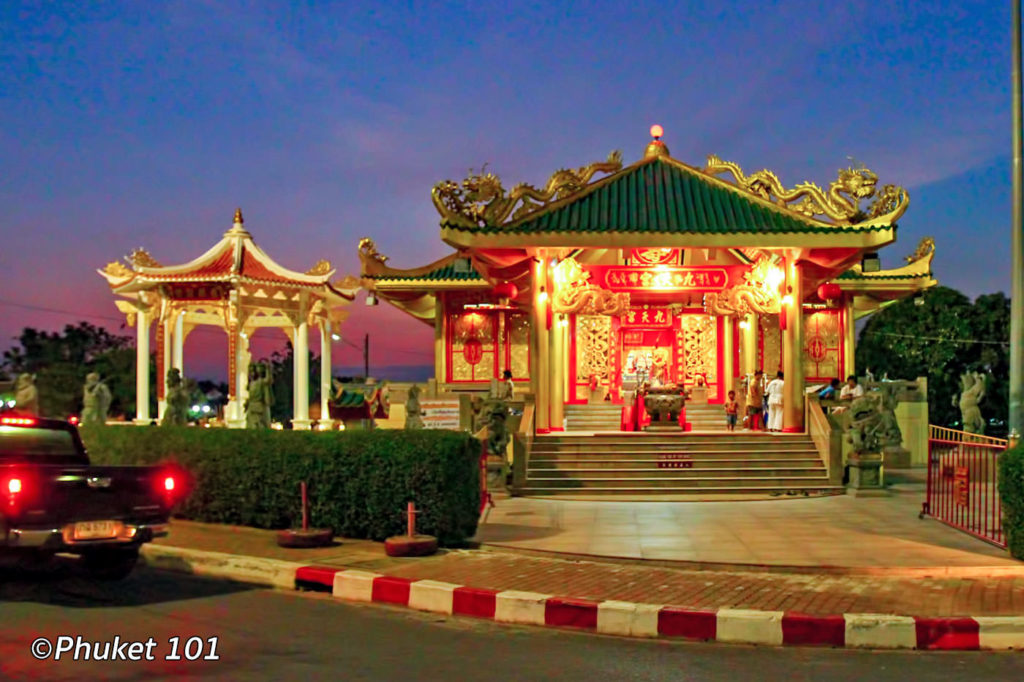 Phuket 101 receives 250,000 monthly visitors on average (500,000 pageviews/month).
If you wish to advertise on this space or other options available on Phuket 101, just contact us.
---
The large abandoned building unwisely called 'Lucky Plaza' was for a short time a local shopping mall. Strategically, it seemed to be a good spot with so many visitors coming every evening, but maybe the choice of name was a bad omen, and it didn't last long. Ironically, the dozen food carts stationed every evening in front of it seem somewhat successful. This is where you will find Khun Burm, the only 'permanent' fried insect vendor on the island. Of course, I tried them all and if you want to know what they taste like, read '10 Insects for Gourmets'!
Saphan Hin is not an attraction worth adding to your Best Things to See and Do in Phuket, but if you stay long enough and want to get in touch with the comfortable local life, go after sunset and try the food! It's fun and often tastes as good as a restaurant!
---
Where to eat in Saphan Hin?
---
There are many coffee shops, street food carts and restaurants around Sapan Hin. Two restaurants in Saphan Hin are worth mentioning, Phuket Seafood and a great Kanom Jeen restaurant called Kanom Jeen Sapan Hin. Our new favourite place on Sunday mornings is open all day from 10 am to 10 pm.
Kanom Jin Sapan Hin has always been our favourite Sunday breakfast. Kanom Jin is a cold rice noodle served with a choice of curries and a vast assortment of fresh leaves, veggies and pickles. It's difficult to understand the hundred possible variations at first, and many visitors give up. But once you understand how subtle and complex the mix can be, you understand how delicious this healthy meal can be to start the day. Read more
Location: Phuket Town
Address: 66/2 Saphan Hin, Wichit, Phuket, Thailand
Phone: 076 355228
Open: 7 am – 5 pm
Price: Cheap
---
More Photos of Saphan Hin
---
Saphan Hin Map
---
What's Around Sapan Hin?