---
Where to find fried insects in Phuket
---
Eating Fried Insects in Phuket and Thailand seems to be the 'ultimate cultural challenge', so try to answer the following questions:
How many of you had a bite at one of these appetising bugs sold on carts in the streets of Thailand? A few, I suppose.
How many of you LIKED IT? less!
How many of you actually ENJOYED EATING BUGS? I only see one hand left!
eating insects is all about culture and education. If you look at them objectively, many just look like brown shrimps, but our moms and instinct said: Shrimp = good, grasshopper = bad! But it's not like this everywhere, often related to economic hard times in history, people ate them first by necessity, then taboos start to fade, and it's by taste or just fun or fashion.
To be honest with you, I don't really like them all, but I tried them all!, so I hope you appreciate the sacrifice I made last night to write this story. We went to a place in Phuket where we knew insects were always available, bought 20 baht of each, and drove back home. I wrote my will, kissed my wife and dog goodbye, just in case and displayed the content in front of me. And then I picked the smallest one… surprise! it's almost as bad; as I thought it would be! Well, not all of them, so I'll let you read the details below.
---
The biggest, weirdest, scariest with the strongest taste of all fried insects found in Phuket.
Female: eat only the inside. Male is chopped and added to salads. (Read more)
☆ Size: XXL
☆ Consistency: meaty like chicken
☆ Taste: Like bubble gum!
✎ Which drink: Tequila shots… make it 2!
Phuket 101 receives 250,000 monthly visitors on average (500,000 pageviews/month).
If you wish to advertise on this space or other options available on Phuket 101, just contact us.
2.

Silk Worm or Pupa (

Nhon Mhai)

Silkworms are big, fat and shiny, fried with Kafir leaves; this is a popular snack.
☆ Size: XL
☆ Consistency: soft outside, creamy inside 🙁
☆ Taste: Strong and a bit bitter after taste
✎ Which drink?: Gewürztraminer (or beer)
3. Grasshoppers (Takaten)

Always popular because of the friendly recognisable shape that makes it look like a shrimp, it is actually the easiest to try as it looks 'dry'.
☆ Size: XL
☆ Consistency: Very crispy
☆ Taste: Medium to strong taste with a bitter aftertaste like an old green tea.
✎ Which drink?: Riesling or Beer
4. Crickets (Jing Reed)

Looks familiar to everyone. As it's a bit plump, you can expect it to have some fatty inside.
☆ Size: M
☆ Consistency: A bit crunchy and soft inside
☆ Taste: Medium at first, then a bit bitter… like soap.
✎ Which drink?: Sauvignon Blanc… or Beer
5. Jing Reed Khai (Mini Crickets)

Almost the same as the above crickets, but less scary to bite as the inside will not pop in your mouth.
☆ Size: S
☆ Consistency: Slightly crunchy, then soft inside
☆ Taste: Very light, mostly Kafir taste and oil.
✎ Which drink?: Chardonnay or Beer!
6. Red Ants (Mod Daeng)

Maybe the easiest to eat because popular because its tiny size is not intimidating.
☆ Size: XS
☆ Consistency: Soft and slightly chewy if you take a lot at once (just as you would expect when shovelling a spoonful of red ants in your mouth!)
☆ Taste: Salty and oily
✎ Which drink?: Côtes du Rhône
---
7. Bamboo Worms (Rod Duan)

Probably the most popular insect snack among Thai, it can easily be found.
☆ Size: S
☆ Consistency: Just a bit crusty then soft inside
☆ Taste: Salty at first, then comes a cheesy aftertaste.
✎ Which drink?: Sauternes or Beer!
8. Red Ant's Eggs (Kai Mod Daeng)

Red ants' eggs come as a salad and look like white ants, much bigger than the ants we are familiar with.
It can be found at Tung Tong Restaurant in Kathu.
☆ Size: XS
☆ Consistency: Very soft as it is a salad
☆ Taste: Sour but good
✎ Which drink?: Sauvignon Blanc (or Beer?)
You might say it's not an insect, but in Thai, it means 'Sea Insect'. And it's weird enough to be listed here. Note that we eat only the eggs as a salad, and that creature's blood is BLUE! (Read more…)
☆ Size: XXXXXL
☆ Consistency: Eggs are quite hard and a bit rubbery
☆ Taste: Fishy
✎ Which drink?: Pouilly-Fumé
10. Sea Crickets (Chakachan Talay)

Chakachan Talay is a speciality from north Phuket and can be enjoyed in restaurants around Mai Khao Beach and Sai Kaew Beach. It is very good deep fried but is not easy to find. One good place is Thanoon Seafood.
☆ Size: M
☆ Consistency: Very crispy, like a dry shrimp
☆ Taste: Light and salty and similar to shrimp with a subtle difference.
✎ Which drink?: Riesling or beeeeeer…. lots of it
---
Where to Find Fried Insects in Phuket?
---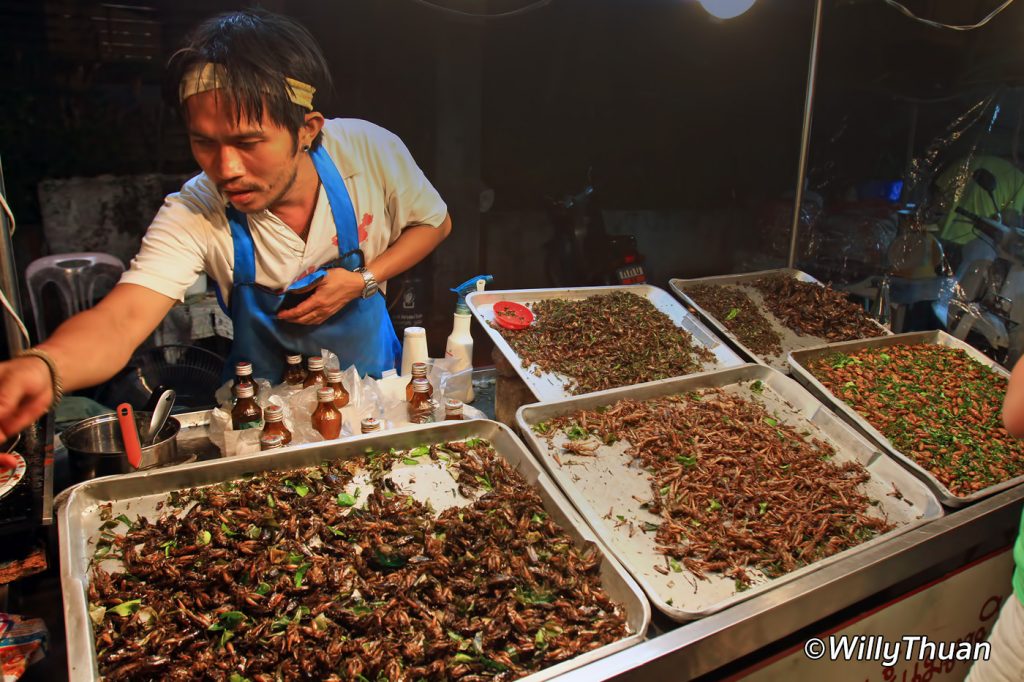 Most of them can be found in those occasional village fun fairs. #2 to #6 can be purchased from Khun Burm, one of the popular food carts open every evening at Sapan Hin Circle in Phuket Town, for the modest sum of 20 Baht per small bag, each of which contains more than you need.
More Edible Insects Photos
Map of Fried Insect Shops