---
A beautiful heritage coffee shop in Phuket Town
---
Endless Summer is a coffee shop and a fashion boutique in a magnificent heritage house on Yaowarat road, the heart of Phuket town. Anyone who walks in front of this beautiful mansion will stop for a photo without hesitation. However, even though it's effortless to find and close to most travellers' itineraries, many visitors miss it because most people rush straight to the famous Thalang road nearby. So if you are in Phuket Town, don't miss it, turn right on Yaowarat road and walk inside, it is superb, full of treasures and very welcoming too.
This iconic heritage house is well-known to locals and expats as it was for a long time a kindergarten, and a kindergarten in such a beautiful mansion was pretty unique. Since the house has been superbly renovated and painted in green, which fits well with the other heritage buildings in this area.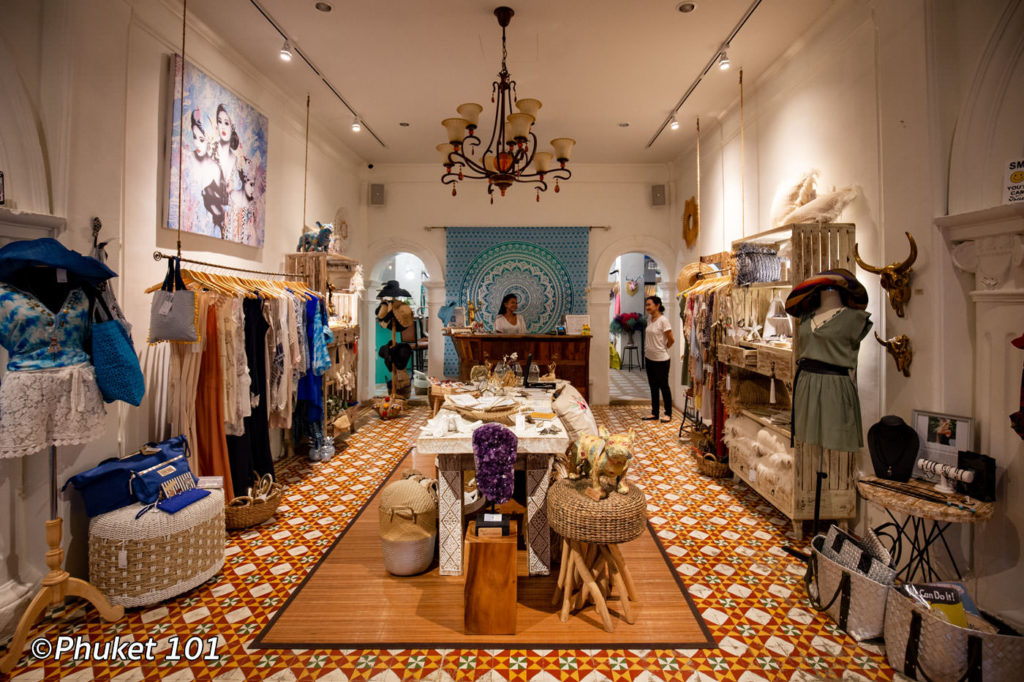 The coffee shop looks small but surprisingly huge inside, like an optic illusion. The facade hasn't changed much, and there are little signs of activity, so it looks a bit like private property and could even be intimidating. But don't be shy; you are welcome to come for a drink and a glance! The team is welcoming and very friendly; they let you explore and take photos as well (assuming that you will at least have the decency to order something or buy something from the shop.)
---
Endless Summer Short Video
---
The Boutique
The amount of items on display is surprisingly vast! Take the time to browse their beautiful collection of women's clothing and swimming suits from Italy, Bali and Thailand. The light fabric of their white or colourful dresses is perfect for Thailand's tropical climate, and the dark collection, while also light, is more for evening outings.
There is also a room for men's fashion and a cute room dedicated to babies' and kids' clothing and accessories. That room is very cosy, and it felt like entering a real children's room.
---
The Coffee Shop
The coffee shop is in the back of the shop, in a vast, bright and superbly decorated room. The team has done fantastic work at keeping the original feel of the heritage house and adding the right amount of elegant decoration to create a unique atmosphere. Here you can enjoy a selection of homemade dishes: Waffles (100 baht), Quiche ham and cheese (240 baht), Quiche onion tomatoes (230 baht), Tabouli salad (230 baht), Quinoa salad (290 baht), goat cheese salad (280 baht), Greek Salad (230 baht), Endless Summer Salad (250 baht), and a lot more.
---
The Workshops
Endless Summer also offers a wide variety of workshops for anyone to join: drawing and painting courses, photography, makeup, jewellery and accessories classes. There is a surprising amount of activities to explore; check their Facebook https://www.facebook.com/endlesssummerphuket/
---
360 Panorama
Oops! It seems like this post isn't published yet. Stay tuned for updates!
---
Oops! It seems like this post isn't published yet. Stay tuned for updates!
---
More Photos of Endless Summer
---
---
More reading