---
---
Kalim Rim Lay Restaurant is a little-known restaurant serving good honest Thai food and seafood at a good price. Best of all for some of you, it is located not far from Patong Beach, just past Kalim Beach. Rim Lay is a very relaxing spot to enjoy lunch or dinner with spectacular sunsets if you are lucky to get one as we did.
Real, local Thai restaurants around Patong are not easy to find. Yes, you will find decent Thai food, but you will rarely see any Thai person eating in a Patong restaurant, no matter how delicious other tourists say swear it is. If you ask Thai people, they will probably smile and say, "it's not really Thai food". But there are a few exceptions if you are willing to drive a little and if you are ready to get the full flavour of Thai dishes. There are still a few places like this near Patong. Kalim Rim Lay is one of them. (as well as Kaab Gluay and Pan Yaah which happens to be near Rim Lay).
Kalim Rim Lay serves good food without fancy decor because it doesn't need fancy decor. Rim Lay has an amazing setting with seaside, sunsets and bamboo huts. Those tiny bamboo huts have been part of Phuket local landscape forever. Comfort is a little basic, but who cares? You travelled all the way to Thailand, and this is what Thailand is really like.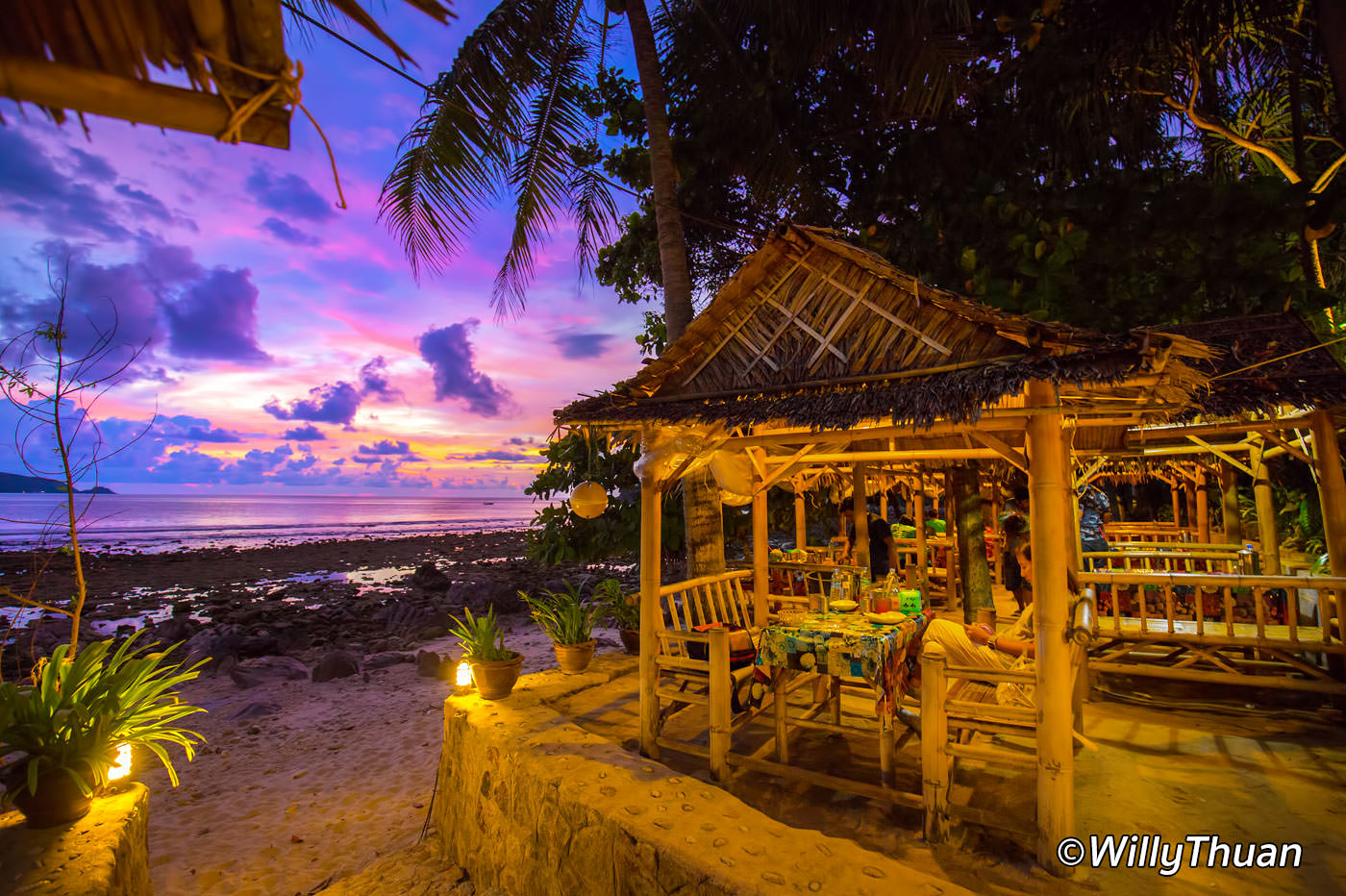 Try to arrive before sunset: if you are lucky tide will be high, and the sky will reflect in the sea. Arriving early also gives you a chance to get the seat of your choice. It's not a secret place, and you will not be the only foreigner, but most customers are local, and it is a good hint about the food.
---
What to Order
The food at Rim Lay is genuinely Thai. Some dishes might be spicy, and some might be pungent. You don't have to go to extremes; you can stay with the dishes you are familiar with. Here is an interesting thing to do: order the food you had yesterday in Patong, and you might be surprised how different it tastes, and, once you discover real Thai food, there is no coming back!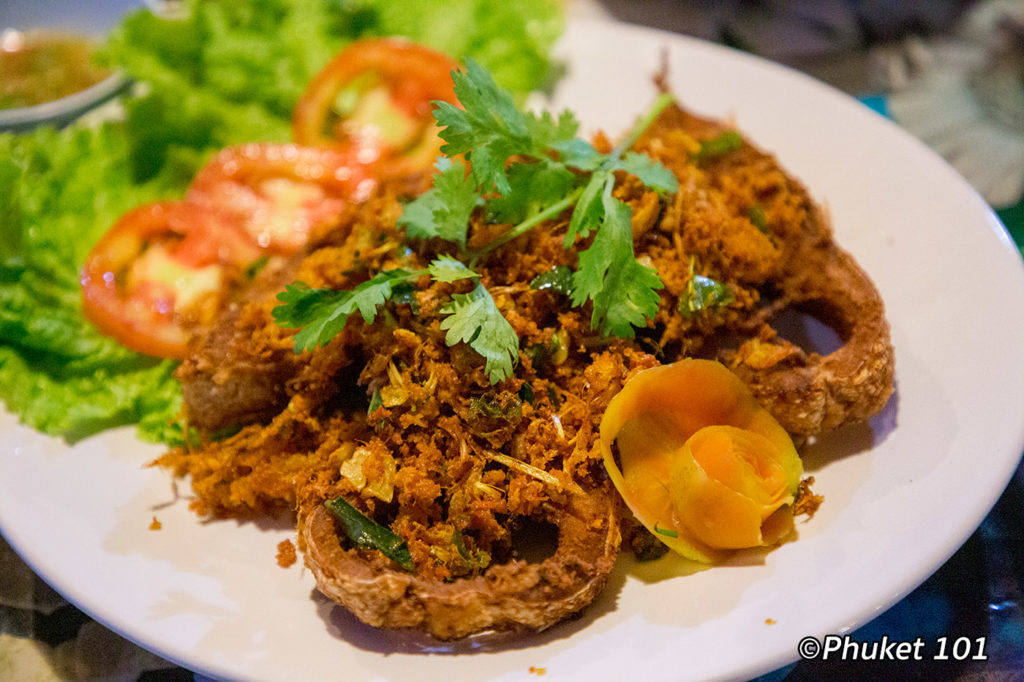 We ordered a few dishes, and it was quite spicy as we like them. The deep-fried fish was really great, cooked to perfection. Larb Pet is a delicious northeastern food duck meat salad with shallots. Some barbecued squid with the local seafood sauce was also very good.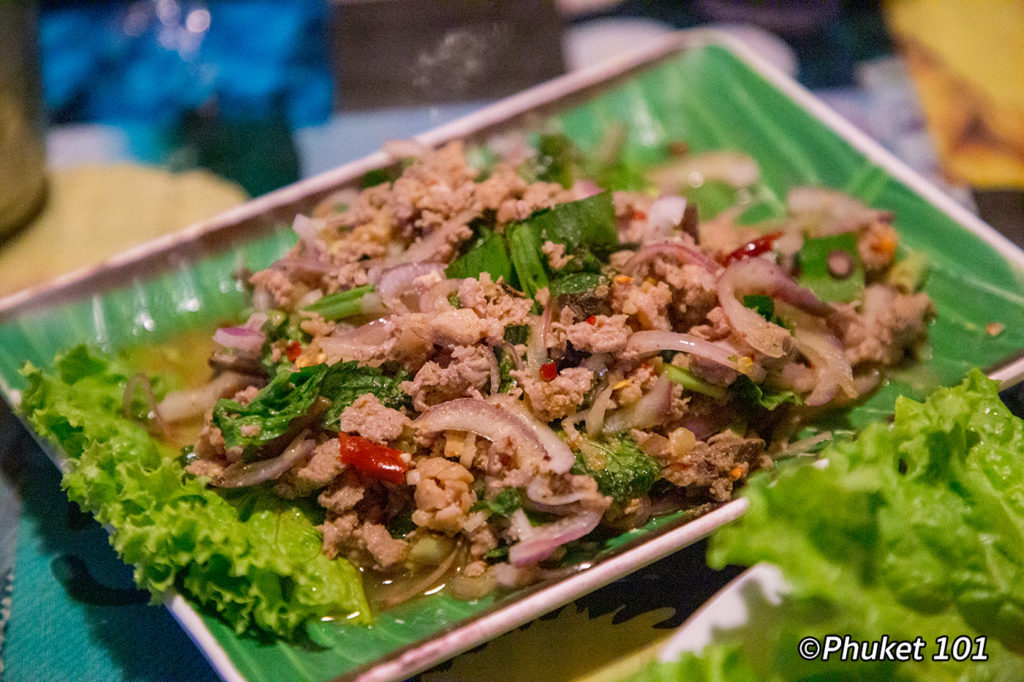 The grilled chicken and the Som Tam are delicious (Som Tam is that iconic green papaya spicy salad). If you like fresh fish, this is the place for you (try the sea bass). I just wished they served beer to go with that glorious sunset, but this is a Muslim restaurant, and therefore, they don't serve alcohol, or pork.
---
More Photos
---
Kalim Rim Lay Info
Location: Kalim Beach
Address: Phrabaramee road, Patong, Phuket
Open: 9 am – 8.30 pm
Tel: 081 539 8873
Price: Cheap
Specialities: seafood and halal (no alcohol served)
Distances from Patong: 1.5 km, from Phuket Town: 15 km, from Kata: 13 km, from Bang Tao: 16 km
To get there: Drive along the coast from Patong beach and take the direction of Kamala Beach. Pass Kalim beach; It will be soon after White Box restaurant just a little up the hill.
---
Kalim Rim Lay Restaurant Map
---
More Restaurants in Patong
---
Your Patong Travel Guide