Trisara Phuket Review
Trisara Phuket is the ultimate romantic resort in Phuket, one of the best ways to enjoy this tropical paradise island. In any of the 39 Trisara villas near Naithon Beach, you will be surrounded by comfort and luxury to ensure you want to stay and enjoy every minute of your holiday. Expect to find all the features of a five-star resort and a lot more in the large rooms with oversized beds and bright and large bathrooms! Best of all, each villa comes with a fantastic infinity pool.
Quick Hotel Summary
| | |
| --- | --- |
| | The beach is tiny but charming. |
| | 5-star luxury resort, 39 villas and suites, 22 residential villas |
| | 3 restaurants including PRU, a 1-star Michelin restaurant. An excellent spa and a good fitness centre with sea views, a 45 m swimming pool and surprisingly, a kids club |
| | Nothing around the hotel but the small town of Naithon is just minutes away, with few local restaurants, lots of street shopping and street food. A secret beach nearby. |
| | Perfect for wealthy couples who plan to spend time in their villas and private pool (and who can afford it!) |
| | Trisara is only 10 km for airport |
| | |
| | |
The Villas
We didn't have the chance to get the biggest villa, but we were more than comfortable with the Pool View Room. Add spotless service and in-villa dining to this fantastic setting, and you get the perfect place for a honeymoon, an escape far from that crazy city life, or even a place to work for the weekend.
Just picture yourself sitting by your pool under a white umbrella, glass in hand, facing the sea and feeling the breeze; nothing distracts you from your well-deserved holiday.
Once you get tired of doing nothing, Trisara Spa is famous for the quality of its treatments and unique atmosphere. If you are the fit type, the sea-facing fitness is beautiful, and an instructor can assist you.
Dining and Restaurants
Then it's dinner time by the seafront; this and breakfast are the day's highlights. Maybe it was just the right time of the year when we stayed there, but the sun set precisely in line with the centre of our table.
Trisara features three restaurants. 'Pru' is the only 1 Star Michelin in Phuket; next to it is 'Seafood', and the open terrace in front of the sea is 'The Deck'. The food is excellent, and of course, the price is in line with the standard of the hotel. It always makes me smile when some expect fried rice to cost as must as in a local shack. The bars and outdoor areas at Trisara Phuket are vast and cosy, and sitting outside to chit-chat for hours as the daylight declines on the horizon is priceless.
---
Pru Restaurant at Trisara Phuket has become the first and only restaurant to receive a star from the new Michelin Guide. Michelin only arrived in Phuket in 2018, and the results were much anticipated. While many restaurants around the island received BIBs and Plates from the Michelin Guide, being the only one with a star means a lot, but also raises the customers' expectations quite a lot.
The beach
The beach in front of Trisara Phuket isn't impressive, but the seafront pool is large and very welcoming if your private pool isn't enough.
What's Around Trisara?
If you come for peace and tranquillity, you will be near some of Phuket's most beautiful and least-known beaches. The nearby Naithon Beach is vast, with many small bars and restaurants and is never crowded. Banana Beach is one of the 'last secret beaches of Phuket', small but beautiful.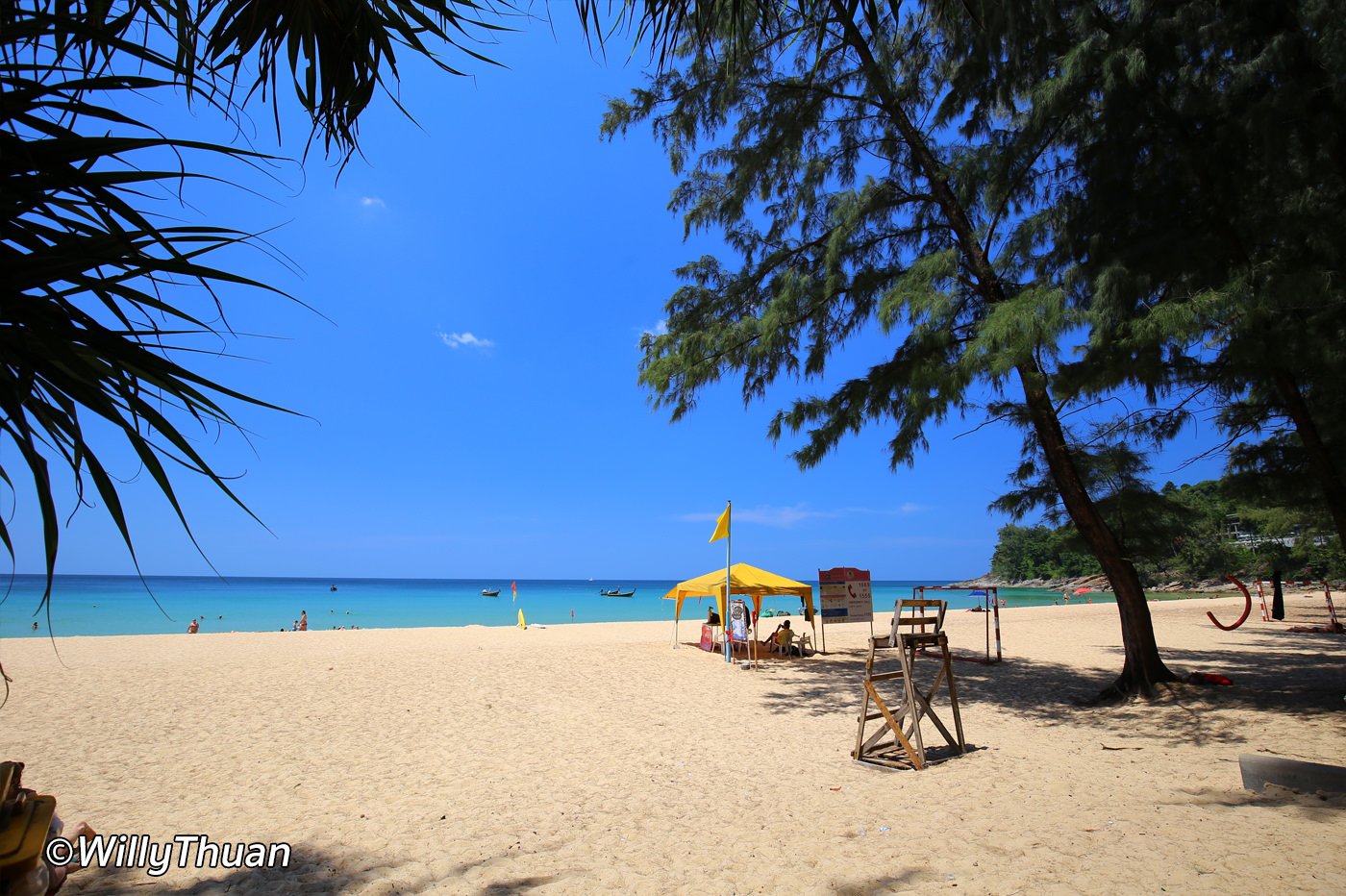 Naithon Noi is the second most fantastic beach on the island, just after the 'Relax Beach' of Le Meridien Resort. Naithon Noi is a 'restricted access' beach for the Andaman White Beach Resort.
Trisara is quite far from the action of the famous Patong Beach, and at least once, you might want to go and experience the famous Patong Nights. The hotel can easily organise taxis and transfers or even car rentals for you to explore other parts of Phuket or Phang Nga.
Summary
Trisara Phuket offers the perfect blend of luxury, comfort, and tranquillity for those looking for a romantic escape in Phuket. The villas, with their oversized beds, large bathrooms, and private infinity pools, provide a five-star resort experience with stunning views of the sea. The spa, fitness centre, and restaurants ensure that guests have access to everything they need during their stay. While the beach may not be the best in Phuket, the seafront pool more than makes up for it. With nearby beaches and the option to explore other parts of Phuket, Trisara offers an unforgettable holiday experience.
---
More Photos
Information
Bookings and Availabilities:
---
Trisara Phuket Info
Location: south of Naithon Beach
Address: >60/1 Moo 6, Srisoonthorn Rd., Cherngtalay, Phuket 83110
Phone: 076 310 100
Open: 24 hours

---
Factsheet
| | |
| --- | --- |
| ⛱️ Main beach nearby: | Naithon Beach |
| ⛱️ Distance to the closest beach: | on a small beach |
| ⭐ Range | 5-star resort |
| 🏊‍♀️ Swimming pools: | 1 |
| 🍴 Restaurants and bars: | 2 |
| 🛍️ Facilities | Spa, Fitness centre |
| 🚙 Distance to Patong Beach: | 26 km |
| 🚙 Distance to Phuket Town: | 28 km |
| ✈️ Distance from Phuket International Airport: | 10 km |
---
Trisara Phuket Map
If you are on mobile, add the map here: https://goo.gl/maps/g7thhzpqZ3DbC33v7
---
---
FAQs about Trisara
Q. How far is Trisara from the beach?

A. Trisara is situated on its own small private beach, making it just steps away from the ocean. The large and beautiful Naithon Beach is just a few km away.

Q. What are the main attractions around Trisara?

A. The main attractions around Trisara include beautiful beaches such as Naithon Beach, Bang Tao Beach and the nearby Sirinat National Park. The hidden Banana Beach just just next door.

Q. Are there any restaurants in Trisara?

A. Yes, Trisara has two restaurants, including Prum the only one-star Michelin in Phuket.

Q. How far is Trisara from Phuket Town, Phuket Airport and Patong Beach?

A. Trisara is approximately 28 km from Phuket Town, 10 km from Phuket Airport, and 26 km from Patong Beach.

Q. What time are check-in and check-out at Trisara?

A. Check-in time at Trisara is typically at 3:00 PM, and check-out time is at 12:00 PM, allowing guests ample time to enjoy their stay and prepare for departure.

Q. Does Trisara offer free Wi-Fi?

A. Yes, Trisara offers complimentary Wi-Fi to its guests, allowing them to stay connected during their stay.

Q. How many rooms are there at Trisara

A. Trisara has a total of 48 luxurious rooms, suites, and villas, providing guests with a range of accommodations to choose from, each offering a unique and indulgent experience.