John Gray Sea Canoe
Kayaking in Phuket with John Gray Sea Canoe is a fascinating experience, and the best way is to explore Phang Nga with the program called Hong by Starlight, slowly gliding among giant cliffs in a silent kayak. The cliffs and caves are 'out-of-this-world, sceneries you must see with your own eyes if you travel half the globe to come here. We have been to Phang Nga Bay a dozen times and are still amazed.
---
John Gray Sea Canoe may not be the cheapest company going around Phang Nga, but John Gray is the one who discovered it decades ago and made it accessible to everyone. Unfortunately, good ideas are hard to find but easy to copy, and there are now many companies offering a similar tour, but none are as good as John Gray's.
John Gray's crew cares about you and nature; they speak decent to exciting English and will tell you a lot about what you are about to see and discover. Boats never get crowded, and the food onboard is excellent. You'll be asked to respect Nature around you as much as they do, which means no touching, no loud talking and of course no smoking while exploring the famous 'Hongs' (enclosed lagoons, usually only accessible through a narrow tunnel when tides permit). They also try to avoid crowded places: a Hong with a hundred canoes is not exactly a grand vision of nature at its best.
---
Hong by Starlight in Phang Nga Bay
They offer several programs daily, but the 'Hong by Starlight' offers more than other day trips: you can visit several lagoons plus an extra one at night. Being inside an enclosed Hong in almost total darkness creates an extraordinary atmosphere, drifting in candlelight, starlight, and bio-luminescent plankton phenomenon.
---
How kayaking in Phuket works
You'll be picked up at your hotel and taken to the Ao Por Pier on the east coast, where you will board a large wooden boat. Note that Phang Nga is a bay; therefore, it is entirely protected, and you will never get seasick. A gentle one-hour boat ride takes you to the first island, where a light lunch is served on board. They will briefly describe the limestone phenomenon and how to enter a Hong through narrow tunnels at specific times. They have to change the schedule according to the tides as water in the tunnels giving access to the Hongs raise too close to the ceiling, and access becomes impossible.
Two persons and one guide board one canoe, but you won't have to paddle; the guide will do it for you (and you'll be glad he does). Don't worry; you will be given some free time to play with the kayaks in the afternoon. Waterproof bags are free to protect your camera if you are worried, but it's stable in there, and you don't want to miss those pictures.
On the way, you will be amazed to see the size and the amount of these fantastic limestone formations rising straight up from the sea and covered with dense vegetation. While moving from one island to another, the crew will throw some chicken bits in the air, and dozens of Bramany Kites (some Sea Eagles) flock and dive behind the boat.
Depending on the tides, you will enter some tunnels leading to the 'Hongs'. Some are short with a high ceiling, and some are a few hundred meters long with a low ceiling. You will be asked to recline face up in your inflatable canoe. Guides will point at things worth looking at, birds, weird rock formations, vegetation and mangrove. One of the tunnels is called 'Bat cave', and you will soon find out why… but nothing to worry about, except a strong bat smell, it's not disturbing. It's recommended to keep your mouth shut while you are passing underneath the bats. I wonder why 🙂
The last tunnel, called the diamond cave, was the toughest. It was nighttime, the tide was getting high, and our canoe started to get close to the ceiling to the point that we had to deflate it a bit to squeeze in. This is not unusual, but the noise of the rubber scratching hard against the sharp rocks in a very dark, flooded, narrow funnel tends to stimulate the imagination.
The passage is not very long on the way in but feels longer on the way out. Inside this last cave, you can release your 'Krathong' (see photo), a floating offering made of banana leaves, orchids, incense and candles that are supposed to bring you luck. Going back to the pier around eight o'clock, you'll know it was worth the price.
---
Useful Tips
Only soft drinks are available on board, so if you wish to have some beers (reasonably, of course), you can buy them at the small restaurant where you meet the crew at the pier. (70 Baht for a Heineken), and there is an ATM just across the road to pay for those beers. Staff will keep your beer on the ice, and other customers will look at you with envy!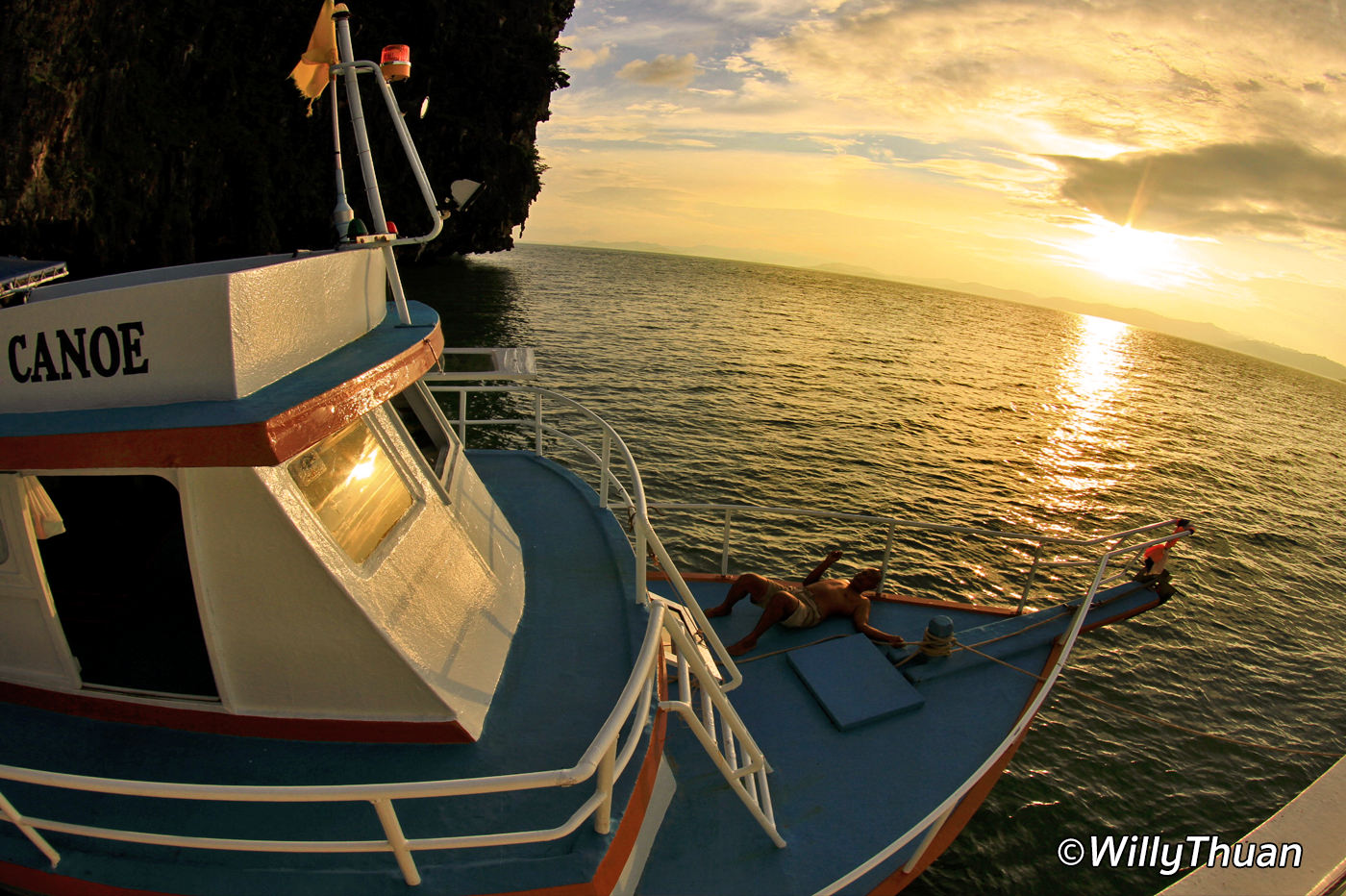 If you are subject to severe claustrophobia, you might want to try another way to explore Phang Nga Bay, as the narrow access to caves can be impressive.
---
Photos of Phang Nga Bay
---
John Gray Sea Canoe
Address: 111/7 Prachasamakhee Rd, Tambon Ratsada, Mueang Phuket District, Phuket 83000
Hours: 8 am – 7 pm (Sunday closed)
Phone: 076 254 505
Price: Hong by Starlight: 2,990 baht until October, then 3,950 baht
---
Map of Phang Nga Bay
---
---
More reading