A luxury rooftop above Central World
CRU Champagne Bar is one of the most exclusive rooftop bars in Bangkok right now (pronounce it 'cru', not C.R.U) meaning a vineyard of recognized quality in France. The location is well-known since it is just 3 floors above Red Sky Bar on the 55th Floor of CentralWorld Shopping Mall. CRU Rooftop wants to be the place for the Hi-So and Bangkok Elite people, serving mostly Champagne and selected grand crus. The 360˙ view from up there is simply superb. Note that CRU is not part of Red Sky Rooftop below, and there is a cover charge to go up there (apparently, a lot of people tried)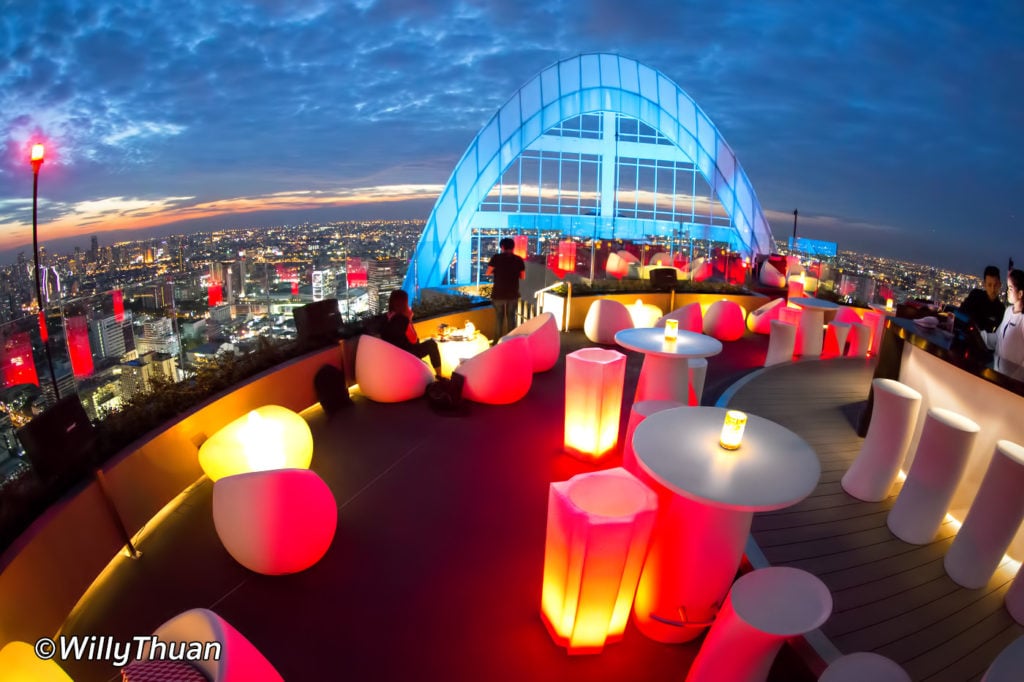 It is interesting how just 3 more floors above the famous Red Sky Bar can change the view of Bangkok… while it's not the highest tower in town (so far, Sky Bar at Lebua still hold the record of the highest open-air rooftop bar with 62 floors), 58 floors is seriously impressive and on a clear day you can see really far. Trying to name all the Bangkok landmarks is really fun.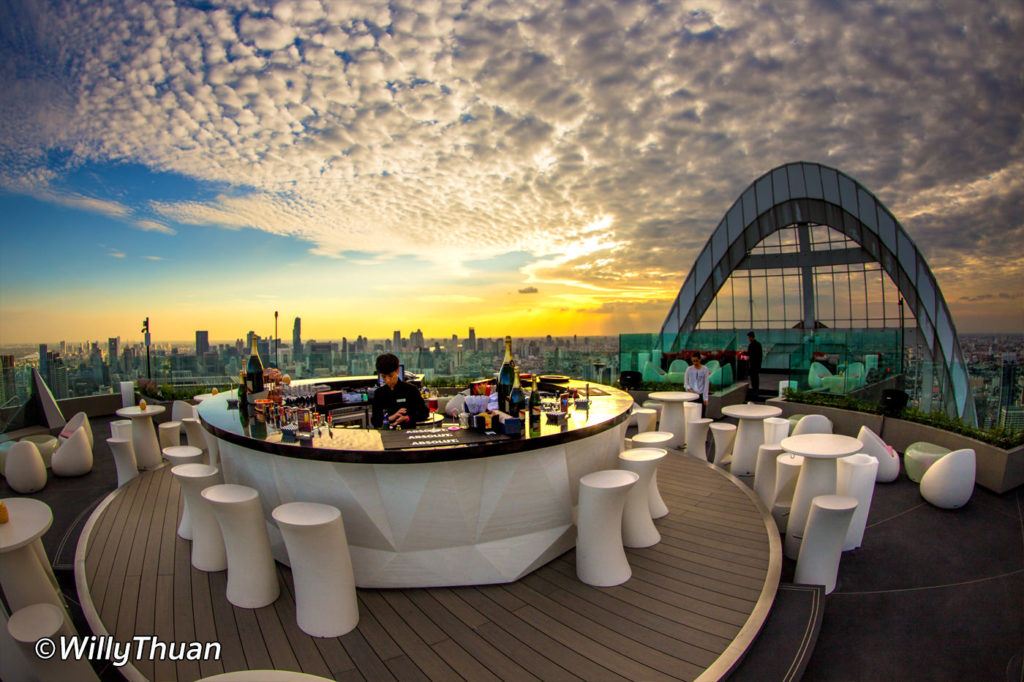 CRU opens at 5 PM so you have plenty of time to come and enjoy the sunset… it's such a treat with champagne and great music… it doesn't come cheap as each glass will cost you about 600 to 1,000 baht, but once in a lifetime you deserve it! Now the fun part is to describe how to get there from the floor!! From the ground floor, you will need to take the lift to 23rd floor then change lift to 55th floor, then take the stairs to 56th floor where you will find a lift to the 58th floor. By the time your reach, you will be very thirsty! 😀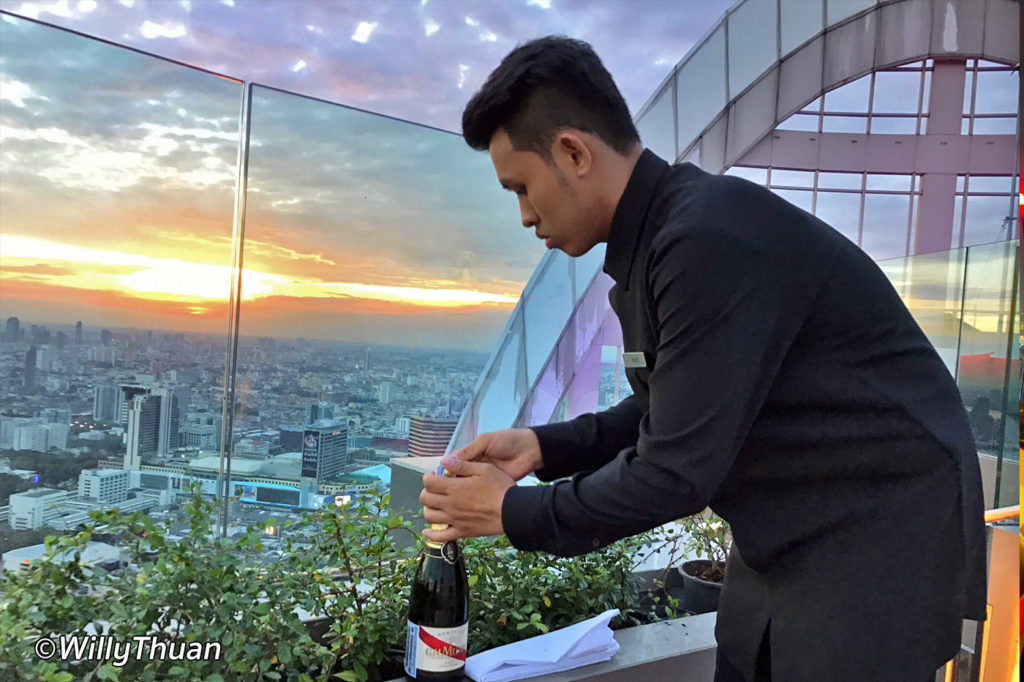 So since this was a special event for us we went a little overboard and ordered quite a bit: Kir Royal (950 baht), few glasses of Mumm's Champagne (999 baht), Premium Russian Caviar (5,200 baht) and Foie Gras and Chicken Yakitori skewers (388 baht). The bill was as high as the building but it is a one-time occasion (or is it?)
---
More Photos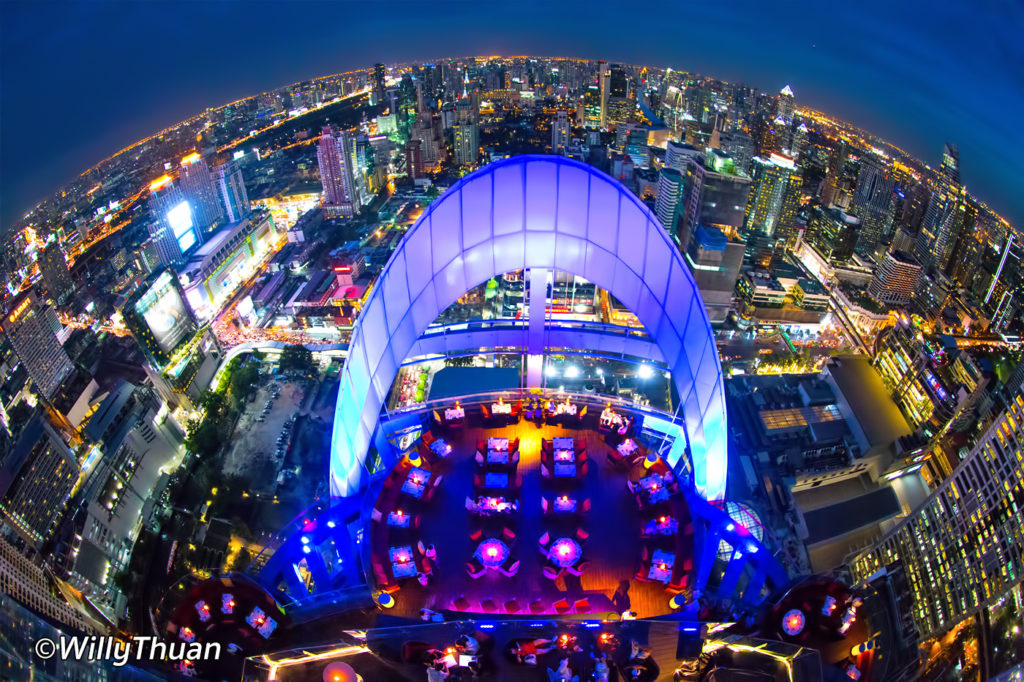 ---
CRU Champagne Bar Info
Location: Siam
Address: Centara Grand at CentralWorld, 999/99 Rama 1 Road, Pathumwan, Bangkok 10330
Open: 5 pm – 1 am
Tel: 02 100 1234
Floor: 58th floor
Price: very high
Dress Code: Bubbly Smooth (whatever that is)
---
CRU Champagne Bar Map
Read about Cru Champagne Bar in Japanese: クリュ ルーフトップバー バンコク
---
FAQs about Cru Champagne Bar
Q. How high is Cru Champagne Bar?
a. Cru Champagne Bar is on the 59th floor of the Centara Grand Hotel.
Q. In which area of Bangkok is Cru Champagne Bar?
a. Cru Champagne Bar is in Siam area, just above Centara Grand Hotel, next to CentralWorld Shopping Mall.
Q. Can I go to Cru if I am already at Red Sky Rooftop?
a. If you are already at Red Sky rooftop Bar, you only can enjoy Cru if you order some drinks up there.
Q. Is there a dress code to join Cru Champagne Bar?
a. The dress code is not too strict but short pants and sandals are not allowed.
Q. Are reservations required?
a. Reservations are not required but recommended if you wish to secure a table.
Q. Is there a happy hour?
a. There is no Happy Hour at Cru as all cocktails are Champagne based.