What is Nui Beach
Nui Beach is an unusual beach in Phuket. It's not even a great beach, but people seem to really love secret beaches, hidden beaches and hard to find beaches. The hardest it is to get there, the more they want to go, and Nui beach probably fulfilled these 3 conditions. Nui Beach closed for about a year and was almost forgotten. It recently reopened in a much friendlier way (at least for now) under the name of Water Beach Club.
Nui Beach wasn't totally unknown but it was hard to reach (and still is). Mostly the entry fee requested on arrival was so high, about 500 baht at one point, it was discouraging visitors.
To place things in their context, you need to understand that, by law, private beaches are not allowed in Thailand. We explained the situation several times in this blog. Now if you are the lucky owner of the land that surrounds the beach, you can deny access to the beach, or charge an amount of your choice for it. It's a bit tough but in some way you wouldn't want people to cross your garden all day long just because that's the easiest way to go to the supermarket.
Nui Beach, which is not to confuse with Ya Nui Beach, is not a great beach. It is a small bay found at the end of a very bumpy and dusty dirt road. Down there, the sand is coarse and brown but the bay definitely has the charm of a secret hideaway beach. To get there, you almost have to deserve it.
---
How to Get to Nui Beach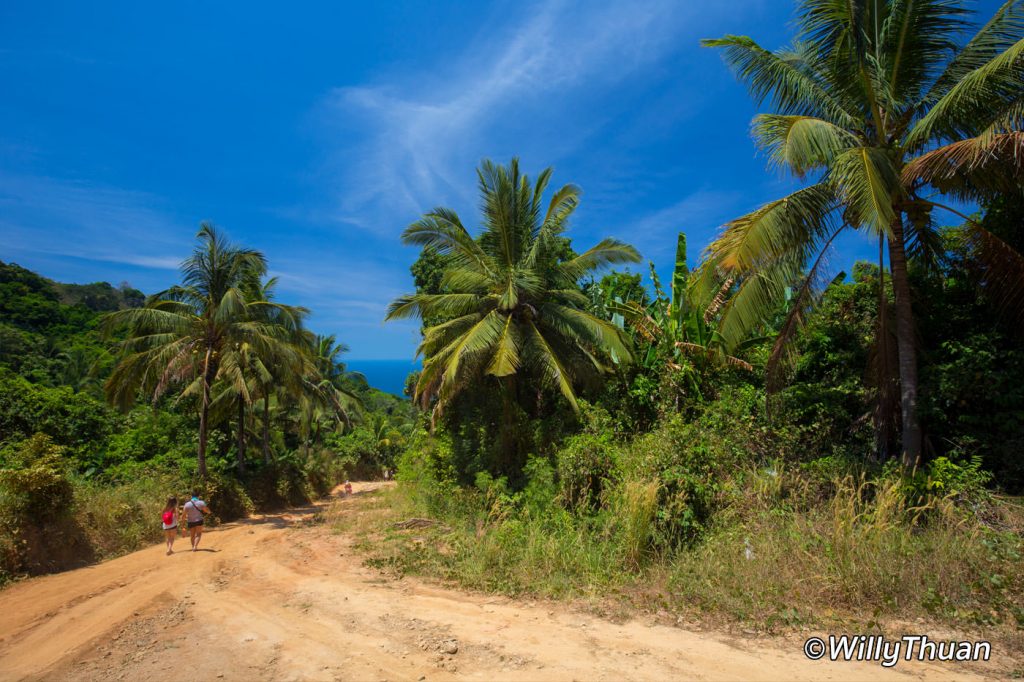 Nui Beach is located somewhere between Kata Beach and Nai Harn beach. In a way, it's very easy to spot the entrance of the dirt road that leads to Nui Beach as it is 1) just past the super famous Karon Viewpoint and 2) there is even a clear road sign pointing at it from the main road! The first half of the road isn't too bad, so you can drive your own bike or car until you reach a basic gate where you will see a bamboo hut and a pick up truck parked.
At this point you will have to make a choice: ride the truck for 100 baht per person (one way), walk down 2 km in the heat and dust of a steep slope, or take a chance with your own car or bike. Our recommendation? Save you time, sweat and effort and get there the easy way for 100 baht!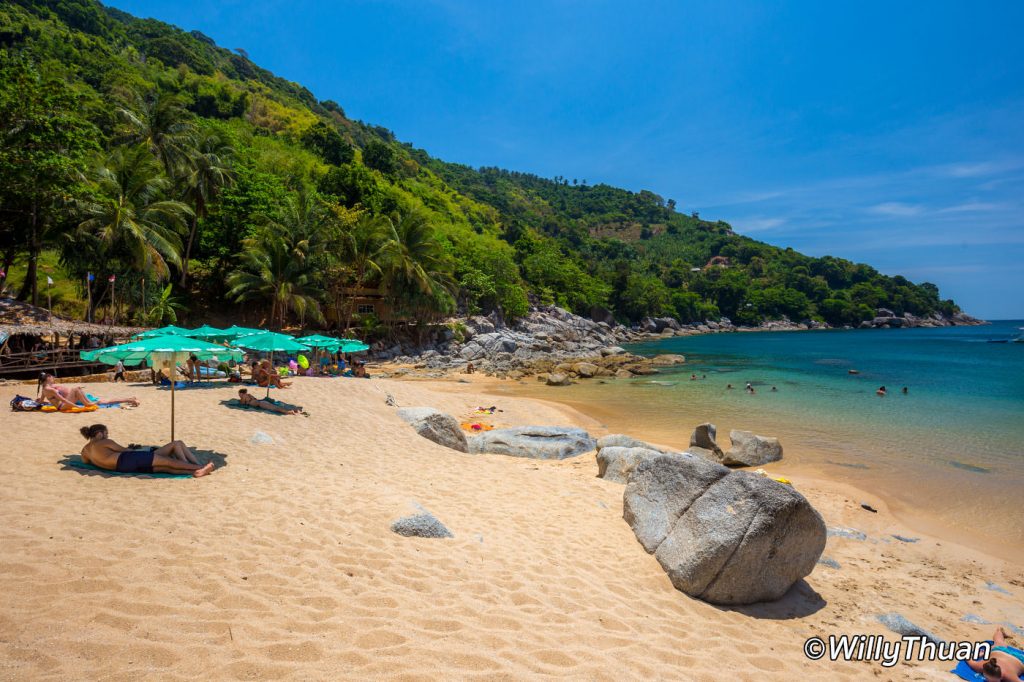 Once you reach the beach down the hill, don't expect a huge white powdery beach. The sand is quite dark and coarse and the beach itself not large, but with the bamboo huts around, the bay does look like a secret beach!
---
What to Do on Nui Beach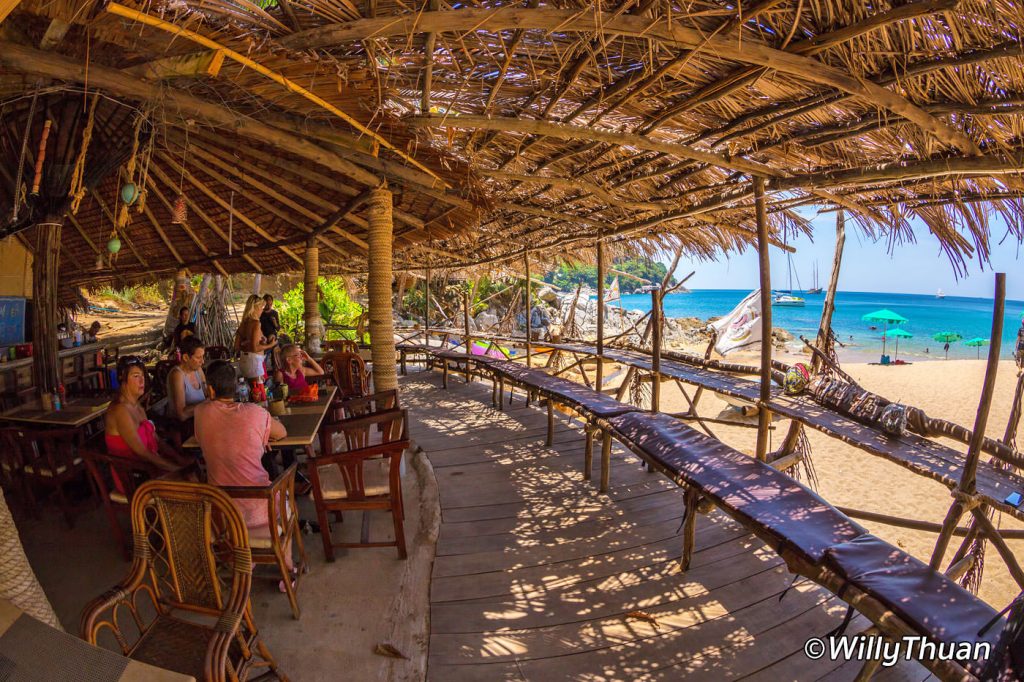 Large boulders surround Nui beach, making it a great snorkeling experience. Snorkeling gear used to be available for rent but it would probably be better carry your own set.
There are a few umbrellas on the beach (no beach chairs) and a large shaded restaurant where you can order some Thai food and some much-needed cold drinks (100 baht for a beer, 60 baht for a soft drink and 299 baht for that famous bucket!) Further up you can even enjoy a Thai massage.
Strangely there is a 'Bangkok Tuk-Tuk' in perfect condition parked next to the restaurant (see photo below). In case you don't know yet, tuk tuks in Phuket are very different from those in Bangkok and Chiang Mai (3 wheels in Bangkok, 4 wheels in Phuket)
Nui Beach has a large interesting set of toilet all made of Bamboo and newspaper! And it will cost you 10 baht to use them, to keep them clean and for water supply says the sign. And indeed the toilets were surprisingly clean!
Conclusion? Nui Beach is one of those few beaches in Phuket that require effort to reach, so it will never get crowded and somehow, it has the charm of a secret hideaway.
---
Nui Beach Photos
---
Nui Beach Information
Address: Karon, Mueang Phuket District, Phuket 83100
Open: 10 am – 6 pm
Price: free
Distance from Patong: 16 km
Distance from Kata: 6 km
---
Download Nui Beach Directions
If you are on mobile, add the map here: https://goo.gl/maps/cAjLh2NGdrndTfWq7
---
Nui Beach Map