What Water Activities Can You Do in Phuket?
There are a lot of water activities in Phuket to add some action to your holiday. The range goes from easy stuff like parasailing, all the way to real action sports like surfing and wakeboarding.
---
Phuket is an excellent place for snorkelling and the beaches with rocky ends or rocks under the surface are great to observe sea life. Among the 40 beaches available in Phuket, we identified 11 that are great for this activity. You may find snorkelling rental on some of these beaches (we saw some on Ao Sane Beach), but it is easy, cheap and probably more hygienic to buy your gear in one of the many shops selling these on the main beaches around the island. If you need a lifejacket, that is another story, ask your hotel. There are also some great day trips to islands nearby for an even better experience. Just remember not to feed the fish and not to touch or collect coral or shells from the sea, it is strictly illegal. Find out about the 11 Best snorkelling beaches in Phuket.
---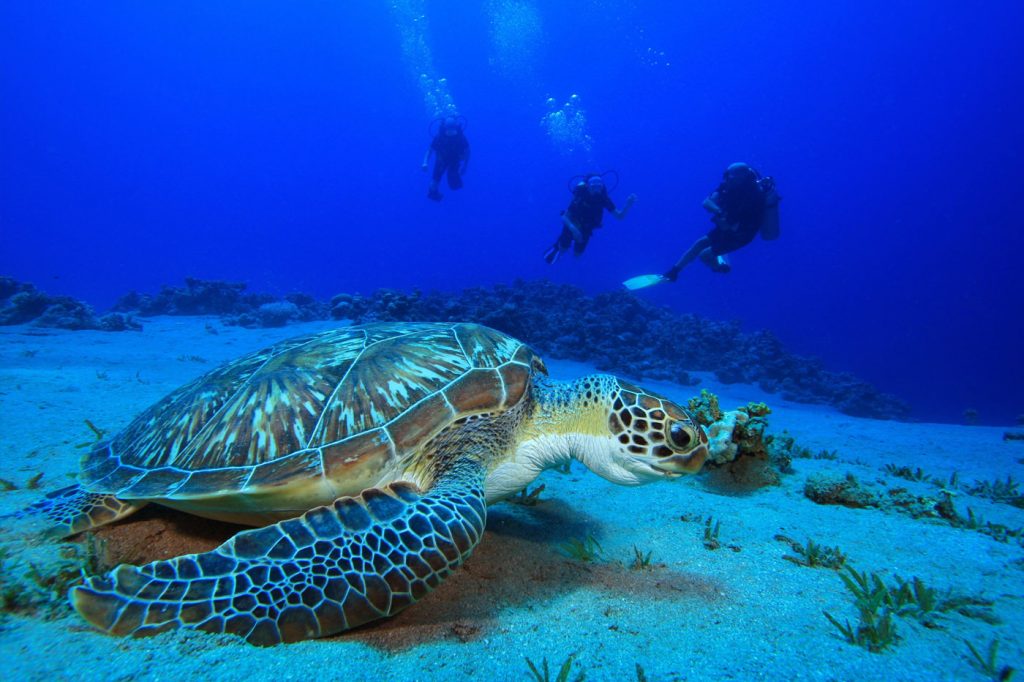 Phuket and the many islands around are a diver's paradise. Water is warm and clear (most of the time), diving is available all year round, and there are more dive centres than you will ever need. You can be a total beginner or an advanced diver, there will be a dive option for you, from Nitrox to Wreck diving, as a day trip or liveaboards cruises for all budget. Read more about diving in Phuket and see the Best Dive Centers in Phuket 
---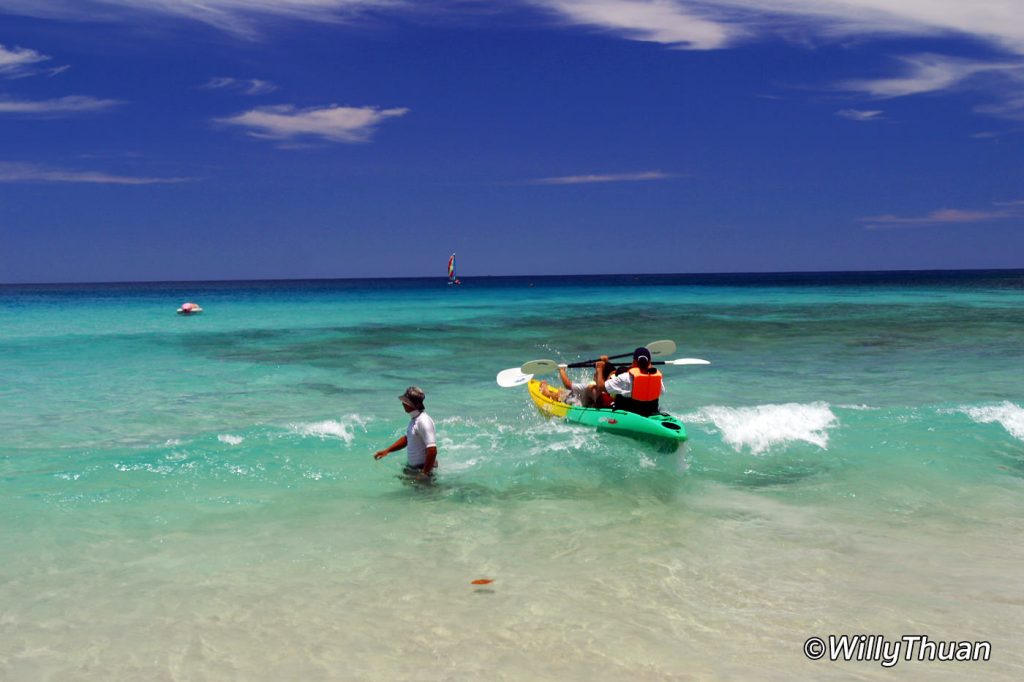 There are two ways to enjoy kayaking in Phuket. First, you rent from some beaches or borrow from your hotel (usually luxury hotels) and use to play on the beach. It can be quite physical, but it is up to your stamina. Just remember that if the sea is quiet and inviting during high season (December to May), it can be rough during low season, even if the sky is bright blue.
Then you can try kayaking in Phang Nga Bay, which is not an activity since the guide that accompanies you around the limestones cliffs usually does the paddling for you when booking a day trip. Read more about Kayaking in Phang Nga Bay
---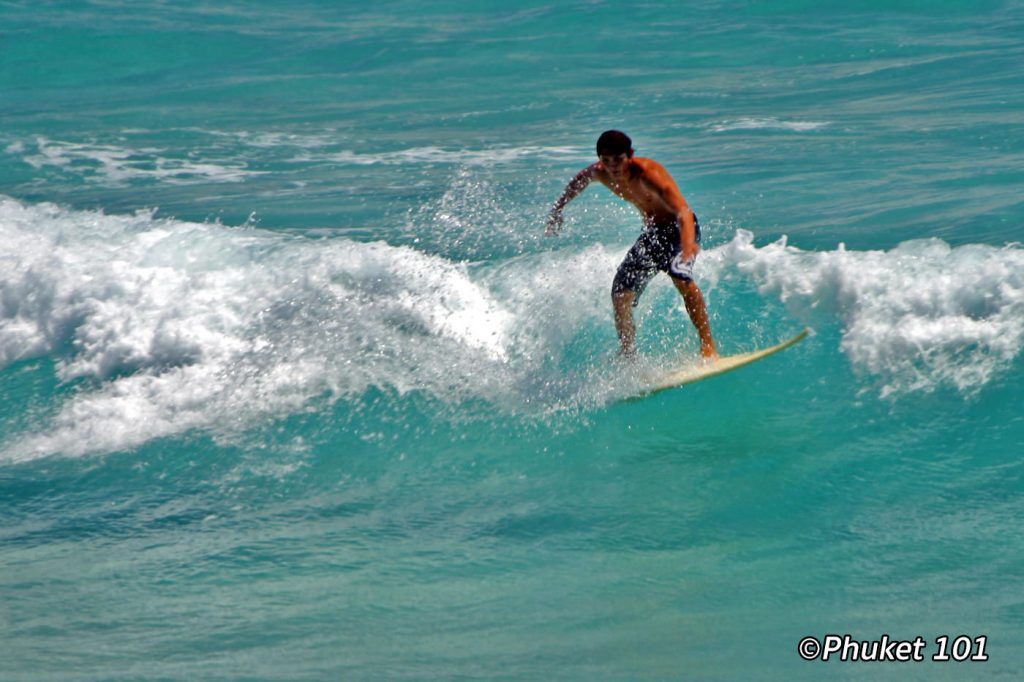 Surfing is very popular in the low season when the sea is rough. Waves are not very high and don't last very long, but you will see a lot of surfers enjoying themselves in Kata, Kata Noi Kalim and Kamala Beach. Small surfing schools flourish on the beach during these months. You can rent short or longboards and take classes to learn how to surf. There is even a Quicksilver Surf Competition in Patong, Kata and Kalim Beaches from June to September. Read more
---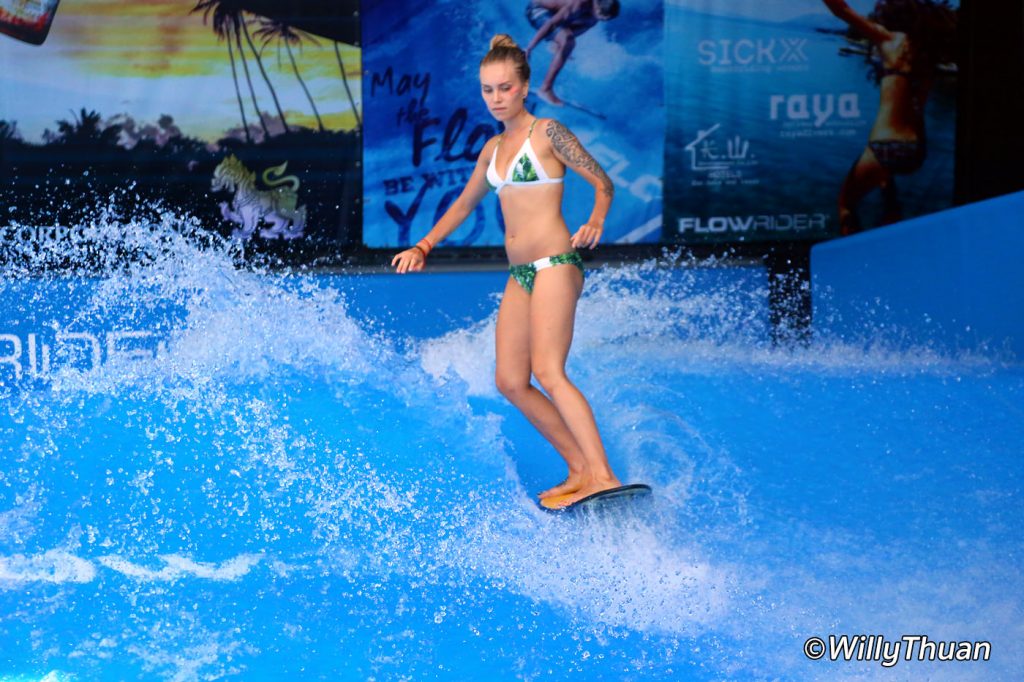 If you dream of surfing but are too scared or lazy to paddle to find a  wave to ride, there is a fun and easy option: flow boarding. Ride an artificial wave on a small and relatively stable board in the safety of a giant rubber slider. Anyone succeed in just a few minutes, and it is effortless. Of course, it won't teach you much about real surfing, but you get a bit of gliding sensation, and you can try some moves once you are comfortable. It's a bit costly and usually short because there is always a bit of a queue, but it's a lot of fun. There are 2 Surf House in Phuket: Surf House Patong and Surf House Kata near the beach.
---
6. Kite Surfing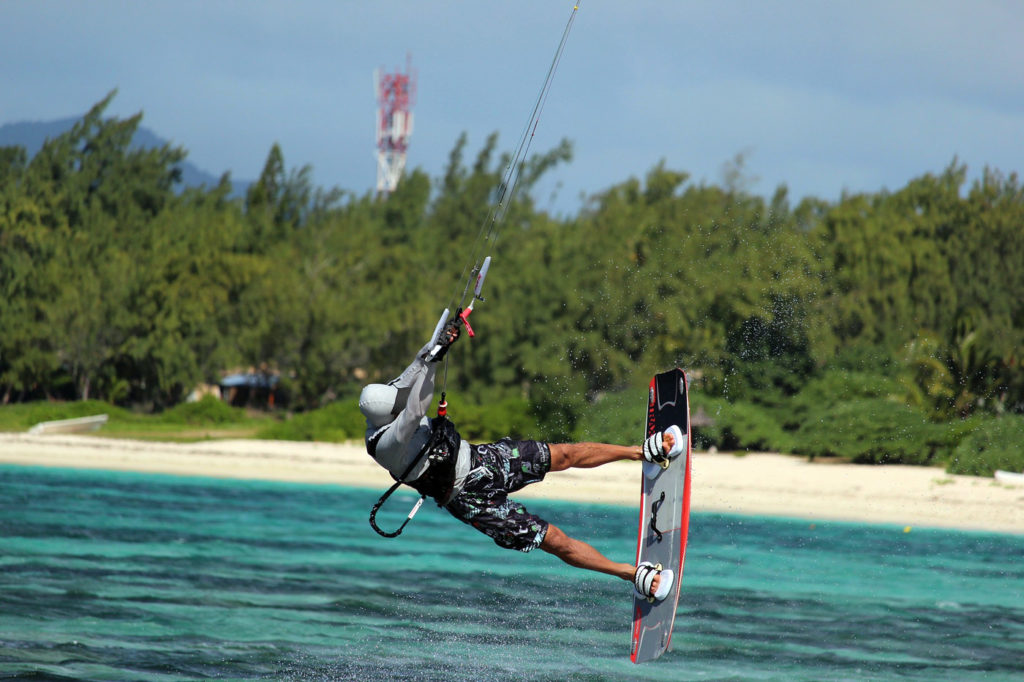 Kite surfing is only possible a few months per year and usually only in a few locations: Nai Yang Beach and Rawai Beach
---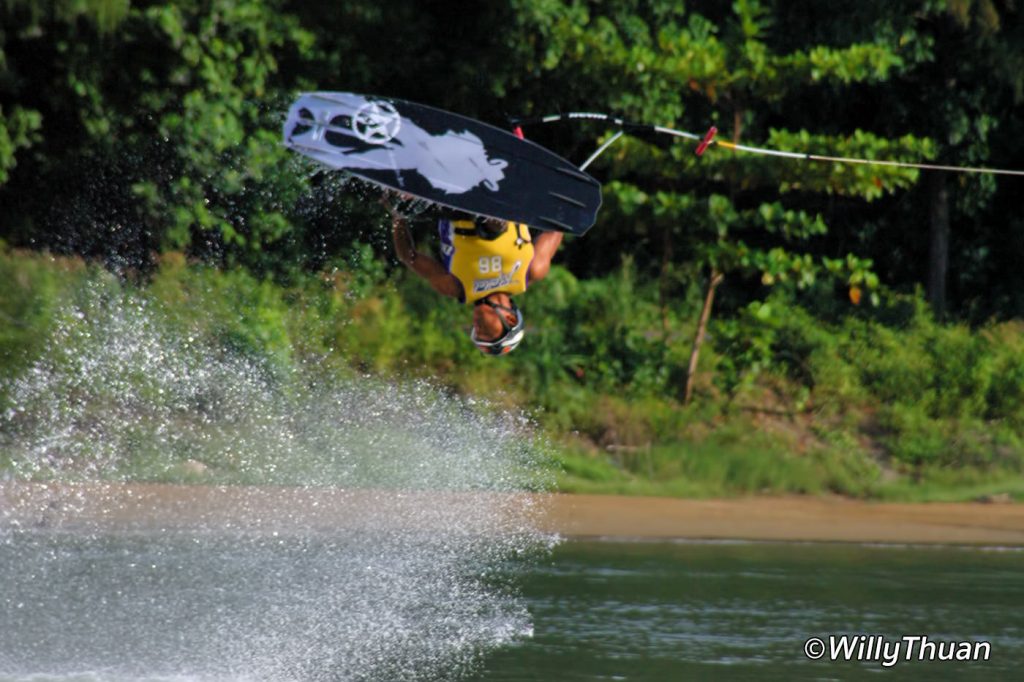 There are three lakes with cables rides in Phuket. Two run counterclockwise near Patong and the airport, and one clockwise in Cherngtalay. Wakeboarding on a lake is fun and relatively easy, offering a range of levels from beginners' kneeboard to expert obstacle jumps. If you fall, someone comes and pick you up very quickly so you can restart within minutes. It's a bit expensive, starting at 750 baht per hour, but fun and exhilarating. You can rent everything you need on the spot: helmet, board and  life jacket.
---
8. Jet Skis
The way it goes in Phuket, Jet Ski is not a sport. It's more of an activity, just like riding a motorbike would be. You will find Jet skis the main tourist beach of Patong, Kata, Karon and Kamala beach, but most people frown upon those noisy and polluting machines, dangerously zooming close to swimmers and each other. They are also known for their costly scams when you may be accused of damaging the jets and therefore are forced to pay a hefty fine to the owner, no matter if it is true or not. Better stay away from Jet Ski, it is not worth the risk. Expect to pay 1,500 baht for 30 mn on a 1 person jetski or 2,000 baht for 30 mn on a bigger 2 persons jetski.
---
9. Parasailing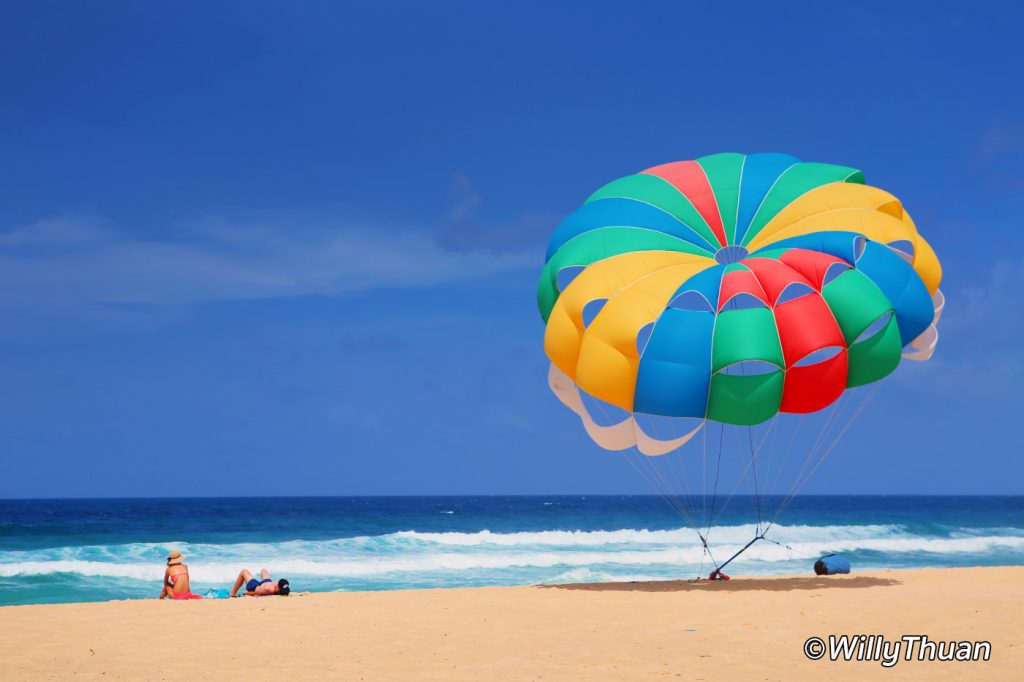 Parasailing is very easy and very casual and not too expensive for a short ride in one of the tourist bays of Phuket. All you have to do is let a crew equip you with a harness right on the beach, and a speedboat will approach and throw a cable. A beach boy will attach the cable to your harness and the boat powers up, lifting you in the sky. The surprising part is when the beach boy suddenly grabs the parachute, climbs above you and hangs the during the whole ride! Safety is minimal, and accidents are not unheard of. Parasailing in Phuket costs 1,200 baht for a child and 1,500 baht for an adult.
---
More things to do in Phuket