What are the best Muay Thai gyms in Phuket?
Several Muay Thai training camps have opened in Phuket, with thousands of people arriving on the island every year to learn this ancient martial art form and get fit while enjoying beach time.
Muay Thai kickboxing has been practised in Thailand for centuries, and over the past decade, it's become a world-famous sport along with the explosion of mixed martial arts (MMA).
Each Muay Thai camp is a bit different in focus and offerings, but most have weekly and monthly programmes and the chance for intensive training sessions with champion Muay Thai boxers. If you're unsure which Phuket Muay Thai gym is best for you, try one class or get a day pass to get a feel of the place before committing to a full training programme.
Here are some of the top Muay Thai camps in Phuket that'll get you into fighting shape, some of which also do MMA and other fitness training. Several are on the now-famous Soi Ta-Iad, also known as Soi Fitness, not far from Wat Chalong.
---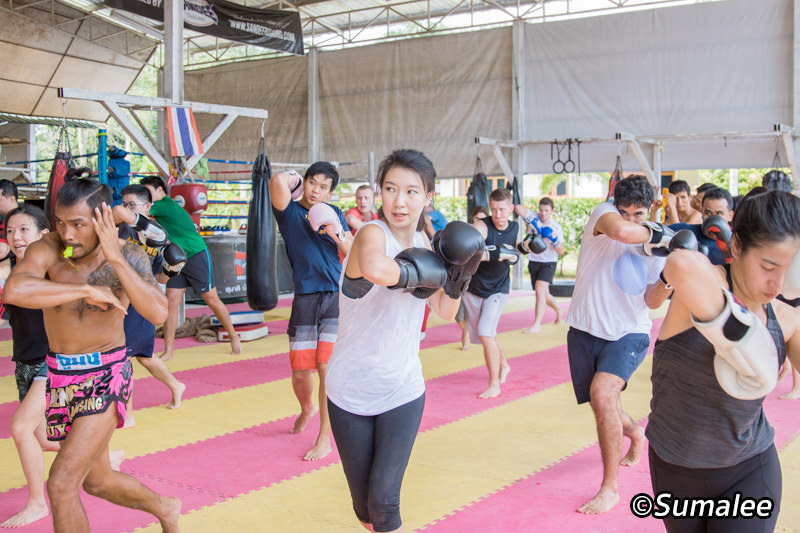 sponsored
Sumalee is the only gym offering a holistic approach to Muay Thai training by incorporating optional yoga and nutritional programs. Sumalee offers a more individualised training experience, away from the crowds.
The facilities at Sumalee include a range of accommodations from basic shared rooms to luxurious suite rooms, which give more comfort and space (all have air conditioning and excellent wifi service). The suite rooms are great for small families and those wishing to combine their training with work commitments.
The Muay Thai gym area is fully equipped by their sponsors Sandee, Thailand, and Ultim8 Fightwear, Hong Kong. Other facilities include a healthy food restaurant: coffee shop, and crêperie; an on-site swimming pool, Balinese-style yoga shala, massage shala; and an equipment shop. Sumalee caters for all levels of fitness and experience for the ultimate training experience.
Classes
Single class: 500THB
Monthly Muay Thai (1 class/2 classes per day): 5000/9000THB
Monthly Training Package (Room and Muay Thai classes): from 28,800THB
Sumalee Boxing Gym Contacts
2. Sinbi Muay Thai Training Camp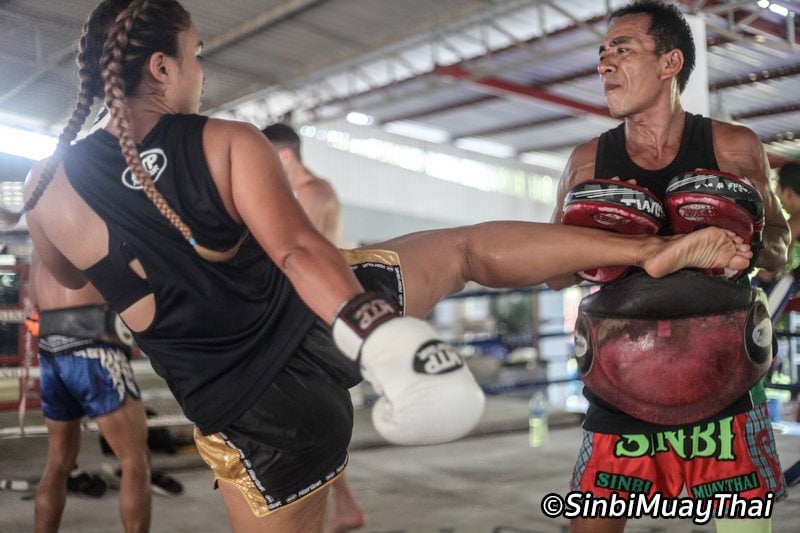 Founded by champion Muay Thai boxer Khun Sing, Sinbi Muay Thai has a large open-air training centre with three full-size rings and an equipped gym. Classes are open to anyone from beginners to professional fighters, with training customised to your skill level. Each class includes some shadow boxing, pad work, bag work, clinching and sparring, plus technique work closely watched by the trainers.
There's also a Muay Thai gear shop on site, and they have apartments for rent a short distance away. Sinbi's great if you want to enjoy a beach holiday with your Muay Thai training, located just a 10-minute drive from Nai Harn and Rawai beaches.
Classes
Single class: 2 hours: 500 baht
One-on-one training: 800 baht per hour
Monthly Muay Thai training: 12,000 baht
Sinbi Muay Thai Contacts
Phone:

078 017 3020

Location: Rawai Beach
Address: 100/15 Moo 7, Saiyuan Road, Rawai, Muang, Phuket 83100
3. Tiger Muay Thai and MMA Training Camp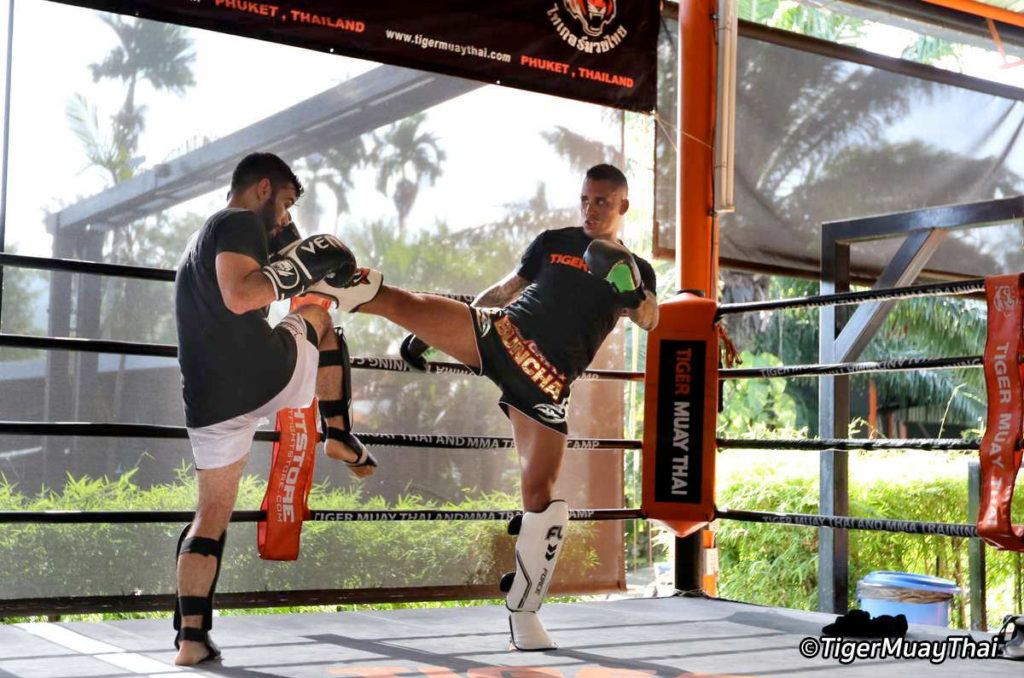 Tiger is Phuket's biggest and most widely known Muay Thai camp. Since Tiger opened in 2003 on Soi Ta-Iad in Chalong, it's grown rapidly, and it's led to the transformation of "The Soi" from an unknown rural area with rubber tree plantations to a thriving hub for Muay Thai and fitness enthusiasts, packed with training camps, hotels, shops and restaurants. You'll see a wide range of people training at Tiger, from complete newbies looking to get into shape to UFC champions.
The camp also offers MMA training and has more than 20 classes, including CrossFit, yoga and Brazilian Jiu-Jitsu, and Muay Thai sessions for beginner to advanced levels. Tiger continues to grow, having opened another training centre called Tiger Muay Thai Beachside at Palai Beach in Chalong, near Mor Mudong restaurant.
Classes
Single class, 2.5 hours: 500 baht
Day pass with access to all classes and facilities: 900 baht
Monthly Muay Thai and MMA training: 14,000 baht
Tiger Muay Thai Contacts
Phone: 076 367 071
Location: Soi Ta-Iad – Chalong
Address: 7/35 Moo 5, Soi Ta-iad, Chalong, Muang, Phuket 83130
4. Revolution Muay Thai Camp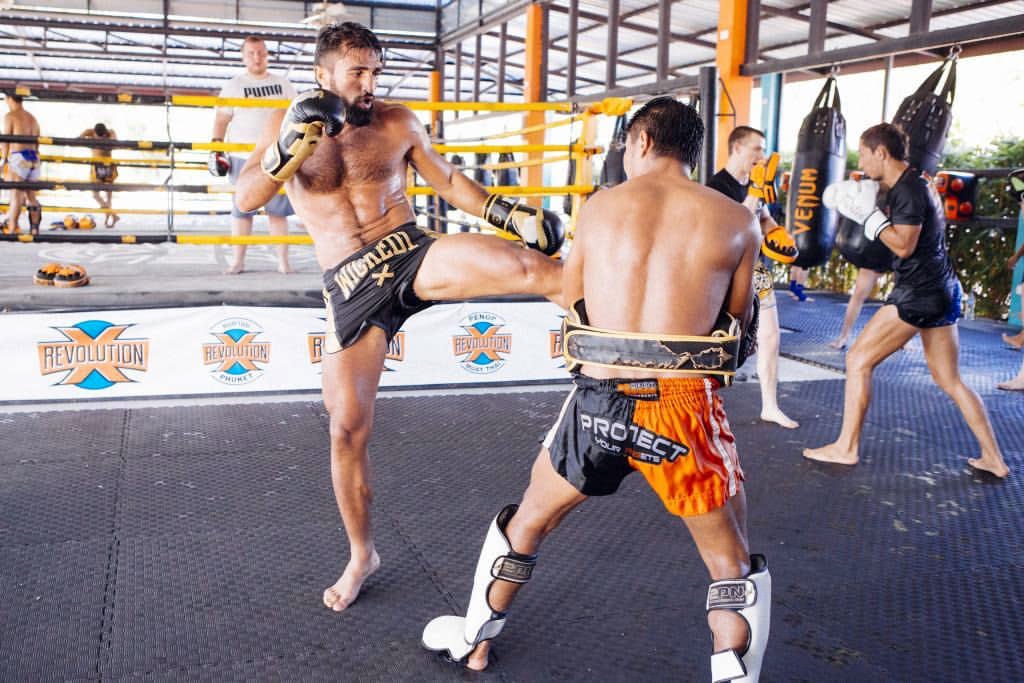 Revolution is a well-known name in the Muay Thai scene, ideal for those wanting to mix training with a beach escape, with beautiful Surin Beach just 400 metres away and 200 m from Bangtao Beach. They offer classes and one-on-one training in Muay Thai and Brazilian Jiu-Jitsu, Mx fitness training, yoga and Western boxing.
Class sizes are kept small to ensure a more personal style of training. Revolution Muay Thai also has rental rooms on-site and nearby, with monthly packages including accommodation.
Classes
Drop-in classes: Muay Thai: 500 baht, Brazilian jiu-jitsu: 500 baht, Functional fitness: 500 baht, Boxing: 500
Monthly Muay Thai: 11,000 baht
Monthly all access: 16,000 baht
Accommodation with training monthly packages: 22,000 baht – 35,000 baht
Revolution Muay Thai Contacts
Phone: 087 276 5024
Location: Cherng Talay
Address: 72/46 Moo 3, Cherng Talay, Thalang, Phuket 83110
5. AKA Thailand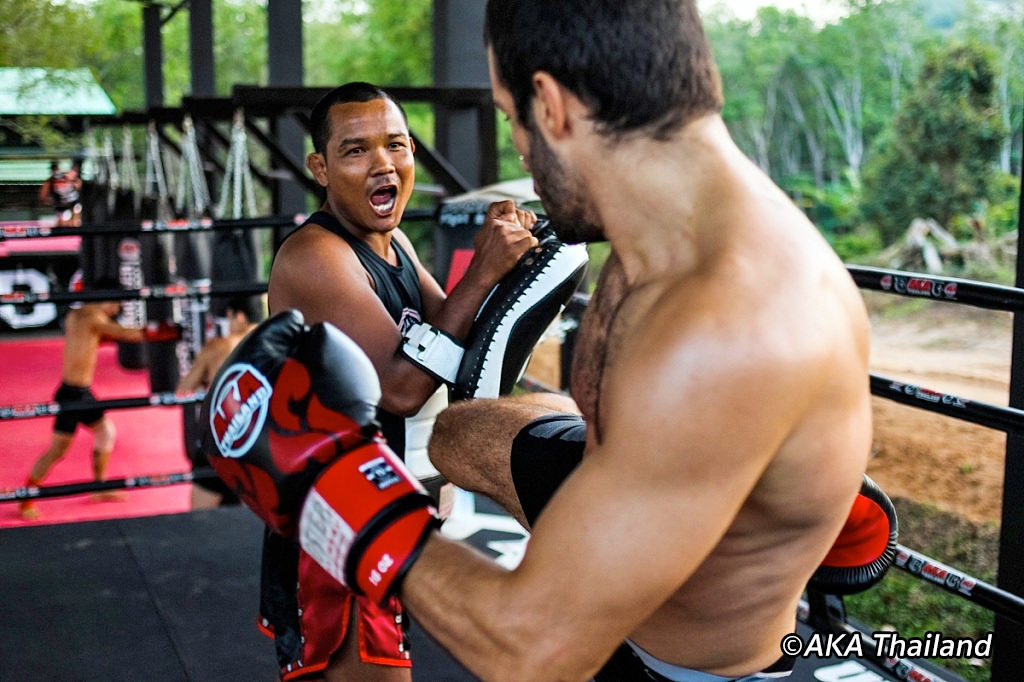 AKA Thailand in Phuket is an offshoot of the original AKA in the US, a top centre for MMA training founded by American kickboxing champion Javier Mendez. The Phuket branch is run by former UFC fighter Mike Swick, with a modern, well-equipped facility in Rawai and a range of classes, including Muay Thai, MMA fundamentals, Brazilian Jiu-Jitsu and yoga. Though many champion-level fighters come here to train, AKA also welcomes beginners and anyone looking to get fit.
There's no on-site accommodation, but AKA offers packages that include training and accommodation at nearby hotels or guest houses.
Classes
Single class, 2 hours: 600 baht
Martial arts training, 1 month: 12,650 baht
Standard travel package, monthly: 40,000 baht including training, motorbike rental, airport transfer, accommodation and some t-shirts and training gear
AKA Thailand Contacts
Phone: 076 604 004
Location: Rawai
Address: 47/31-32 Moo 4, Soi Sermsuk, Viset Road, Rawai, Muang, Phuket 83100
6. Kingka Muay Thai Camp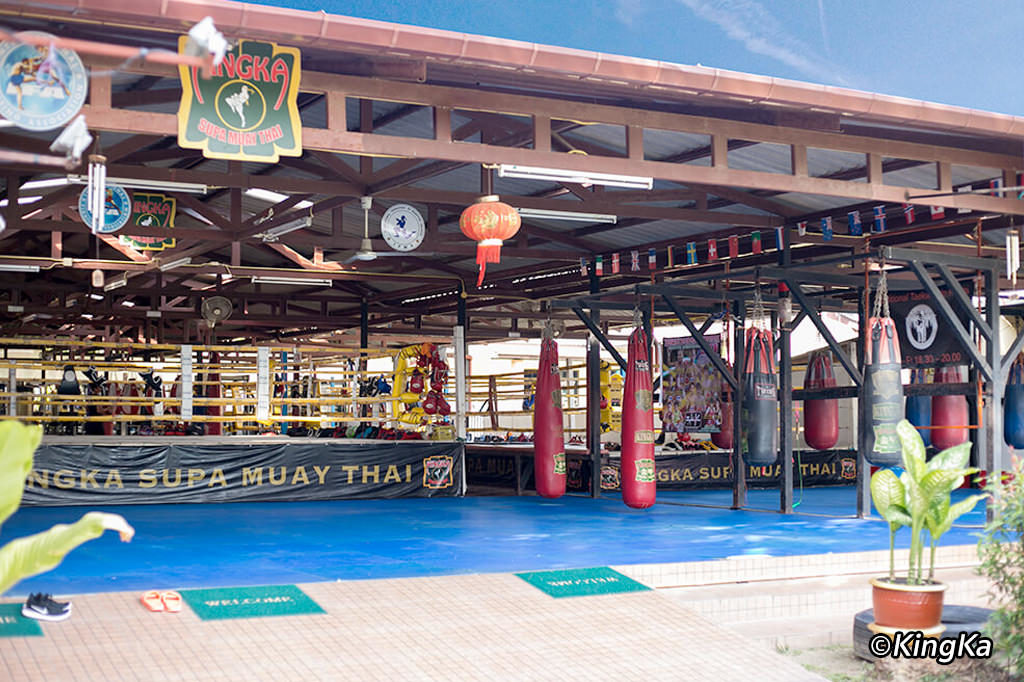 This small camp is in a quiet setting in Rawai with a gym, shared accommodation and bungalows on site. Opened by skilled trainers formerly of Supa and Rawai Muay Thai camps, this is a great place to go if you're keen to home in on Muay Thai training only.
Each trainer brings decades of experience and a different style of boxing. Head trainer Khun Keh is focused on a high-low strategy of fast, strong boxing mixed with low kicks, while Khun Kouprey, a former Olympic contender, teaches boxing techniques. They also offer training for kids.
Classes
Single class, 2 hours: 300 baht
Weekly, 2 classes per day: 3,000 baht
Monthly, 2 classes per day: 10,000 baht
Kingka Muay Thai Contacts
Phone: 076 226 495
Location: Rawai
Address: 43/42 Moo 7, Viset Road, Rawai, Muang, Phuket 83100
7. Absolute MMA Thailand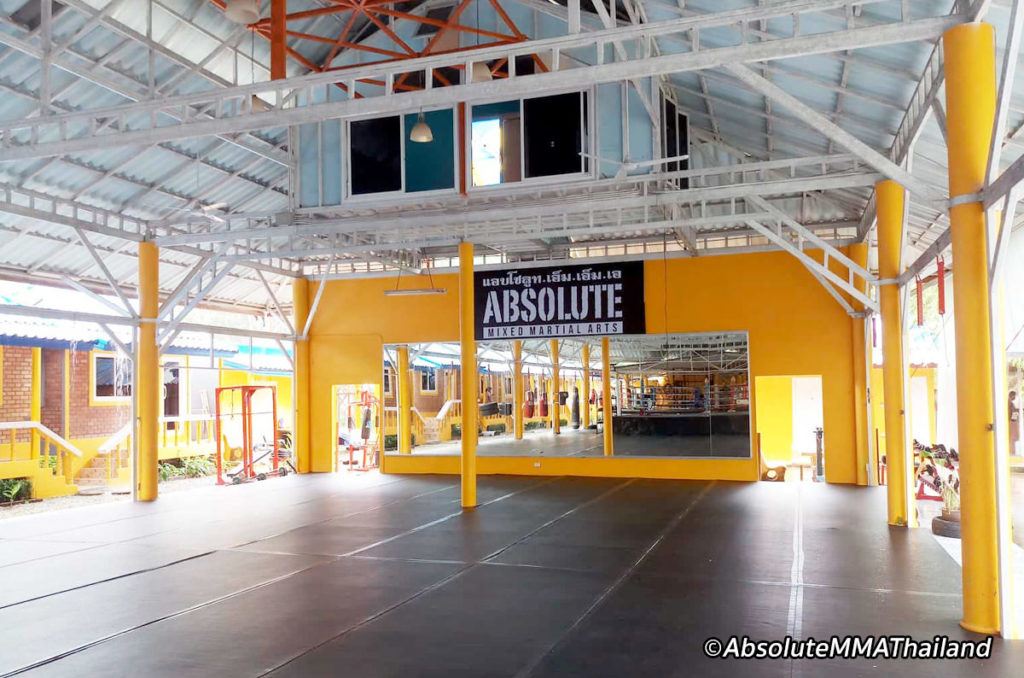 As its name suggests, MMA is a big focus at this training camp in Rawai, with a mix of Muay Thai, Brazilian Jiu-Jitsu (BJJ), boxing, wrestling, and strength and fitness classes on offer. Absolute MMA trainers come from many martial arts backgrounds, including MMA and Muay Thai champions.
The camp has two boxing rings, a full-sized MMA cage, and on-site accommodation. They also bring in special guest trainers for intensive weeks of training in Jiu-Jitsu and more, so be sure to check their schedule if you're looking to learn more specialised techniques from a top-level fighter.
Classes
Single class, 2 hours: 600 baht
Monthly training: 12,000 baht
Monthly training package: 24,000 baht including bungalow accommodation on site
Absolute MMA Thailand Contacts
Phone: 090 925 6109
Location: Rawai
Address: 81/49 Moo 7, Soi Samakee 2, Sai Yuan Road, Rawai, Muang, Phuket 83100
8. Phuket Top Team Muay Thai & MMA Training Camp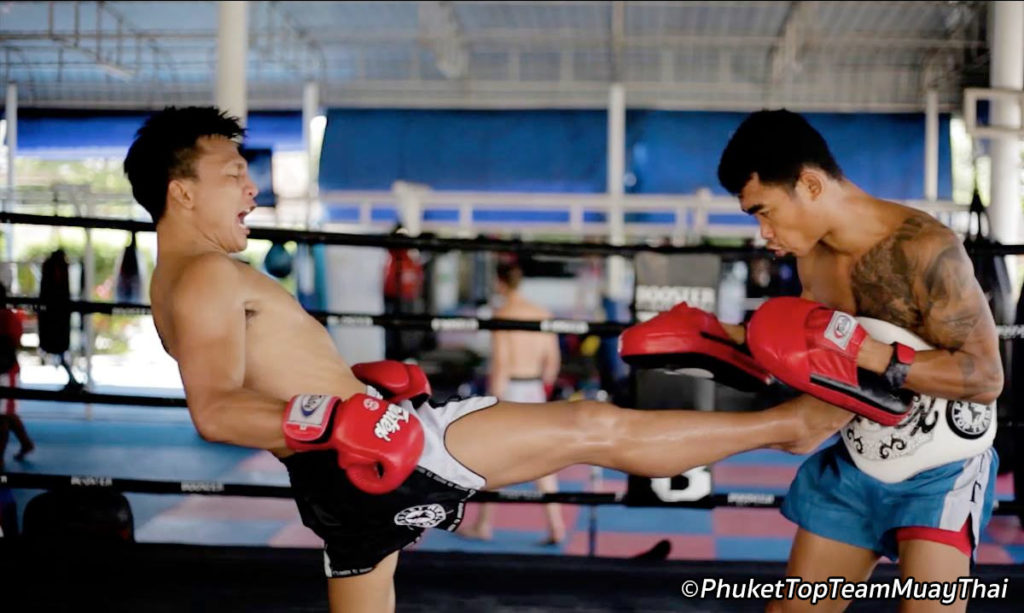 Phuket Top Team is found on Soi Ta-Iad in Chalong in the heart of Phuket's Muay Thai/MMA training scene. The camp is focused on advanced training, but even beginners can join if willing to do the work.
In addition to Muay Thai, they offer training in western boxing, strength and conditioning, BJJ, TRX, submission grappling and wrestling in open-air and air-conditioned training areas, including an indoor MMA cage. Classes are kept relatively small, and although challenging, the camp's "no ego" policy makes everyone feel welcome.
Classes
Single class, 2 hours: 500 baht
Private training, Brazilian Jiu-Jitsu: 3,000 baht
Monthly training, all classes: 11,400 baht
Phuket Top Team Contacts
Phone: 076 367 567
Location: Soi Ta-Iad – Chalong
Address: 45/31 Moo 1, Soi Ta-iad, Chalong, Muang, Phuket 83100
9. Suwit Muay Thai Camp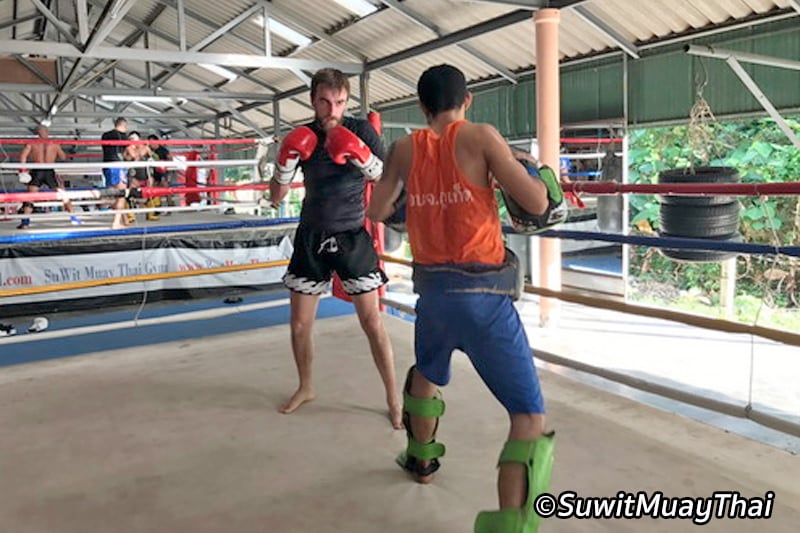 Open for more than 25 years, Suwit is said to be the first Muay Thai camp in Phuket, and many of its students have gone on to fight around Thailand and internationally. The trainers are all highly experienced, and the camp in Chalong has a gym, boxing rings and accommodation.
Anyone is welcome to come and train here, whether you want to lose some weight and shape up or hope to fight competitively. Suwit's weekly Friday night fights are exciting to come and watch, even if you're not training here. Suwit's prices are a great value, whether you stay on-site or not.
Classes
Single class, 2 hours: 500 baht
Monthly training: 9,000 baht
Monthly training with room rental: 11,000 baht for a fan room, 14,500 baht for air-con
Suwit Muay Thai Contacts
Phone: 081 737 6072
Location: Chalong
Address: 15 E Chao Fa Road, Chalong, Phuket 83130
10. Rattachai Muay Thai Gym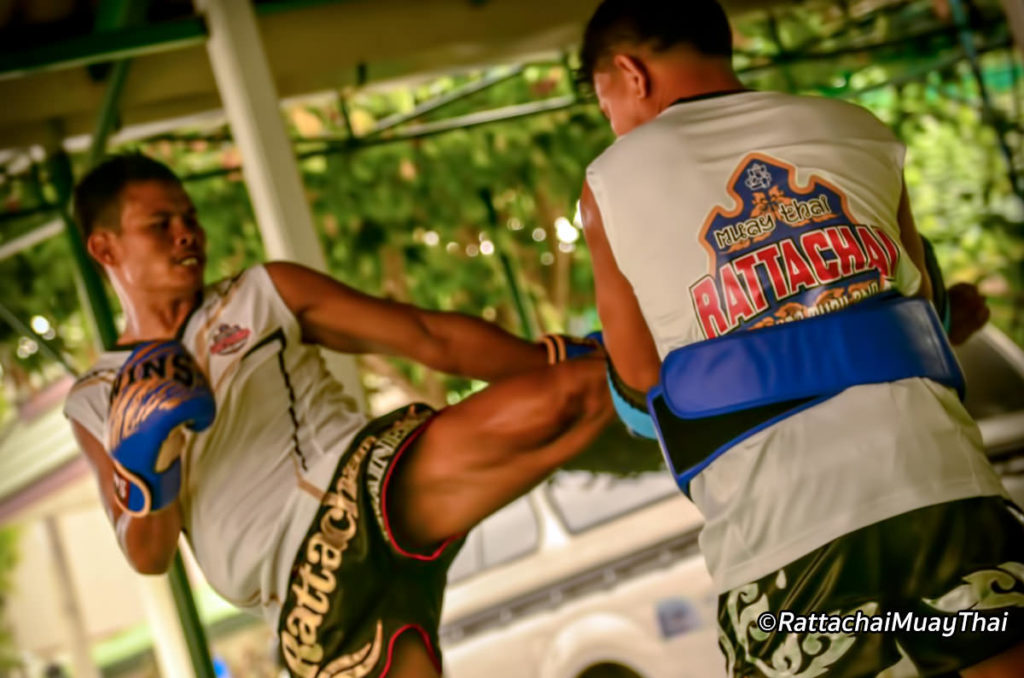 Rattachai is a Muay Thai training camp owned by Khun Nai, a three-time Lumpinee Stadium champion. Found near the popular Muay Thai soi in Chalong, the camp offers group classes twice a day and private training.
It's known to be a friendly place that welcomes all skill levels, but they also push hard, so expect to put in some sweaty sessions. Though the camp doesn't have its own accommodation, training packages include room bookings at nearby resorts.
Classes
Single class, 2 hours: 400 baht
Private lessons: 700 baht per hour
Monthly Muay Thai training: 10,000 baht
Rattachai Muay Thai Gym Contacts
Phone: 076 626 706
Location: Chalong
Address: 49/3 Soi Luang Pho Chaem, Chalong, Muang, Phuket 83000
Map of Muay Thai Camps in Phuket
---
More reading