Phuket Health Street
Soi Ta-iad goes by many names: Soi Taied, Fitness Street, Phuket Health Street or Muay Thai Street because it is home to many Muay Thai Camps, Fitness and Gyms, Spas and Health Shops. Unless you are in Phuket for some seriously active holiday, you probably never heard Soi Ta-iad, a 1.5 kilometres long street connecting Chao Fa Road east to Chao Fa Road west, somewhere near Wat Chalong. As you drive through this narrow street, you will frequently see groups of young and fit people running up and down in fitness attire, at any given time.
The street started modestly with just a few Muay Thai training camps and a few restaurants. Then the chain reaction started, more gyms attracted more active travellers, more active travellers attracted more related businesses. Soi Ta-iad is now lined by everything you need to get that amazing body of yours as perfect as it can be for the beach! We'll start this page simply by listed as many venues as possible and add as we explore.
---
Muay Thai Training and Gyms
---
Tiger Muay Thai
Boxing gym with on-site accommodation offering Muay Thai–style martial arts, MMA & jujitsu classes.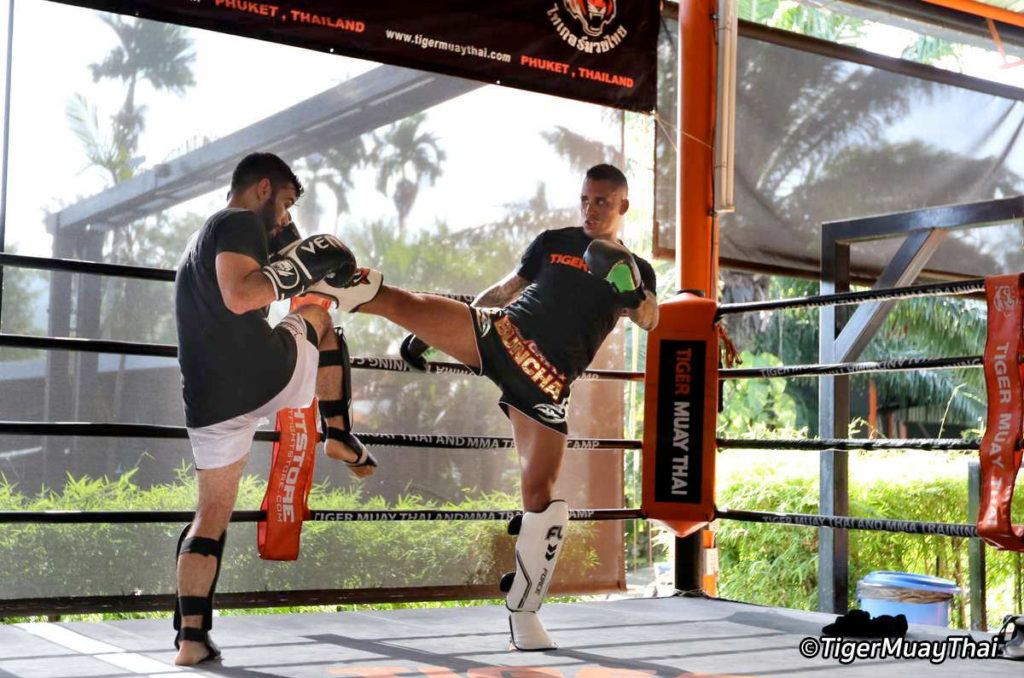 Address: 7 35 Soi Ta-iad, Chalong, Phuket 83130
Open: 7 am – 5 pm, Sunday 11 am – 5 pm
Phone: 076 367 071
Facebook: https://www.facebook.com/TigerMuayThaiMMAPhuketThailand/
---
Unit 27 CrossFit
Address: Soi Tad-Ied, 9/49 Chalong, Mueang Phuket District, Phuket 83130
Open: 7 am -2 pm
Phone: 076 367 380
Facebook: https://www.facebook.com/CrossFitPhuket/
---
Phuket Top Team Muay Thai & MMA Training Camp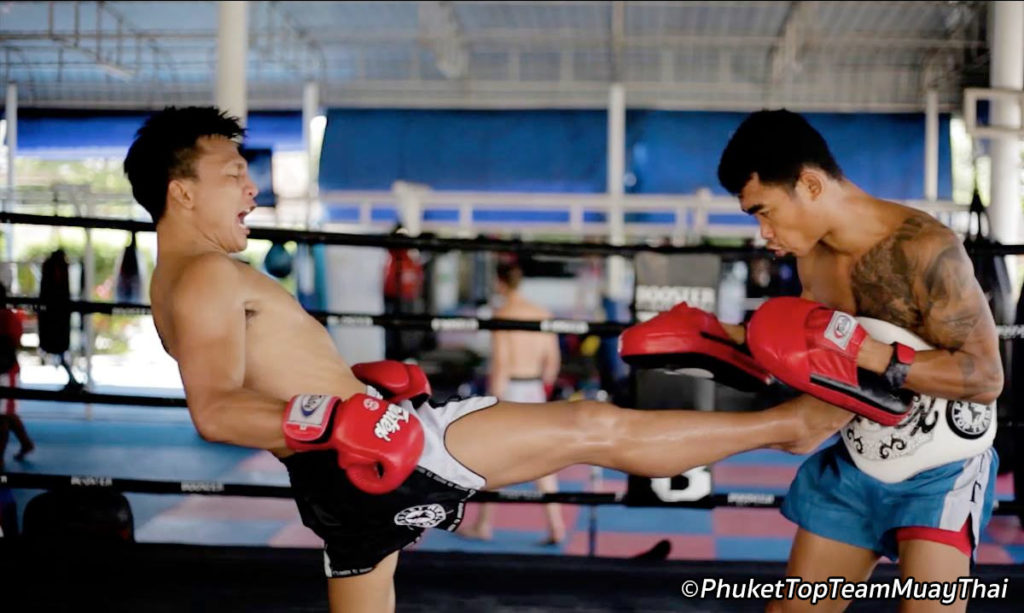 Address: 45 / 31 M.1 Soi Tadied Chalong, Mueang Phuket District, Phuket 83100
Open: 7 am – 8 pm
Phone: 076 367 567
Facebook: https://www.facebook.com/phukettopteam/
---
Titan Fitness Camp
Physical fitness program
Address: 22/45 Soi Ta-iad, Chalong, Mueang Phuket District, Phuket 83130
Open: 7 am – 9 pm
Phone: 076 604 022
Facebook: https://www.facebook.com/titanfitnessthailand/
---
CMT Muay Thai School
Address: Unnamed Road, Chalong, Mueang Phuket District, Phuket 83000
Open: 7:30 am – 8 pm
Phone: 076 521 159
Facebook: https://www.facebook.com/cmtmuaythaischoolphuket/
---
Dragon Muay Thai Camp
Muay Thai boxing gym in Chalong, Mueang Phuket
Address: 10/14 Moo. 5 Soi. Ta-iad Ao Chalong, Muang Phuket Thailand, 83130
Open: 7 am – 6 pm
Phone: 085 186 9570
Facebook: https://www.facebook.com/cmtmuaythaischoolphuket/
---
Rattachai Muay Thai Gym
Muay Thai boxing gym in Chalong, Mueang Phuket
Address: 49/3 Moo 5 Soi Luang Pho Chuang, Chalong, Chalong, Muang, Phuket Phuket 83130
Open: 7.30 am – 8 pm, Sunday 10 am – 6 pm
Phone: 091 043 2041
Facebook: https://www.facebook.com/rattachaimuaythai/
---
EVOLVE Phuket
Gym offering Muay Thai, Brazilian Jiu-Jitsu, Functional Fitness, Yoga and Zumba, Latin Dance
Address: 45/28 Soi Ta-iad, Chalong, Mueang Phuket District, Phuket 83000
Open: 7 am – 6 pm
Phone: 064 565 8114
Facebook: https://www.facebook.com/cmtmuaythaischoolphuket/
---
Phuket Singha Muay Thai Gym
Gym in Chalong, Mueang Phuket
Address: 54/111 Moo. 1 Soi Ta-aid, Chalong, Mueang, Phuket City, 83130
Open: 8 am – 8 pm
Phone: 063 417 9902
Facebook: https://www.facebook.com/phuketsinghamuaythai/
---
Yoga Studios
---
Yoga Connections
Address: Soi Ta-iad, Chalong, Amphoe Mueang Phuket, Phuket 83000
Open: 8 am – 8 pm
Phone: 087 885 8787
Facebook: https://www.facebook.com/yogaconnectionsphuket/
---
5 Elements Hot Yoga
Address: 45 75 Soi Ta-iad, Chalong, Mueang Phuket District, Chang Wat Phuket 83130
Open: 8 am – 9 pm
Phone: 094 592 2294
Facebook: https://www.facebook.com//5-Elements-Hot-Yoga-1856886714436835/
---
Popular Bars
---
Massi Sport Bar
Address: Soi Ta-iad, Chalong, Mueang Phuket District, Phuket 83000
Phone: 084 841 3701
---
Chalong Black Label
Address: Soi Ta-iad, Chalong, Mueang Phuket District, Phuket 83000
Open: 4 pm – 2 am
---
Soi Ta-iad Map