Whitewater Rafting in Phang Nga
Whitewater rafting near Phuket, on the Song Preak River in Phang Nga forest, is an activity that will give you a serious adrenaline rush! Of course, nothing to compare with the Grand Canyon, but on the other hand, you don't need to be experienced or even fit to enjoy it. Even kids can join.
The river is located outside Phuket in Khaosok within Phang Nga province, and a minibus took us there. On arrival, we were given our gear: a life jacket and a helmet, as well as a short briefing about safety and paddling. In fact, a guide will do most of the work, so if you have no idea how it works, hang on to the ropes, scream and enjoy the ride.
Once everyone was ready, we boarded the rafts and gently started to drift away from the riverbank, nice and easy, and just when we started to think, "Oh, this isn't so bad! it's a lot easier than I thought", the water suddenly started to rush, lifting the raft and, taking us down the stream at full speed! The guides were experts at guiding the boats through the river passages, and most passengers were too busy screaming and laughing to do much anyway.
After a short while which strangely felt very long for some, the boats finally reached calmer waters where we could swim and calm down from all the excitement.
The trick I found out later is a small dam holding the water on high grounds for several hours. Once the rafts start moving, the floodgates are opened, releasing a large amount of water at once, hence the sudden increase in speed. I found out about it as I was taking these photos: I stood on an isolated rock, just a step away from the bank, when I suddenly saw the water rising around me, and instead of being 50 cm from me, the river bank was suddenly a meter away, and it was just getting further by the second! That day, I broke the world record for 'long jump over the water with a camera'.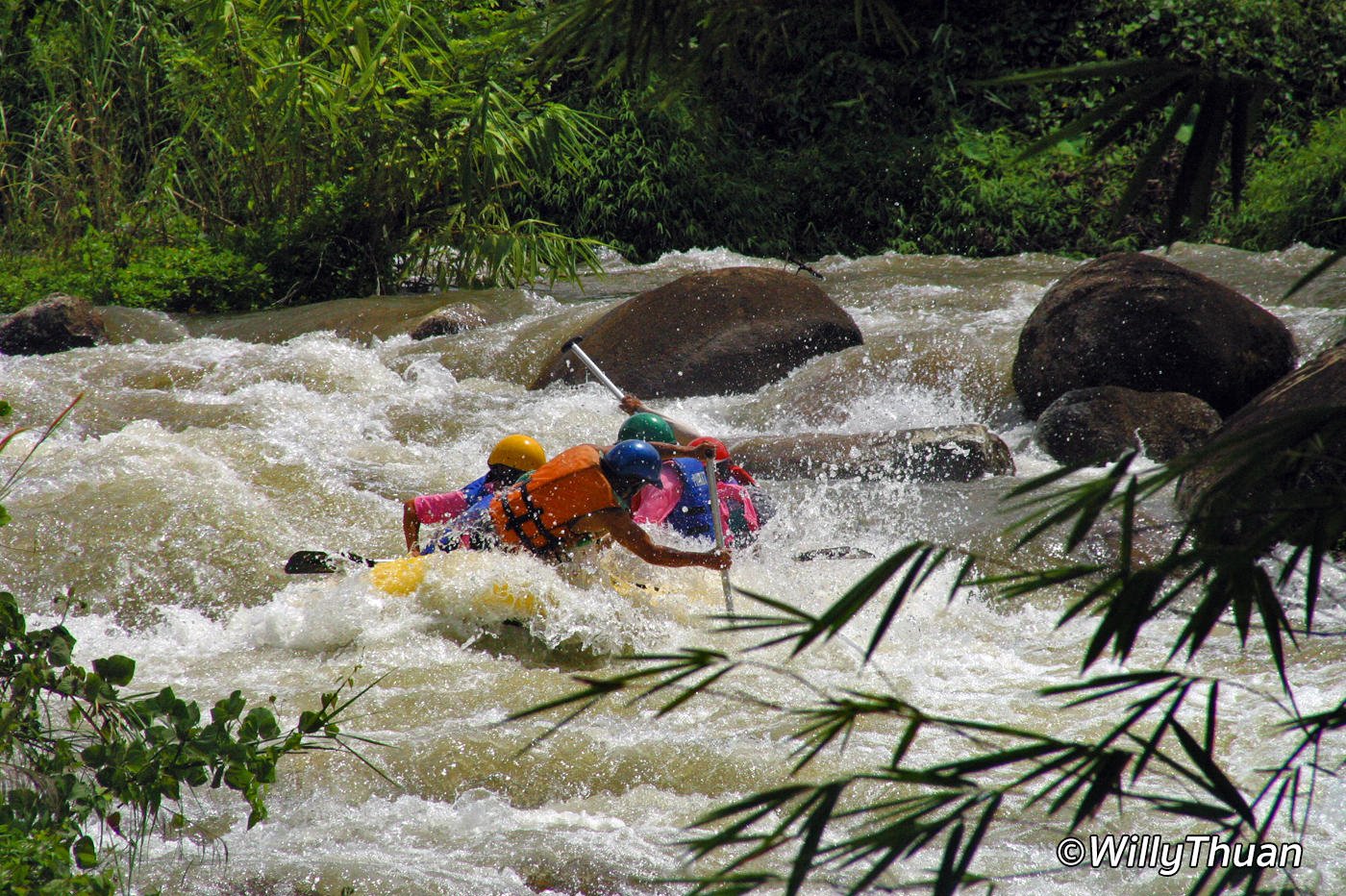 Back to the rafts, a truck took all wet passengers to a nearby small waterfall where we had a bit more time to play until it was time to get back to the camp, where nice Thai lunch was served. The mood is pretty joyful and happy as the thrill gave way to a lot of totally unjustified bragging.
---
More photos of whitewater rafting near Phuket
---
How to book
It is easy to book a White Water Rafting day once in Phuket, even the day before. There are several in Phang Nga and the tour includes the pick and return to your hotel. When booking, make sure to ask the tour includes elephant riding! Elephant riding and elephant trekking is an old unethical activity that is still included in some packages and should be avoided.
---
More reading