What is Baan Teelanka?
Phuket Upside Down House (Baan Teelanka in Thai) is one of the most surprising attraction in Phuket. Once you see it, there is no need for any explanation as this pink house is standing upside down in a garden like if some giant kid had casually dropped it after playing with it.
In all 'logic', you need enter Baan Teelanka through the roof, directly into the attic. (If I didn't show you the photos, you would be scratching your head right now). From the attic, a staircase takes you to the main living area of the house where the fun really begins. First, your brain tries to make sense of what is going on here. OK, everything is stuck to the ceiling, it's interesting. Slowly your brain starts to adjust to the fact that you are actually walking… on the ceiling! You are the only object in the wrong position in the house! Even the real fish in the aquariums are swimming upside down.
Once you start to visualize this, it's great fun to walk around Baan Teelanka and admire the designer's skills. The bedroom with inverted TV playing video clip form the song 'Upside Down' image being inverted as well of course.
The kitchen, living room, bedroom, working area are all beautifully executed. You just have to take a photo and rotate your camera to realize that it actually looks perfectly real! From there it's up to your imagination to find the most striking pose, whether you want to be Spiderman, Spider-pig (from the Simpson movie), a ghost crawling in a ceiling corner or the poor guy defying gravity. And don't miss the toilet/shower room… lost of fun and silly poses to try here!
You can then continue and walk up (or down) to the open air basement. Baan Teelanka being a modern Thai house, it is (supposedly) built on stilts where usually the garage, kids playground are found, and the highlight of the house: a real Tuk Tuk!
Behind this fantastic house is another fun attraction: a large garden maze to challenge your senses further aptly called 'A Maze In Thailand'. Seen from high grounds it seems pretty simple as you can see people trying to find their way from Point A (the entrance) to Point B (the exit), but try it! Once in there it is a lot more difficult and larger than it seems, a great way to play with your kids.
This 'perception challenging wonder' is the brainchild of Alex Riva, previously hotel manager in international chain of hotels, and his wife. This is their dream come true and every item, every frame and every shoe you will see in the house is the result of their passion for details… and the house still evolves!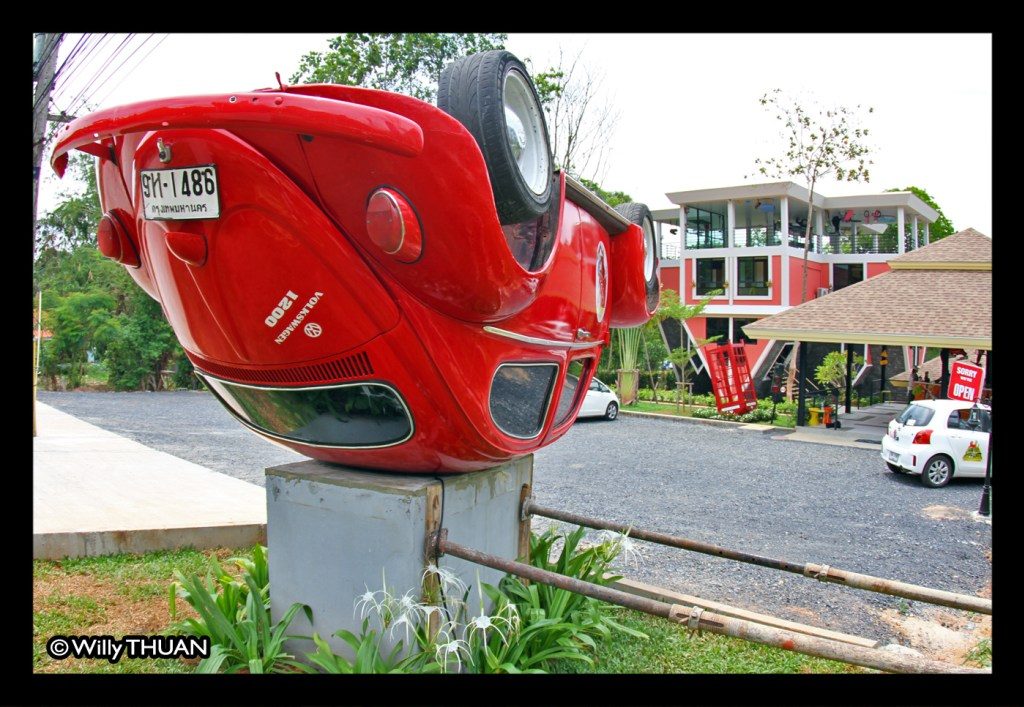 Baan Teelanka is easy to find, just between the 'Outlet Village' and 'Siam Niramit' on the bypass road. Make sure you keep your eyes on the left once passed the Outlet Shopping Village to spot the red Volkswagen Beetle parked upside down in front of the house. Note that the house can get really busy on weekends as all the kids living in Phuket wants to see it, so come on week days, preferably early as it can be a bit hot in there, but also better for the photo effects: it looks better when you are the only person 'walking on the ceiling' ! 😀
Baan Teelanka
Location: 51/11 Chalermprakiet Ratchakan Thi 9 Road  (known as By-Pass Road)
Open: 10:00 am – 6:00 pm
Price: for the House: Adult 250 Baht, Kids 150 Baht (4 to 11 years old). For the Maze: 150 Baht, Kids 100 Baht (4 to 11 years old)
Phone: 076 376 245
Baan Teelanka Photos
Baan Teelanka Map

View Upside Down House Map in a larger map