What is Bangkok Best Rooftop Bar?
Bangkok Best Rooftop Bars list keeps getting longer, and no other city in the world can pretend to have more rooftops and sky bars than we do here. At this time, we count more than 20 'real' rooftop bars and restaurants and a good dozen alternate ones. By real rooftop bar, we mean built at the top of a building with an open sky above, not a terrace with a view.

Why this craze for Bangkok rooftops bars?
The fascination people have for high places and their fantastic views, and the photos they can post on Facebook,

An excellent weather condition most of the year that allows running all year round, (probably why there are not as many rooftops in Kuala Lumpur, seems to rain a lot at sunset time)

Rooftop bars can be great money makers for a space the hotel owns anyway! Few seats, a bar and a sound system and here you go, 350 baht for a Singha please (plus 7% tax and 10% service charge), and we all are happy to pay.
Wherever you are in Bangkok, there is always a rooftop near you! (We know this list is not complete, but we are growing it fast!)
---
Sathorn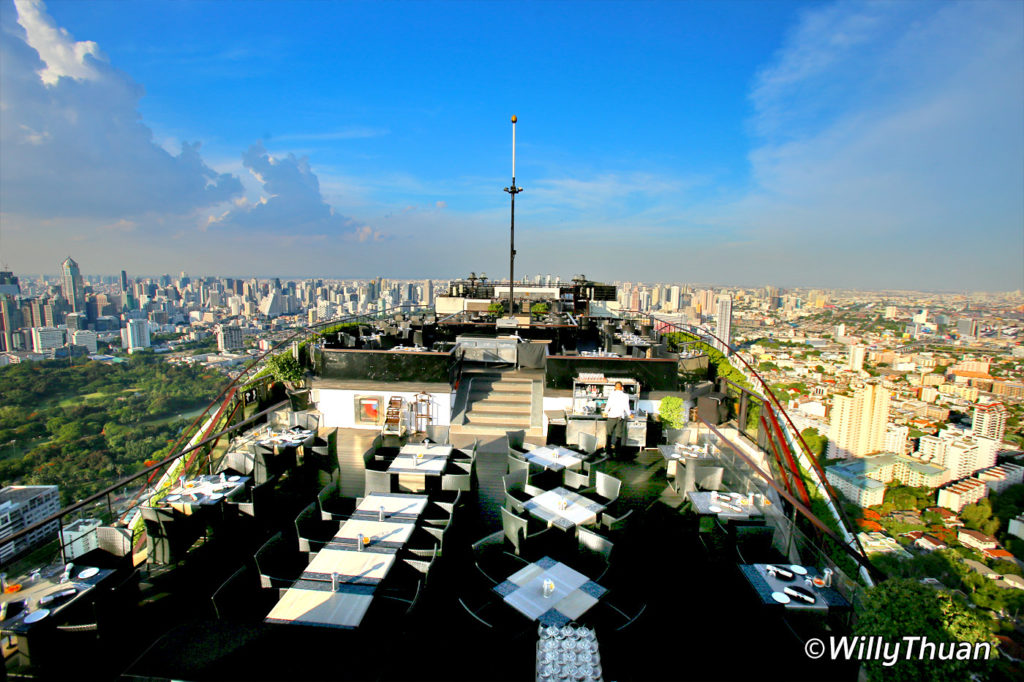 Vertigo Rooftop Bar and Moon Bar at Banyan Tree Bangkok are among the best in Bangkok, just after the Sky Bar at Lebua State Tower and the 360 Bar at the Millennium Hilton. Both Moon Bar and Vertigo are on the 61st floor of the famous Banyan Tree Hotel on Sathorn Road, a tall and skinny looking building. Read more
---
Silom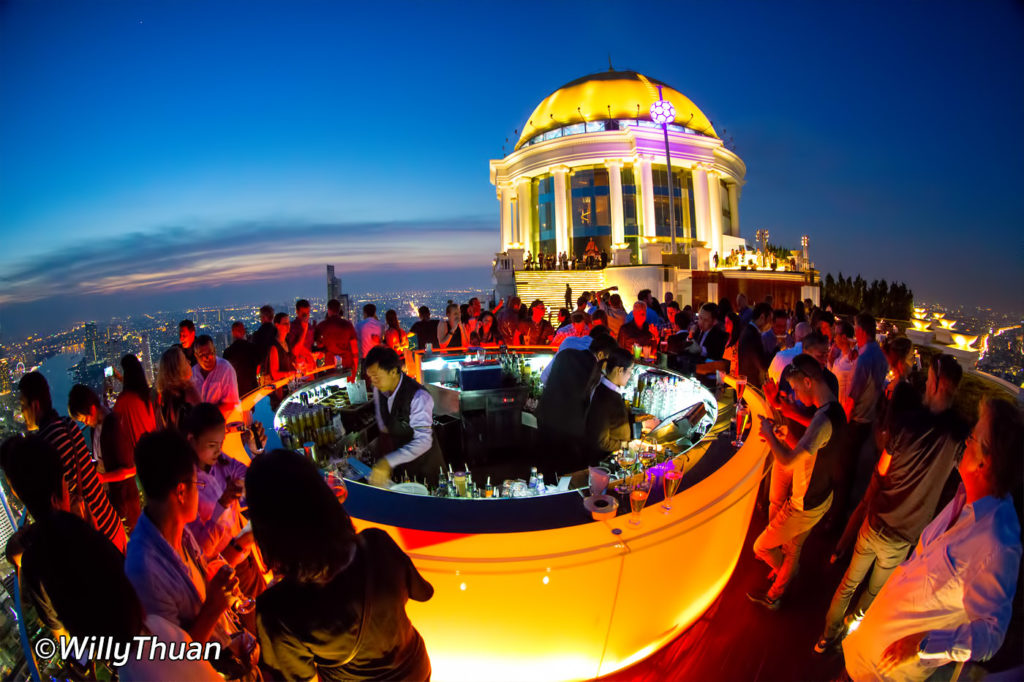 Sky Bar at Lebua Hotel on top of the State Tower is, without a doubt, the most famous rooftop bar in Bangkok. It was already renowned since its opening for its excellent location close to the river, its height, and mostly for that iconic golden dome. But after being featured in the Hangover II, it suddenly became a must on every traveller's list. Now is it my favourite bar? Not quite. While the views are great, there are way too many people up there to enjoy it. Wherever you stand, you are in somebody's way. Read more
---
Sukhumvit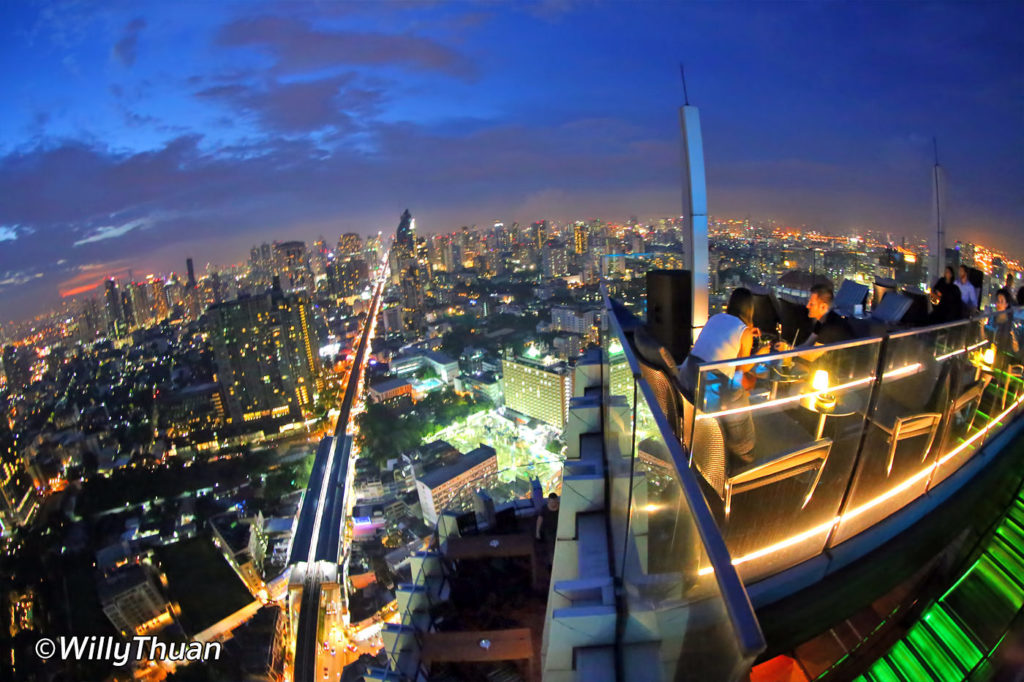 Octave Rooftop Bar is one of the most impressive in Bangkok by size. Built on three floors at the top of the Marriott Executive Apartments on Sukhumvit 57, Octave offers a full 360 view of the capital with a great perspective on the entire BTS track and the usual traffic jams of Sukhumvit road. Fortunately, it is also effortless to reach by BTS. Read more
---
Sathorn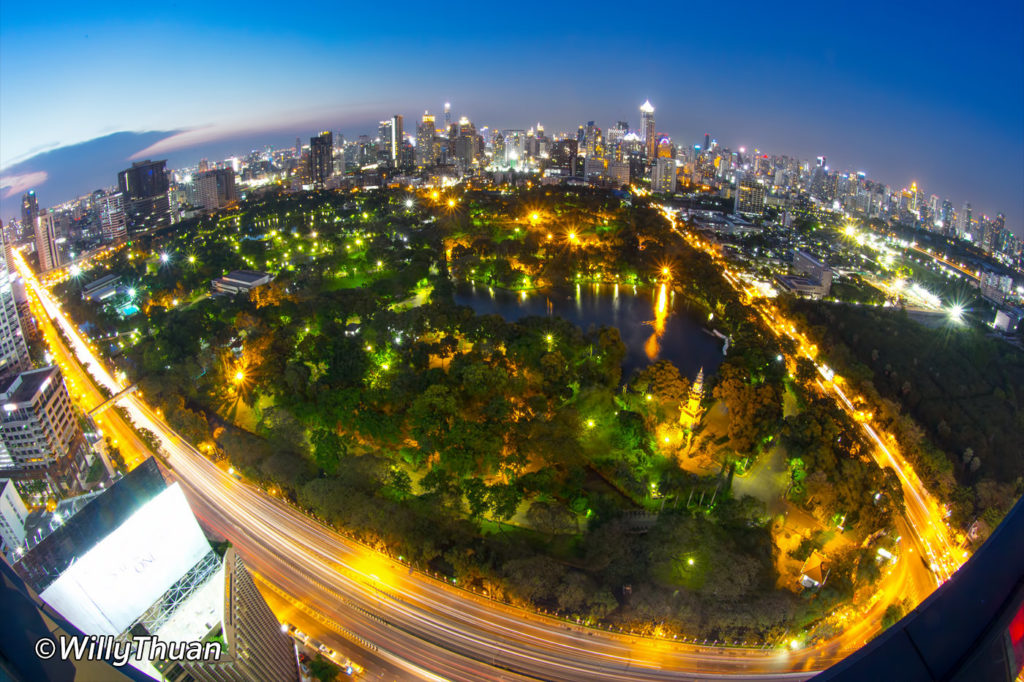 When Hi-So rooftop bar and restaurant at So Sofitel Bangkok opened, we thought this was just another luxury hotel, so how great can it be? Sathorn Road is nice and even posh, but it mostly looks like a broad avenue lined with tall and shiny skyscrapers and a growing collection of luxury hotels. Read more
---
Siam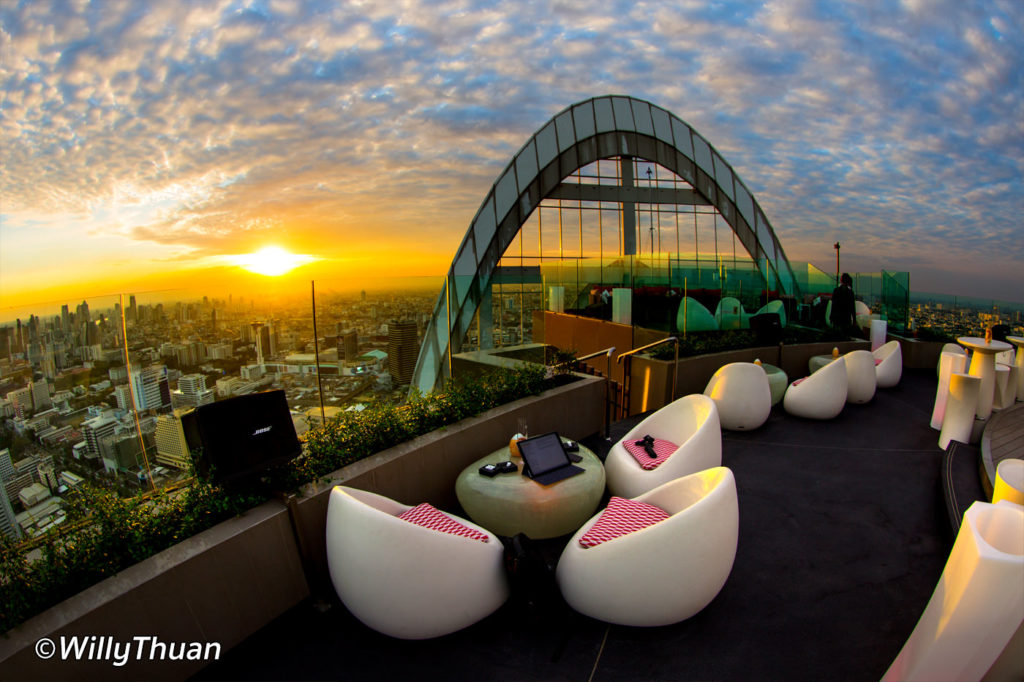 CRU Rooftop Bar is the latest and maybe the most exclusive rooftop in Bangkok right now (pronounce it 'cru', not C.R.U. meaning a vineyard of recognized quality in France) a vineyard or group of vineyards, especially one of recognized quality.). The location is well-known since it is just three floors above Red Sky Bar on the 55th Floor of Centralworld. CRU Rooftop wants to be for the Hi-So and Bangkok Elite people, serving mostly Champagne and selected grand crus (got the name now?). The 360˙ view from up there is simply superb. Note that CRU is not part of Red Sky, and there is a cover charge to go up there (apparently a lot of people tried). Read more
---
Thonburi Riverside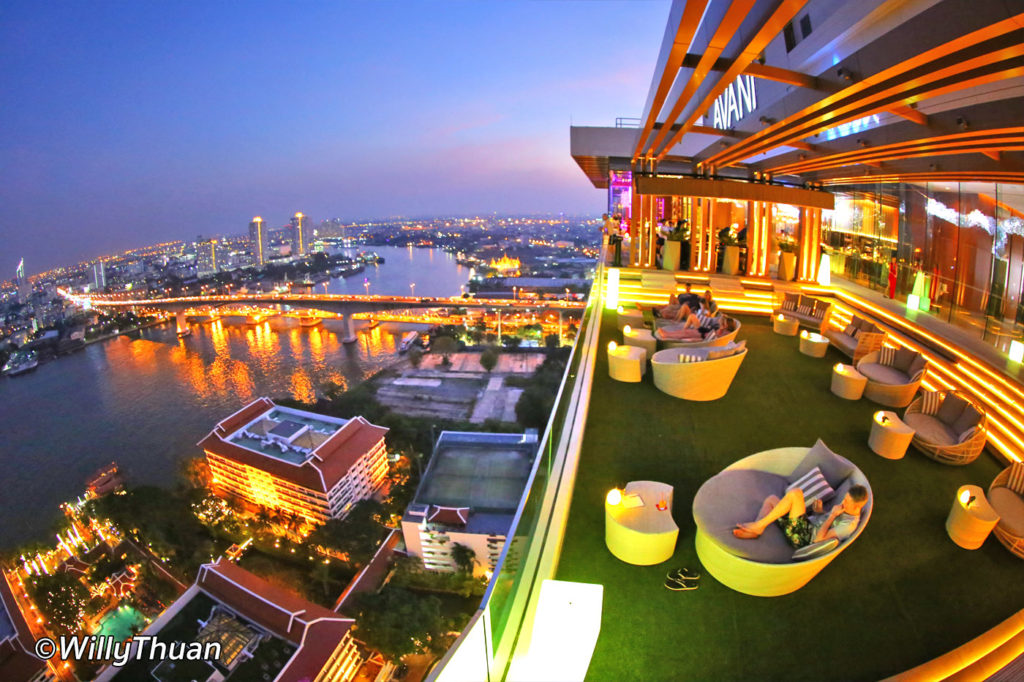 Seen Rooftop Bar is the latest opening in Bangkok, and we all know it won't be the last, but Attitude is worth a special mention. What makes Attitude at Avani Hotel interesting is the location on the Thonburi side of the Chao Phraya river, the side that most people only visit when they go to Wat Arun. It might be the reason this rooftop can afford to be so vast, and Attitude took full advantage of so much space. The place is well designed with a bar area next to a very cool open lounge. Further, you will even find a massive infinity pool, but it's probably reserved for the hotel guests. Read more
---
Thonburi Riverside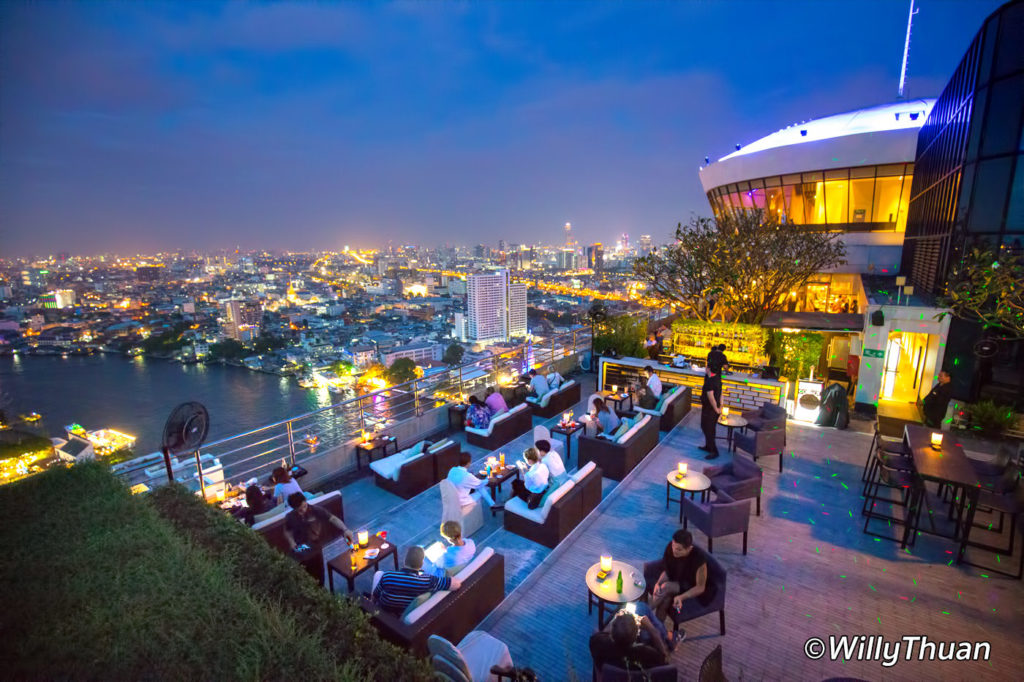 ThreeSixty Rooftop Bar at Millennium Hilton is a superb but rather under-appreciated rooftop bar. This might be because, seen for far; the bar seems to be inside an indoor panoramic cupola. This indoor bar has fantastic views indeed as it seems to hang high above the busy Chao Phraya river, but it would not qualify as rooftop if that was all.
Read more
---
Sukhumvit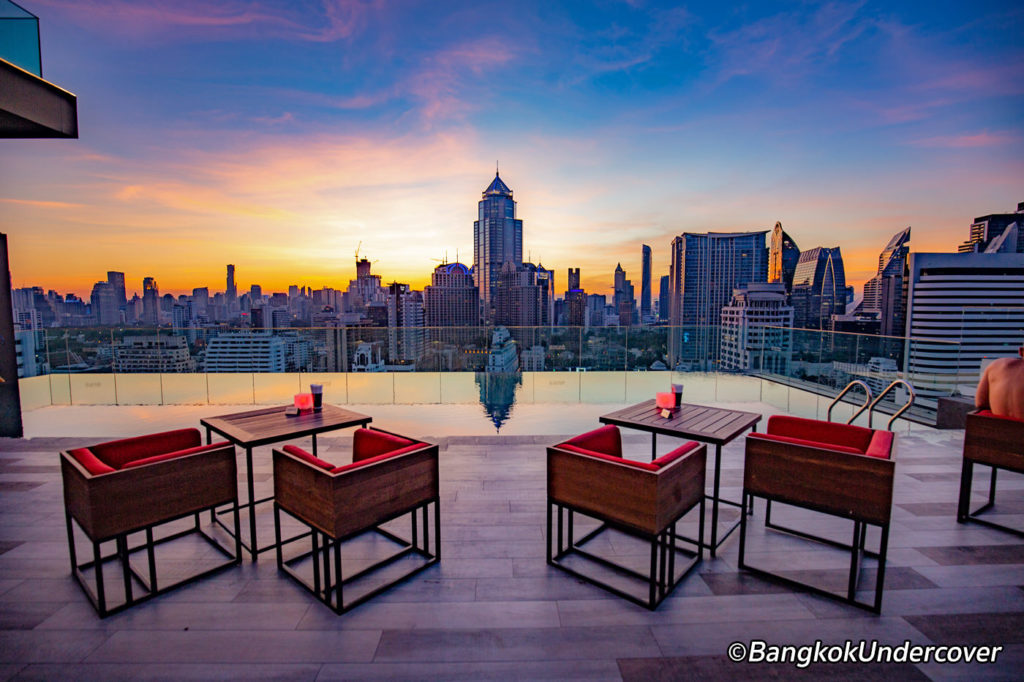 RedSquare is a new attractive Vodka concept rooftop bar perched on the 25th floor of the Novotel Bangkok Sukhumvit 4. The location in Nana is convenient; the skyline views on Ploenchit, the posh area of Bangkok, is impressive, especially at sunset time. The staff is amicable, and you feel welcome even if you are not a guest of the hotel, and it is very affordable.
Read more
---
Ploenchit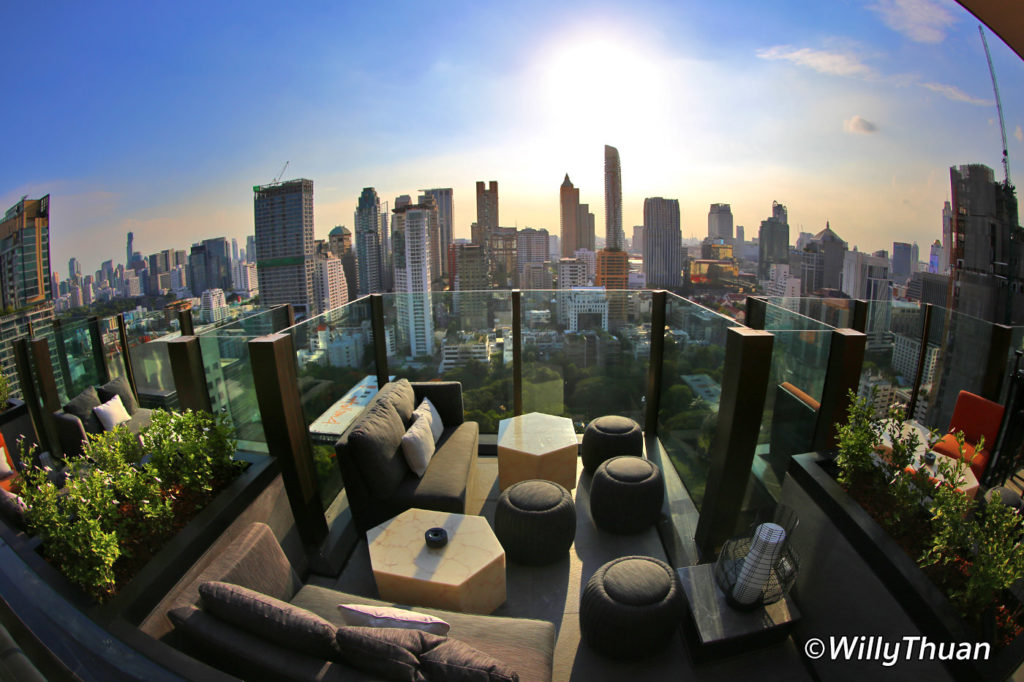 Char Rooftop is a small little bar perched 27 floors above the tree-lined wireless road and the vast garden of the American ambassador residence. The surrounding is pretty unique with lots of trees and green areas at the front and the modern and ever-growing city skyline beyond it. Read more
---
Sukhumvit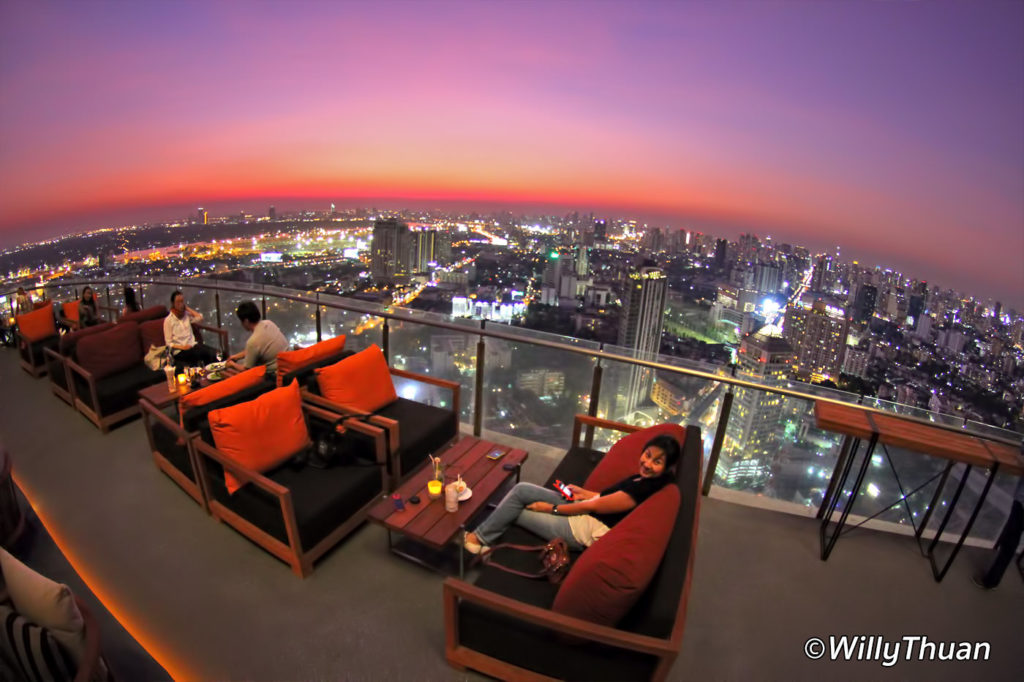 Cielo Rooftop Bar is another fantastic high spot at the intersection of Rama IV and Sukhumvit road in Bangkok. The panoramic view from the 46th floor of the Luk Condominium is surprisingly beautiful, considering that the building is on the outskirt of Bangkok. Prices are more affordable than Sky Bar, Sofitel So, and Banyan Tree Vertigo. Read more
---
Sukhumvit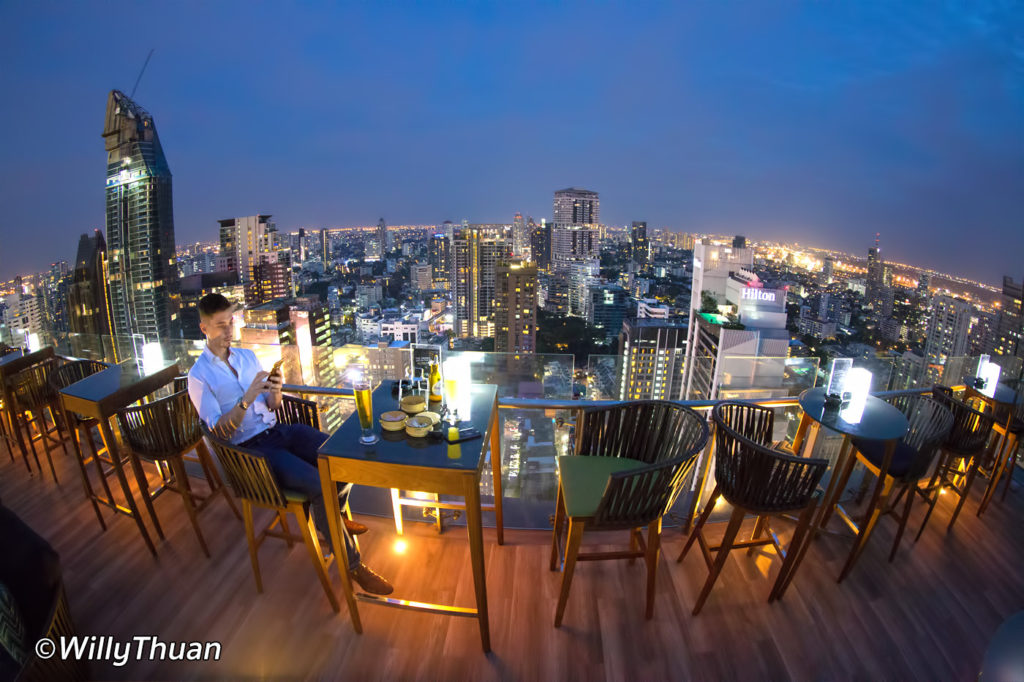 Vanilla Sky is minimalist in design but with a real 360 view, it is quite a nice place to hang after work. There is no riverside nearby to admire, but the Benjasiri Park is just below to add a touch of green and plenty of skylines to play the game of 'Recognize that building over there?'  The location at a short walking distance from Phrom Phong BTS station makes it an attractive place to go after work. Read more
---
Sukhumvit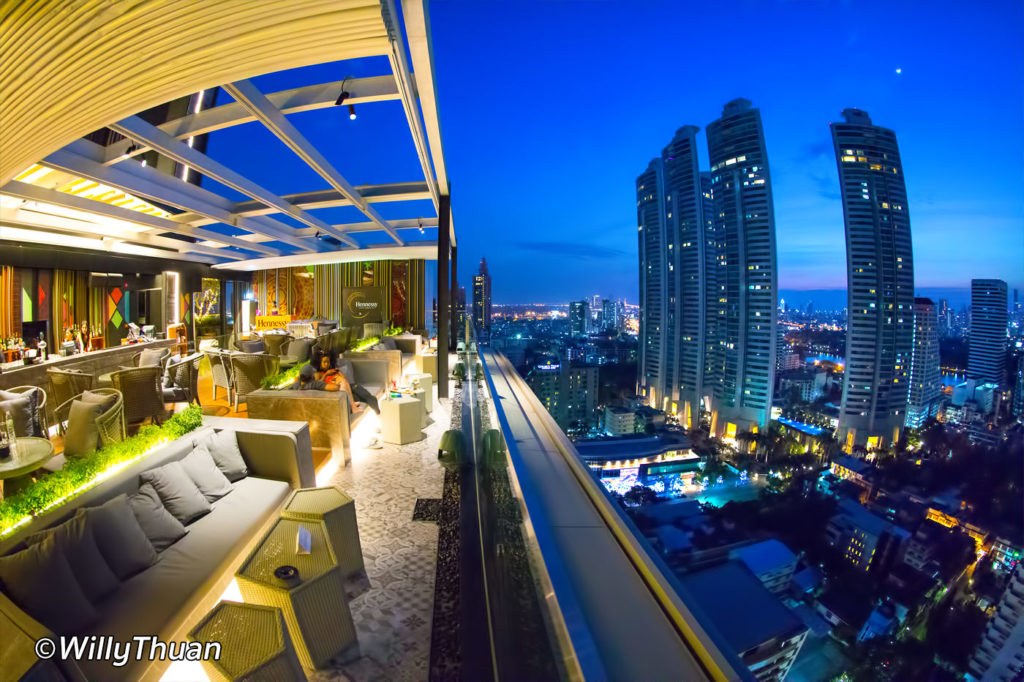 Sky on 20 Rooftop Bar is the latest addition on the Bangkok rooftop scene, but at the rate they are popping up, this statement will be outdated in a matter of weeks. Built on the 26th floor of the Novotel on Sukhumvit 20 so you can guess that the name wasn't chosen from the floor. Sky on 20 Rooftop Bar is not a top of the list since the view is so limited for Bangkok, but it's well designed with a pleasant atmosphere if you stay in this part of Sukhumvit. Read more
---
Sukhumvit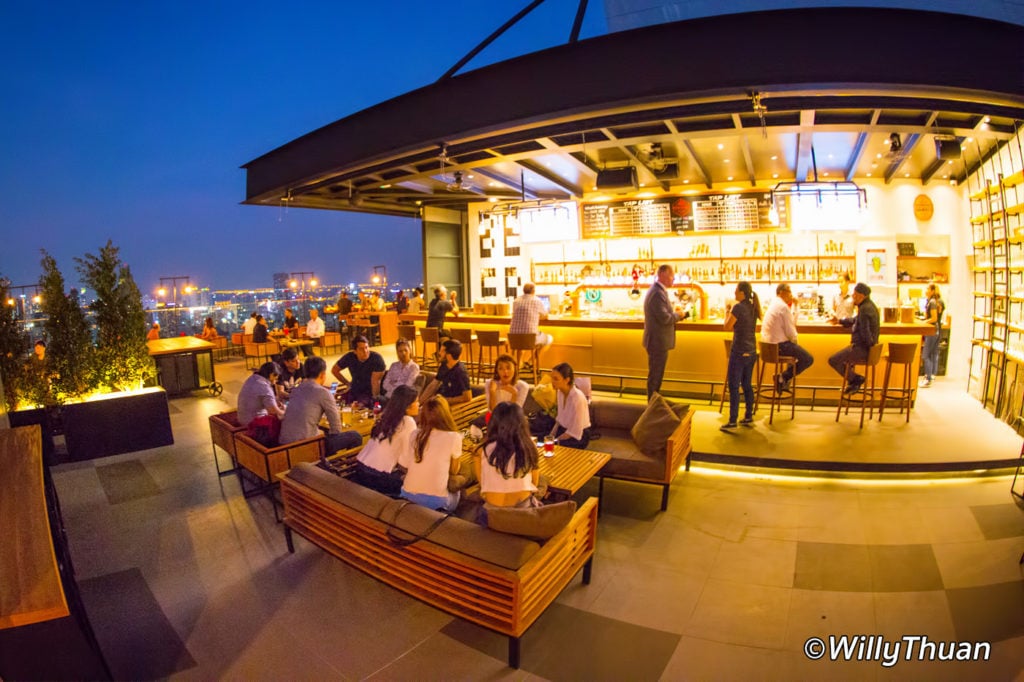 Brewski Rooftop Bar is on the 22nd floor of the Radisson Blu on Sukhumvit, and while it is not the highest one in town or doesn't have the striking views other Bangkok rooftops have, it claims to be the highest Craft Beer bar in Bangkok. The place has a relaxed atmosphere and appears to be hugely popular. Brewski Rooftop Bar is the next rooftop in town in the ever-growing collection; it seems to attract a pretty good crowd. The bar can accommodate a good 90 guests, and indeed, it's busy with hotel guests and outside customers continually coming in and out and not everyone gets to sit. Read more
---
Langsuan – Chidlom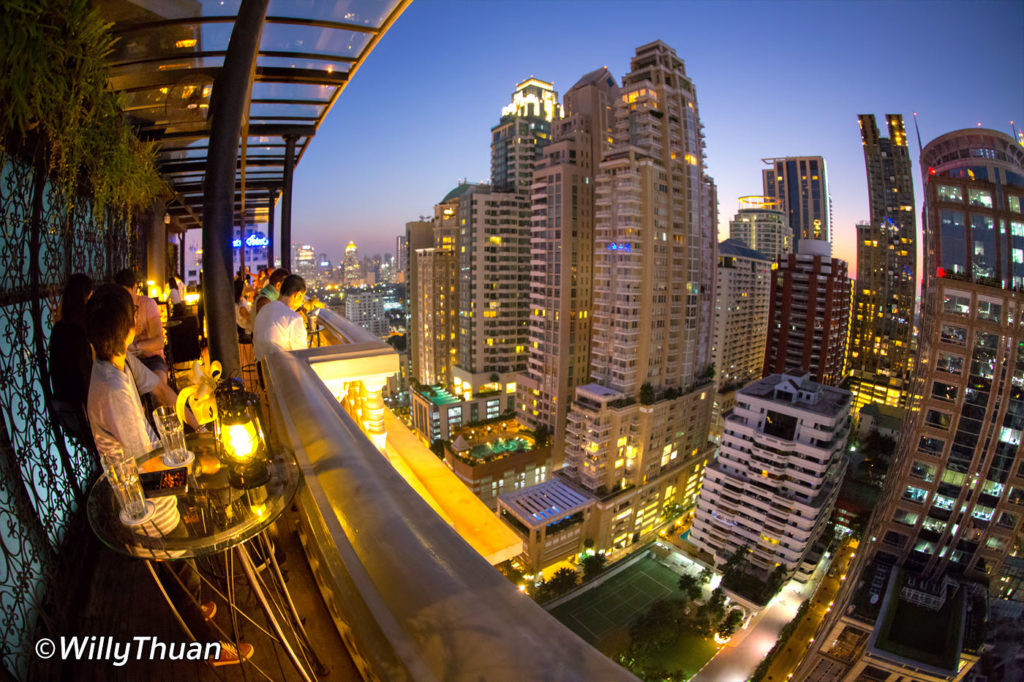 Speakeasy Rooftop Bar at Hotel Muse on Langsuan street is not your usual rooftop bar: like the entire hotel, Speakeasy displays a convoluted Art-Deco design to create a fancy atmosphere. And it's a partial success. The lobby of the Speakeasy is nicely crafted but rather dark, like the rest of the hotel. The staff is politely welcoming but rather strict on the sitting as it can get busy. Read more
---
Sukhumvit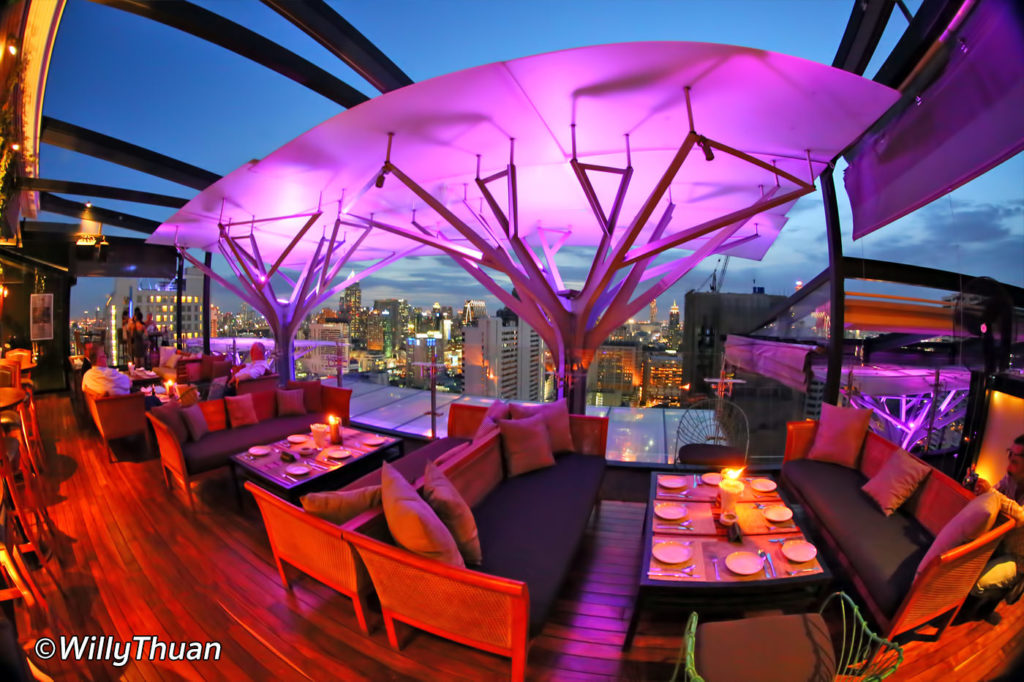 ---
Other Rooftops
---
16. Bar 342
Thonburi Riverside
---
17. Bar 9 at Novotel Platinum
Patrunam – Siam
---
18. The Roof @ 38th Bar at Mode Sathorn Hotel
---