Where to find the best seafood in Phuket?
The best seafood in Phuket is mostly in local restaurants, sometimes hard to find and often away from tourist places. Of course, the seafood you will find in Patong, Kata, Karon, and other famous beaches is good, but local restaurants have a little more. It's more authentic, fresher, not to mention often cheaper. We are happy to share our Best Local Seafood Restaurants in Phuket with you! We decided to stick as much as possible to the concept of really local seafood.
Note: We did not list any of the touristy places displaying their fishes on ice by the street, they are probably OK, but we want the real thing only. We paid for all our meals in full and came unannounced.

Laem Hin Seafood is a big and famous seafood restaurant at the pier leading to Coconut Island and the 'Floating Restaurant'. Depending on the tide, the terrace above the water (or mud) adds a local touch to their excellent seafood. Prices are affordable. Read more
Location: 90/11 Soi Baan Laem Hin, Thepkasattri Road
Open: 10 am – 10 pm
Phone: 076 239 357
Phuket 101 receives 250,000 monthly visitors on average (500,000 pageviews/month).
If you wish to advertise on this space or other options available on Phuket 101, just contact us.
It is unusual and fun but a bit more pricey than other local seafood venues as it includes a short boat trip. A longtail will take you for a nice five-minute ride from the east coast pier and drop you on one of these giant rafts keeping their livestock in nets. A fun afternoon! Read more
Location: Laem Hin pier, in front of Maphrao Island, Koh Kaew
Open: 10 am – 10 pm
Phone: 086 687 0892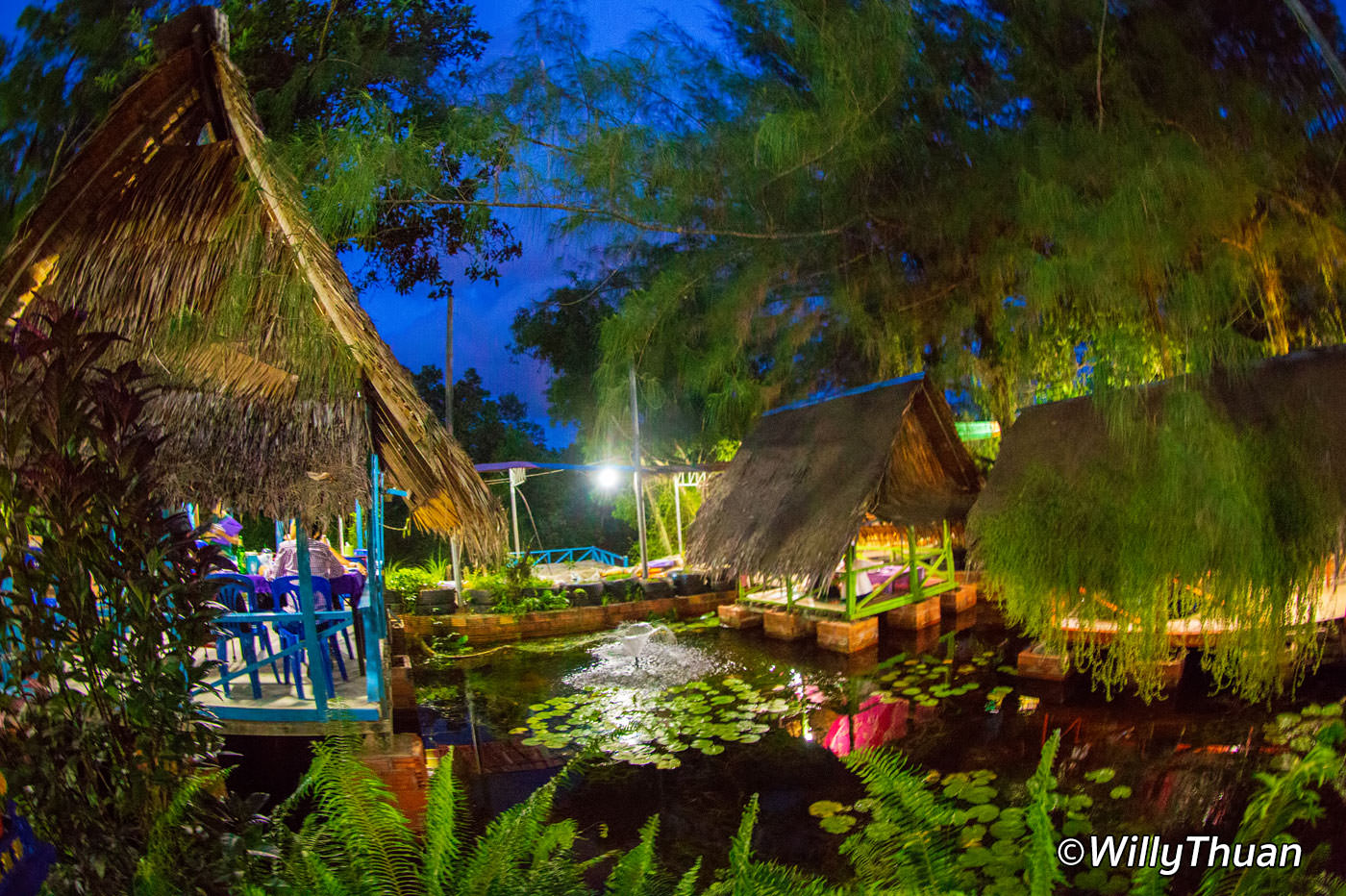 One of the most local and talked about, hard to find a seafood restaurant in the eastern mangrove of Phuket island. It's excellent and fun, and you get a full blast of real, local life. Everyone knows that Andrew Zimmern from 'Bizarre Food' tried it, and so should you. Read more
Location: Chalong
Address: 32/9 Soi Mu Dong, Chao Fah East, Chalong (past the zoo), Phuket
Open: 10:00 am – 9:30 pm
Phone: 088 766 1634
Price: Affordable
Kan Eang 2 is one of the oldest but newly renovated seafood seafront restaurants in Chalong, also on the east coast. The setting is simple, with plenty of trees and shade, making it very relaxing. Seafood is as fresh and excellent as it gets. Otherwise, it wouldn't even be listed here! Read more
Location: Chalong
Address: 9/3 Moo 9 Chao Fah Tawan Aok Road, Ao Chalong, Phuket 83130
Open: 10 am – 10 pm
Phone: 076 381 323
Bang Pae Seafood is another of our weekend favourites. Bang Pae serves a large choice of delicious and local dishes. Sit in a perfect natural setting made of huge mangrove trees growing right into the sea. Read more
Location: Soi Bang Toei, near Bang Pae waterfall
Open: 10 am – 8.30 pm
Phone: 087 887 5785
Ko Ang is a real, local seafood restaurant located in the middle of Phuket town. There are no frills and no fancy decoration, but many great specialities, including some unusual dishes such as razor clams and horseshoe crab salad. Read more
Location: Phuket Town
Address: 226/2 Phuket Road, Phuket Town, Phuket 83000
Open: 6 pm – 12 am
Phone: 076 221 460
Rimpan Seafood is a small but excellent local restaurant hidden in plain sight in the north of Phuket Island, near the bridge that connects the island to the mainland. Just like the Sri Sunthorn reclining Buddha, thousands of people drive past Rimpan without noticing that such a great place sits right here. Read more
Location: Rimpan Seafood (ริมพาน ซีฟู้ด) Below Sarasin Bridge
Open: 9 am – 10 pm
Tel: 083 647 1147
Laem Sai Seafood is a local restaurant hidden far away on the east coast of Phuket. Depending on the tide, the restaurant mostly consists of a vast wooden terrace over the sea or the mud. You can see Coconut Island (Koh Maphrao) just in front of you and the mainland in the far. It's a very relaxing view to enjoy a slow lunch, especially when you look at rain clouds crossing the ocean as we did. Read more
Location: 330 Thepkrasatti Road, Amphoe Thalang, Chang Wat Phuket 83110
Open: 10:30 am – 8:30 pm
Phone: 088 169 4780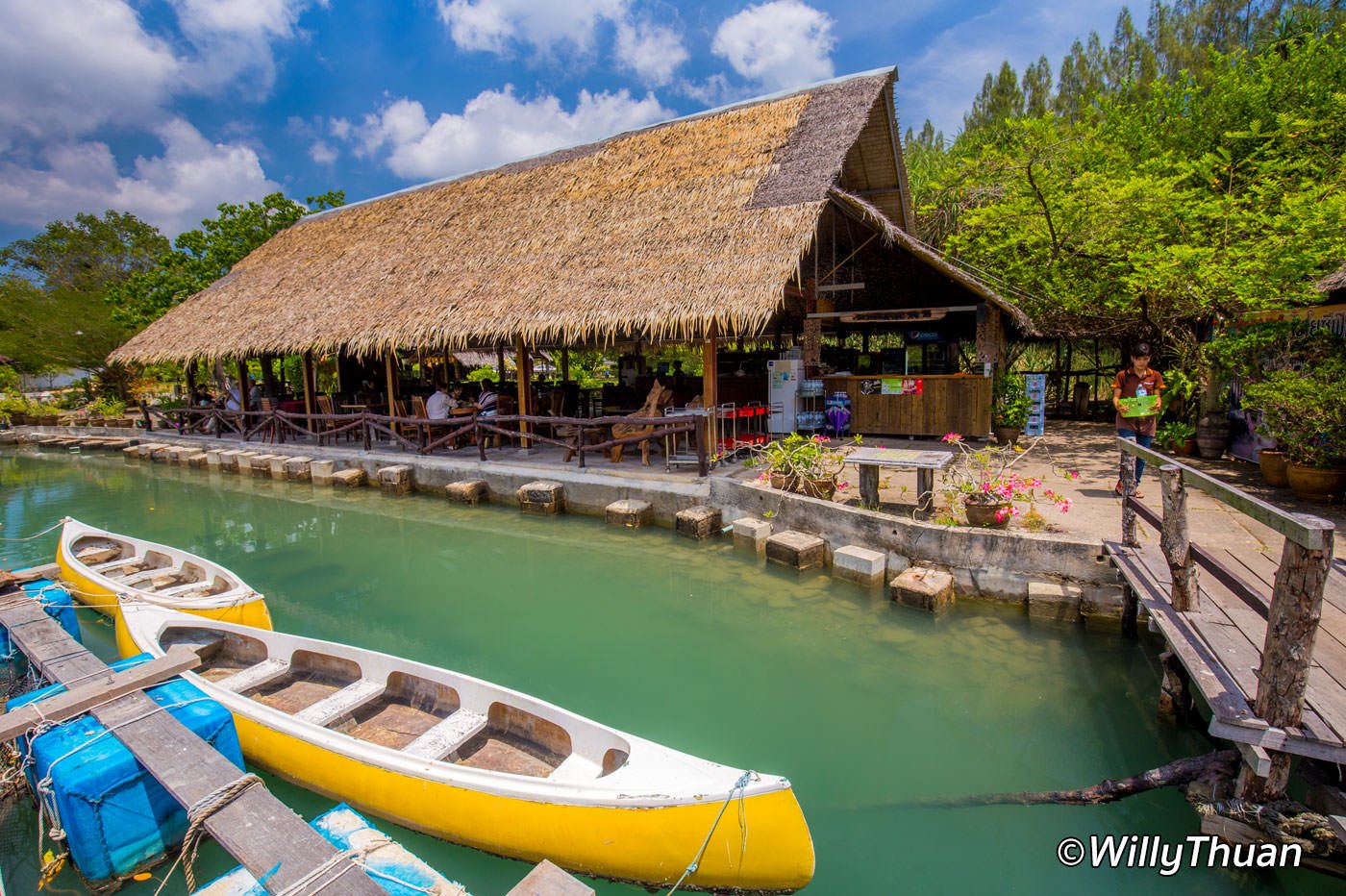 A great seafood place on the banks of Phuket town river. Beautiful and peaceful setting with a view of the mangrove vegetation. They keep their livestock in nets right in front of the restaurant. Read more
Location: 25/2 Moo 6, Soi Muangthong-Borrae, Sakdidech Road
Open: 10.30 am – 10.30 pm
Phone: 076 393 142
10. Palai Seafood
Palai Seafood is one of the best-known seafood restaurants in Phuket. The restaurant is near Chalong, past the zoo and before Mor Mu Dong. There are quite a few seafood restaurants in this area. While Palai Seafood serves quite a decent seafood, the clientele is primarily expats and Chinese tourists. Locals tend to go to Laem Hin or Mor Mu Dong. Service is known to be a little slow, but it's still an excellent place to stop for seafood if you are around this area.
Location: Chalong
Address: 32 Palai Beach, Chalong, Phuket 83000
Open: 9 am – 10 pm
Phone: 076 282 174
Rawai Seafood Market started as a modest local fisherman village where you would buy some local catch to take home. The place was known as the Sea Gypsy Village and was a bit of an attraction. Year after year, the small market grew, and a restaurant offered to cook the fish you just bought across the street. Read more
Location: Rawai
Address: 22/9 4233. Tambon Rawai Beach, Phuket 83100
Open: 11 am – 9 pm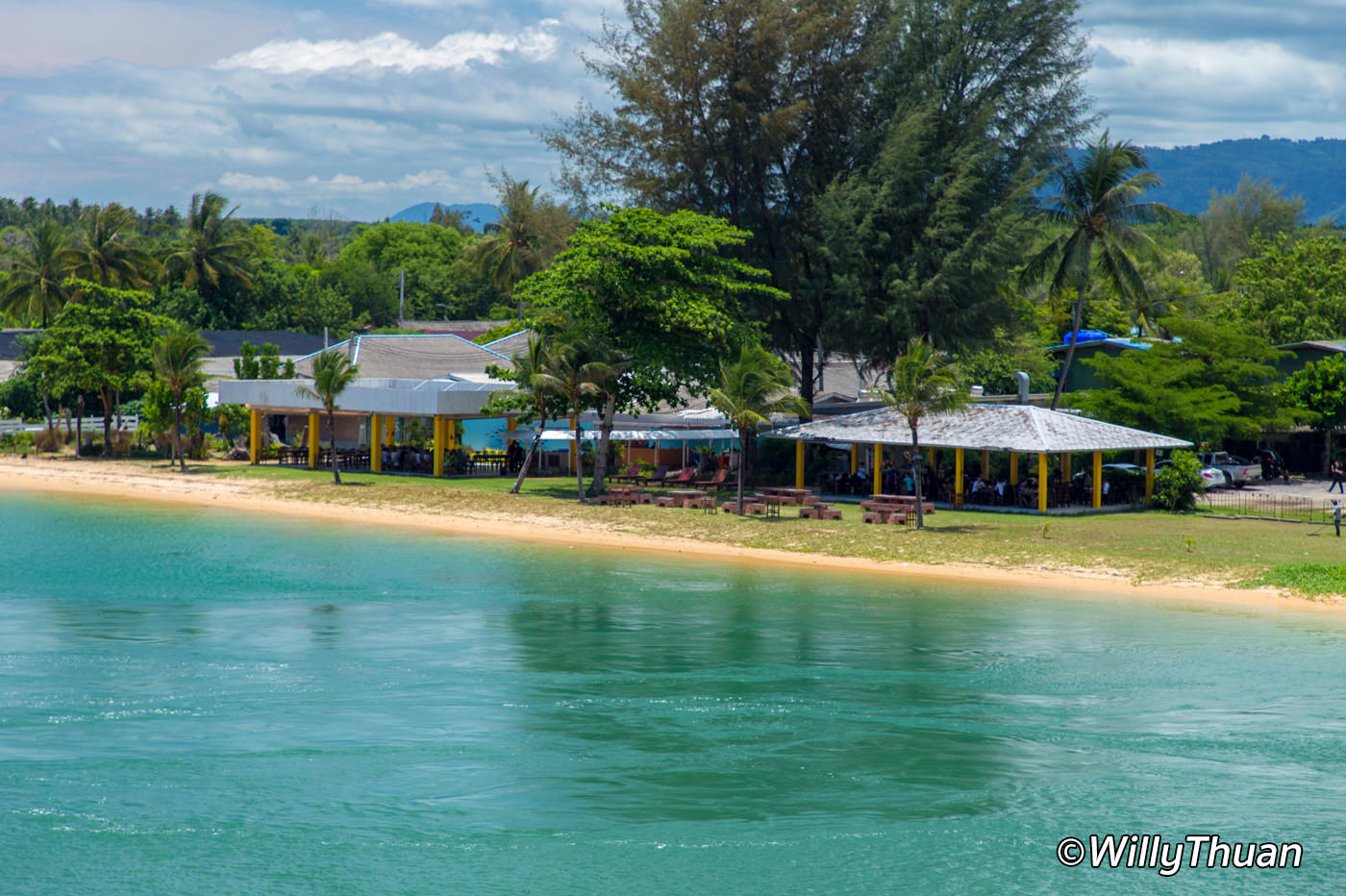 Right at Sarasin Bridge's feet and therefore a bit far, Thanoon is just a bit more 'sophisticated' than most restaurants listed here. The beach setting is fabulous: you sit on the mainland with a view of Phuket Island! Lots of specialities, including some unusual dishes you can try. Read more
Location: Sarasin bridge
Address: 13, Khok Kloi, Takua Thung District, Phang-nga 82140
Open: 11 am – 10 pm
Phone: 076 452 052
More about local food