What are the best Thai sweets to try in Phuket?
Thailand is known the world around for its amazing food, but it doesn't stop here. There are also many desserts, sweets and cakes to try during your stay in Phuket. Of course, everyone knows the delicious pancakes (or roti) and the mango sticky rice, but don't stop your culinary exploration here: look around, and you will find amazing treats to make your holiday even sweeter! You don't have to go very far to find them, there are plenty of sweets to enjoy at any night market and in the streets of Phuket Town, especially during the Sunday Street Market.
---
1. Banana Pancake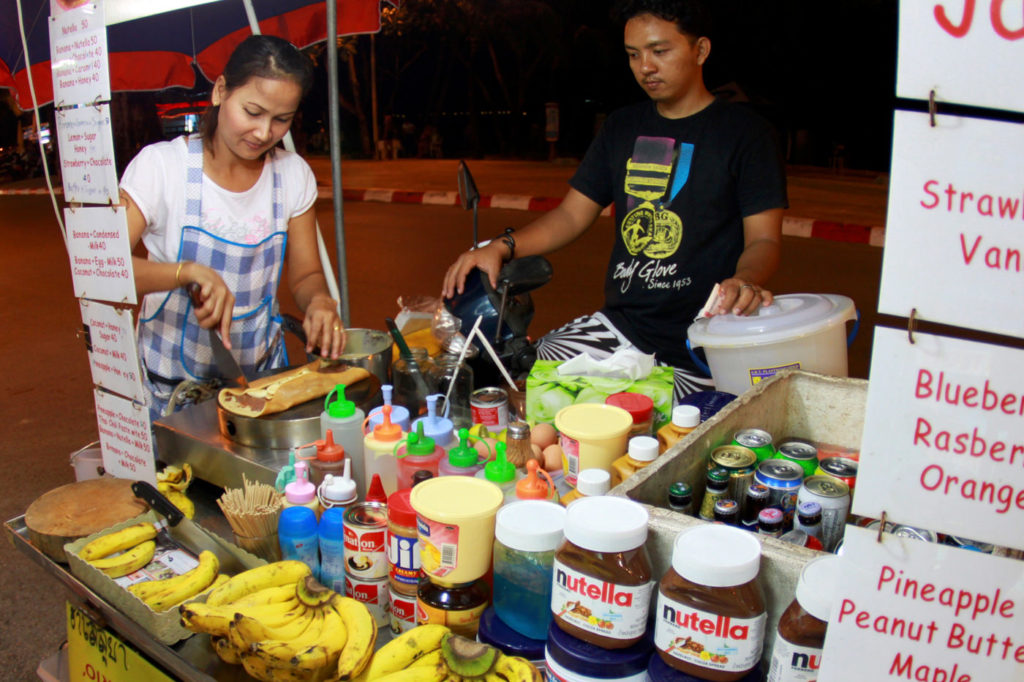 Banana Pancake is just a generic name given to the most loved sweet treat in Phuket and around. In fact, we know it's not a pancake, but a roti as the dough is not prepared the same way. But the name of pancake happened to stay so who cares? Those pancakes come in many ways: with condensed milk, Nutella, banana, chocolate, mango, peanut butter, pineapple. There seems to be no limit to their imagination! They are easy to find on the streets of any town of Phuket.
---
2. Mango Sticky Rice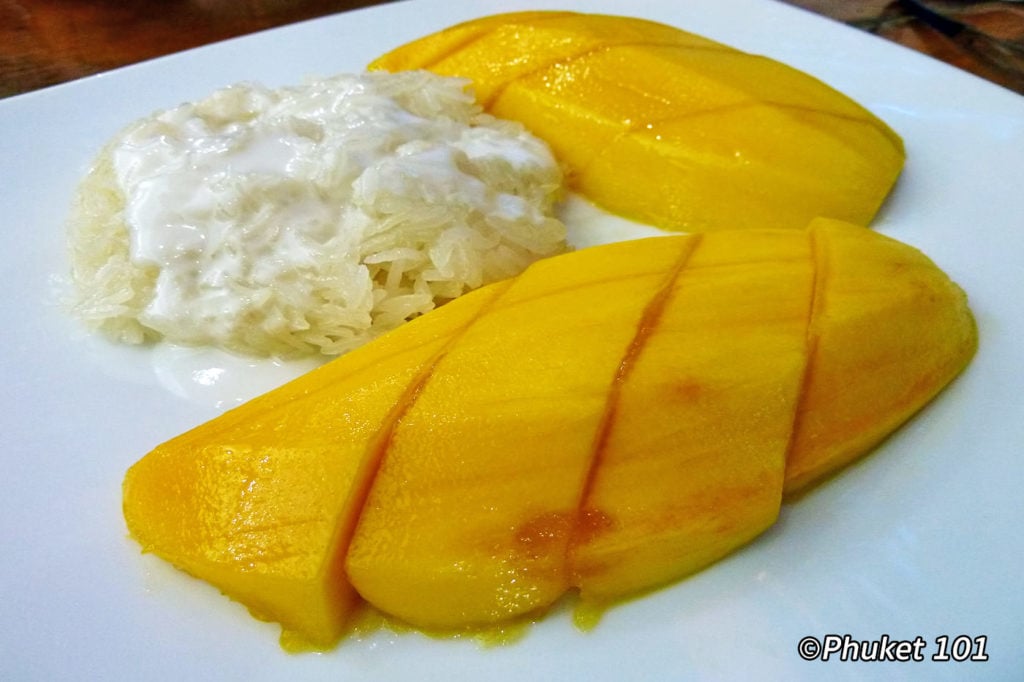 Mango Sticky Rice is a very close tie with the banana pancake! We asked our readers several times, and both are a must try treat in Thailand. The dessert is surprisingly simple: a beautiful riped mango nicely peeled, some sticky rice covered with condensed milk and a sprinkle of sesame seeds. It's that simple, but while the quality of the pancake doesn't vary too much from a cart to the next, mango sticky rice depends on the restaurant and the season. Almost every Thai restaurant will have them on the menu.
---
3. Coconut ice cream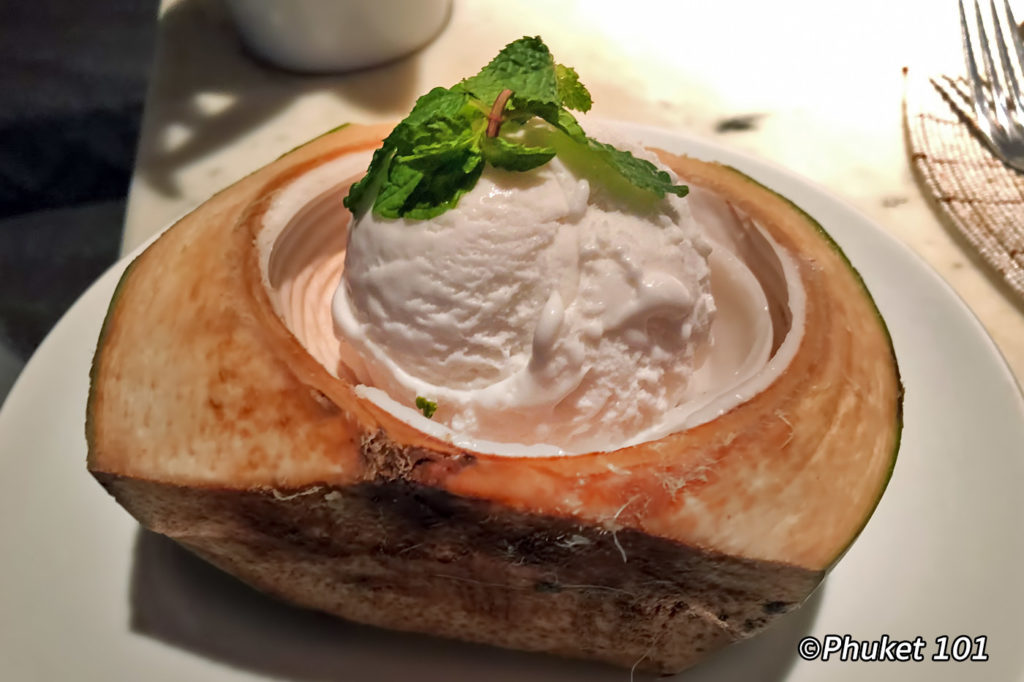 Coconut ice cream seems to be an obvious choice in a warm country that grows so many coconut trees, and once you try it, you will realise how different it is from the 'branded' ice cream you ate before. The taste is lighter, more delicate and not as sweet as the coconut ice cream bought overseas. To make things better, you may have your ice cream served inside a real coconut! It comes with red water chestnut, and you can eat the coconut flesh as well. Such a refreshing treat after a seafood dinner. So far the best we found was at Kan Eang @ Pier in Chalong Bay.
---
3. Kanom Chan (Layer Jelly Cakes)
Kanom Chan is a colourful and sweet traditional dessert made of rice and coconut. It's soft, sweet and a little chewy and quite easy to find on night markets. 'Kanom' means 'dessert' and 'chan' means 'layers'. It is usually made with palm sugar, coconut milk, rice flour, tapioca, tea.
---
4. Nam Kaeng Sai (Shaved Ice with Syrup)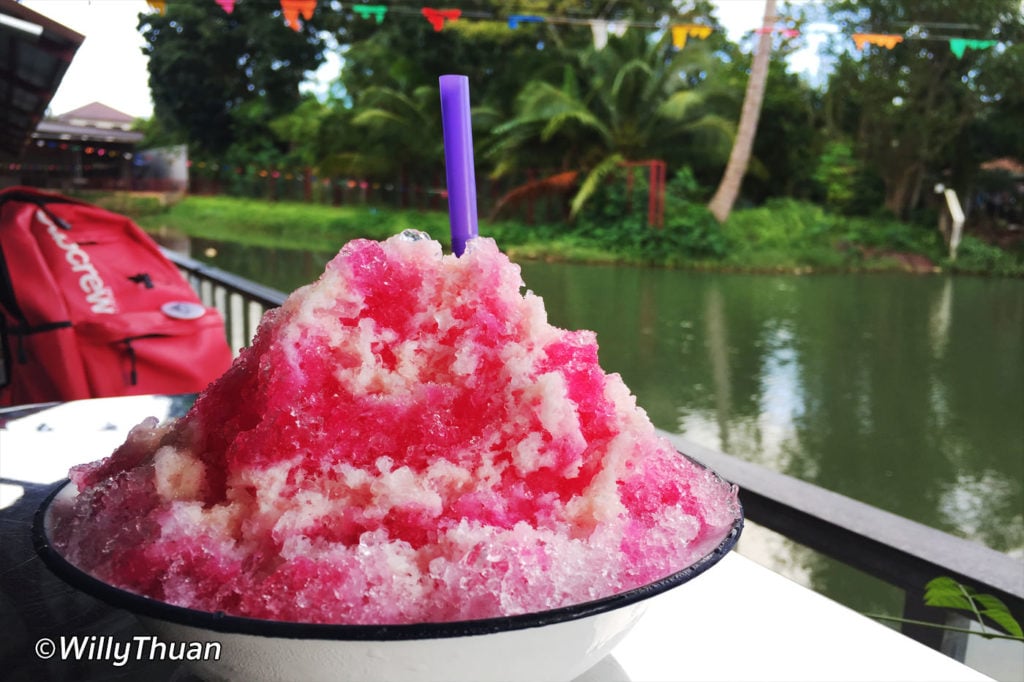 For most foreigners, serving shaved iced as dessert is a little strange, but the longer you live in a tropical country like Thailand, the more it makes sense. It's simple, cheap, very refreshing and since it's mostly water, it's very light! All it takes is shaved ice (you can easily buy a machine to do your own), some cheap syrup and condensed milk purchased at the local store. The most popular is the red syrup, which is not strawberry nor grenadine. Under the ice, you might find corn, blocks of jelly or even red beans, which often shocks foreigners.
---
5. Gluay Kaek (Banana Fritters)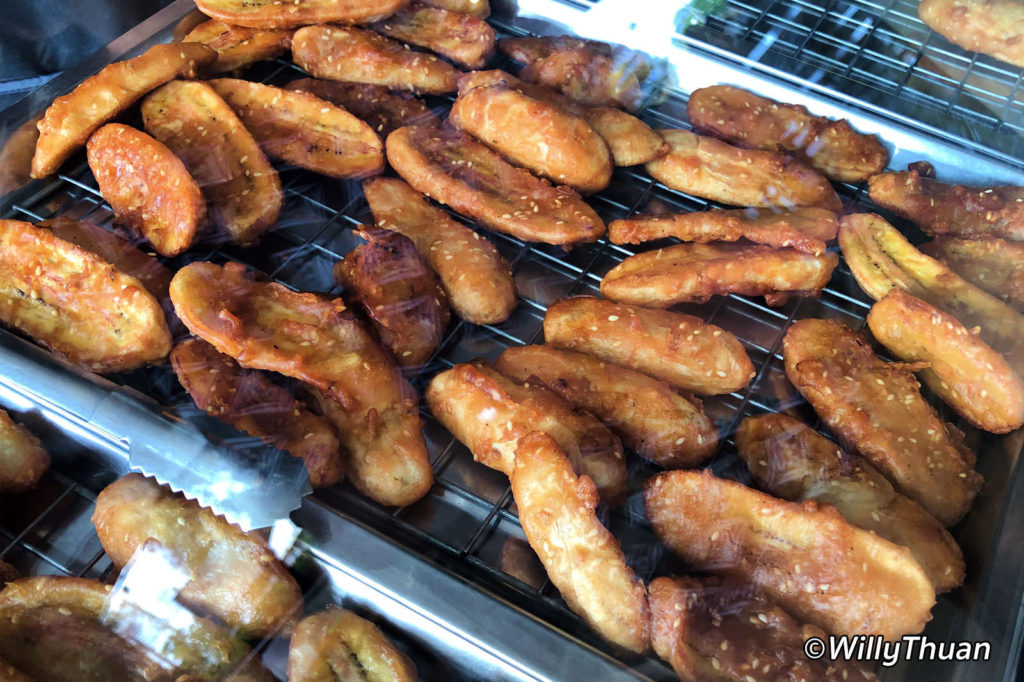 ---
6. Kanom Buan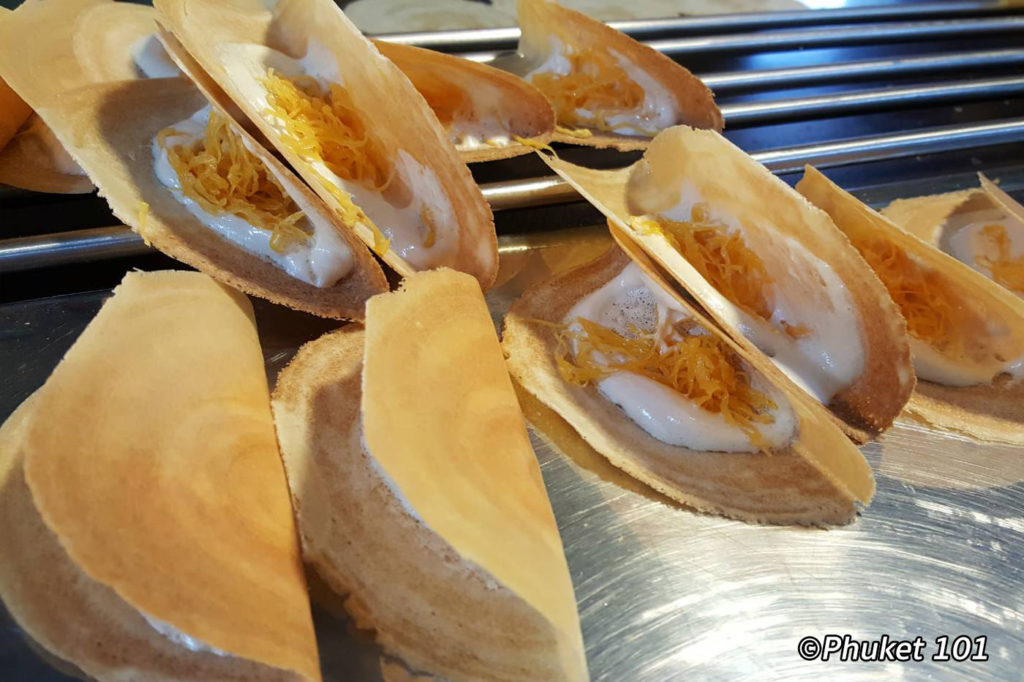 Kanom Buan is an ancient Thai dessert known as crispy pancakes in English. It is a popular form of street food in Thailand. These crepes look a bit like tacos. Khanom buan are usually first topped or filled with coconut cream, followed by sweet or salty toppings such as shredded coconut, Foi Thong (strips of fried eggs or egg yolks), or chopped scallions.
---
7. Look Choop

Look Choop is a superbly crafted traditional dessert made of mung bean paste mixed with coconut milk, derived from marzipan. It is then shaped like little veggies or fruits. It's shiny and colourful, making beautiful displays at the local and night markets. It's sweet and delicate.
---
8. Kanom Krok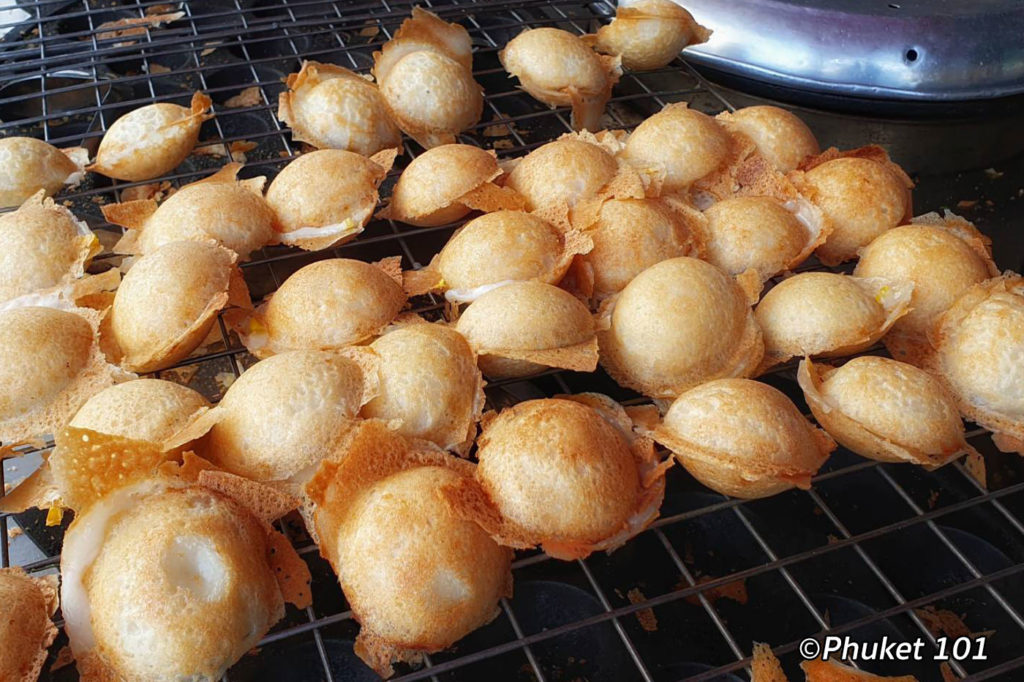 Kanom Krok is made of rice flour, sugar, and coconut milk mixed to form a dough, then split in two batters, one salty and one sweet. Both batters are cooked in a heating frying pan with small round alveoles. Each half is then picked, and the two half-circular doughs are joined to form this circular shape.
---
9. Bua Loy Sam See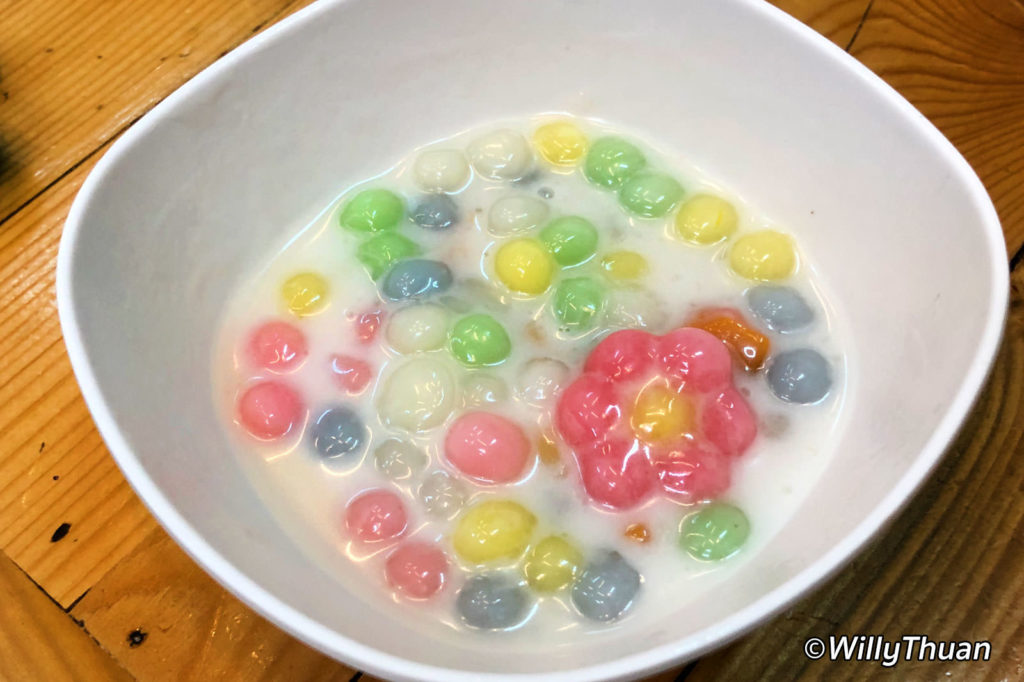 Bua Loy is a warm dessert made of colourful rice flour balls in sweet coconut milk. It's surprisingly good and gentle, reminding of soothing childhood desserts. You can find it at Wanlamun Sweet Shop in Phuket Town
---
10. Ta Ko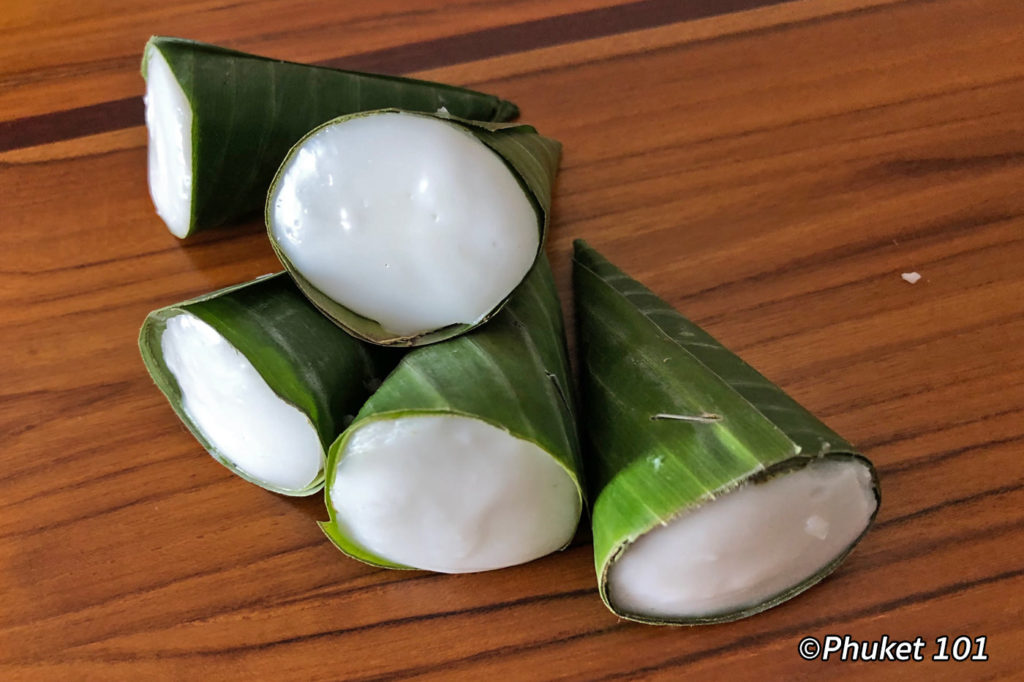 Tako is a Thai dessert made of flour, sugar, coconut milk, and other flavouring ingredients such as corn or taro. The jelly base made of flour mixed with water and sugar, topped with coconut milk and served in a cup made of Pandan leaves
---
11. O-Eaw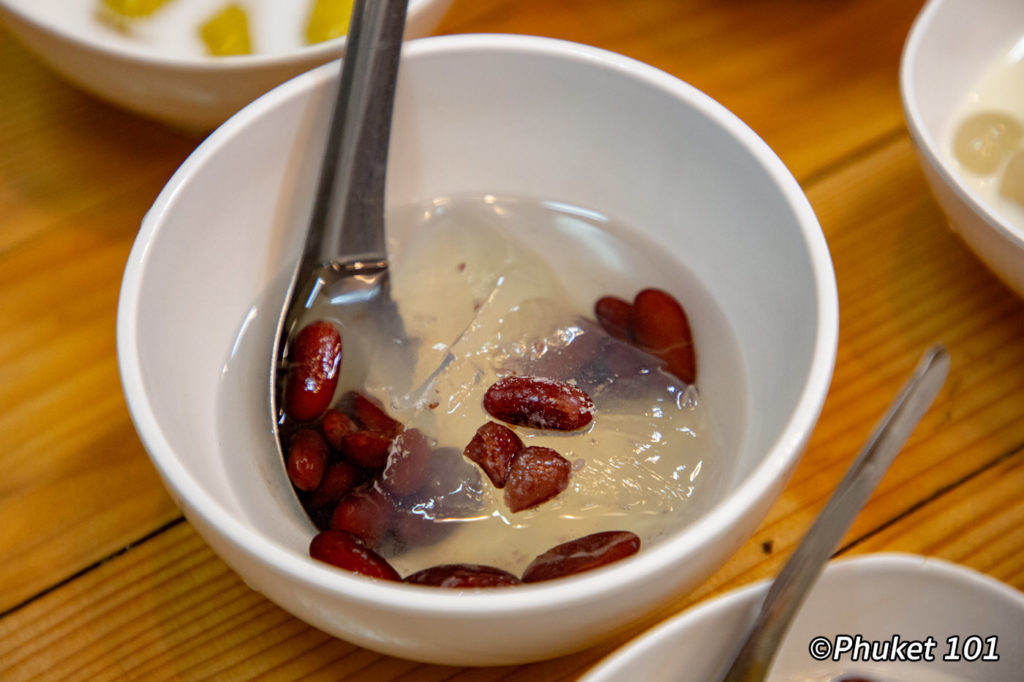 'Oh Eaew' is an icy dessert includes gelatinous cubes made from banana starch and kidney beans. It's refreshing and light, very popular with Phuket people but might be a little surprising to foreigners. You can find it a Cafe'In, the coffee shop in front of the Thai Hua Museum in the old Phuket Town
---
12. Kanom Tuai (Sweet and salty cream)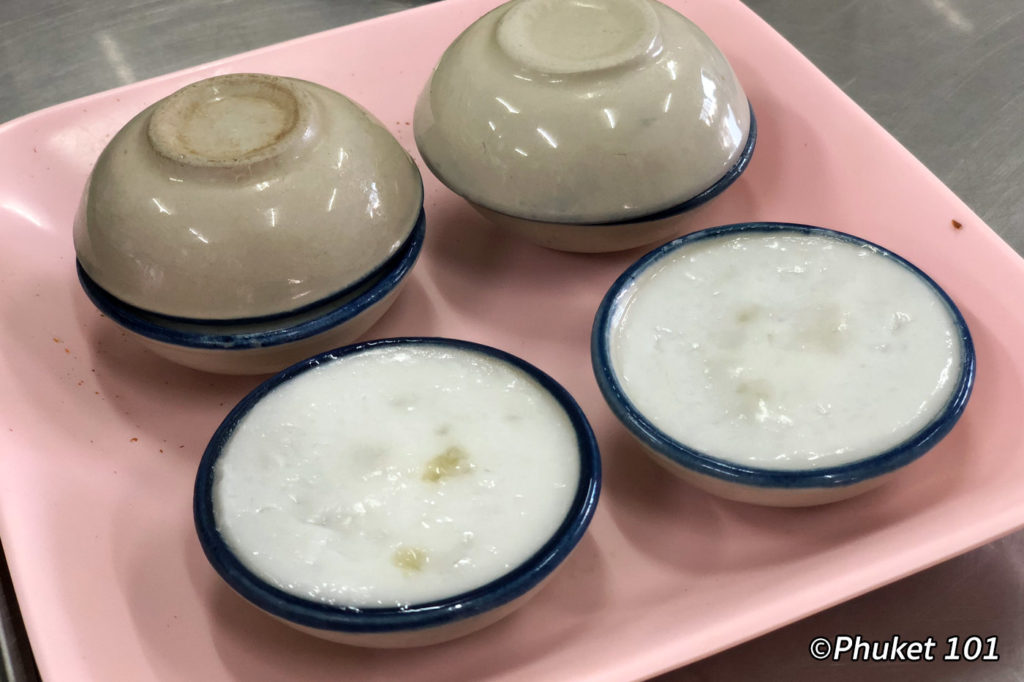 Kanon Tuay is a very popular treat among locals. You will mostly find it in a local restaurant, for lunch or dinner. As seen on the photo above, it is served in 2 little recipients placed on top of each other. One is sweet, and the other lightly salted.
---
13. Lod Chong (Coconut milk)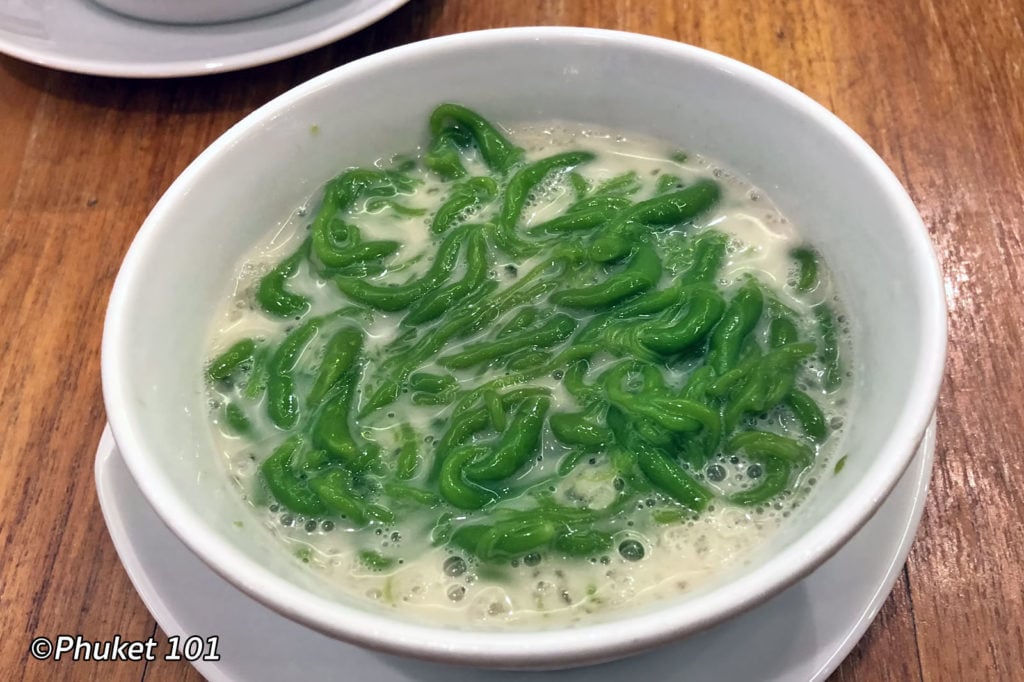 Lod Chong is a little surprising the first time you see it in a glass jar by the street. It looks like green worms in icy, sugary water. It's made of rice flour, mung bean flour, palm sugar, jasmine flowers and pandan water.
---
14. Chao Guay (Black Grass Jelly)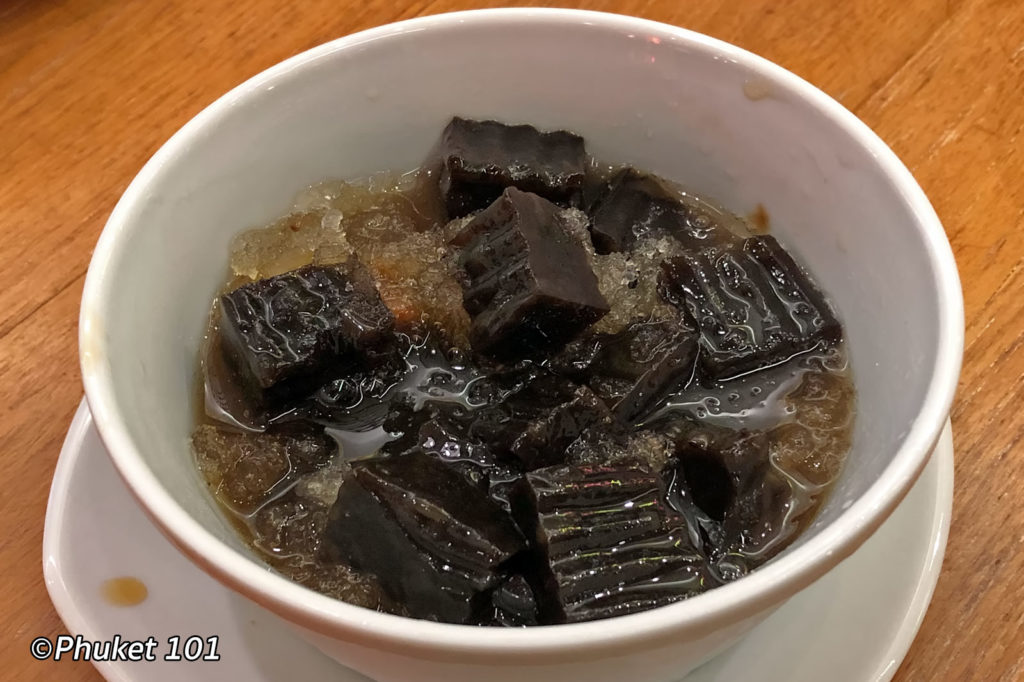 Grass jelly is made of Platostoma palustre plant (a member of the mint family) and has a mild, slightly bitter tast.
---
15. Thong Yip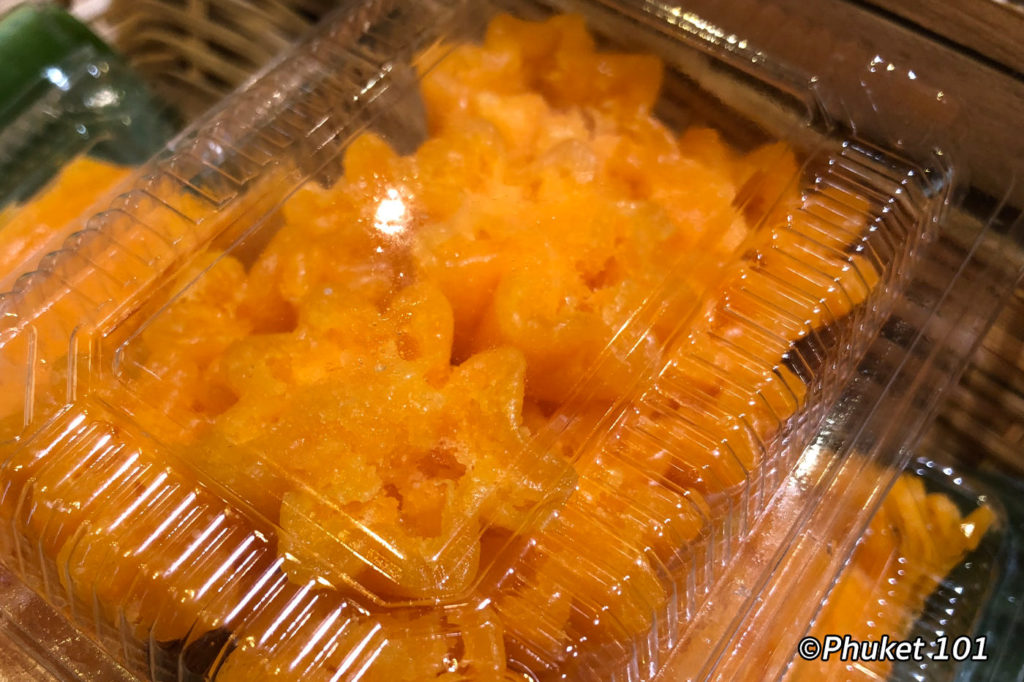 Thong Yip is an egg based sweet usually made for important occasions and ceremonies such as weddings, ordinations and housewarmings.
---
16. Khao Tom Mat (Banana leaf and sticky rice)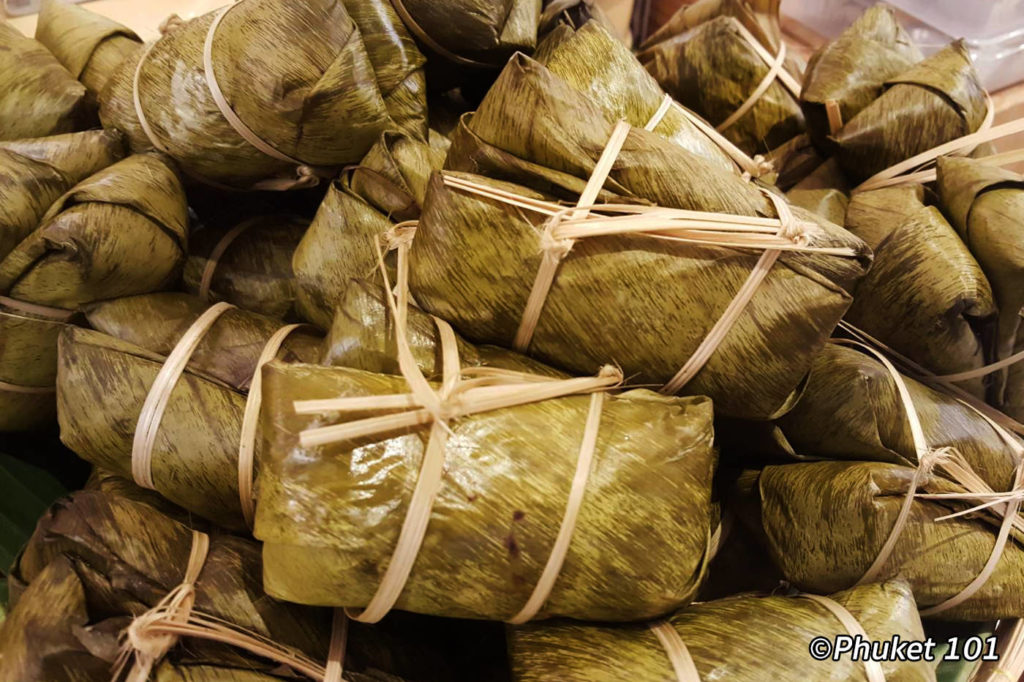 Khao Tom Mat is a Thai dessert made made of sweet sticky rice steamed in banana leave.