---
What Thai food to eat in Phuket?
---
Thai food in Phuket is delicious, varied and cheap. You can enjoy it by the street, on the beach, in surprisingly excellent local restaurants and even at fancy Michelin restaurants. Phuket also has many specialities you should try, but remember that some dishes can be seriously spicy!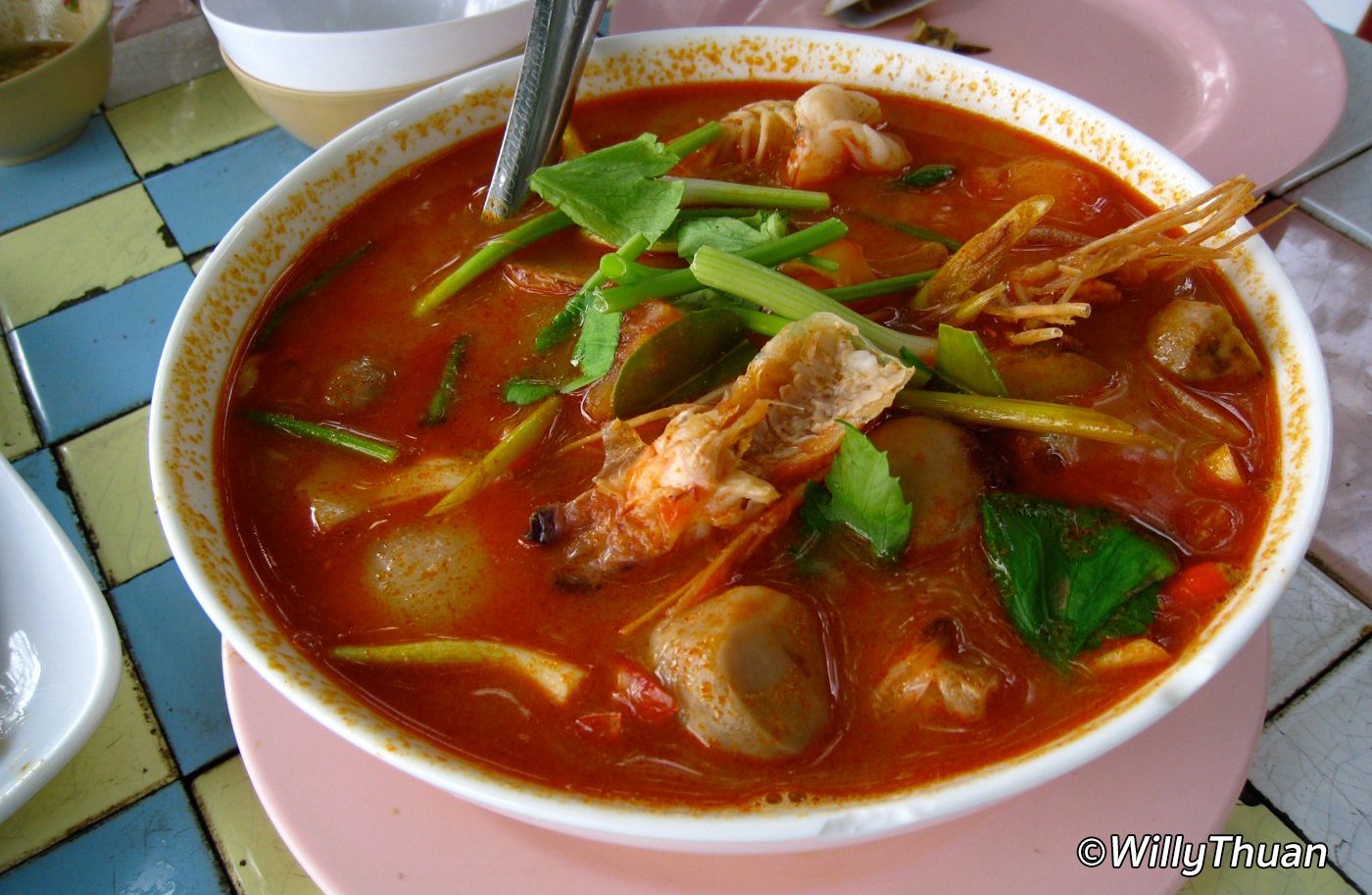 Tom Yam is one of Thailand's favourite and most well-known dish, to locals and visitors alike. It is not a tourist trap; it is part of Thai life. Tom Yam means hot and sour soup, and Goong means prawns. Other famous variations are Tom Yam Talay (seafood), Tom Yam Gai (chicken), Kradook Moo (pork ribs). The orange colour in Tom Yam Goong Mae Nam comes from the fatty juice in the head of river prawns; this juice adds aroma, colour, taste and all the extraordinaire to the soup. Read more
Phuket 101 receives 250,000 monthly visitors on average (500,000 pageviews/month).
If you wish to advertise on this space or other options available on Phuket 101, just contact us.
Som Tam is probably one of the cornerstones of Thai Cuisine, and it comes in various versions, but the main ingredients will almost always include grated green papaya with fish sauce, lime juice, chillies, dry shrimps, green beans and peanuts. Som Tam Tai is the most simple form, and popular variations are the Som Tam Poo with salted black crabs and Som Tam Kai Kem, prepared with salted eggs. It might surprise you the first time, but you should try. Ask for 'Som Tam Thai' and mention 'Mai Pet' (not spicy) as it can be prepared hot in the local southern restaurant. It is excellent to eat with Kao Niao (sticky rice) or even Kanom Jeen (cold rice noodles). Read more.
Tam Sua is a robust variation of the well-known Som Tam, even though Tam Sua practically means 'salad anything'. The dish looks pretty much like the photo above every time I order it. So what's inside? Here's my version of Tam Sua. You'll find that it's really like a Som Tam for the brave! Read more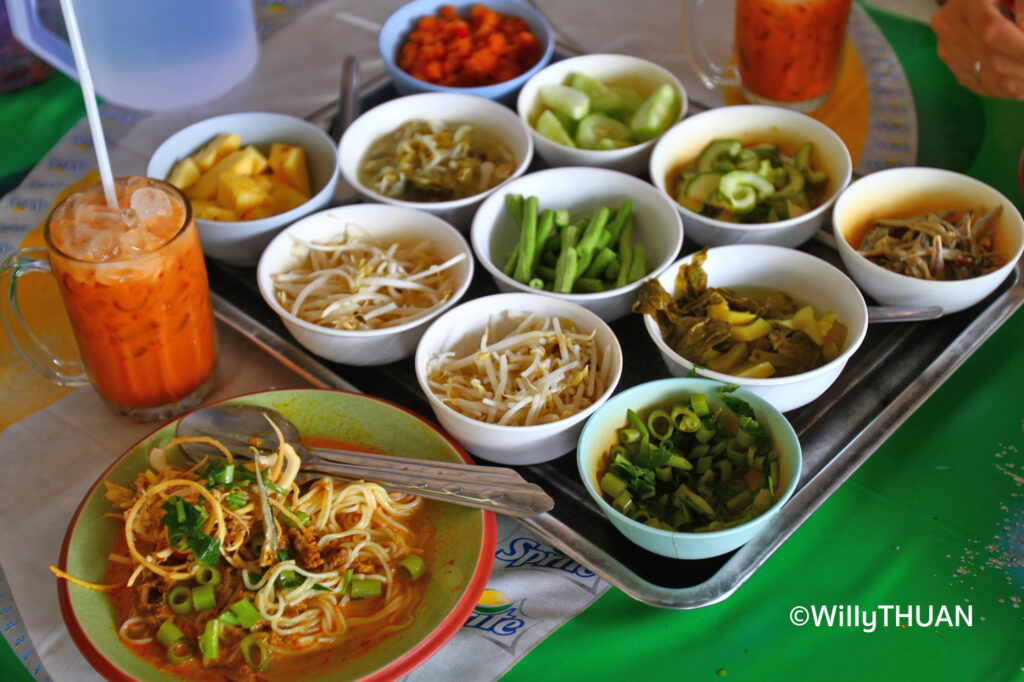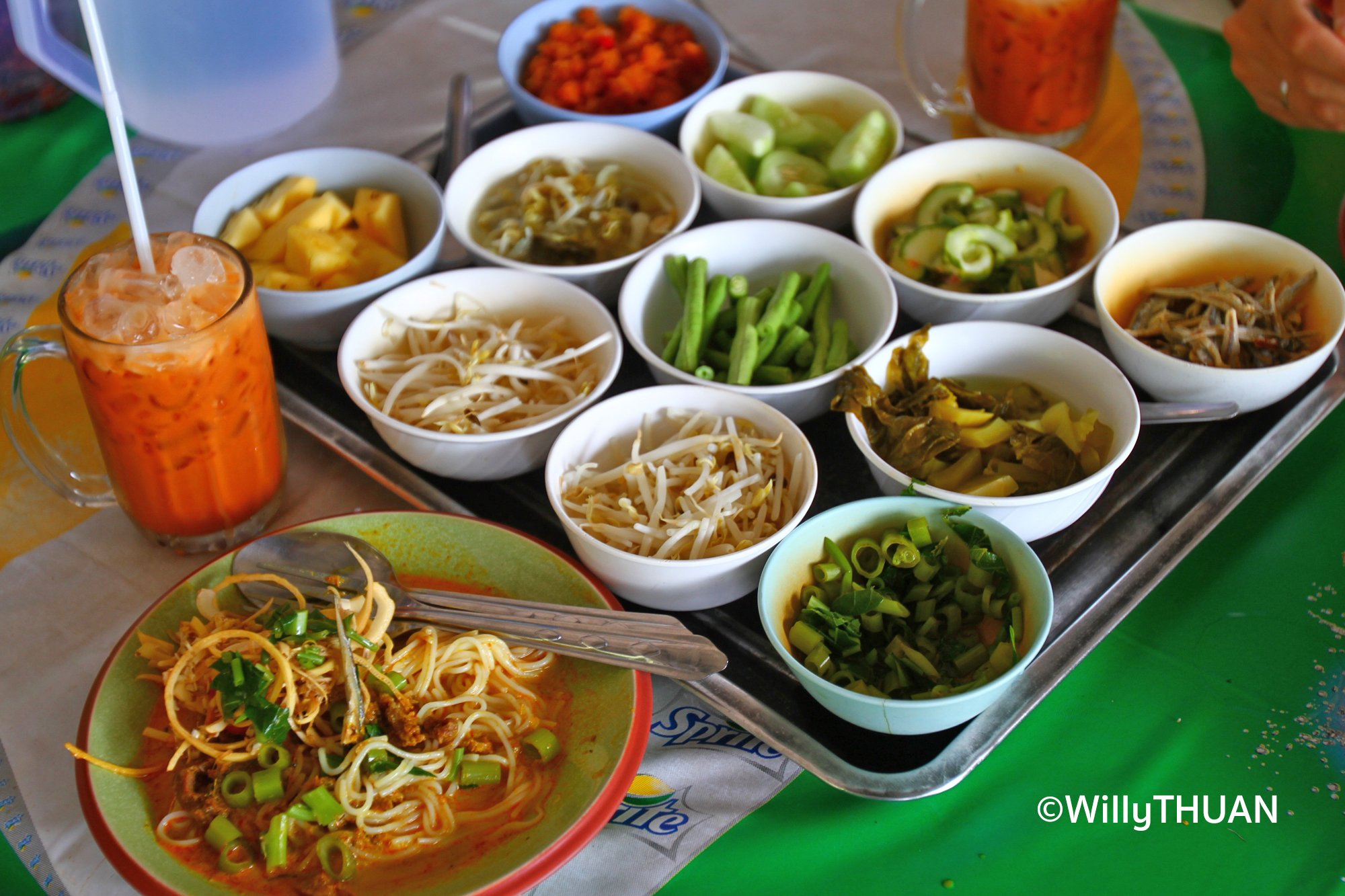 Kanom Jeen is without a doubt our favourite Thai breakfast on weekends, and we'll never miss a chance to go to 'Pa Mai Kanom Jeen Restaurant', on Satun road in Phuket Town, just next to the Blue Elephant restaurant, if we manage to wake up on time, of course. Pa Mai Restaurant is open from 5.30 am to 11 am, and Mae Ting, the relative's shop just down the same road. Pa Mai Restaurant might not be as famous as the original one, but we like it better. Not only because it's easier to get parking and there is always a table available, but also because we like the taste of their Kanom Jeen. Read more.

Hor Mok is not precisely a Phuket or Southern Thailand's speciality, but the specific type and taste of Hor Mok you can find in Southern Thailand is Phuket style. Central Thailand has its version, and the Southern style has a greater aroma with a smooth taste and texture. Hor Mok is made of coconut milk, chilli paste, fish and some secret ingredients, all put together in banana leaf and steamed or grilled. Read more.
6. Khao Soi
This curry noodle soup has its origin or influences from a Muslim community from Yunnan in China who moved to a northern province of Thailand called 'Lanna'. Being Muslim food, the meat of choice in this dish is either Beef or Chicken and not pork. But these days, there are other variations, such as tofu or fish. There is a good Khao Soi on Yaowarat Road in Phuket Town.
7. Gaeng Fak
The most common Faks in Thailand are 'Fak Kiew', a gourd; 'Fak Tong' or pumpkin, then 'Fak Maew', Chayote. When we say Fak, however, it usually refers to the gourd kind. On the other hand, we almost always call pumpkin by the full name Fak Tong; I'll talk about Fak Tong some other time.
8. Nam Prik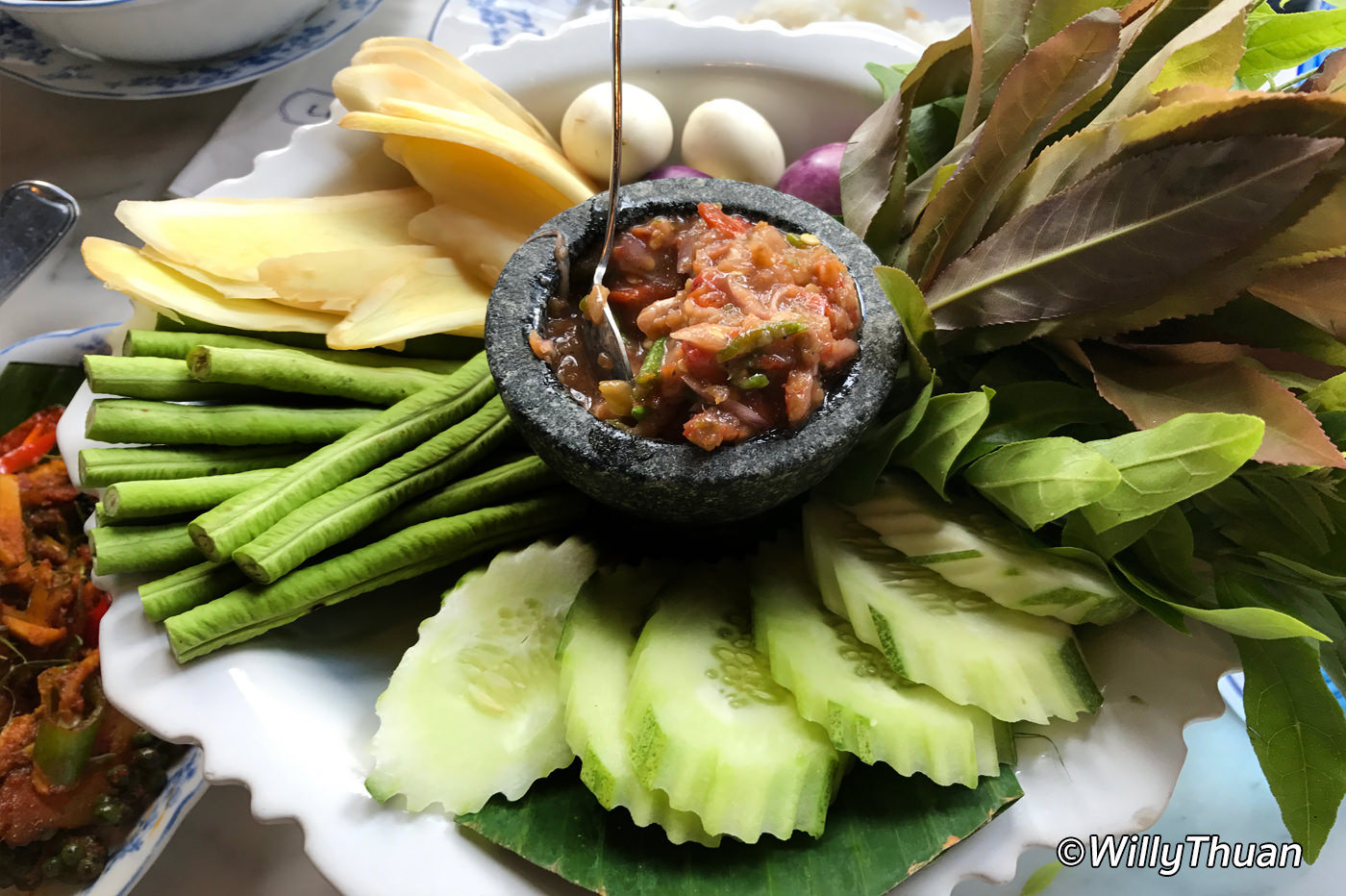 Nam Prik's exact translation is Chili (Prik) Water (Nam). As the name suggests, the main ingredient of this very traditional Thai dish is chilli and boiled or raw vegetables. The next important thing is Ka-Pi or shrimp paste, the smelly brown paste that defines the taste of this dish. Often eaten with rice, lots of veggies and sometimes Kai Tom, boiled egg, Nam Prik might be a bit too smelly or taste too green for beginners.
Kai Mang Da Talay is a Thai dish for the brave; it looks scary, it tastes fishy, and since you only eat the eggs, it has a rubbery consistency, but wait, there is more, a lot more! Horseshoe crabs are arthropods, considered living fossils, living primarily on soft sandy bottoms of shallow ocean waters and occasionally coming to shore for mating. Horseshoe crabs might resemble crustaceans but belong to the Chelicerata and are more closely related to spiders and scorpions! Read more.
---
10. Hor Mok Kanom Krok
Hor Mok Kanom Krok is a dish combining two specialities: Hor Mok, a delicious spicy fish mousse very similar to the Malaysian otah-otah, and Kanom Krok, a beautiful Thai sweet dish made from coconut milk and palm sugar, cooked with this clay plate. This fun-looking dish is found in Thai seafood restaurants such as Lemongrass in Phuket Town.
---
Mang Da looks like oversized, mutated cockroaches, but I can confirm that they're not. They are called Mang Da Na in Thai and are the biggest kind of water bug there are. I think the English name is 'Giant Water Bug'. These guys are not just another type of deep-fried insects on the pushcarts. They're a little more special than that. This is because male Mang Da has a distinct fragrance that makes them an excellent ingredient for other Thai dishes, such as Nam Prik or Chili Paste, Som Tam or Papaya Salad, and you'll also find Nam Pla Mang Da or Fish Sauce with Mang Da fragrance. Read more…
---
12. Poh Taek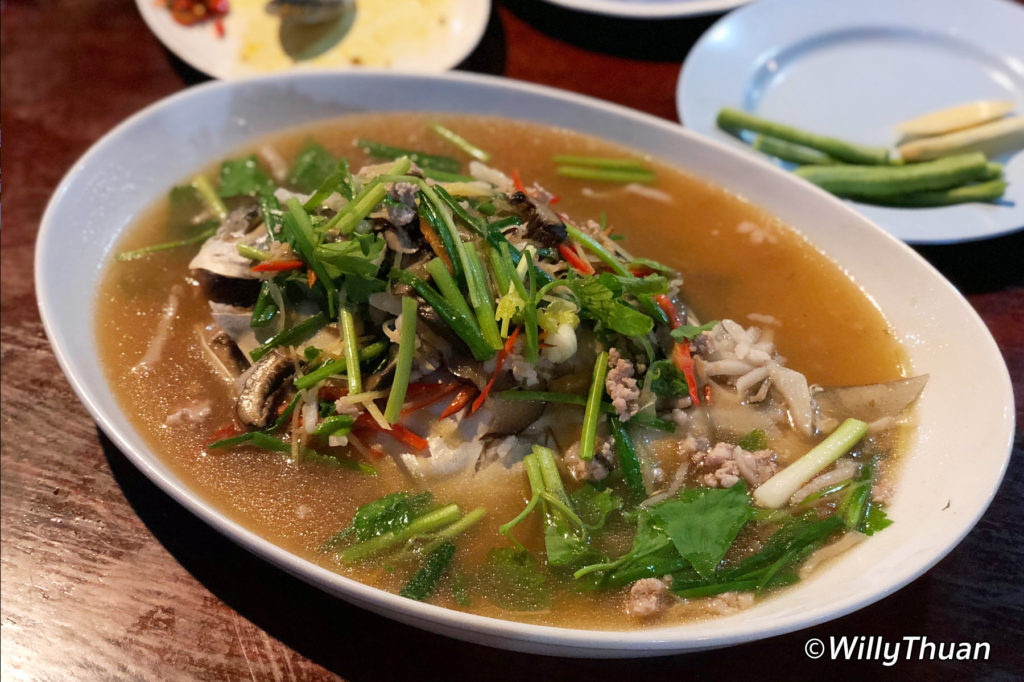 The words 'Poh Taek' actually means a broken fisherman's basket (or maybe fisherman's pier rather, I'm not sure here). The soup, though clear, can be very spicy with fresh bird-eye chillies. The taste is quite like Tom Yum, but several additional herbs and ingredients add a very nice and unique aroma to this dish. You might not find this dish in most touristy seafood restaurants, so read Phuket Best Local Seafood Restaurants if you feel like trying it.
---
13. Goong Pad Sa-Tor
Sa-tor or smelly bean is local to Southern Thailand. It is eaten raw or like this dish, stir-fried with meats, often prawns. Not all Thais can eat Sa-tor, though. Fun fact: people using the toilet after you might be able to tell that you just had Sa-Tor beans; as the name suggests, the thing is quite smelly, and the effect lasts a while. Enjoy 🙂