---
Useful Information about Phuket
---
If this is your first time in Phuket and you need info about the island but are not in the mood to search for hours, we compiled 10 Quick Facts about Phuket to summarise some interesting information.
You probably don't know what to expect apart from those annoyingly beautiful photos you see daily on our Instagram. It is not meant to tell you everything you should know, but you will get the big picture in a few minutes, maybe enough to know the basics, and then you can follow the links to more detailed information about Phuket.
---
Facts about Phuket
| | |
| --- | --- |
| Population | 410,211 |
| Beaches | 40 |
| Main City | Phuket Town |
| Main Beach | Patong |
| Airport | Phuket International Airport |
| High Season | November to April. |
1. About Phuket
Phuket is both an island and a province, the largest in Thailand and the size of Singapore (539 sq. km, 48 km north to south, 21 km east to west), located on the south-west coast of Thailand in the Andaman Sea and connected to the mainland by the Sarasin Bridge. The currency is the Thai Baht, and the electricity is 220 Volts. Most of the population is Buddhist. Phuket has an International Airport mostly deserved by Thai Airways, Air Asia and Nok Air. (Read more in our Phuket FAQ.)
Phuket 101 receives 250,000 monthly visitors on average (500,000 pageviews/month).
If you wish to advertise on this space or other options available on Phuket 101, just contact us.
2. How Far is Phuket From Bangkok
By air: The aerial distance between Phuket and Bangkok is approximately 685 kilometres (425 miles). There are many flights each day from one of the two Bangkok airports: Suvarnabhumi is the main International Airport and Don Mueang is the domestic and budget airport. The flight lasts 1 h 20 minutes and the main airlines are Thai Smile (from Thai Airways), Bangkok Airways and Air Asia.
By road: The driving distance between Phuket and Bangkok is around 840 kilometres (522 miles) via the Asian Highway Route 4 and on a self-driving trip, it will take you between 10 to 12 hours to get there on a single drive.
Going from Bangkok to Phuket by bus would take about 14 hours and cost between 600 to 1,000 baht.
By Train: there are no direct trains going from Bangkok to Phuket. If you really want to try this option, you would have to start at Hua Lampong Station in Bangkok and ride a slow train for about 10 hours to Station in Surathani, then ride a bus for another 4 hours from Surathani to Phuket. Not a convenient way.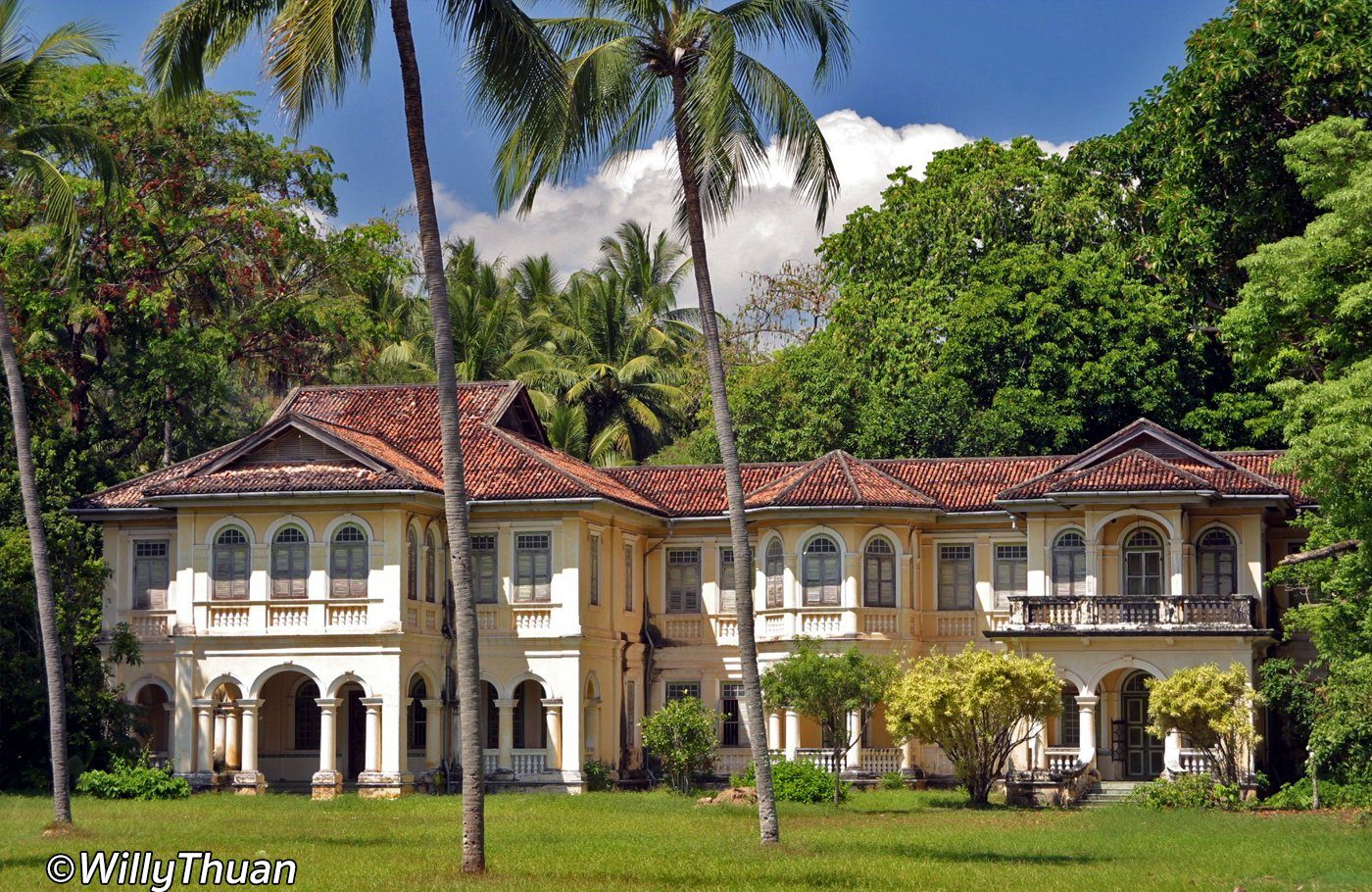 Phuket is pronounced 'Pooket' (not: 'Fooket'), and the original name was Jungceylon, the name of the giant 'Jungceylon Shopping Mall'. Before being 'Phuket City,' the main town was 'Thalang', not far from the airport. The primary source of income is tourism, but tin mining put Phuket on the world map back in the 16th century.
An entire Kathu Mining Museum has been built in a remote location to preserve the tin mine history. Latex, pineapples, frozen fish, cashew nuts and palm oil are also sources of revenue.
The nicest sandy beaches are on the west coast, the most popular ones being Patong, Karon, Kata, Kamala and Bangtao, but some are still peaceful in the northern part: Naithon, Maikhao and Haad Sai Beach. Mangroves and rocks mostly cover the east coast in the south except for a few hidden beaches such as Ao Yon Beach. The east coast offers a beautiful view of the nearby islands. Read more
The main town is 'Phuket City', but everyone calls it Phuket Town. Thalang Road in the city centre has applied to be a UNESCO heritage site with many Sino-Portuguese mansions and shop-houses, including some jewels such as the 'Baan Chinpracha House Museum', 'China Inn', the Thai Hua Museum and the renovated 'Blue Elephant Restaurant. The second biggest town is Patong Beach, which keeps growing as you read this.
There are mostly two seasons in Phuket: The High season (December to June) and the low season (June to November). The peak season is December and January.
Nightlife is unique in Phuket, mostly in Patong Beach, but it is also very active in Kata Beach and Karon Beach. Almost any beach has its bit of nightlife, but 'Soi Bangla' is the hottest place on the island. Closing time is supposed to be 2 am, but the party always continues way beyond. The most popular night venues are beer bars, the famous Go Go Bars, several Night Clubs, and a very active gay nightlife.
The Phuket Vegetarian Festival occurs from the 1st to the 9th day of the 9th moon according to the Chinese lunar calendar (October). Songkran in April is an occasion to have fun throwing water at each other for a day and mostly party all night. Loy Krathong, on the full moon of the 12th month in the traditional Thai lunar calendar (November), is celebrated by releasing little floats made of leaves, incense and flowers on the water. Old Phuket Festival, the end of January, and Chinese New Year are the occasion for parades in town.
9. The Landmarks
Phuket's most popular viewpoint is the famous Big Buddha, with amazing views of Kata and Chalong; other popular hills include Karon Viewpoint and Kao Rang Hill. Wat Chalong is the most visited temple, and Promthep Cape is the southernmost point on the island, famous for its sunset.
On the way to the airport, the Heroine Monument stands in memory of the two sisters who defeated the Burmese in 1785. Some movies shot in Phuket: James Bond Island in Phang Nga Bay, On On Hotel in Phuket Town in 'The Beach' and Baan Chinpracha were used in Heaven and Earth.
Thai food is famous worldwide, and trying local restaurants should be part of your Thai experience. Phuket food is generally spicier than in the rest of Thailand. Some favourite dishes are Tom Yum Koong (spicy, sour prawn soup), Tom Ka Kai (chicken soup with coconut milk), Som Tam (green papaya salad), Hor Mok (fish mousse), Kuay Tiew (noodle soup), Pad Thai and more. If you can't eat spicy, say "Mai Pet" (not spicy). But best of all, Phuket is famous for its fantastic seafood!
11. Around Phuket
The amazing limestone cliffs of Phang Nga Bay and the famous James Bond Island are about 75 km North East of Phuket and Koh Panyi, the village entirely built on stilts. Phi Phi Islands are 46 km southeast, and Similan Islands are 120 km northwest of Phuket. Khao Lak is 100 km away along the east coast, past the connecting bridge, while Krabi is 150 km driving along the east coast, past Khaosok National Park.
---