How to plan a week one Phuket?
One week in Phuket (or two) offers a lot of opportunities. Considering the island's size, there is so much to do here; 2 or 3 days would give you a glimpse at best. In a week, you will have enough time to go around Phuket, explore islands nearby, relax on the beach, and even treat yourself to a spa treatment to recover!
Here we suggest itineraries for each day; you can mix and match as you see fit. Everyone likes their holiday differently; some prefer to relax first to recover from work. Some want to go around as soon as possible, then relax and recover before heading home. Some like it all and will pack every day with experiences and exploration. We didn't include night activities because these will mostly depend on how tired you will be and which beach your hotel is.
A good way to plan one week in Phuket is to mix and match the following:
2 or 3 days to explore the island itself
2 days on an island nearby
1 day to Phang Nga Bay
1 day trip to another island
1 day to visit less known places
1 day to enjoy the many beaches of Phuket
---
This day can include The Big Buddha, Wat Chalong, Karon Viewpoint, Promthep Cape, Windmill Viewpoint, and Phuket Town.
The south of the island is rich with landmarks and beautiful beaches. A good way to explore is to drive down along the west coast and stop at the Karon Viewpoint to admire the three bays of Kata Noi, Kata and Karon Beach. Keep going and stop at Nai Harn Beach and Ya Nui Beach until you reach Promthep Cape, then stop at Rawai, where you can enjoy a seafood lunch by the ocean. There are a few restaurants to enjoy in the south of Phuket: the Rawai Seafood Market is very popular for seafood, but it can get very busy during the high season, spoiling the mood. We prefer eating in a local restaurant on the roadside by the ocean (Aek Seafood), or Rock Salt at the Nai Harn Resort is a real treat for a more fancy lunch.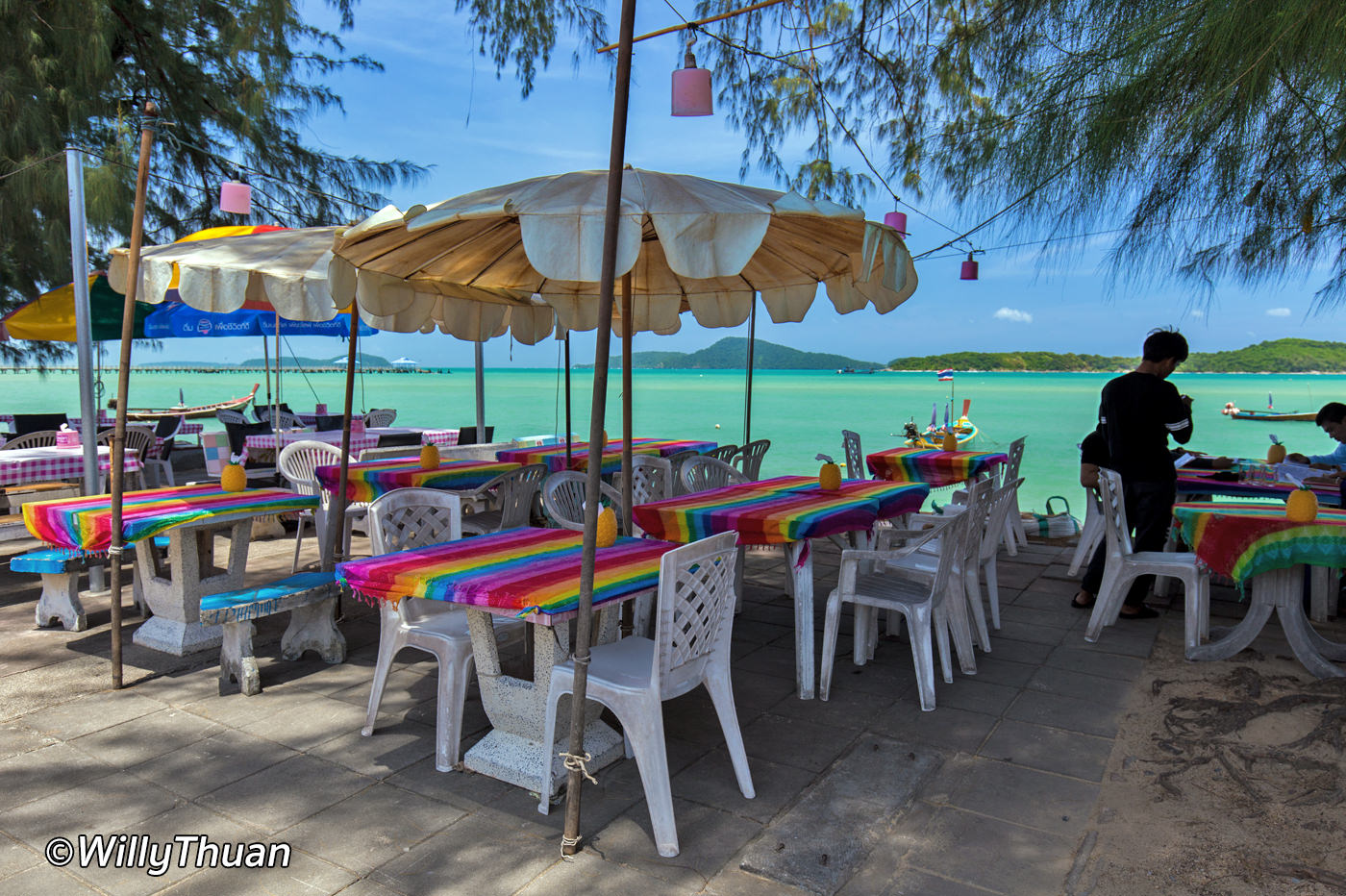 After lunch, drive up north, stop at the Big Buddha, enjoy the monument and the superb panoramas, and then the nearby Wat Chalong, the most important Thai temple on the island. If you hired a van with a driver, ask him to stop at Chalong Bay Rum Factory to try fun cocktails with locally produced rum. On the way back, exploring Old Phuket Town for a couple of hours is a good way to end the ride.
A great way to explore the south of Phuket is to hire a knowledgeable van with a driver. It is stress-free and very affordable.
A typical day would look like this: 9 am pickup at the hotel > Karon Beach > Kata viewpoint > Nai Harn Beach > Windmill Viewpoint > Rawai Beach > Big Buddha > Lunch at Mountain Breeze > Chalong Temple > Visit the Old Town > 5 pm back to the hotel.
Such a day costs between 2,000 to 2,500 baht, depending on your hotel location (2,500 is when you stay in the island's north, such as Surin, Bangtao or Maikhao beaches).
Big Buddha, Phuket Town half day highlights, private or small groups selected tours, and more...
This day can include: James Bond Island, Koh Panyi, Kayaking around the cliffs, Reclining Buddha in a cave, and Samet Nangshee viewpoint.
Phang Nga is a jaw-dropping natural wonder, an absolute must-see on a first visit! There are many ways to spend a day there. You can book a day trip to go there by boat or drive there. The boat is easygoing, and since Phang Nga is a bay, the sea is always calm, and no one ever gets seasick. Each tour may use a slightly different itinerary but always include some easygoing kayaking. You won't have to paddle yourself; your guide will do the paddling. You will explore some amazing enclosed lagoons surrounded by immense cliffs covered with vegetation and intricate passage to go around islands.
Later you will get a chance to visit the famous James Bond Island. The movie is old, but the location is unique. Most of the time, you will have lunch at Koh Panyi, usually seafood, an amazing village built entirely on stilts. Exploring the wooden maze of walkways of the village after lunch is worth it.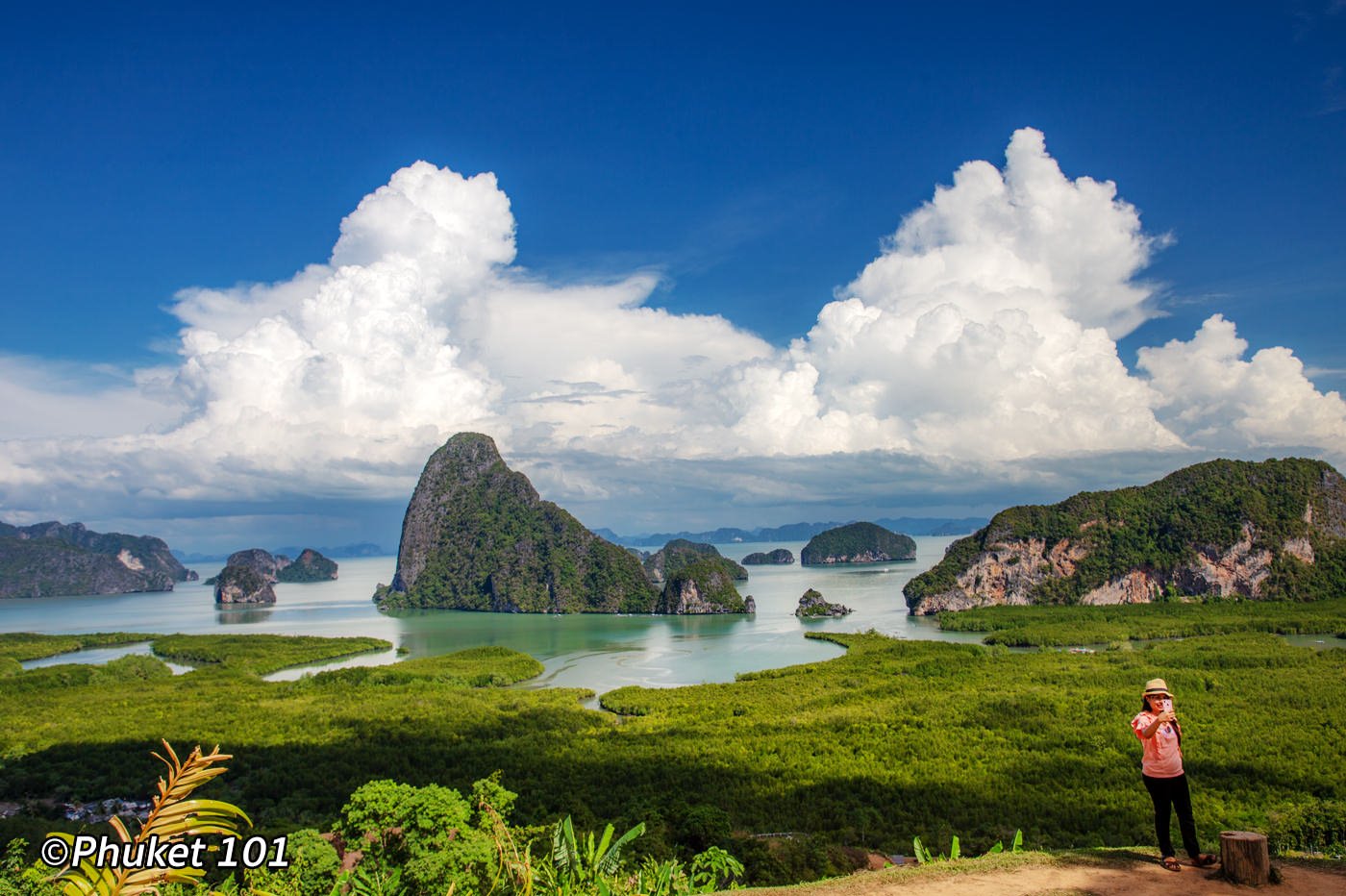 If you travel with friends or can afford it, the best way to explore the many wonders of Phang Nga is to rent a small private cruise. Glide from island to island in the comfort of your private deck with a drink in your hand, have a picnic on a small island beach and visit the popular spot before other tours arrive.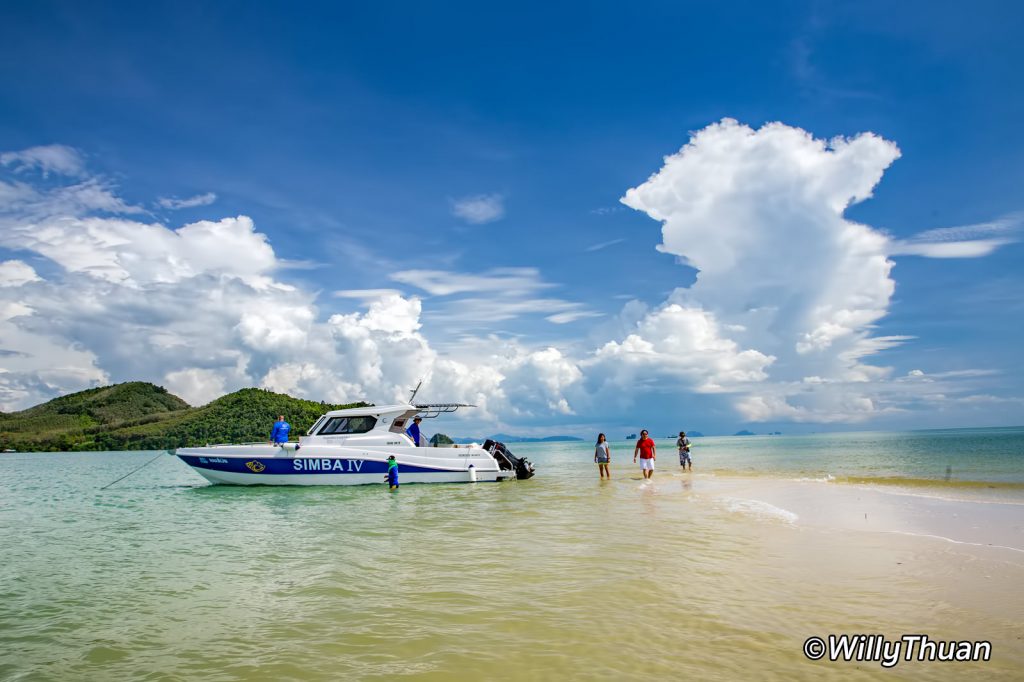 If you drive or use the services of a van with a local driver, you will have a slightly different experience. Usually, such a day includes James Bond Island, Koh Panyi, a visit to Wat Suwan Kuha, a giant reclining Buddha in a cave, a refreshing stop at a waterfall and the last highlight of the day is a to drive up to the beautiful Samet Nangshee viewpoint.
Experience the iconic James Bond Island, stunning rock formation and famous film location.
There are 6 or 7 islands near Phuket where you can spend a night or more. Each has a unique character; Phi Phi island is usually popular with backpackers in the central area; some other islands can be isolated with a unique exotic charm.
Staying at least a night on Phi Phi island is a great way to enjoy what this amazing archipelago offers. Of course, you can go there on a day trip, but you will soon realise you have so little time to explore! There are many hotels for all budgets to choose from. The central area is usually very busy, with plenty of shops, bars and restaurants, but at this time, it is quiet as many places are closed because of covid. When life is fully back, and you prefer to stay away from busy streets and young crowds, consider staying on another beach further north.
By staying a night in Phi Phi, you can rent a longtail boat and go to Maya Bay, Pileh Bay, Bamboo Island and many other places a day trip would not allow. Don't forget to enjoy the sunset from Phi Phi Viewpoint.
---
Racha Island is a little gem southeast of Phuket. The island has 3 or 4 hotels, but The Racha is a great romantic hideaway. The sea in front of the hotel is incredibly blue, great for kayaking and snorkelling, and the villas are perfect for a lazy stay.
---
Coral Island is near Phuket (6.5 km, which is about 15 mn by boat) and can therefore get very busy during the day. A good way to enjoy it is to stay overnight at Coral Island Resort, a modest hotel with bungalows on the beach.
---
Other islands we haven't yet spent a night on are: Coconut Island, Naka Island, and Lon Island.
Don't miss out on the famous Maya Bay and other fun activities.
This day can include Kamala Beach, Banana Beach, Nai Yang, Naithon beach, Samet Nangshee, and Bangpae Waterfall.

North Phuket is slightly toned down and has fewer striking landmarks than the south. Mainly the north is a chance to see less crowded beaches and enjoy the rare luxury of starting with a breakfast on the beach in Kamala. The hop from beach to beach to Layan, Bangtao, Nai Yang and Naithon. The day's highlight is probably taking a selfie with those immense planes.
If you feel like driving to the very north, you will be rewarded with the deserted Haad Sai Kaew beach and eat lunch with locals in a bamboo hut by the sea or at Rimpan Seafood next to the Sarasin Bridge that connects Phuket to the mainland. If you want to add a highlight to your trip, and have not yet done it on your Phang Nga Bay day out, keep driving 25 km (30 mn drive) past the Sarasin Bridge and go up to Samet Nangshe; it's worth it.
On the way back, stop at the small Bang Pae Waterfall, but it is better to do this during the rainy season when there is more water. If hungry, enjoy excellent local Thai food at Piang Prai Restaurant or local seafood specialities at Bangpae Seafood, a restaurant near the mangrove. If you still have energy and haven't done it the previous day, end the day in Old Phuket Town.

Going to the Similan Islands is a full-day trip, but it is worth it. The archipelago is beautiful, and the shallow waters on white sand produce this incredibly blue colour. Snorkelling in those such crystal clear water is amazing. There is plenty of coral and tropical fish to admire, and the water is always warm. Note that the Similans are only open between October 15 to May 15.
Stunning beaches, crystal-clear waters, mesmerizing underwater world, and more...

This day can include Banana Beach, Layan Beach, Laem Singh Beach, Naithon Beach, Wat Khao Rang, and Bon Island.
Once you have seen all the famous attractions around the island, take the time to find lesser-known spots. Some beaches are hard to reach, but the braves will be rewarded with almost deserted beaches. Surprisingly, some quiet beaches, such as Freedom Beach, are not far from the busy ones, but they are hard to reach, and most people are unwilling to make an effort. The best quiet beaches are those north of Phuket, past Bangtao Beach: Layan Beach, Banana Beach, Naithon, Nai Yang and Sai Kaew Beach.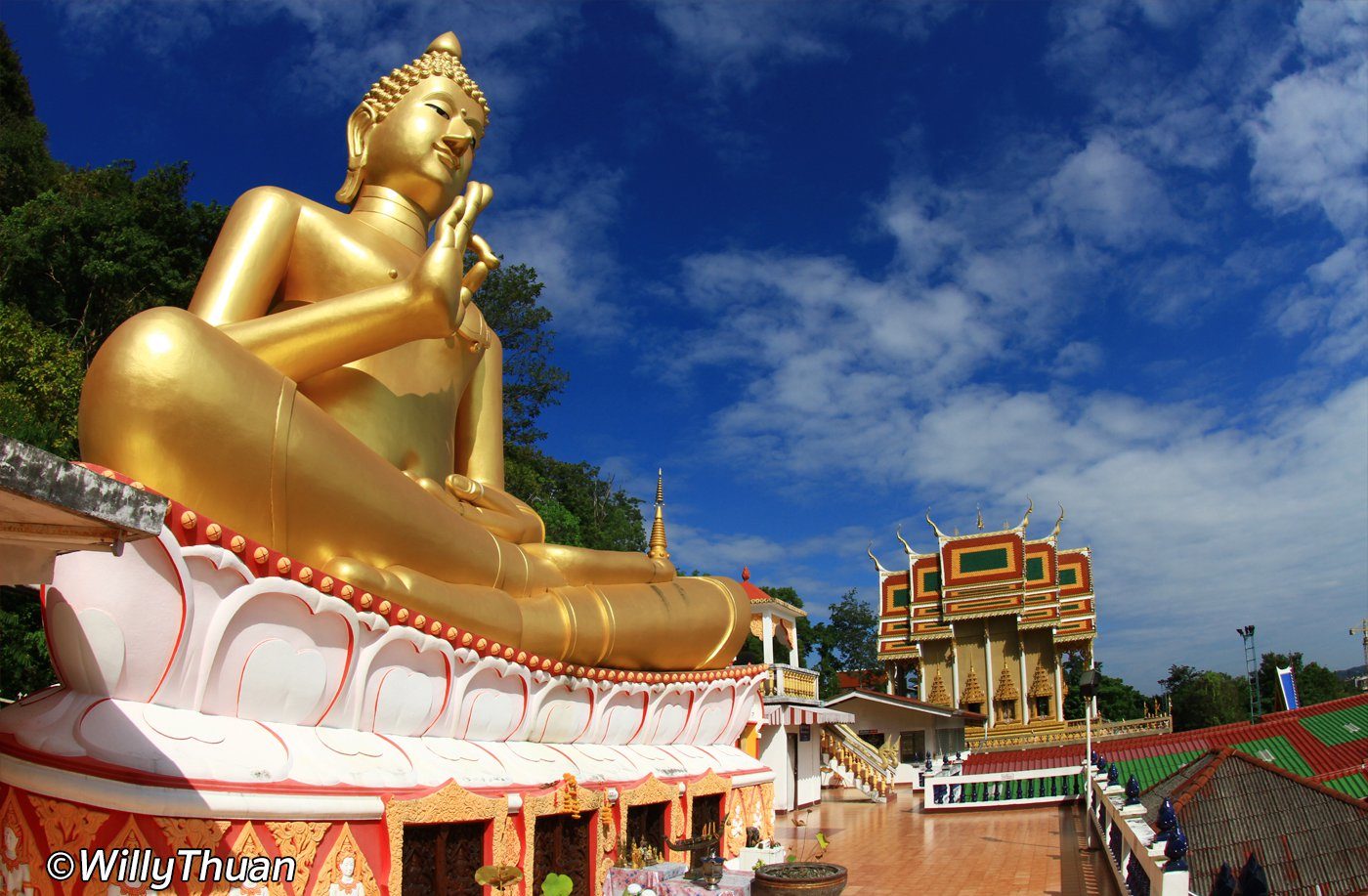 Some are remote temples or viewpoints away from the busy roads. Of course, those places might be less striking, but we love them: they are more laid back and peaceful, addressing more to travellers who want to see what the real Phuket is like without tourists. There are a couple of waterfalls to explore during the rainy season. They may not be very impressive, but this is where Thai families and friends come on the weekend to splash in the water.
Discover a variety in Phuket, from authentic local cuisine to stunning Sino-Portuguese architecture.
Day 8 – Activities and Phuket Town half day
This day can include Spa treatments, Zipline, Wakeboarding, Blue Tree Waterpark, Phuket Town, and Sunday Walking Market.

If you spend a week in Phuket, you will be able to visit the very interesting Phuket Sunday Walking Street Market. A great way to organise your holiday around it is to spend the morning on the beach, or even better, try one of the many activities available everywhere, from Zipline at Hanuman to Wake Board at Wake Park, or try one of the Waterparks around the island.
After lunch, move to Phuket Town and explore the old streets, Sino-Portuguese shophouses and mansions, Thai temples and Chinese shrines until 5 or 6 pm, then move to Thalang Road to end the evening browsing the items on sale at the street market and enjoy the vast choice of street food. Many excellent Thai and Italian restaurants are nearby if you don't feel brave enough to try southern specialities.
You probably booked your hotel on one of the many beaches and after such an intense week exploring, you will want to spend a slow day swimming, sun tanning and enjoying the good life before returning home. If you have your transportation, you can try several beaches around. Those with the most beautiful setting, sand and water are Kata and Kata Noi, Karon, Nai Harn, Bangtao and Naithon Beach.
In addition, you really should try some snorkelling as some spots are known to have a lot of coral, life and fish to admire. During the rainy season, try some surfing or kite surfing too!
---
Map
---
Rent a van with a driver
Renting a van with a driver for the day is one of the best ways to explore Phuket without stress. They can speak English and customise the places to visit as you wish.
---
More Phuket itineraries
---