Phuket in 2 Days
Phuket is a relatively small island, and you can drive around it within 2 days without rushing it. Of course, more days would allow a lot more, but this overview should enable you to stop at the main landmarks and small beaches. We will skip the touristic beaches, you know where they are, and you can decide to include them if you want to. It's a lot more fun to explore the remote ones.
We start this 2 days exploration roughly from Patong, Kata and Karon areas but since we drive around the island, you could actually begin anywhere, or even go from point to point in the opposite direction. We drive north first, starting in Patong Beach.
See a full-size map at the bottom of the page
---
From Patong, driving north
---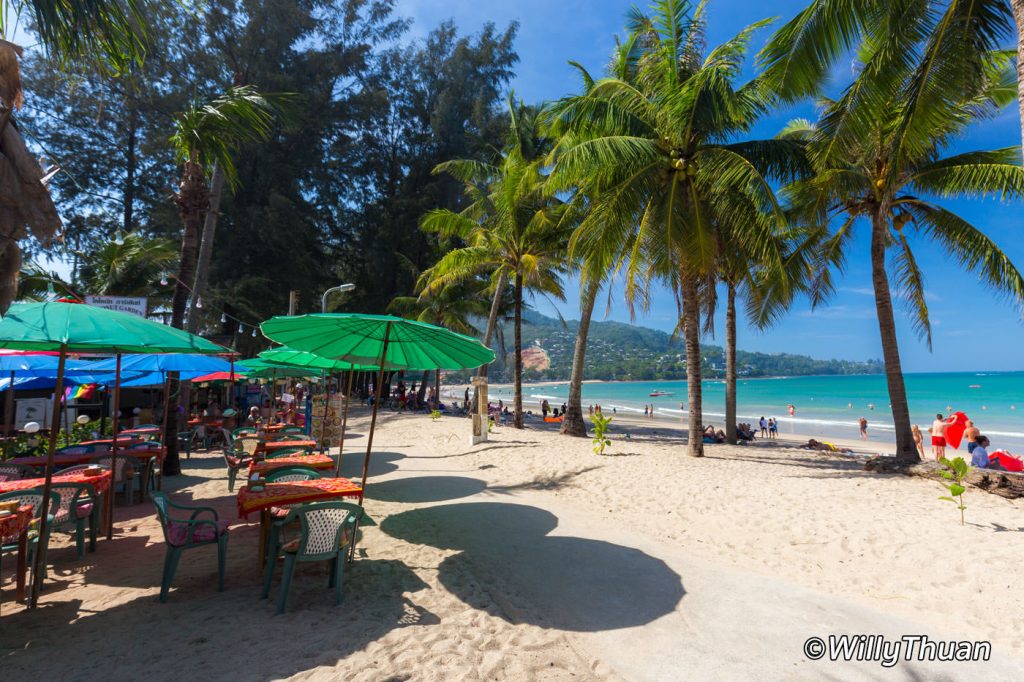 Once you start your exploration driving north, you will first reach Kamala. It's a beautiful beach but not a landmark. We like to stop for breakfast at one of the many seafront restaurants in the middle part, usually easy to reach from the small road just past Fantasea Park. Read more
---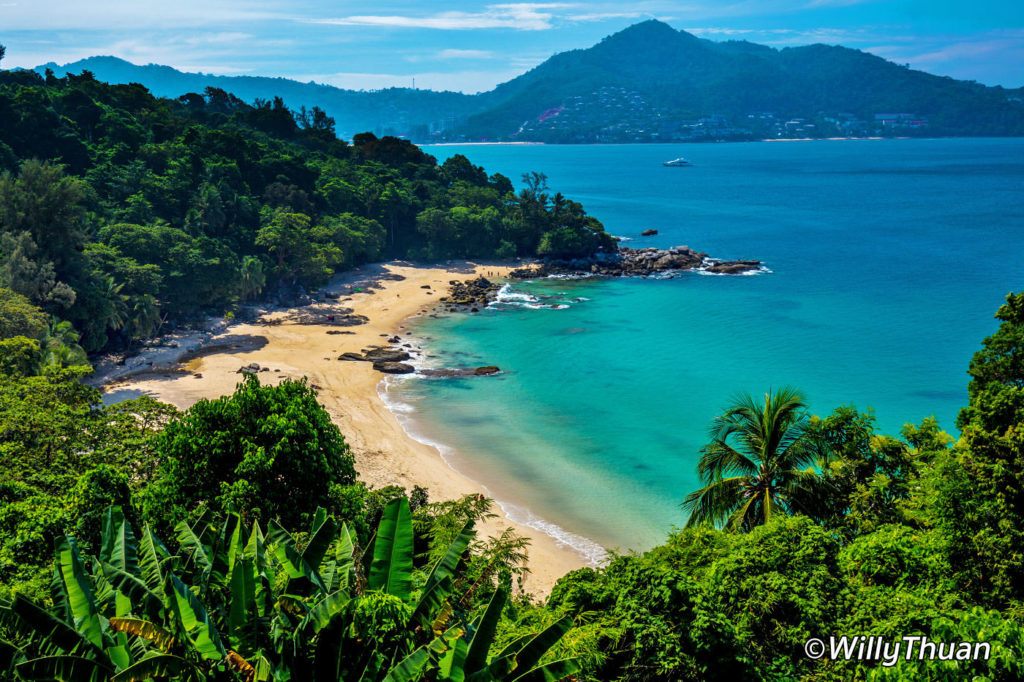 Laem Singh may or may not accessible on the day you drive. It depends on the weather and on the mood of the boats tat take you there. Laem Singh used to be a very popular sandy cove but the access was close to public a couple of years go to make space to a Mandarin Oriental hotel. However, you still can go there by sea.
To find the boat, drive to Surin beach (the next beach) and try to find the boat and the sign on the beach that indicates the location. If the beach is not accessible on that day, you can at least stop at the easy to find viewpoint by the road, from which we took the photo above. Read more
---
Surin Beach is a superb natural beach with a long history. There used to be many restaurants and trendy beach clubs, but none of them was legally built! One day they were all gone, demolished. The beach is now back to its natural state, and you still can rent beach chairs and eat at one of the local shack on the parking. A nice stop. Read more
---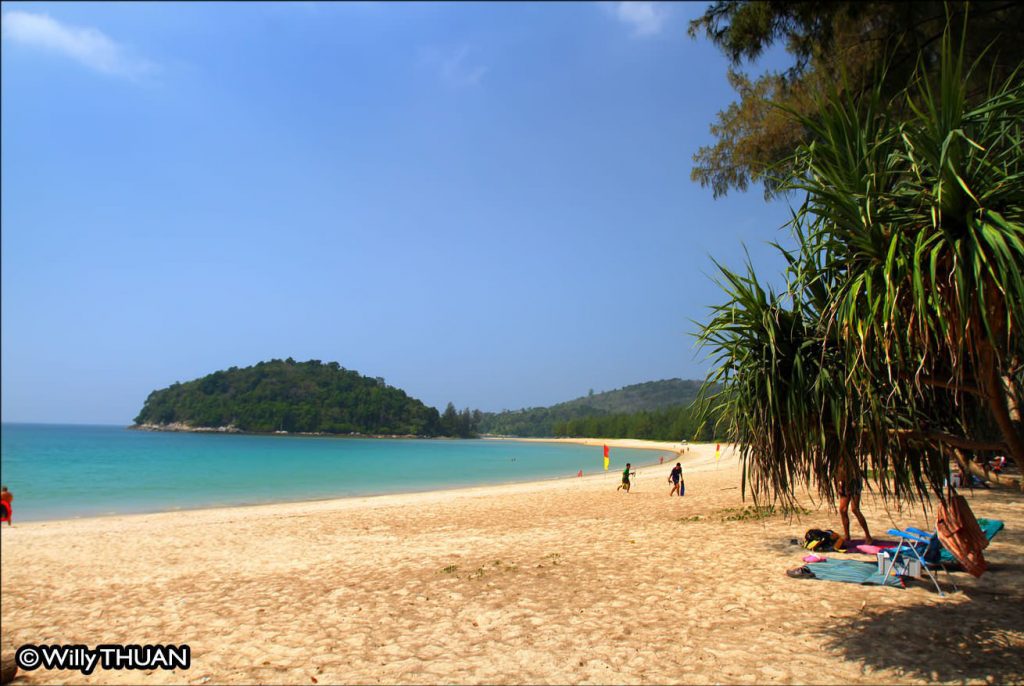 Bangtao is a very Long Beach with complicated access, you never really know how to get to a specific part, and each part is different. The most noticeable is the south part just next to Outrigger where you'll find a lot of restaurants right on the beach. Luxury hotels and beach clubs occupy the central part of Bangtao, but parking is a little tricky.
The north of Bangtao is known as Layan Beach and hasn't changed much in years, with small restaurants built under the trees near the beach. It's a lot more quiet and more Thailand. Read more about Layan Beach
---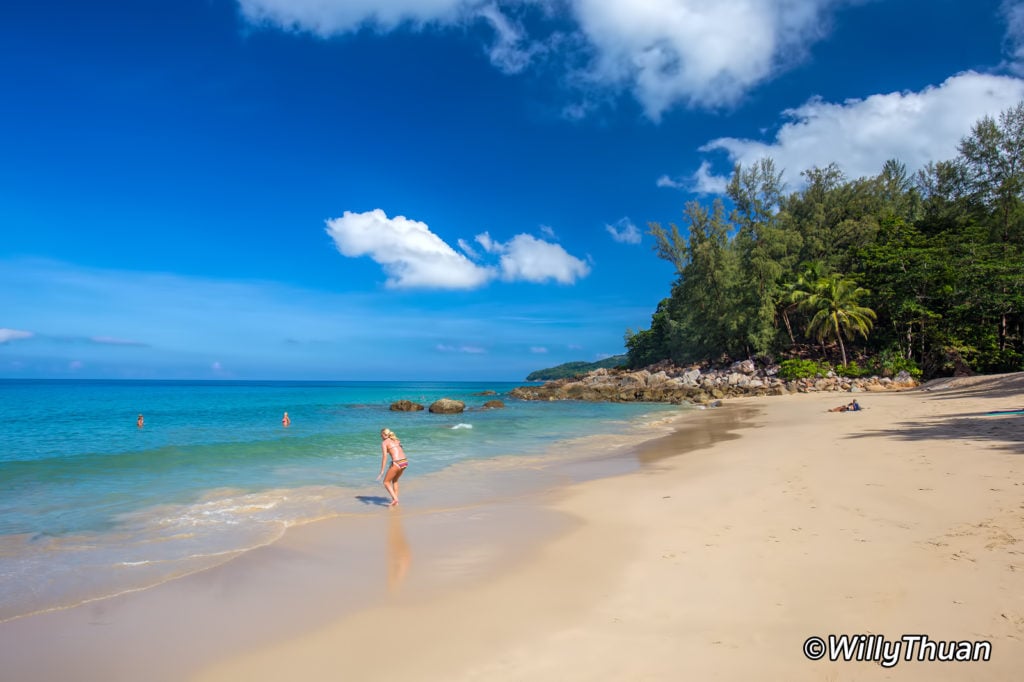 Banana Beach is one of the hidden beaches of Phuket. It's away from the main road, and the entrances are hard to spot, but if you can find it, it is a nice stop. You can even have a nice lunch there since there is a restaurant during high season. Read more
---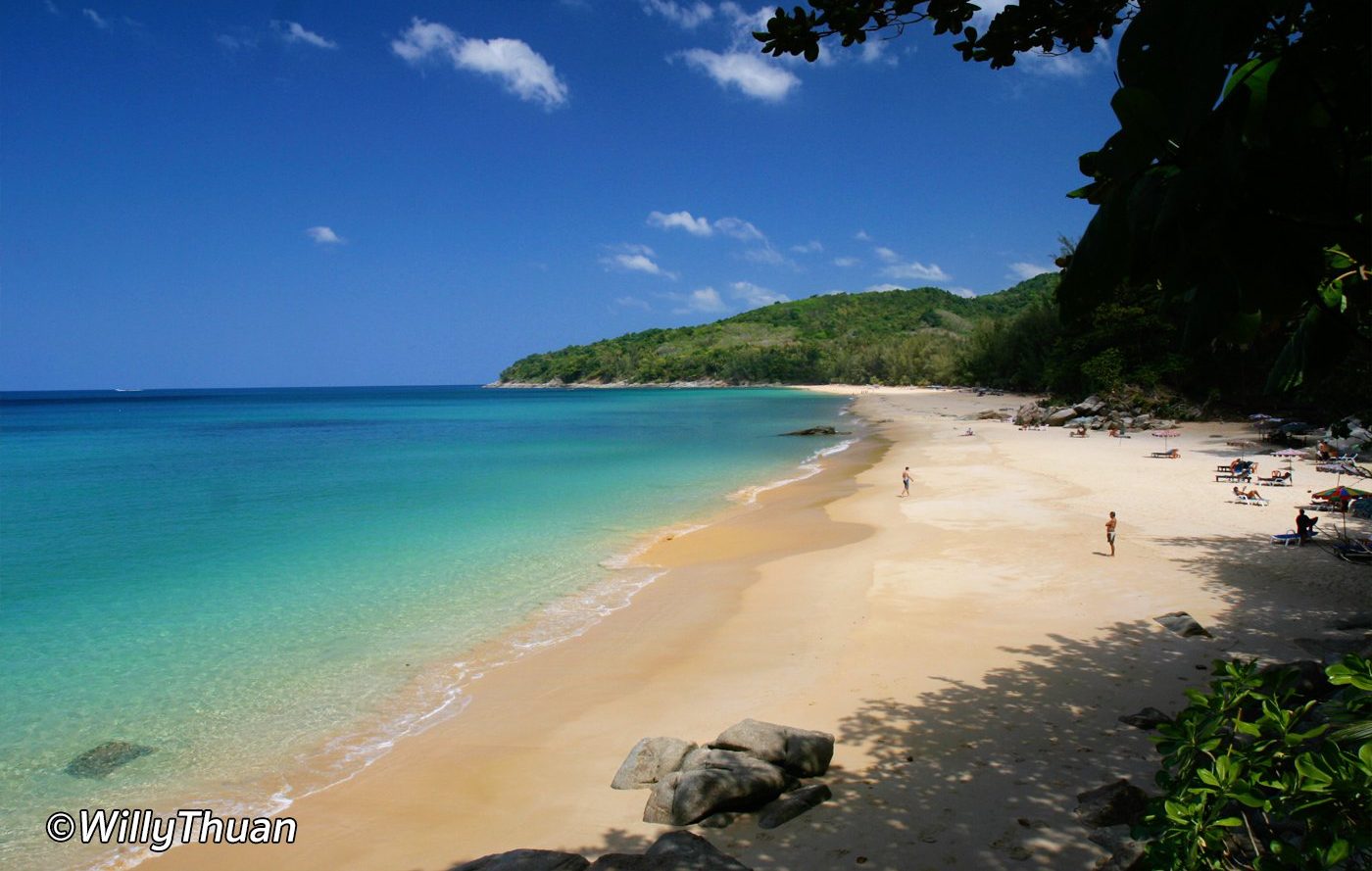 Just a little further than Banana Beach is the beautiful Naithon Beach. Superb sand and clear water (in high season) it is surprisingly quiet. There are just enough restaurants and fruit vendors along the beach to make it a perfect stop. Read more
---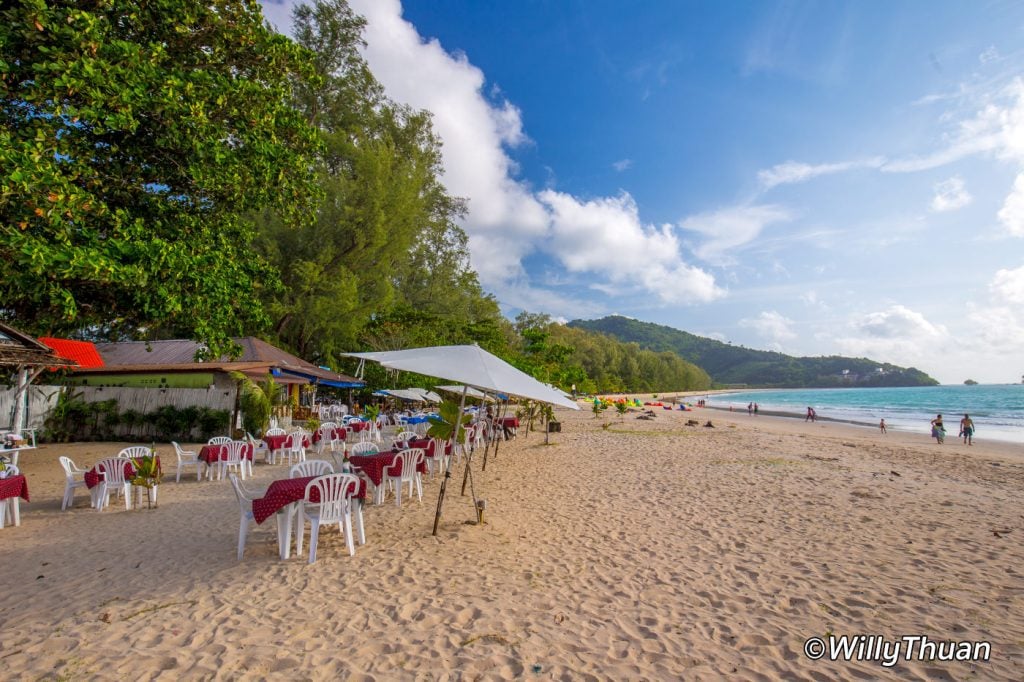 Nai Yang is another favourite beach. It has remained relatively peaceful and unchanged for two reasons: it's near a national park, there are not many hotels around, it's not on the main roads, but most of all: tourist always seems to rush south! There are a few restaurants right on the beach to enjoy. Read more
---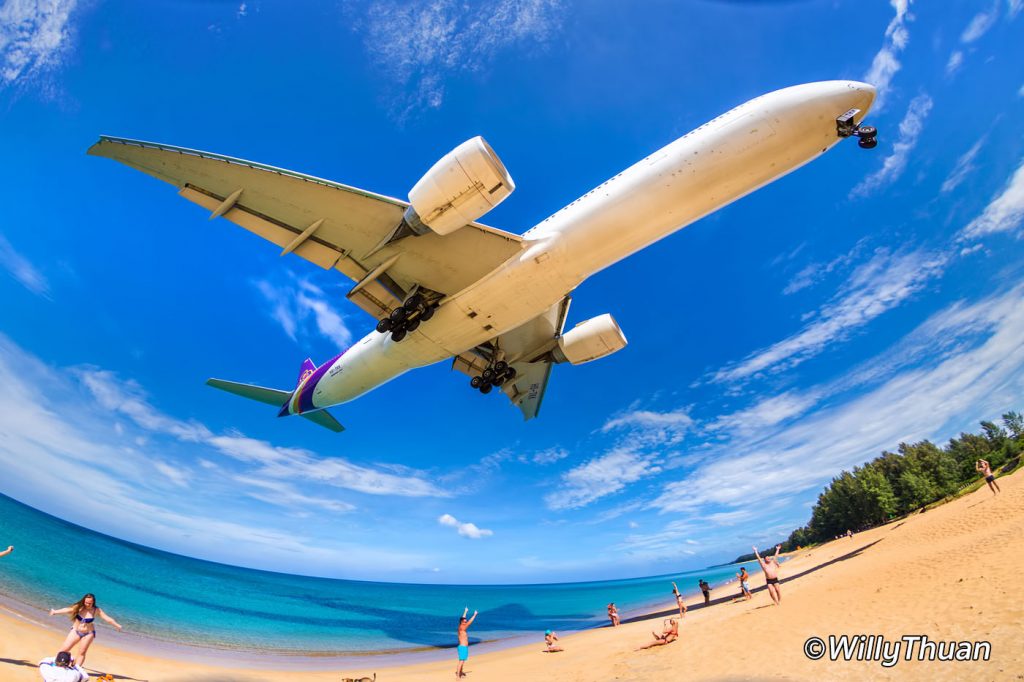 Mai Khao is beautiful and very long but not a place to stop on a driving exploration day. It's more the kind of place to stay in a luxury hotel, a long strip of sand lined by tall trees. But there is a twist: Mai Khao is where the airport is, and it's where you can get one of those fantastic landing plane photos! Read more about Mai Khao Beach
---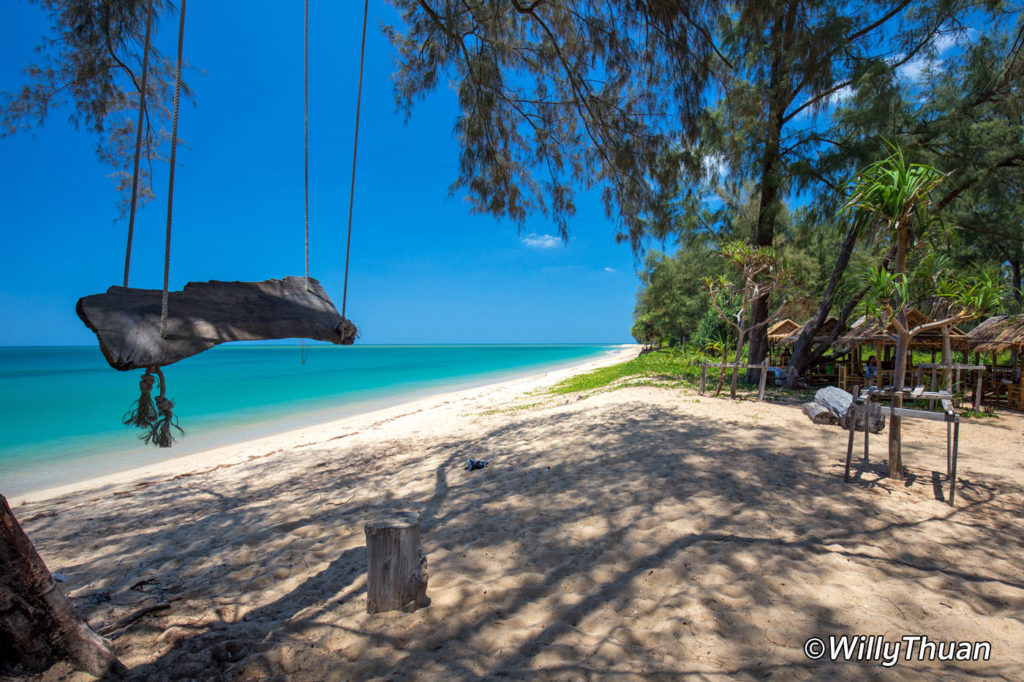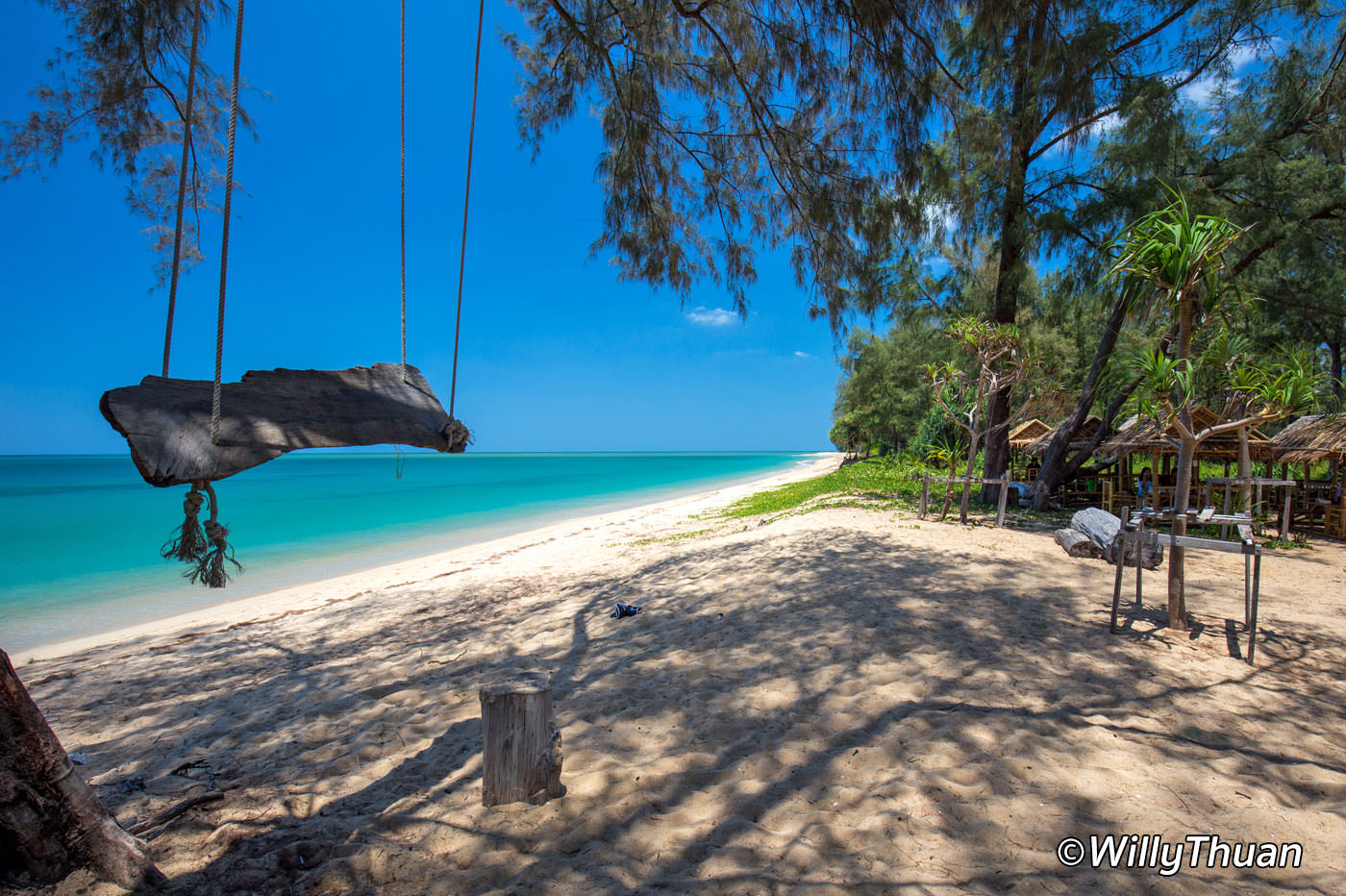 Sai Kaew is one of my favourite beaches in Phuket when I want to be alone. It's deserted and beautiful. It's like being in Phuket before the madness started! Near the central road parking is one small restaurant made of bamboo huts and it's perfect this way. Read more
---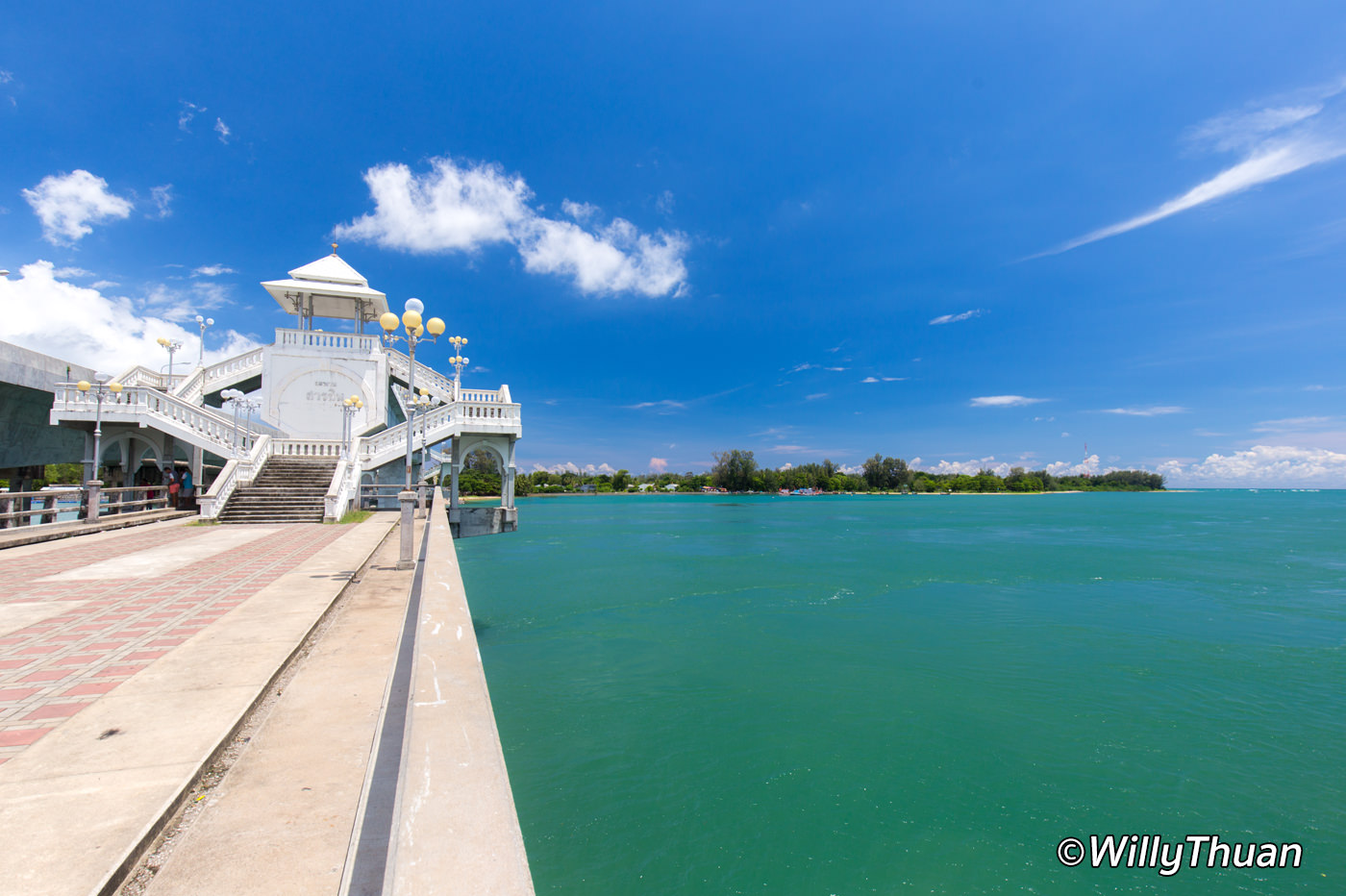 Sarasin consist of 2 bridges. The new high bridge allows cars to drive in and out the island and the low old bridge that has become a pleasant walking area. From there, you can admire the island on the left and the main land on the right. Both, of course, look like lands, but when you think about it, it's a nice feeling.
More interesting fact: there is a seafood restaurant at each end of the bridge: Thanoon Seafood on the mainland side, and our favourite: the very local Rimpan Seafood on the island side. There is also a long line of local shops to browse at the bridge, selling all kinds of local spices, the famous Phuket pineapples, and some weird-looking coconut crabs. Read more
---
Driving south
---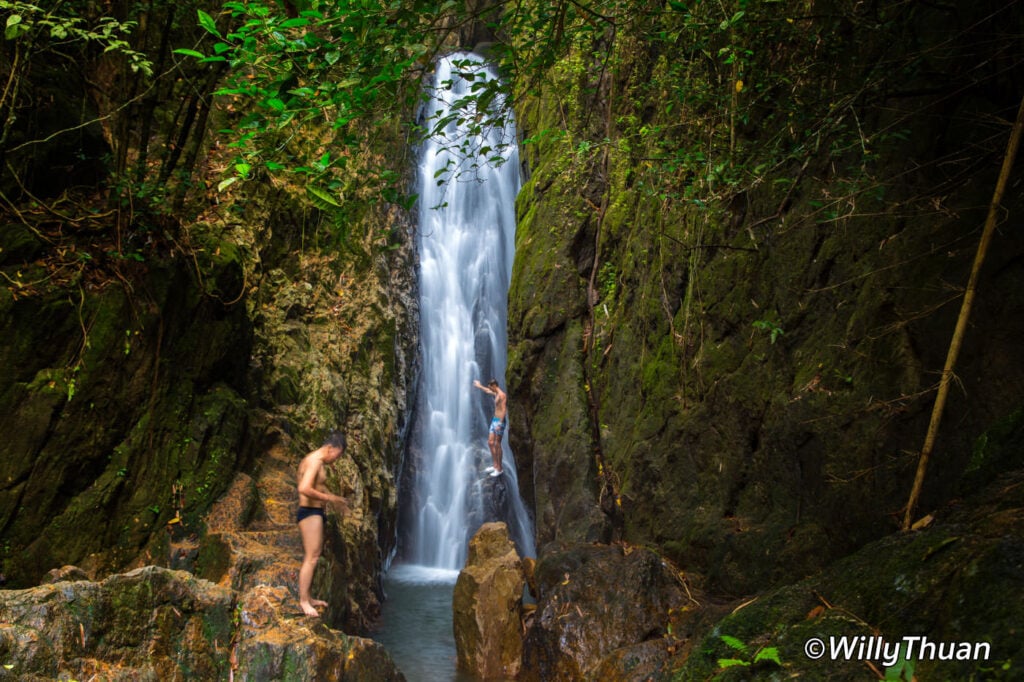 Once you reached the north of Phuket, you could keep going and explore Phang Nga, but that will be for a future page. Start driving back south using the main road. You won't find many significant landmarks worth stopping on the way. If you like temples, you could make a pause at Wat Phra Thong and read about the legend of the buried Buddha statue, but it's a little underwhelming. Further south is Bang Pae, the biggest waterfall on the island and while it's a nice short stop in the jungle, it's not very impressive either. However, if you didn't have lunch yet or if you are hungry, there are two excellent local restaurants in this area: Piang Prai next to the waterfall and Bang Pae Seafood a little further, by the sea. Read more
---
Phuket Town is almost worth spending the rest of the afternoon, especially if you arrive there at the end of a Sunday afternoon with the Sunday Walking Street Market. On any other day, you can walk Phuket old streets, try some local food or have a break at one of the many little cafes. From Phuket Town, depending how much time you have left, you an decide to drive back to your starting point or continue to the south part of Phuket. Read more
---
Optional route on South East
The Panwa peninsula on the South East coast of Phuket is often overlooked. At first, the Panwa area doesn't shine much because it doesn't have the beautiful beaches of the west coast. There are no significant landmarks or big temple, and because of this, this peninsula has remained untouched, and this is why Panwa has kept its charm.
---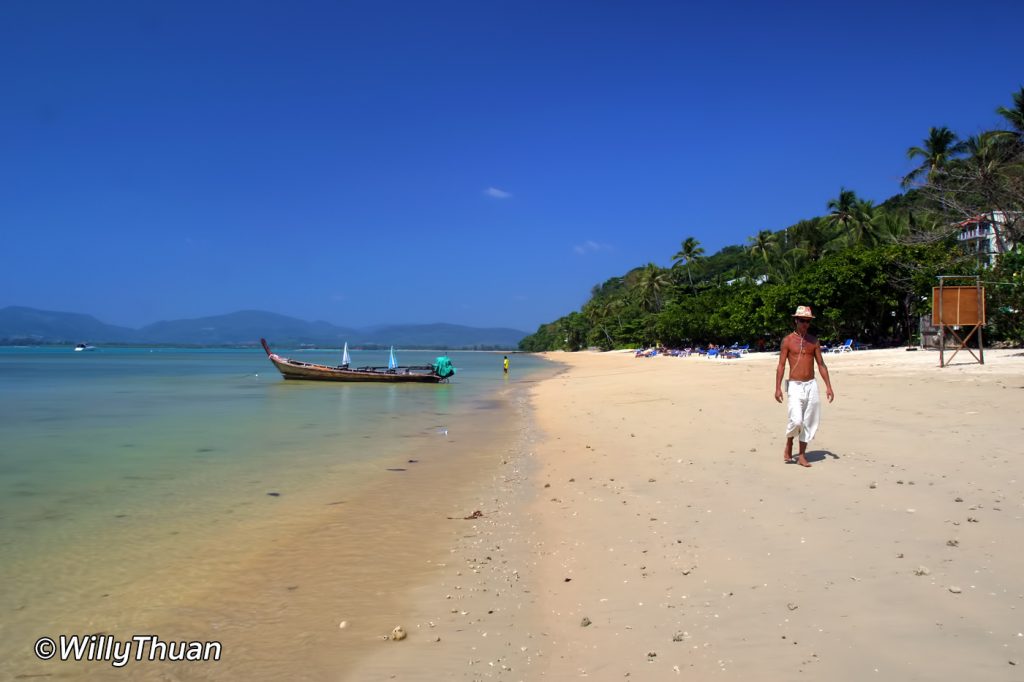 Panwa Beach is a long and remote beach found on the south-east of Phuket. It's not a swimming beach but has a few hotels and even some touristic restaurants right on the beach, making is a good stop for lunch, a sunset dinner or just for a drink. Read more
---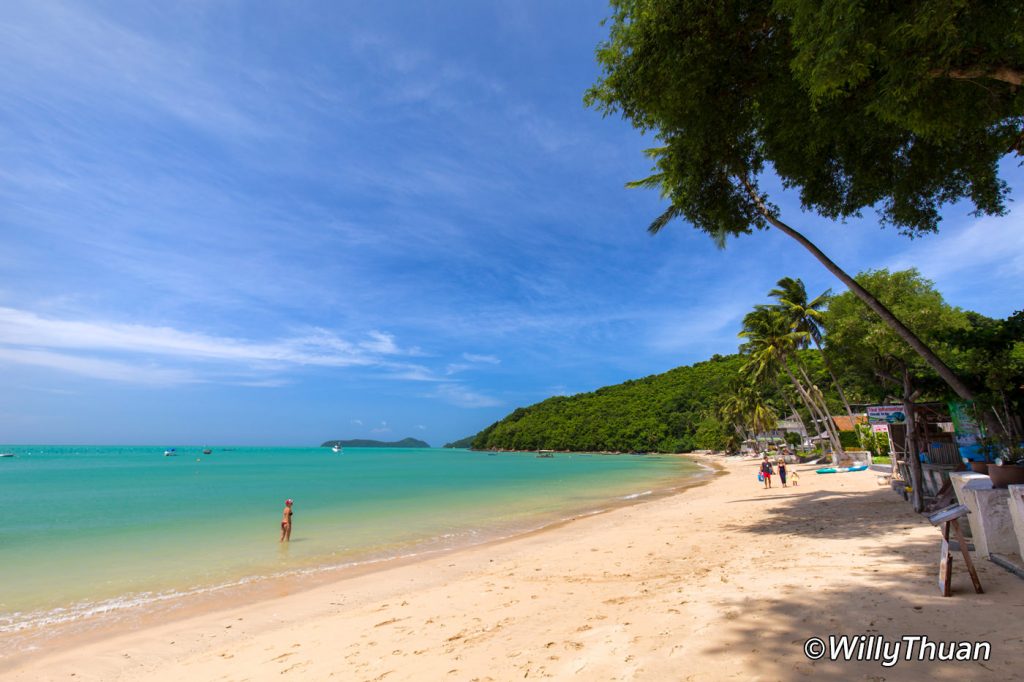 Ao Yon beach is out-of-the-way, but if you are looking for a secluded beach with restaurants and beach bar, you will like it. It's very quiet and still 'Old Phuket', sometimes even a bit messy, the way things were long ago. Ao Yon is also one of the very few beaches where you can swim safely during low season. Don't miss a chance to stop for a lunch or diner at The Cove Restaurant by the sea. Read more
---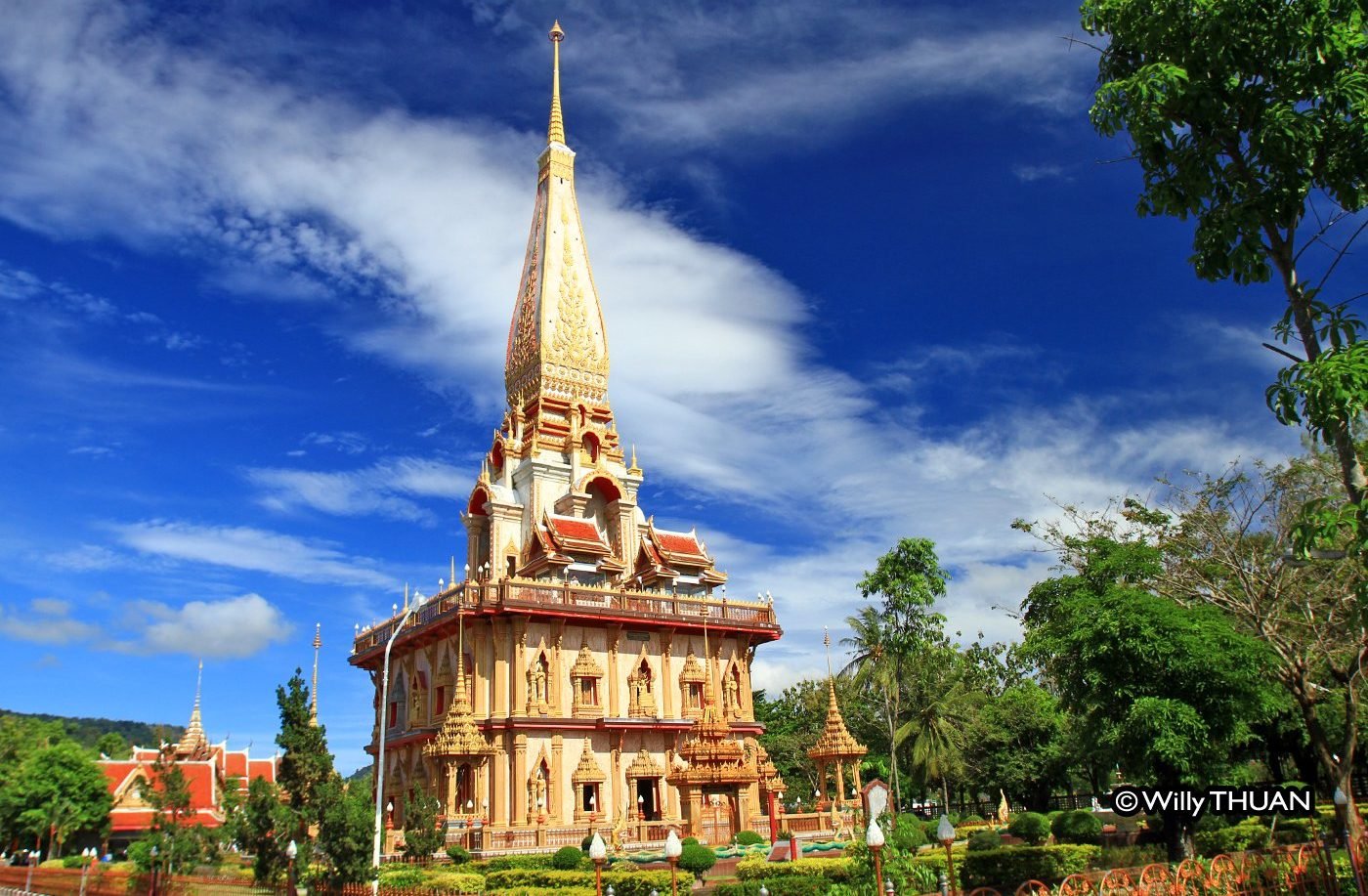 Past Phuket Town and driving south is the beautiful Wat Chalong, the most revered temple in Phuket. Stop to admire it from outside but also from inside with the many paintings and golden statues, and take a few photos. You can even climb the central stupa to get a modest panoramic view. Just remember to remove shoes and caps before entering the temple, and ideally dress appropriately (avoid very short skirts or sleeveless T-shirts). The entrance is free and taking photos is allowed. Read more
---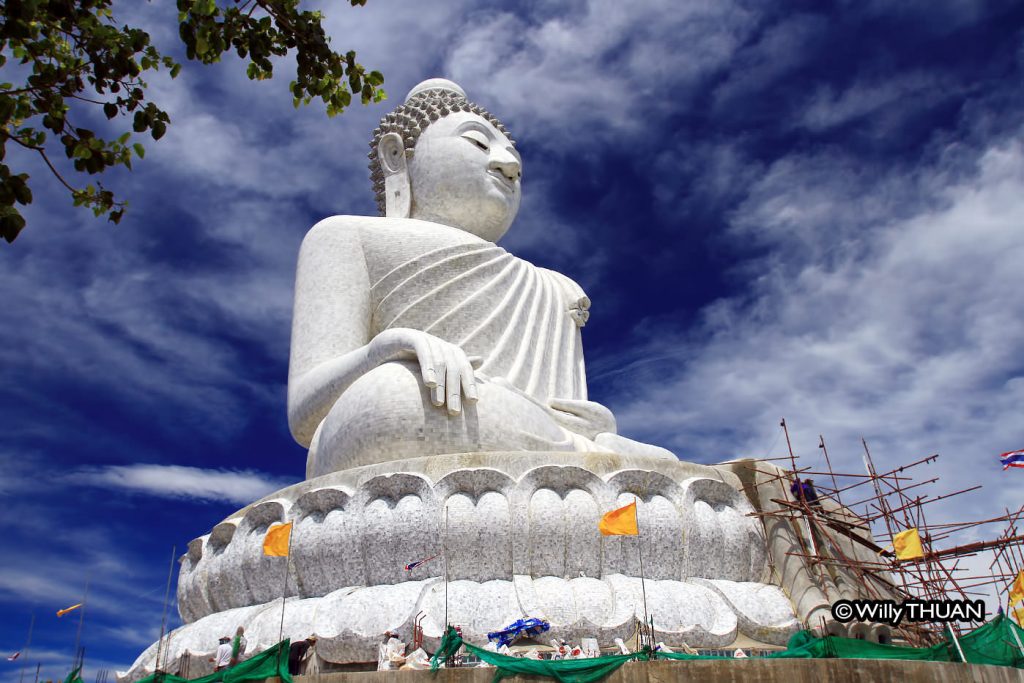 The Big Buddha is a 45-meter tall statue covered with white marble at the top of Nakkerd Hills. The figure is beautiful, but also the panoramic views from the hills are fantastic. In the back, you can see Kata Beach from above, and from the front, you can admire Chalong Bay, all the way to Phang Nga is the weather is clear. On the way down, stop at one of the small bars and restaurants to enjoy more panoramic views of Karon Beach. Read more
---
Rawai beach, in the very south of Phuket, was long neglected because it was mostly a harbour for the many longtail boats and speedboats. Until recent years, the gipsy fisherman village was more of a slum than an attraction. When the Rawai Seafood Market opened, everything changed, and Rawai Fisherman village is now buzzing and even crowded. If you like seafood, better stop at one of the small restaurants by the seafront. More relaxed and more authentic. There are a couple of expat restaurants to take a break is local seafood is not your thing: Rawai View Cafe and Nikita's Beach Restaurant. The beach is full of boats in the middle but is kind of nice at each end. Read more
---
Promthep Cape during daytime is not all that impressive, but since you are driving in the area, stop for a photo of the cape and the small shrine surrounded by hundred small elephant statues near it. Read more
---
GOING BACK NORTH
---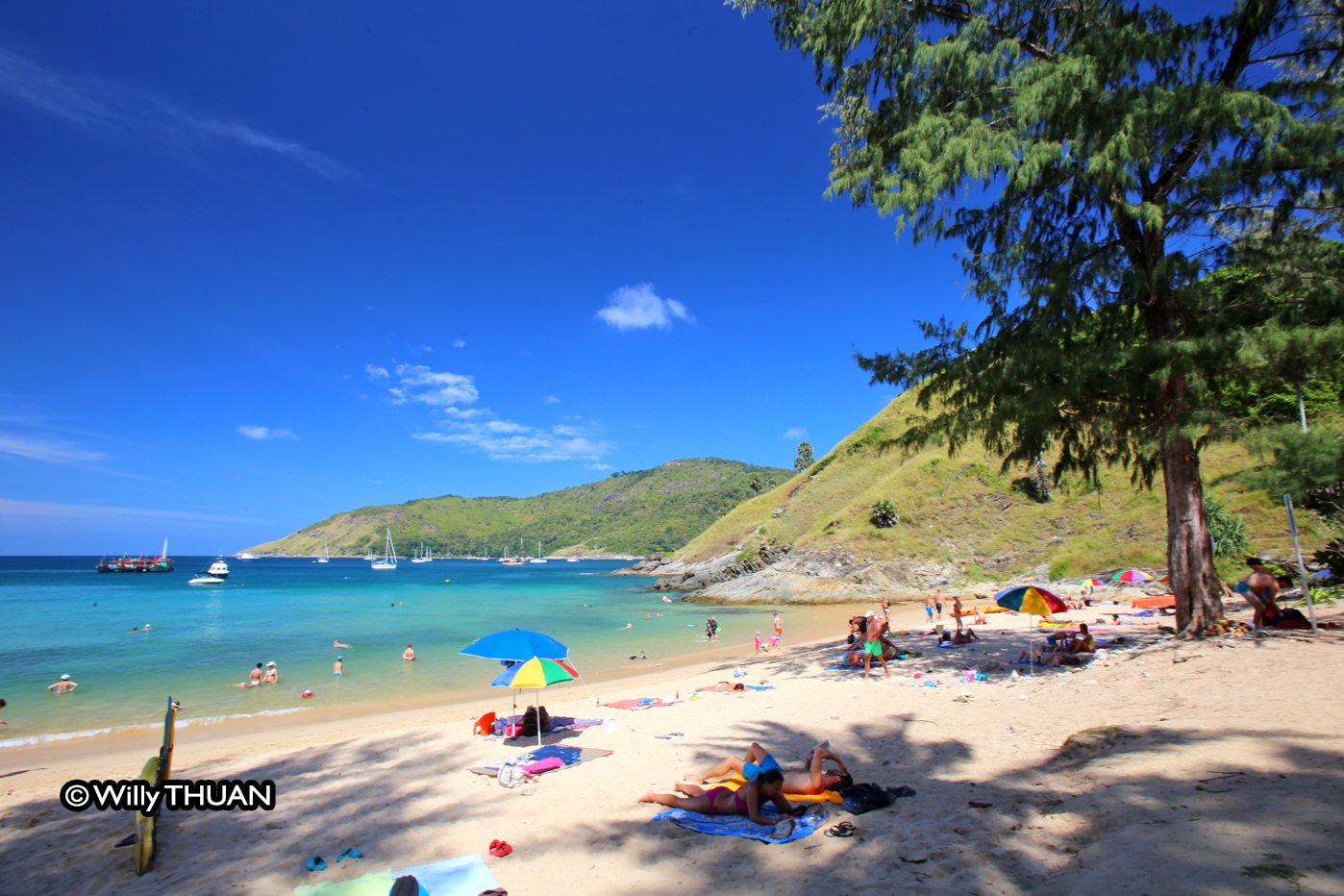 Ya Nui is a small but scenic beach tucked between green hills with a massive island in front of it. It's tiny, but people love it because it's a decent spot for snorkelling. Read more
---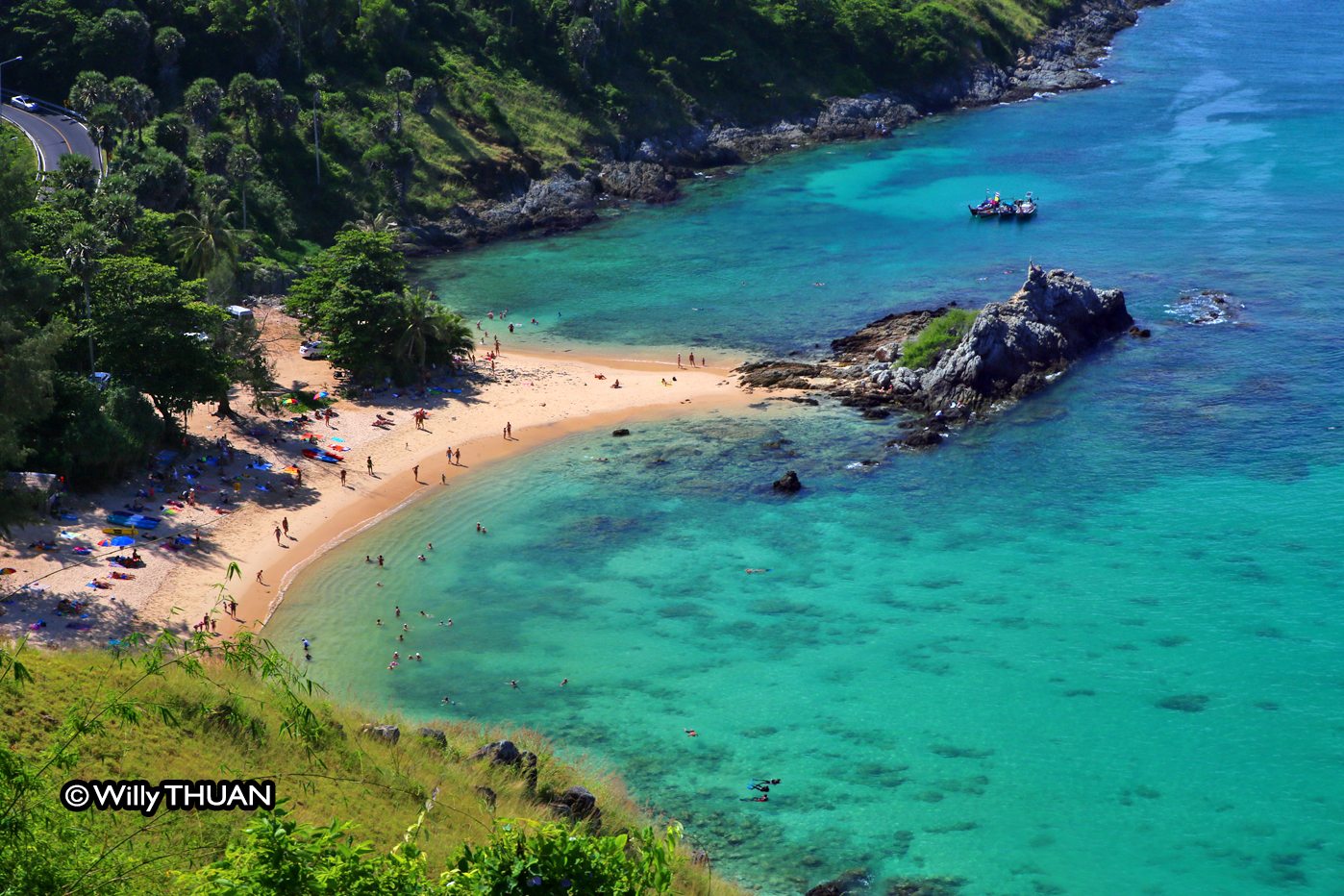 Just above Ya Nui Beach is the famous Windmill viewpoint (sometimes called the wind turbine). It offers a superb panoramic view of Ya Nui all the way to Promthep Cape and the nearby islands. The parking is large, and it's now effortless to park your car. Read more
---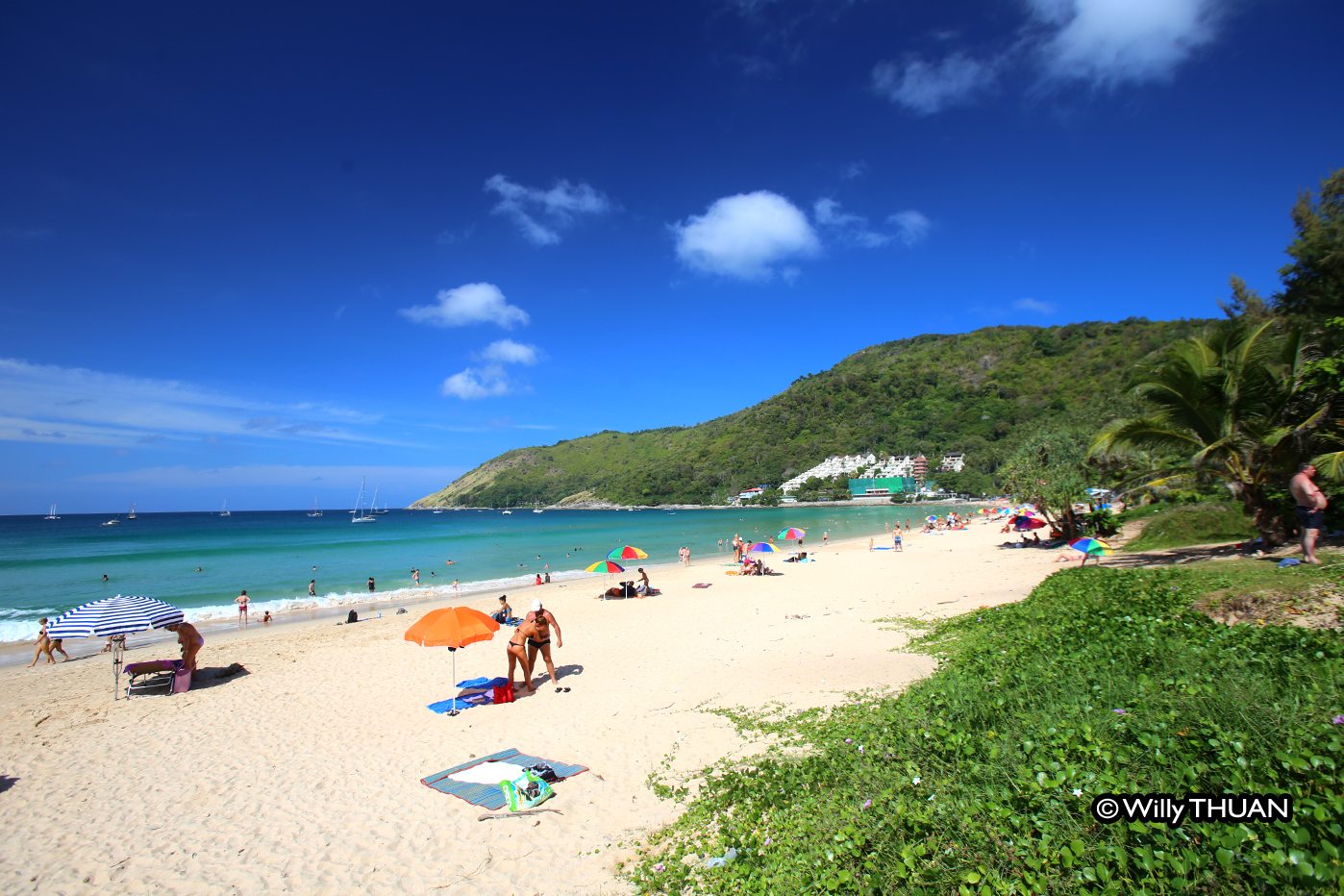 Nai Harn beach is large and beautiful. The sand is soft, the sea is clear (during high season as usual), and there are not many constructions around it to spoil its beauty. However, if you are hungry, there are plenty of local restaurants and fruit shops to enjoy just behind a line of trees. If you consider staying in the area, The Nai Harn is a superb hotel with seaside terraces and even a large rooftop bar. Read more
---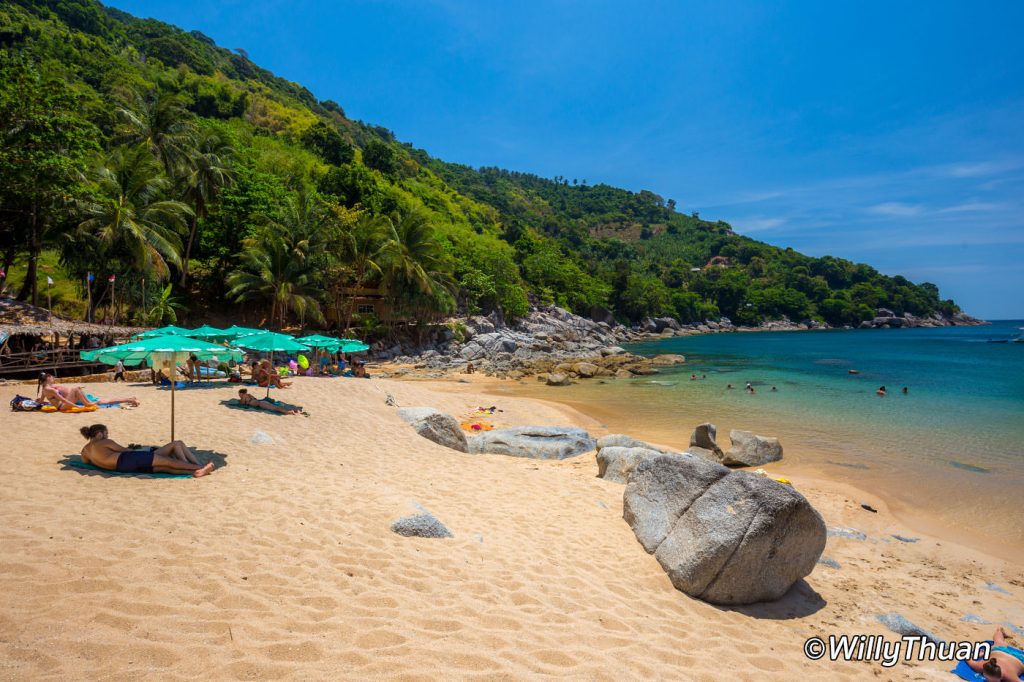 Nui beach used to be very difficult to find and to reach, plus the entrance was known to be very expensive. All this changed when it became free. It's still hard to access, but everyone is now welcome. The beach is not large, and the sand is a little rough, but it's still pleasant and so unique. Down there you'll find a restaurant, massage and water activities. Read more
---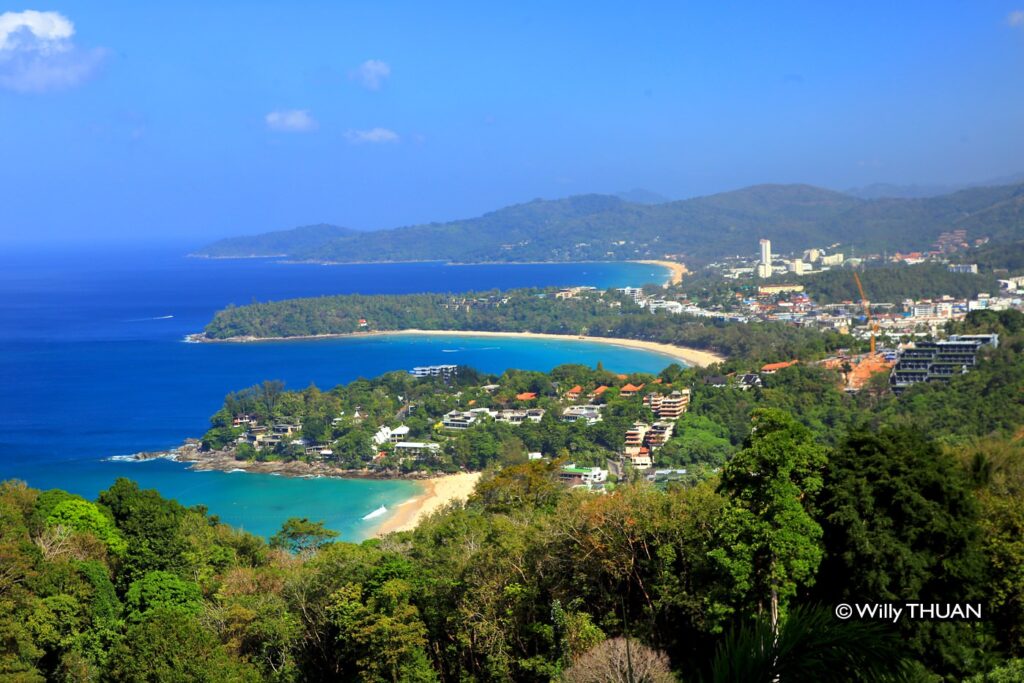 The view on the three nearby beaches from the famous Karon viewpoint is beautiful. From the elevated gazebos, you can see Kata Noi, Kata Beach and Karon Beach in the far. Read more
---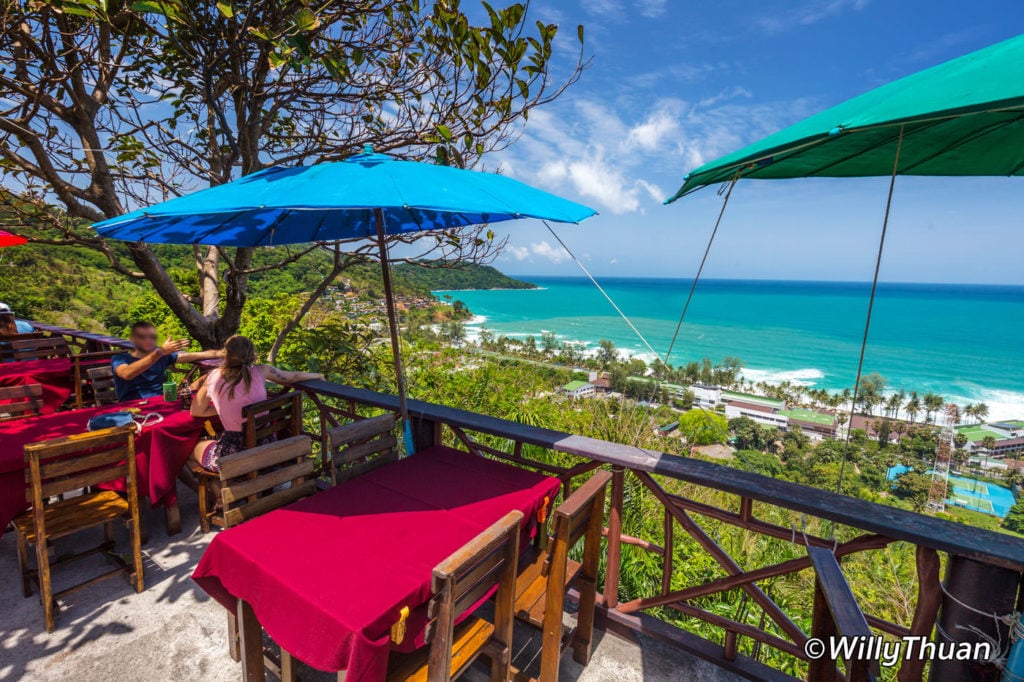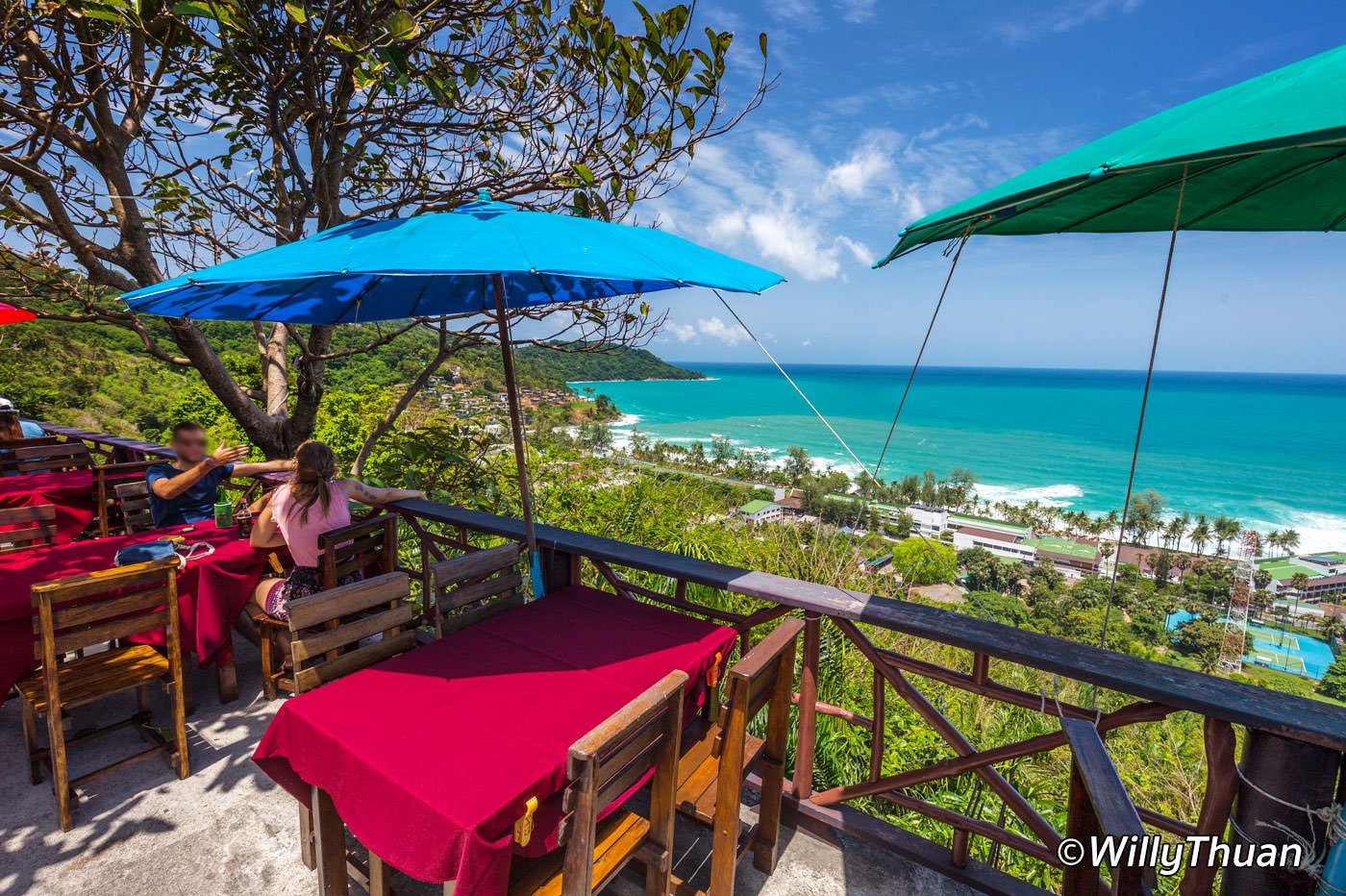 As you are approaching your starting point, why not stop for a drink or even dinner at one of the panoramic restaurants built high above Kata Noi Beach. 'After Beach Bar' and 'Baan Chom View' serve a decent Thai food but the amazing view for the terrace makes up for the lack of originality from the food. Read more
---
Map of Phuket Island