---
First Time in Phuket – Phuket FAQs
---
Phuket travel – sharing tips, useful travel info, frequently asked questions, things you should know before you go and even more once you arrive in Phuket. These are the little things we gathered that can make a difference during your holiday. There is a lot to say to help you enjoy your stay while avoiding problems, so bookmark this page as we try to add as questions arise.
---
Before you go and on arrival
---
1. Currency :
Thai Baht Banknotes: 1,000, 500,100, 50, 20.Coins: 10, 5 2, 1 and the useless 50 'satang' (0.5 baht) and 25 'satang' (0.25 baht). Major credit cards are accepted in many stores and restaurants but not in taxis, bazaars, massages, beer bars and other local businesses.
Phuket 101 receives 250,000 monthly visitors on average (500,000 pageviews/month).
If you wish to advertise on this space or other options available on Phuket 101, just contact us.
2. Electricity
220Volts – 50/60 Hz
---
3. Plugs
Most common is the 'Two round pins', sometimes with the ground (Europlug CEE 7/16) and occasionally the old 'Two flat parallel blades' similar to the US (NEMA 1­15 or JIS C 8303). Most modern plugs accept both. Adapters are easy to find at the many convenience stores.
---
Use this link to check if your country requires a visa on arrival (and how to get one online)
---
Phuket airport is a large and modern complex, accommodating the millions of visitors Phuket receives each year (in normal times, obviously). A full page is dedicated to the renovated, enlarged and improved Phuket International Airport: what to expect on arrival, how to get to your hotel, money changes, etc. It's not that stressful if you know what to expect.
6. ATM in Phuket
ATMs are everywhere and usually work safely. In the Bangla area of Patong, make sure no one watches over your shoulder but isn't it just common sense?
NOTE: in Thailand, money comes out FIRST, and only after you take your money your card is ejected! A great way to forget your card in the machine after those three beers! NOTE: When changing money at a money exchange, count your money in front of the cashier; there have been some cases of missing money. The best exchange rate is usually in the non-brand exchange booths you will spot easily on most streets of main beaches.
---
Renting a car at the airport is very simple, but we recommend you book in advance if you prefer a specific model, especially during the high season. Cars are third-party insured (it will only cover the damage done to the other vehicle you may hit), but you will have to pay for any damage to your car. Always double-check the condition of your car before leaving the airport. The best is to pay a little extra to have it fully covered and worry-free. You can also rent a GPS at the airport. Renting cars from the street is possible; you will see plenty around the island, but it's a lucky draw. As long as things go fine, you might save a few baht, but it can get ugly if something happens. In any case call tourist police: 1155. They have a good basic understanding of English.
---
Booking your hotel in advance is always cheaper than on arrival, especially at the airport. There are so many hotels in Phuket there is no lack of choice. Most important is to choose your location; if you want everything available at any time, go to Patong but get ready for some crowd. If you like it quiet and romantic: Mai Khao Beach. Something in between good for the family? Kata, Karon or Kamala. Note that beaches quiet during the high season often appear deserted in low.
---
9. SIM Cards
SIM cards are easy to find for 50 Baht at any convenience store in Phuket, but the fastest way is to pick up a free one at the airport luggage claim, usually from TRUE Move. Then go to the next 7-11 once you are all set with your hotel and add credit to it. According to our readers, all cards work quite well: TRUE, DTAC, AIS, and 12Call, but DTAC seems better for data (Internet and Facebook)
---
Once in Phuket
---
With so many things to see and do in Phuket, renting a bike or a car seems to be one of the best ways to get around freely at a low cost. But it comes with some risks and dangers. Following these basic rules might help to avoid unnecessary trouble.
---
It costs around 1,500 baht for 30mn. This is just an indication; the rate varies with the gasoline price, but always up, never down! Jet skis riders are often victims of accidents or major scams involving huge unjustified fines. Stay away from them; it's not worth it!
---
Please don't take it lightly: the sun in Phuket is strong, even on a cloudy day. Do yourself a favour and don't ruin your chances of a nice smooth suntan on your arrival day by overexposing yourself without sunscreen. In 24 years, we have since had some pretty severe sunburns! Take it easy the first days; trust us, you will get a better tan! Read about mistakes people make on a 1st visit.
---
13. Swimming Safety
Swimming red flags and warning signs must be taken seriously, especially during the low season. Riptides are treacherous, and no matter how good a swimmer you are, the danger is real. One second you stand waist-deep on the sand; the second, later, you are meters away and swimming back can be impossible. During low season, pick a hotel with a nice swimming pool if you want to swim your laps. The newspapers report daily rescues, so please think twice.
---
Taxi Meters often forget to turn on their meter and therefore will try to overcharge you on arrival or offer a higher 'agreed' rate. Keep an eye on that meter and insist. Also, always assume that taxi meters, even in Bangkok, NEVER have small change. This can lead to serious tips!
---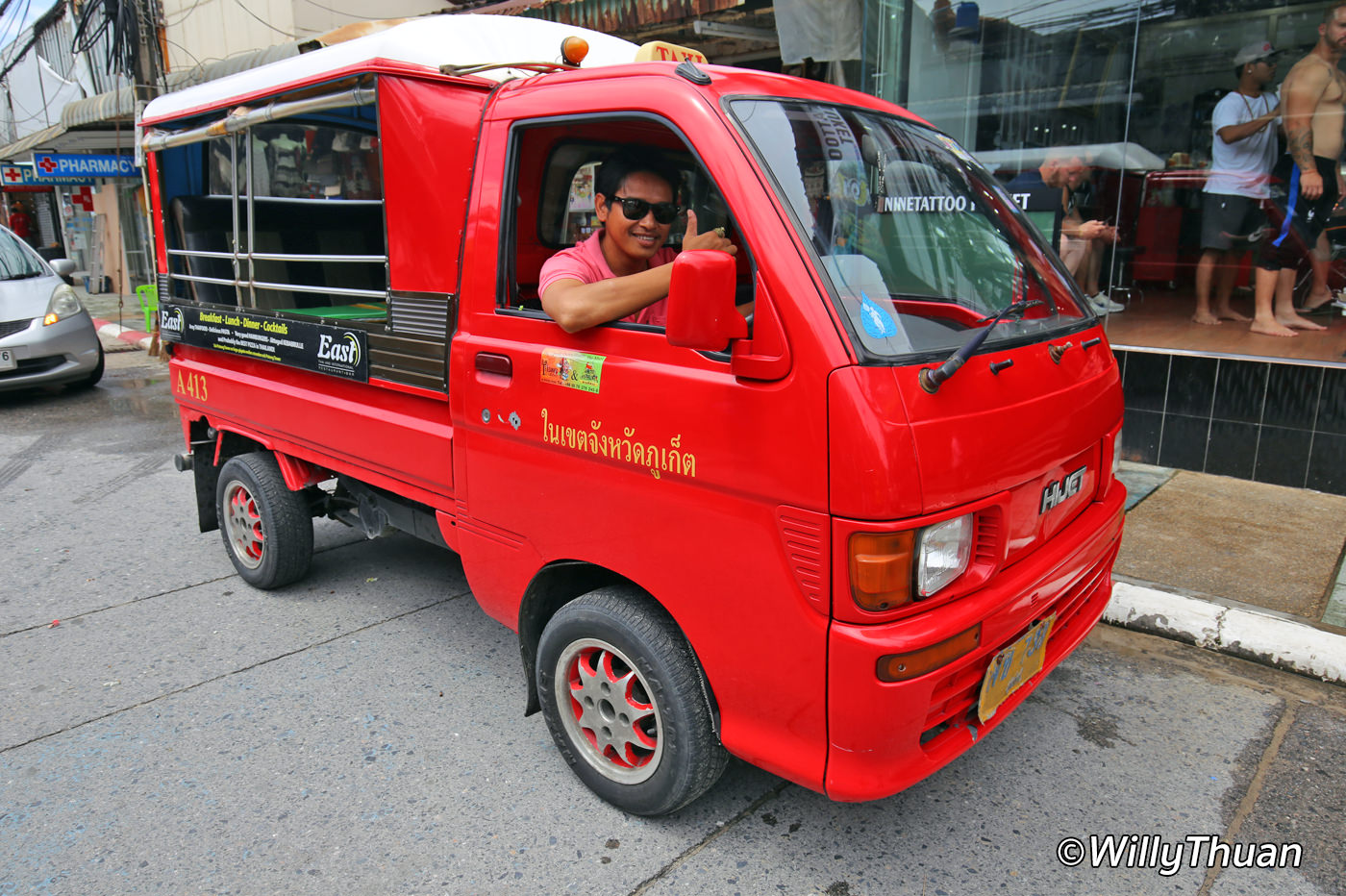 Tuk Tuks have bad reputation… I feel sorry for the few drivers I met that were nice guys. ALWAYS agree on the fare before you go and always bargain since they will try to overcharge by default, maybe by 30%. It's not recommended for girls to ride a Tuk Tuks alone at night. Otherwise, it's convenient since they are everywhere, and once again, most Tuk Tuks are OK.
---
16. Visa Overstay
Make sure you double-check the expiry date of the arrival stamp on your passport! If you overstay, it will cost you 500 baht per additional day for the next 40 days, then 1,000 baht per day beyond that. You could even get blacklisted! But who would 'forget' more than 40 days? It has become increasingly difficult to 'negotiate' the fine when in the officer's office, but it's not forbidden to try 😉
---
17. Water (and ice)
The consensus recommends not drinking tap water and buying drinking water (widely available). Usually, your hotel will supply a couple of complimentary bottles, and 7-11 stores are everywhere. However, ice is safe! Companies supplying ice all over the island use filtered water.
---
Phuket lies in a tropical region and is warm all year round. Temperatures range from 'WARM' to 'TOO HOT'.
Best Time to Come: Coolest and supposedly best months are December to March.
Rainy Season: June to August is a mix of rain and sun, usually enjoyable. September, October and November are often the wettest months.
Hottest Time: April and May are the hottest months.
---
More reading
1st Time in Phuket ? 26 Things You Should See, Do, Eat, Know and Enjoy!