---
Where to party in Phuket?
---
Where to Party in Phuket? Of course, we know that everyone expects something different, but everyone wants to have fun after dinner and get and see the best of Phuket's nightlife in a minimum amount of time!
Here are a few fun ways to party in Phuket. Please don't take it too seriously as this is not a Top 10 that would suit everyone, but these are some of the nightlife activities we recommend to our friends visiting from overseas when they ask us where to have fun. The list could go on and on, but these should be a good start.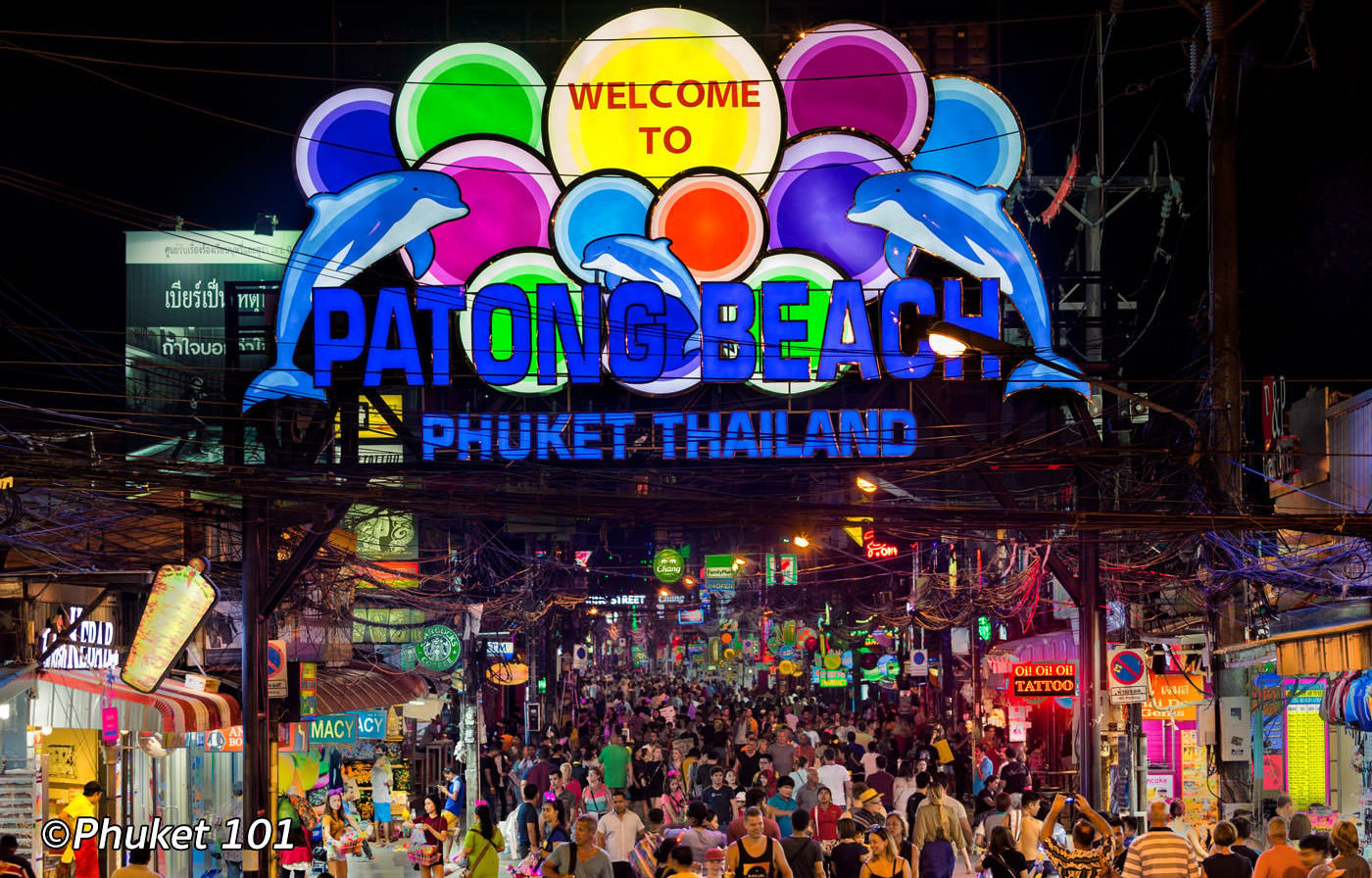 Going to Bangla walking street seems a bit obvious, but who would go to Patong and not walk up and down this world-famous street at least once to know what the fuss is really about? It's bright and fun; entertainment is calling you from everywhere, clubs, live music, girls dancing on bar counters and ladyboys parading with feathers. It's a party zone, and you can enjoy it without guilt.
2. Start with a shooter at the Ice Bar
You had a big dinner, and you are getting sleepy? You are jet-lagged and wonder if you should instead go to bed and think about it tomorrow. No way! Go to the Jaguar Ice Bar located in front of the Illuzion Club on Bangla Road. Enter a -30˙C freezing room without a jacket! Get a vodka shot in an ice glass served on an ice bar and try to stay as long as possible. It's not cheap, maybe 160 baht per shot, but without a jacket, you won't stay long enough for 2. I guarantee you will be fully awake and ready to party. (see also party drinks)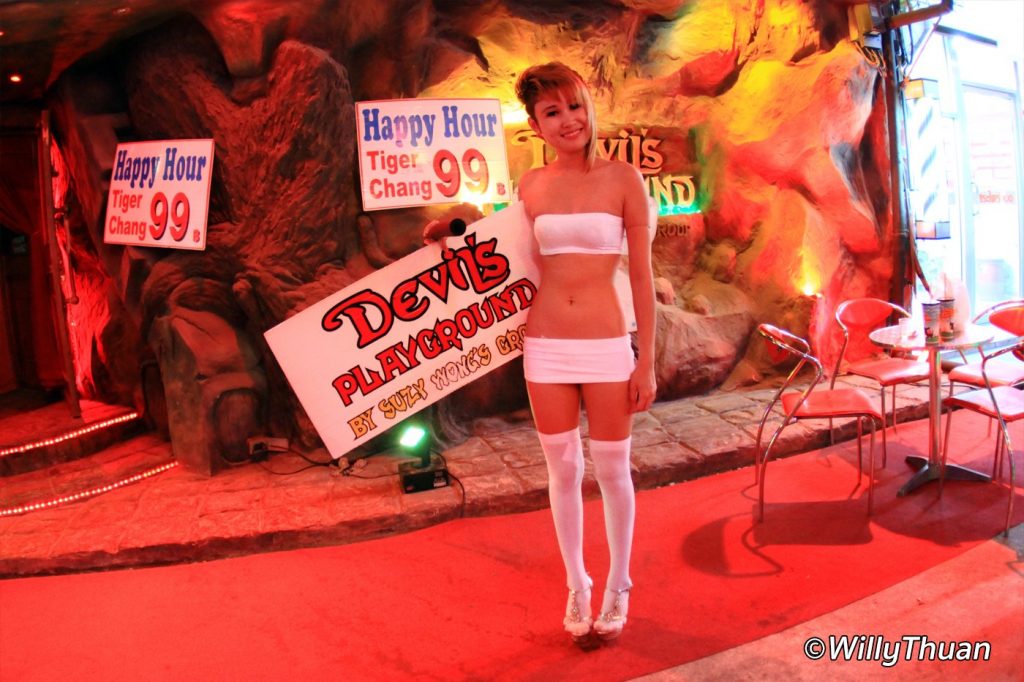 You don't have to feel guilty to look inside a Go Go Bar, usually a room with girls dancing with very little cloth on a central stage, and sometimes a show that might make your jaw drop. Once again, this is Phuket, and it's pretty relaxed; many couples visit a Go Go bar out of curiosity to have a drink and a little story to tell once home. Anyway, remember, "What happens in Bangla stays in Bangla".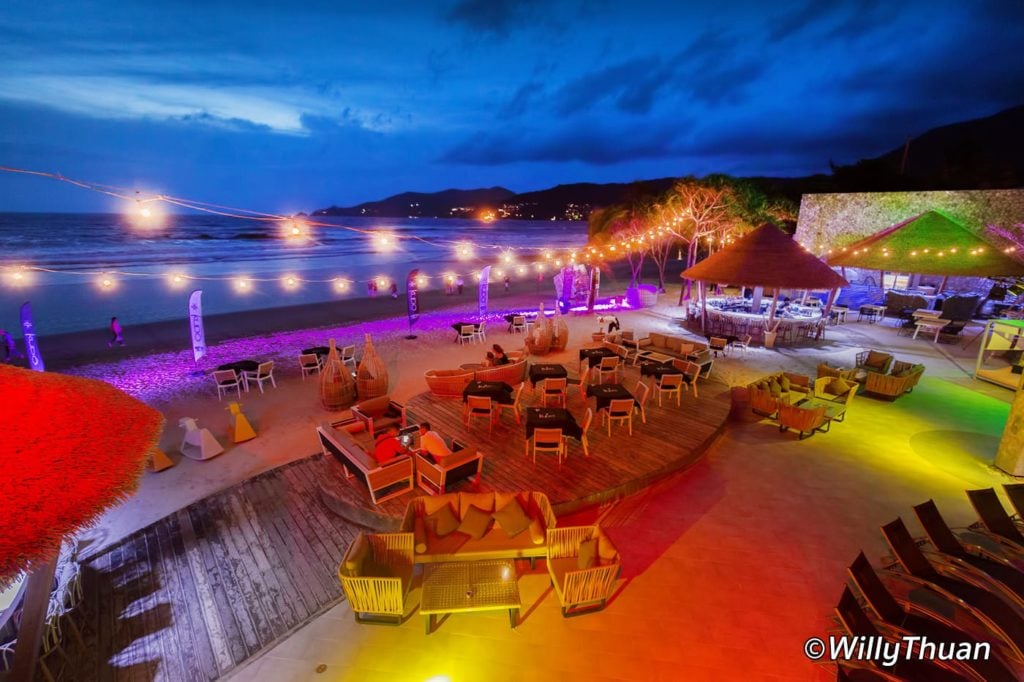 What can feel more like a holiday than a party on the beach with the sea next to you? Phuket beach clubs are back, and Kudo is the closest to Bangla road, Patong party street. Colourful lights, excellent sound system and international DJs. It's so easy to have it all in Phuket!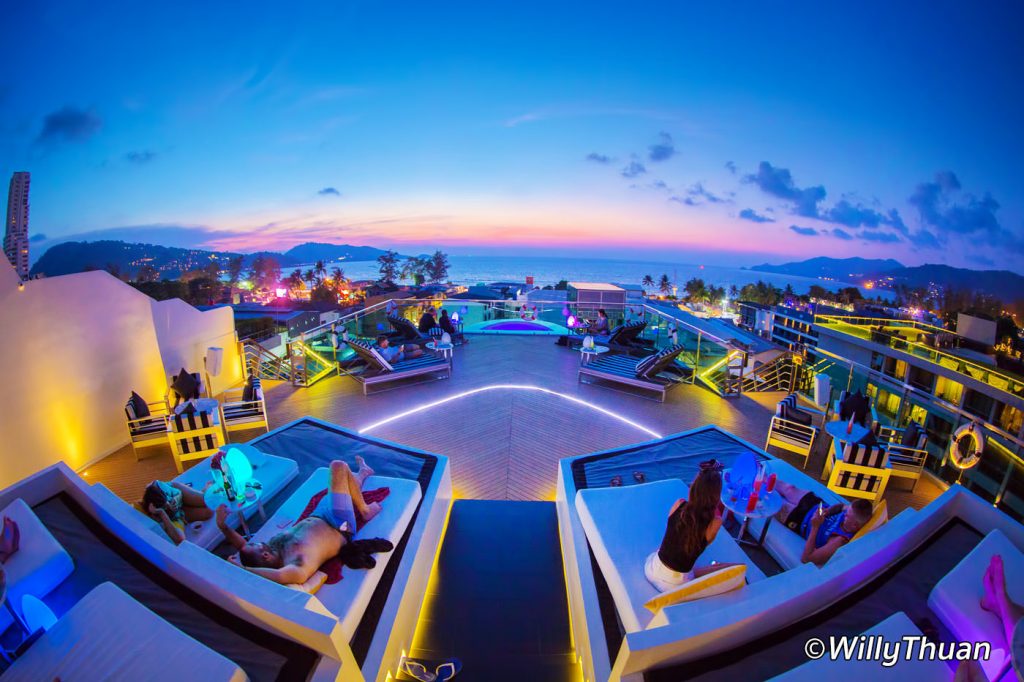 There are more rooftop bars in Phuket than you think! They are scattered around the island and address the travellers who prefer a more quiet and intimate way to party. Patong has at least three rooftops, and they are an excellent spot for a drink before dinner with a sunset.
We listed seven clubs in Patong to this date, so you should find the one for you. The most popular ones are Illuzion and White Room on Bangla Road. Banana Disco on the beach road is an old-time favourite, and Hollywood on Bangla and Tai Pan near Jungceylon mall. Patong's official closing time is supposed to be 2 am, but nobody seems to care, so have fun!
8. Sit at any beer bar and ring the bell!
Walk down Bangla Road or any side lanes to see countless tiny bars, all looking "Same Same but Different". A beer bar is a U-shaped counter with colourful lights, loud music, a TV screen, a funny name you will have a hard time remembering, a few friendly girls and some silly bar games to play. But the bell hanging at each bar is NOT a game! It is a way to show your happiness and generosity! Ring it to pay a round of drinks to everyone around the bar! (expect 1,000 baht)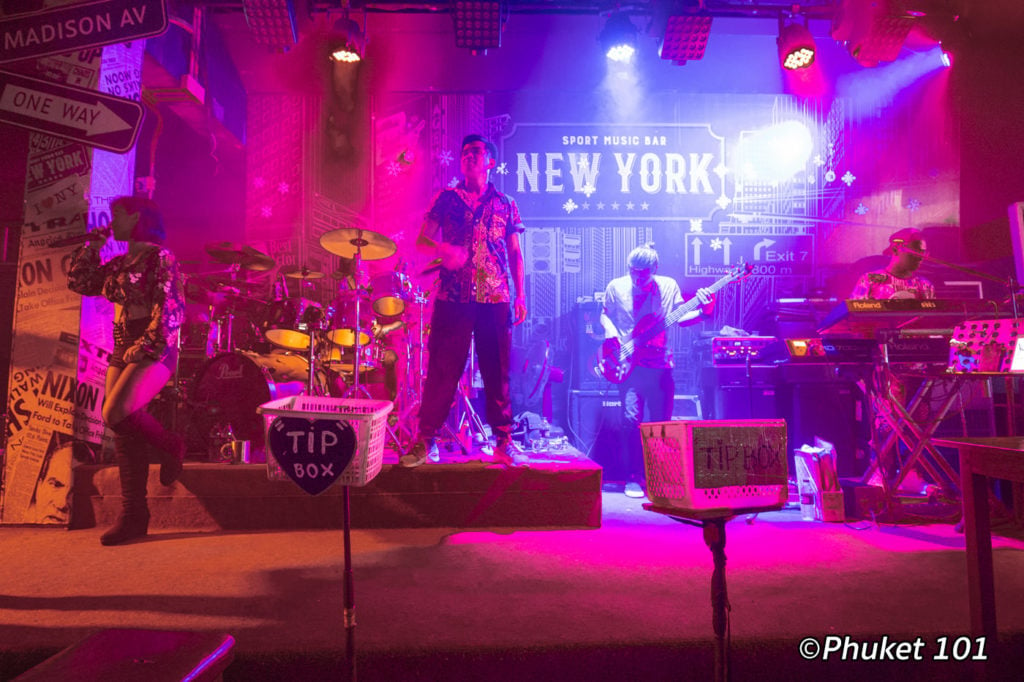 There is no lack of live bands in Patong, and you will hear them long before you see them, and quality has increased a lot in recent years. There are several hot spots in Patong. New York Cafe and Monsoon Bar on Bangla Road, Red Hot near Jungceylon Mall, Baan Laimai Hotel on the beach road, and Hard Rock Cafe's excellent bands. The entrance is free, but you need to order a drink.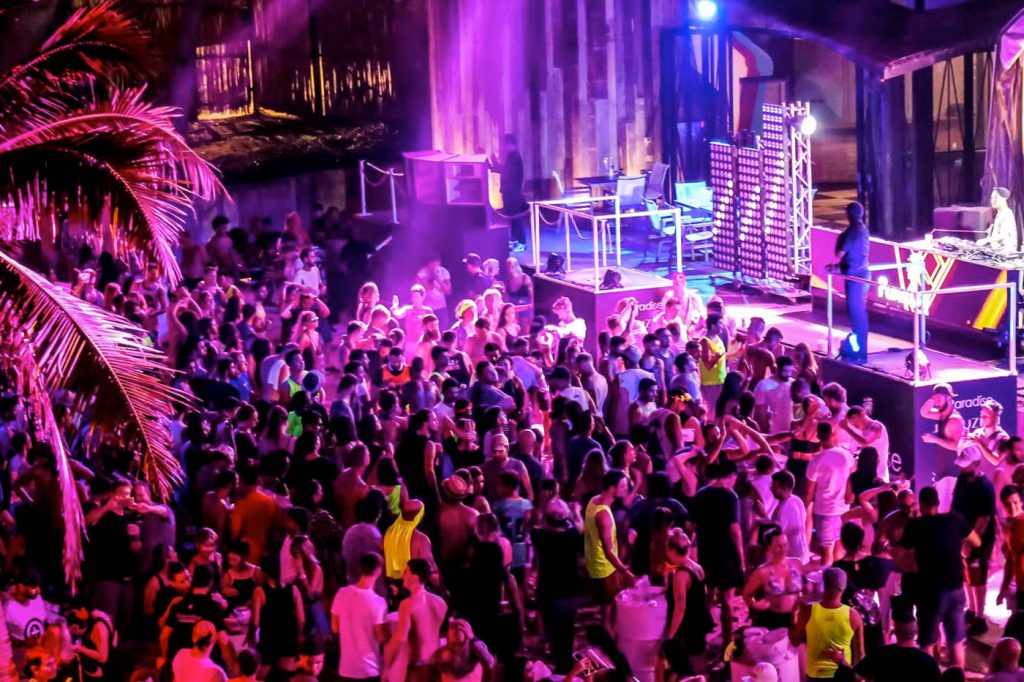 Paradise beach is Phuket's answer to the famous Koh Phangan Full Moon Party. This little cove is a tropical beach daily and a huge dance floor by night. Loud music, lots of lights, and good international DJs make sure your night is unforgettable.
There is an entrance fee for parties, probably higher for New Year's Eve than for full-moon parties. Technically it becomes a sizeable outdoor club surrounded by coconut trees. A free shuttle takes you to and back from the party to Patong beach. It's convenient and safer! Don't drive! Read more about Paradise Beach.
Simon Cabaret has a vast stage, great sets, beautiful costumes, and excellent choreography, but everyone is here to see how pretty the girls are. Because what Simon is most famous for are all the pretty ladyboys on stage. Now, if you don't have time to sit for a couple of hours at the show, you can see some ladyboys in Bangla Road (you can't miss them) or some more modest show in the Paradise complex.
Getting a tattoo is something you can do at any time of the day, but it seems that there is a lot more demand at night after a few drinks! We wonder why. And why not, after all? Phuket has some fantastic artists, and if you pick from our list, you might not remember why you decided to do this last night, but at least you'll go home with something well executed!
Bonus: Recover the next day on an Island
If you did party wild and need to recover? The most amazing are the Similan Islands, the colour of the water is striking, the sand is like baby powder, and you can rent a small air-con bungalow to stay the night! If you don't feel like a long trip, you can go to the closest Bon Island or further Phi Phi Island, Racha Island, or even Coral Island.
---
More reading