---
Try Some Phuket Special Dishes
---
What Phuket dishes should you try, and where to find them? We already share our Best Local Restaurants and Best Classic Thai Dishes, so here are 10 really local specialities (or their popular Phuket variation). To make it easy for you, most of these specialities are around the intersection of Dibuk Road and Yaowarat Road, mainly at Lock Tien Food Court. There are many other places in town where those specialities can be found, but we tried to facilitate your experience: as you probably will explore Thalang road and its surroundings, you will be very near the 'Phuket delicacy street', so give it a try.
1. Por Pia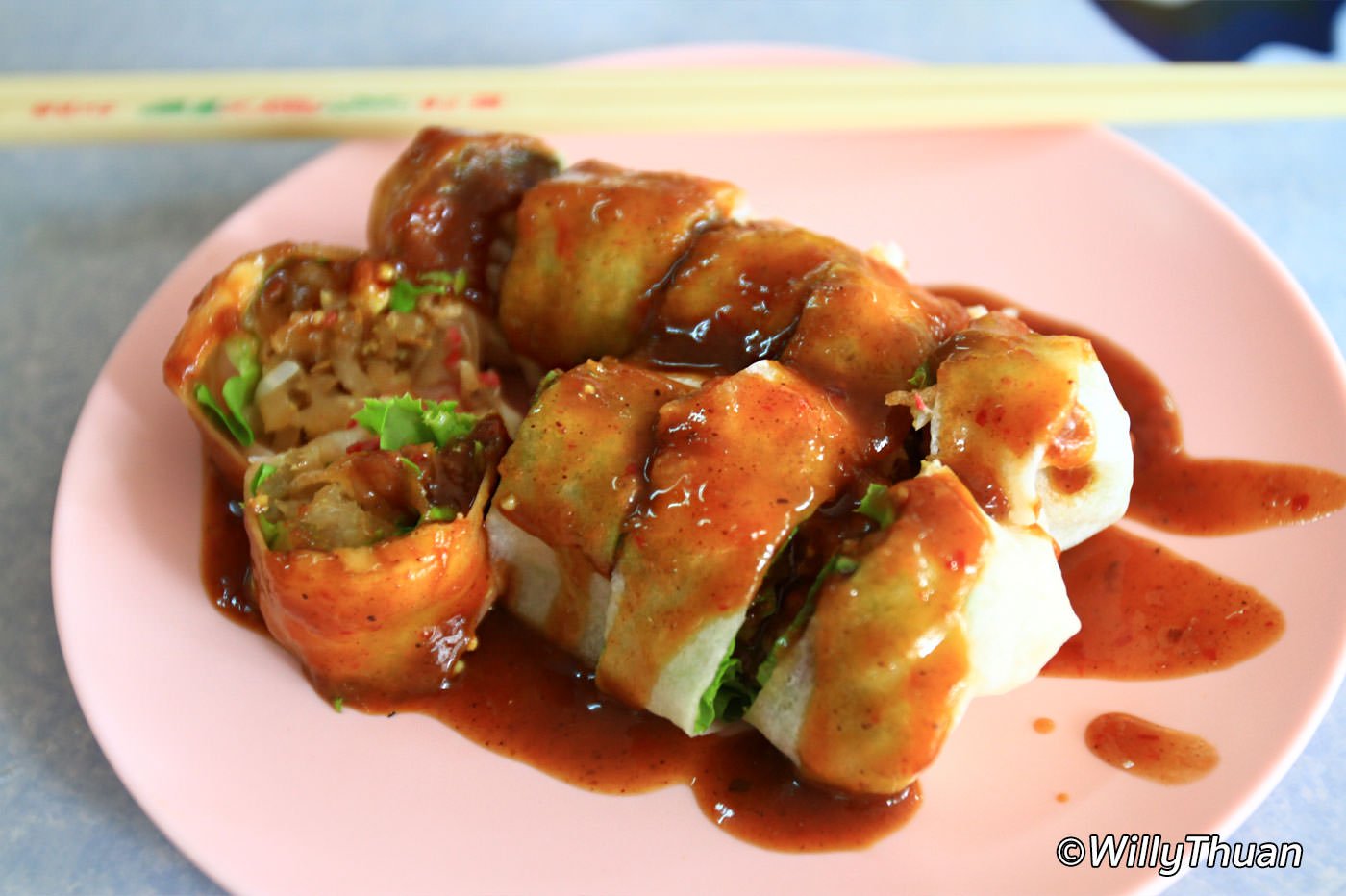 Fresh spring rolls served with a sweet brown sauce, stuffed with red pork or shrimp, crispy pork, a bit of lettuce and turnip.
Price: 30 baht
Where to find it: Lock Tien Restaurant
Phuket 101 receives 250,000 monthly visitors on average (500,000 pageviews/month).
If you wish to advertise on this space or other options available on Phuket 101, just contact us.
2. Mee Hokkien
A plate of big yellow noodles served in a brown gravy with red pork, squids and veggies.
Price: 40 baht per plate
Where to find it: Lock Tien Restaurant, Kopitiam by Wilai, Mee Ton Pho by the clock circle, Ko Yoon Restaurant at the fountain circle (not far from the city market)
3. Bee Hoon Kra Dook Moo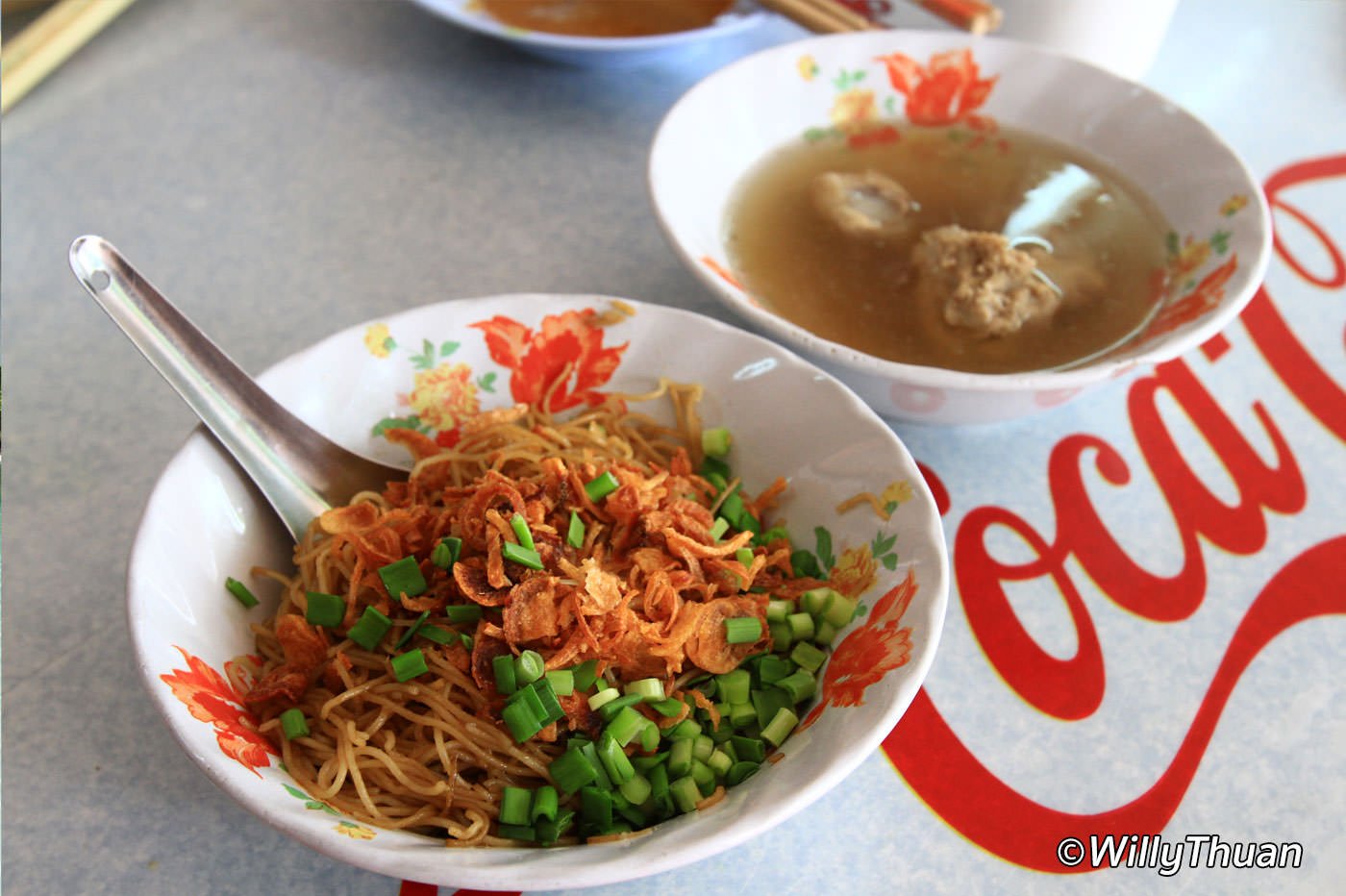 Dry vermicelli served with fried shallots and spring onion served with a clear soup and pork ribs. Excellent.
Price: 30 baht
Where to find it: Lock Tien Restaurant, at the intersection of Yaowarat Road and Dibuk Road.
4. Kiean
A deep-fried Phuket sausage made from pork and taro served with a sweet sauce. Kiean is the item you can see in the back of the photo!
Price: 50 baht
Where to find it: Lock Tien Restaurant.
5. Lo Ba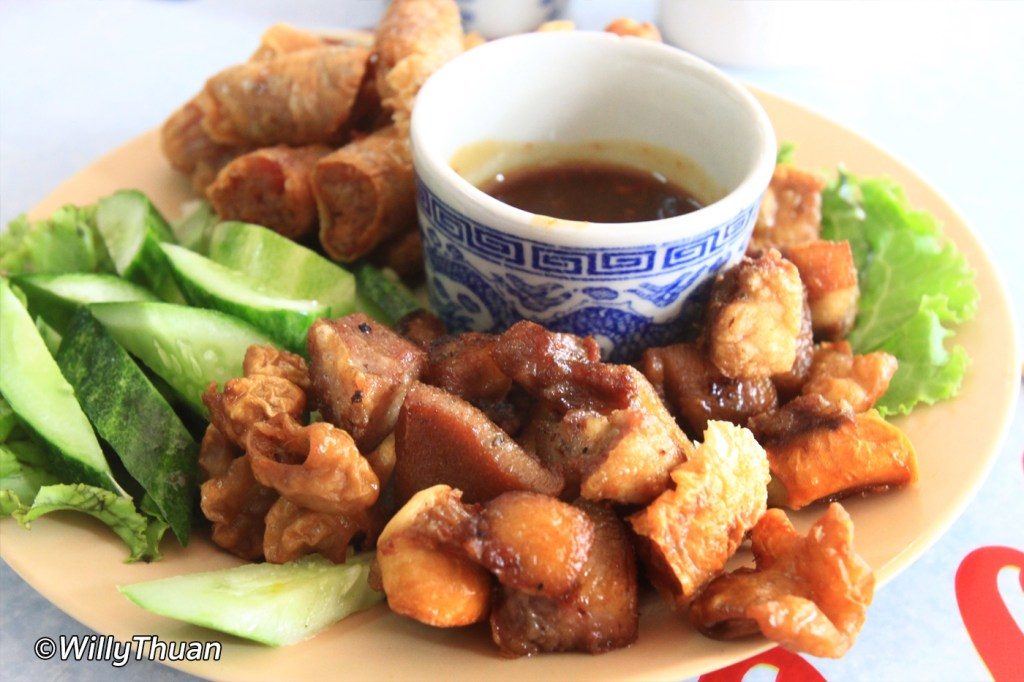 Deep-fried Pork giblets: intestines, ears and fat belly also served with sweet brown sauce. Great with beer but not great for your diet. Lo-Ba is the bit at the front of the photo.
Price: 80 baht
Where to find it: Lock Tien Restaurant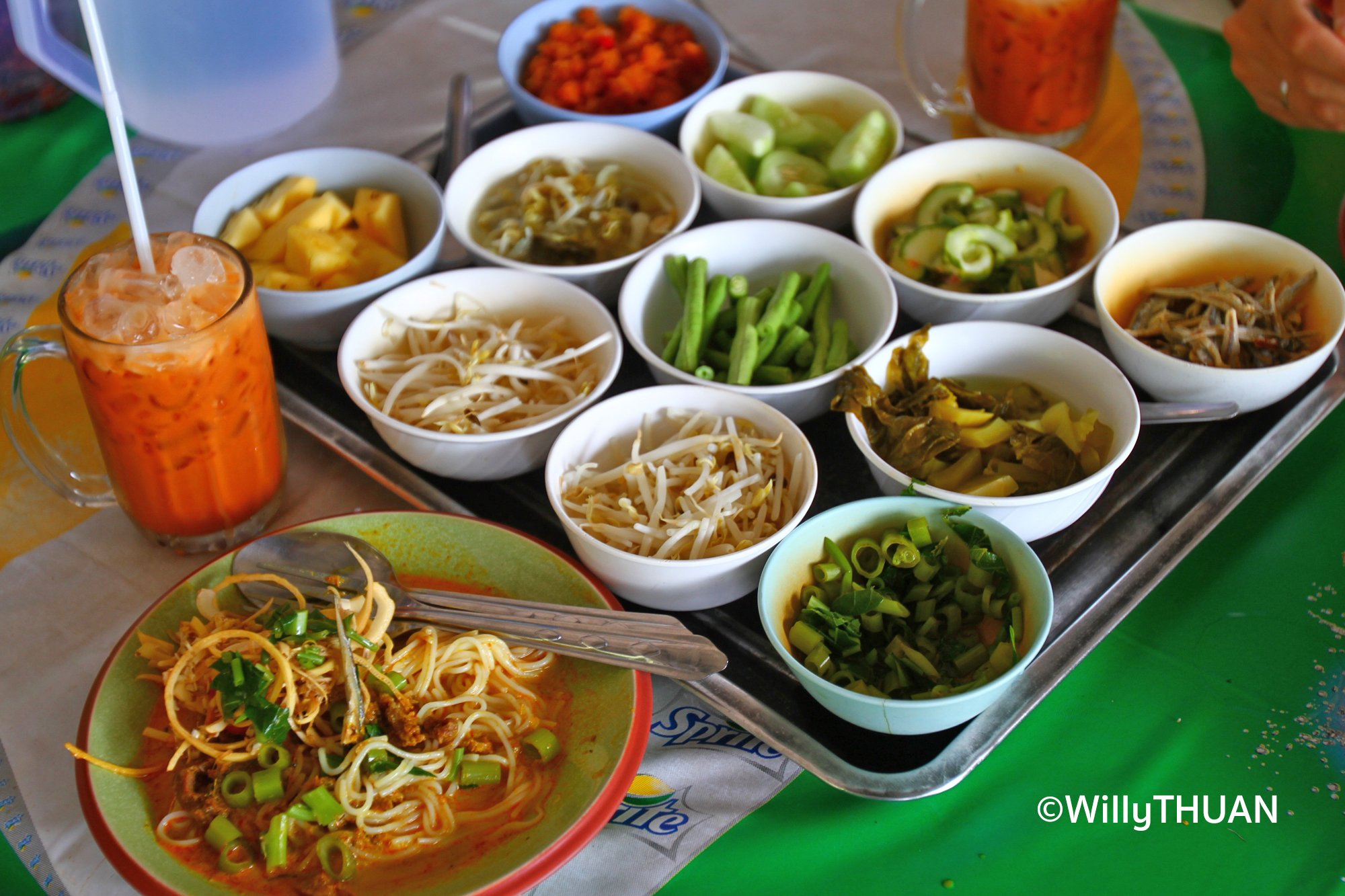 Rice noodles served with the curry of your choice. Then it's up to you to add condiments, fresh or marinated veggies, thinly sliced banana leave, morning glory, etc. Delicious for breakfast, best with local coffee or milk tea. Read more
Price: 25 baht per plate
Where to find it: Mae Ting, at the intersection of Maeluang and Satun Road, Kanom Jeen Saphan Hin
7. Hormok Talay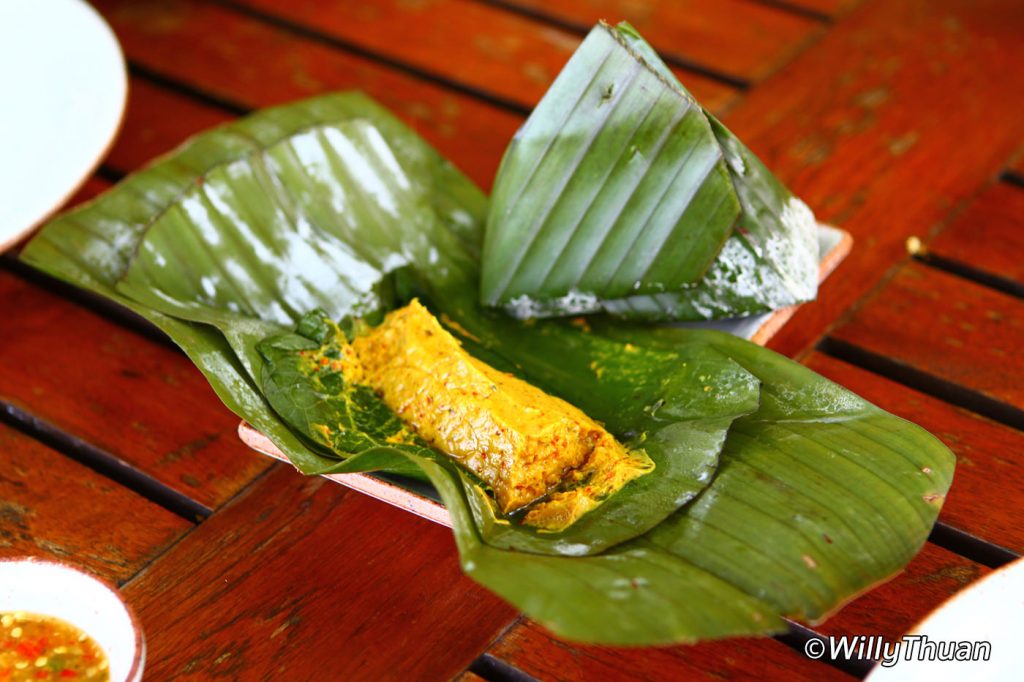 A delicious spicy curry fish mousse steamed in Bai Cha-Ploo leaves (Piper sarmentosum Roxd if you ask!), wrapped in banana leaves. A must-try, but be aware, it might come spicy and occasionally with a strong fishy taste!
Price: Ranges from 15 baht in very local shops to 80 in some more sophisticated places
Where to find it: Almost any seafood restaurant serves it. Kan Eang @ Pier is an excellent place to try it.
8. Oh-Eaw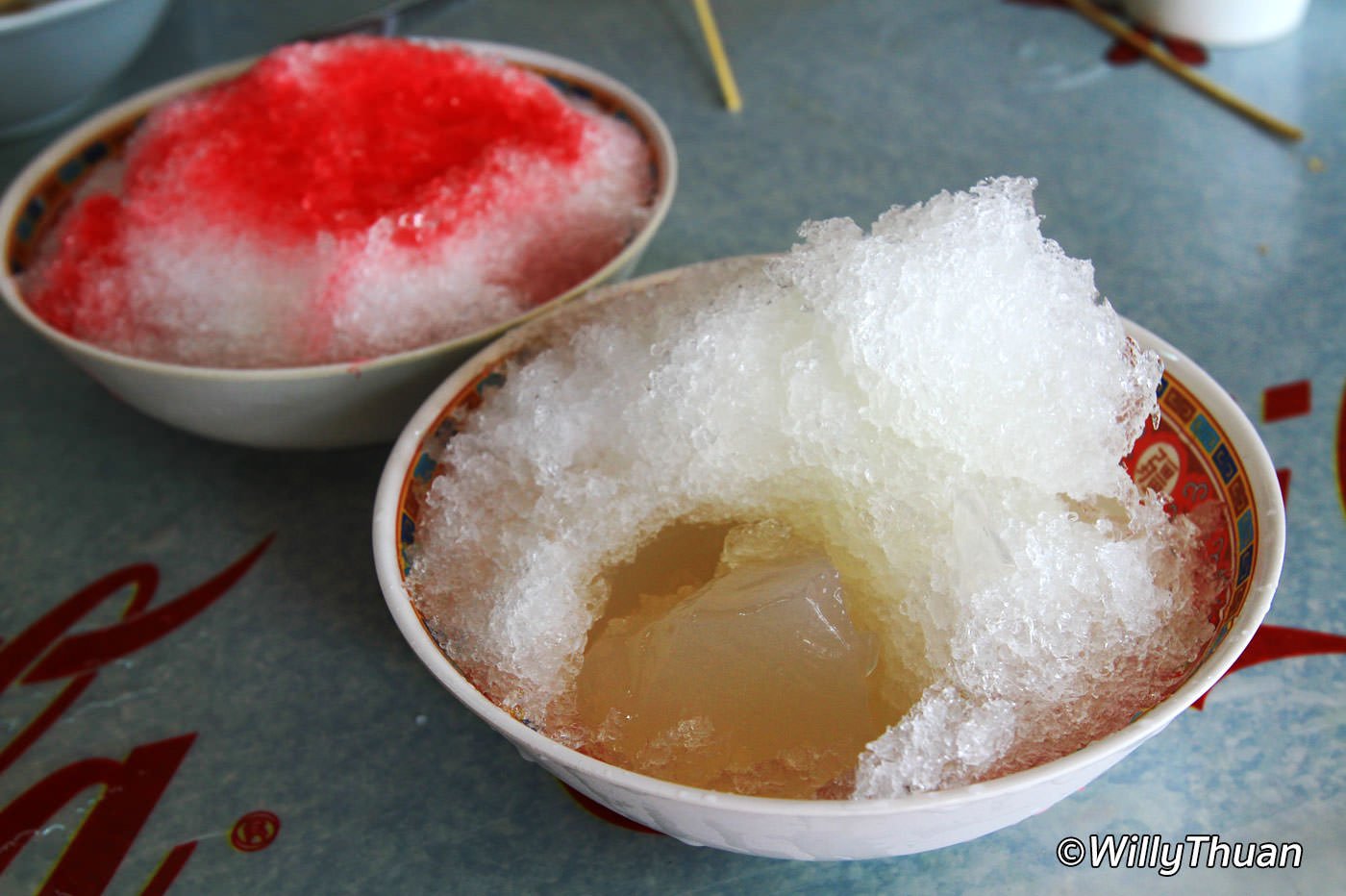 Jelly made from banana with shaved ice and syrup. Excellent to cool down the heat AND after the spicy dishes mentioned above!
Price: around 12 baht
Where to find it: Lock Tien Restaurant, but also shops and carts around.
9. Tao Sor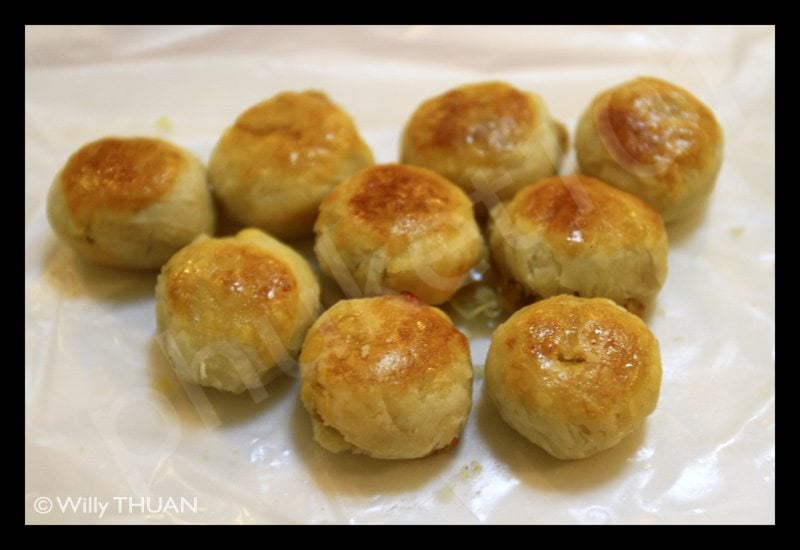 Small cakes stuffed with a choice of ingredients: Sweet with preserved egg, salty with preserved egg, black sesame, pandanus flavour or for the brave: durian flavour.
Price: 40 baht
Where to find it: Opposite Lock Tien Restaurant
10. O Taw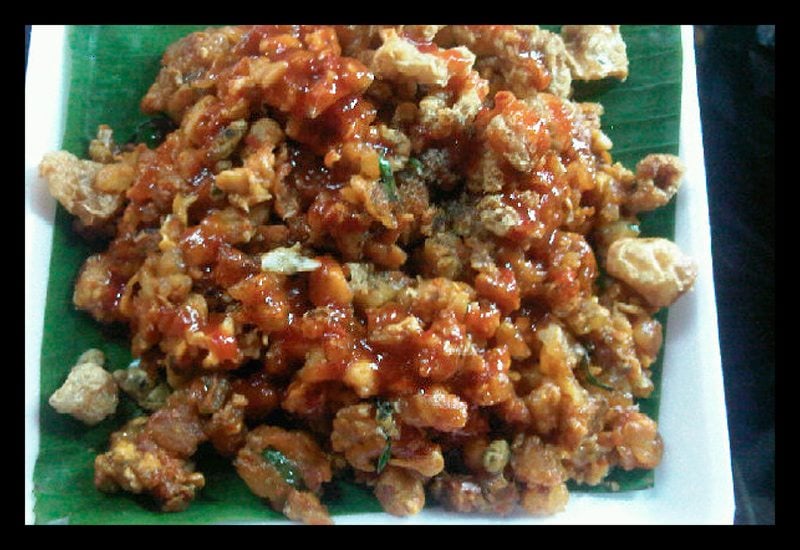 Stir-fried small oysters with flour, crispy pork and taro. (Photo from Khun Praew!)
Where to find it: Yao Yentafo, not far from Ko Benz Restaurant
---
Phuket Specialities Map
---
More reading