10 Great Popular Thai Dishes You Should Try in Phuket
Thai food doesn't need introduction anymore. If you reached this page you probably already heard plenty about it, and thousand blogs talk about it at length. The list of Thai dishes available in Thailand is incredibly vast and I'm not an authority in Thai cooking, but just like you, we really love eating local when we travel abroad.
Food accounts for 30 to 40 % of the pleasure of our trips. We listed here 10 Great Classic Thai Dishes you can try on your first trip to Thailand, just as a hint to start but there are many many more
Certainly the best known Thai dish around the world, many knows about it and about everybody loves it. Tom Yam is a hot soup coming in many versions, with prawns or mixed seafood, red or clear. Using many herbs such as lemongrass, galangal, kafir lime leaves, lime and lots of chili. It is spicy and sour and once you tried, you will never forget… Read more!
---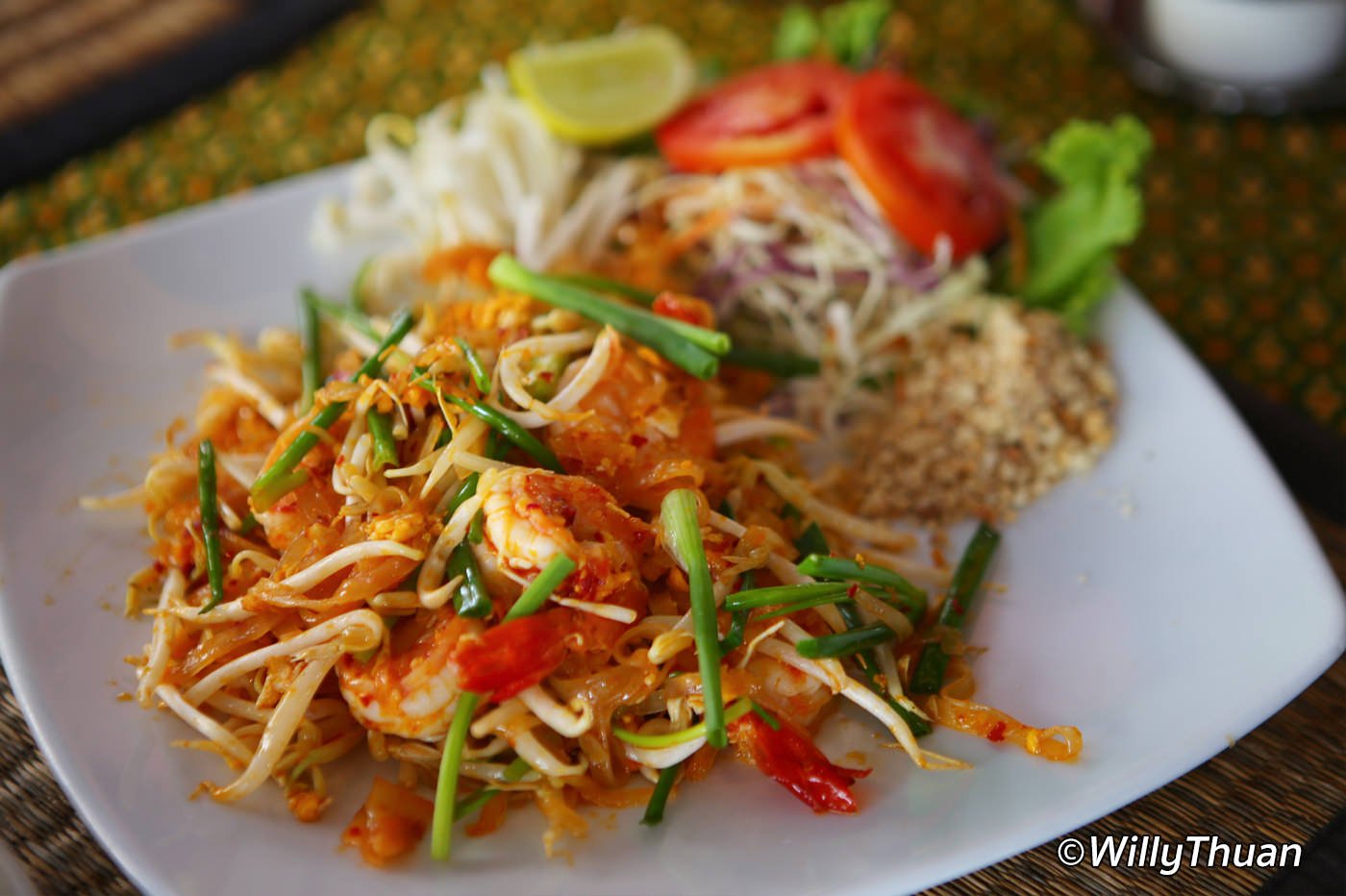 Pad Thai is big favourite fir most travellers visiting Thailand, but ironically not all that popular with Thai people! Often sold in night markets streets (where tourists hang) it's a good introduction to Thai food as it is not spicy at all. Fried white noodles with prawns and omelet, often served with crunched peanuts, soy beans, lime, herbs and… a good spoonful of sugar! Read about the Pad Thai Shop in Karon
---
3. Khao Pad Kai (or Moo, Koong)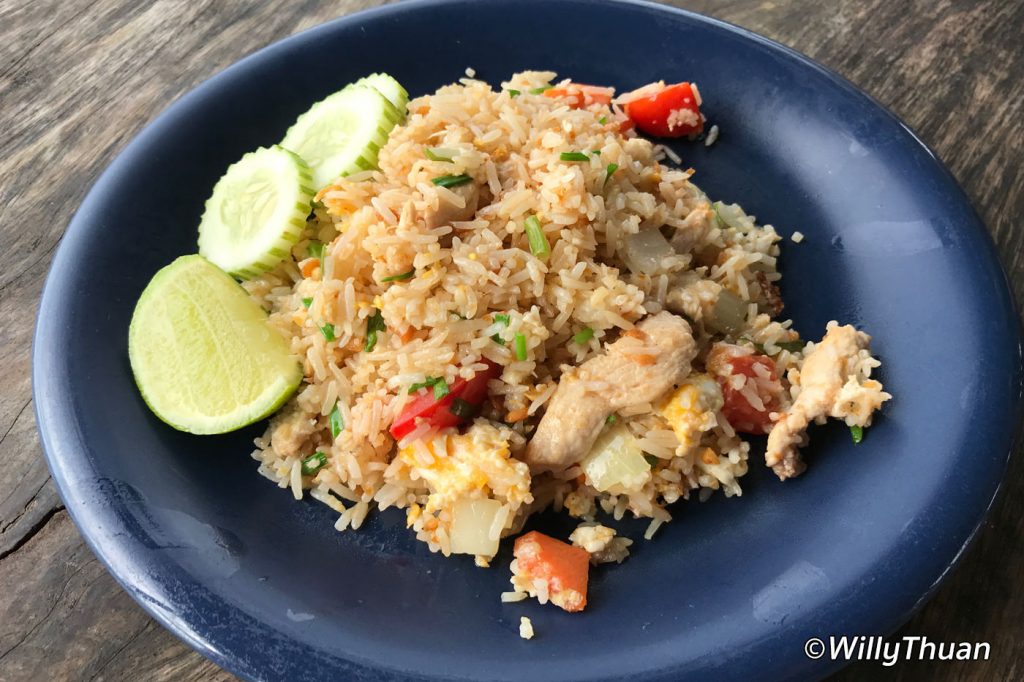 One of the most basic dished served almost anywhere in Thailand. You can order it with chicken (kai), porc (moo), or shrimps (koong). It is served with few slices of cucumber and goes nicely with 'plik nampla' a strong fish sauce with small nasty chilies.
---
4. Tom Kha Kai (or Tom Kha Gai)
Another great popular soup using chicken, mushrooms, galangal, tomatoes and lemongrass cooked in coconut milk. And a bit of chili, but so little you might not even notice it, which make this dish great for people who like something exotic but not spicy.
---
5. Geng Kheaw Wan Gai (Green Curry)
Green curry with chicken is a traditional dish found in many restaurants and is just a little spicy (well, at least to us). It is cooked with two types of eggplants, some big round eggplant cut in quarters and some very small round ones you might think are green peas. These are known to help lowering cholesterol level. Served with steamed rice.
---
6. Krapow Moo, Nua or Kai (Fried Pork Basil)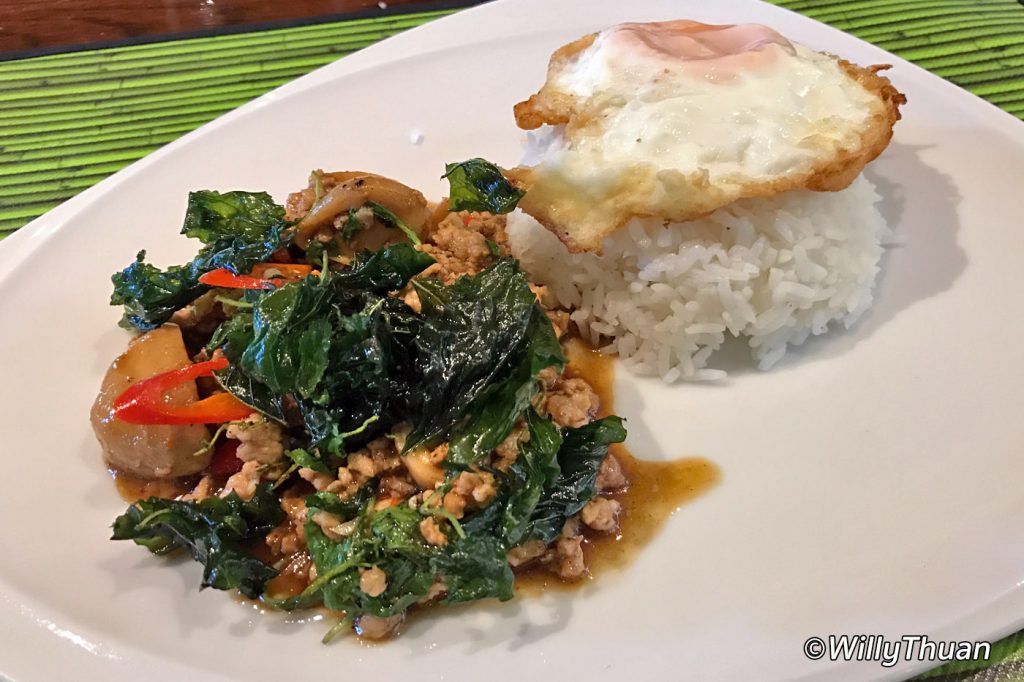 A very traditional dish you can also find easily anywhere. Made of pork (moo), chicken (kai) or beef (Nua) cooked with holy basil leaves and chili. Often topped with a fried egg and served with steamed rice, it is cheap and tasty, but can come with a serious chili punch. Time to use your most useful phrase: "Mai pet" (not spicy please).
---
This is another great Thai classic and a must try, but it might be a little more daring! This grated green papaya salad is served from 'spicy' to 'extremely spicy' and is really delicious. Som Tam Thai is the 'normal version, but 'Som Tam Poo Ma' comes with pieces of raw black crab often served in seaside restaurants, often eaten with sticky rice of cold rice noodle (kanom jeen). Tastes fishy. Read more
---
8. Kuey Tiaow (Noodle Soup)
There are so many variations around noodle soups in Thailand it would take pages to describe half of them! There is a soup for every taste, from clear and light to dark and strong. Pick the noodle you like, the meat you like, eat in a shop or by the road, you can find great Kuey Tiaow almost everywhere, day or night.
---
9. Chicken Rice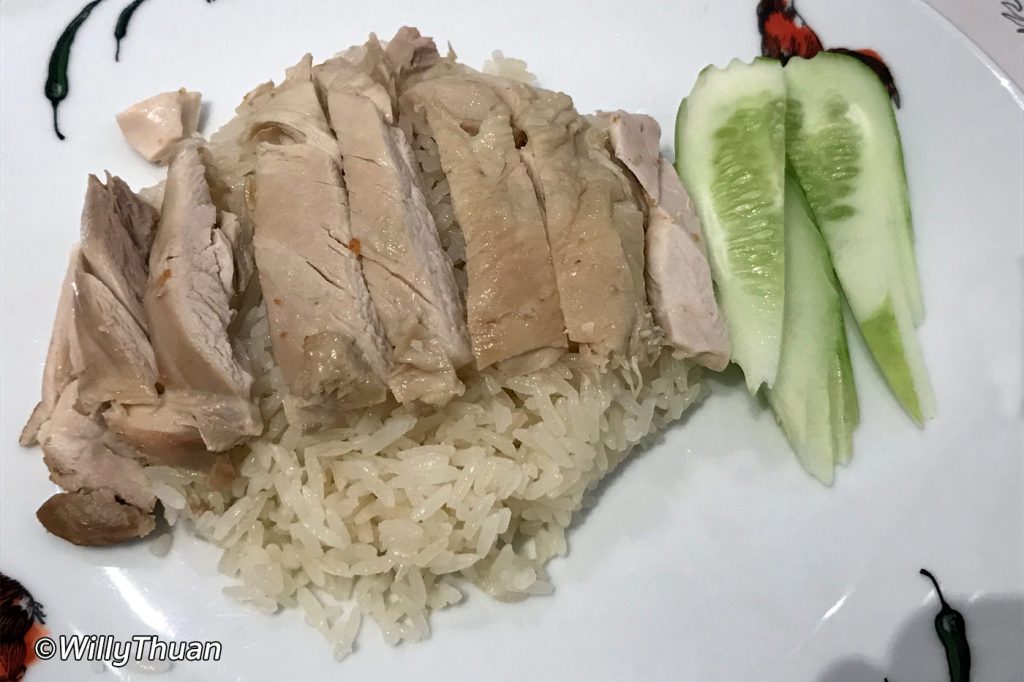 Not really Thai, chicken rice is a very popular meal and not spicy all unless you pick one of the spice brown sauce. Some shops are so popular, they almost sell out in no time, so if you are a bit late, you might end up disappointed. It is served with specially prepared delicious rice and is not good for diet!
---
10. Massaman Curry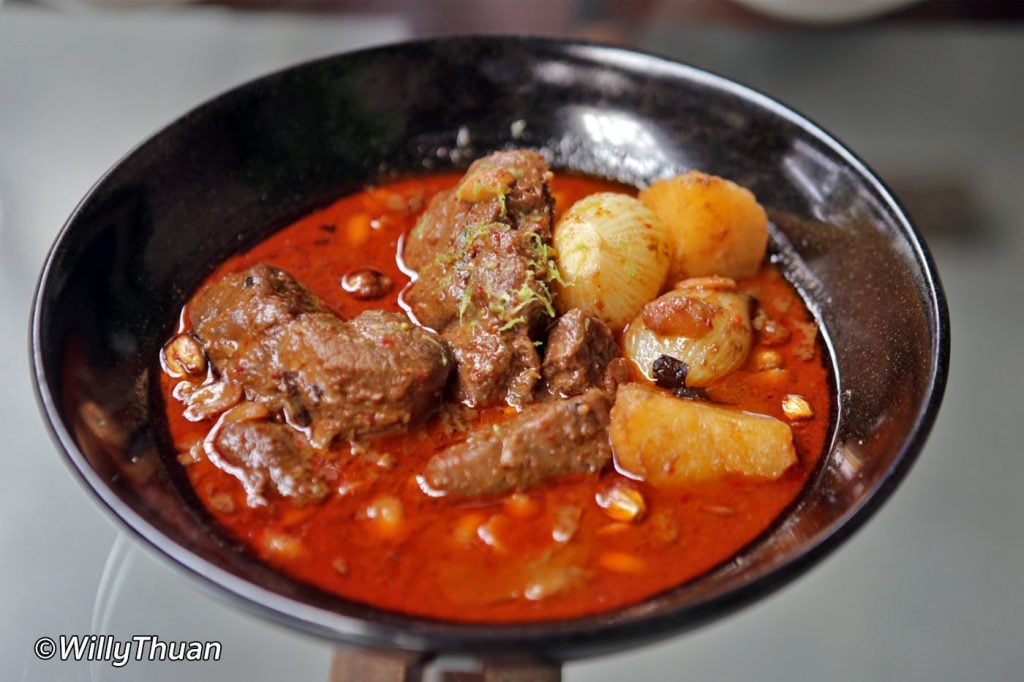 This southern dish is great beef curry that really tastes like a stew and even uses potatoes, but is often eaten with steam rice. Good choice if you can't take spicy! Note that it contains peanuts and cashew nuts (like many Thai dishes actually)
---
Read also about '10 Great Seafood Restaurants in Phuket', and if once you feel ready for something more ethnic, go to '10 Best Really Local Restaurants'