How to organize a wedding in Phuket?
Getting married in Phuket brings to mind images of an idyllic, romantic and memorable time with loved ones, but organizing a wedding in Phuket requires a staggering amount of preparation as it needs to be as perfect as possible.
Imagine having a pre-wedding photoshoot, marriage or honeymoon picture shot in one of the most sought-after islands of Thailand. A wedding in Phuket can also be a cultural experience with monks or even in a Buddhist temple. Whether you are planning a wedding for two (elopement) or with friends and family, organizing such an event in a new country with different traditions and language barriers can add to the stress, so it is strongly recommended to use the services of a wedding planner.
---
Phuket Weddings Options
---
Intimate Wedding (Often a Vow Renewal or Elopement)
An intimate Phuket wedding is a simple affair, usually involving a wedding photographer, a professional makeup artist and a marriage celebrant. Decorations can be foregone if on a tight budget or normally include an altar and, of course, flowers for the bride, groom and flower shower.
This affordable event is also popular as a vow renewal anniversary, honeymoon, or elopement "wedding for 2". It also can be for couples seeking a "secret wedding in Thailand" since they may not have informed their friends and family back home until they are suddenly shown the incredible photo gallery of their nuptials. Groups are also welcome to low-budget ceremonies.
A Phuket wedding price for this simple event runs around 20,000 to 30,000 THB.
Phuket 101 receives 250,000 monthly visitors on average (500,000 pageviews/month).
If you wish to advertise on this space or other options available on Phuket 101, just contact us.
Beach Wedding in Phuket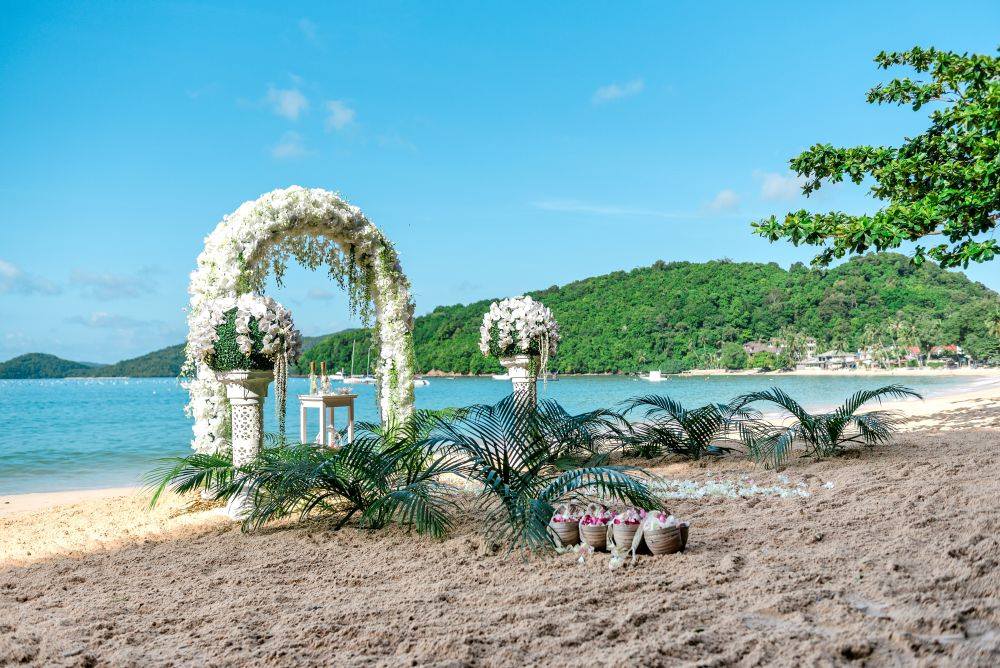 A beach wedding in Phuket with an arch, chairs, P.A. system and flowers is the most common. It can be arranged by a Phuket wedding planner who will secure the beach/venue permit or rent the recommended resort space to set up at. These events with the arch setup and décor can also serve as vow renewals or elopements. Many couples these days are opting for both a ceremony abroad along with a reception at home (and sometimes another ceremony at home with a group as well). An event for friends/family to witness and one for "just the two of us" makes for unique, sacred memories and bonds.
Typically these types of Phuket wedding prices run at around 55,000 to 75,000 upwards depending on the décor, location and group size
Reception Party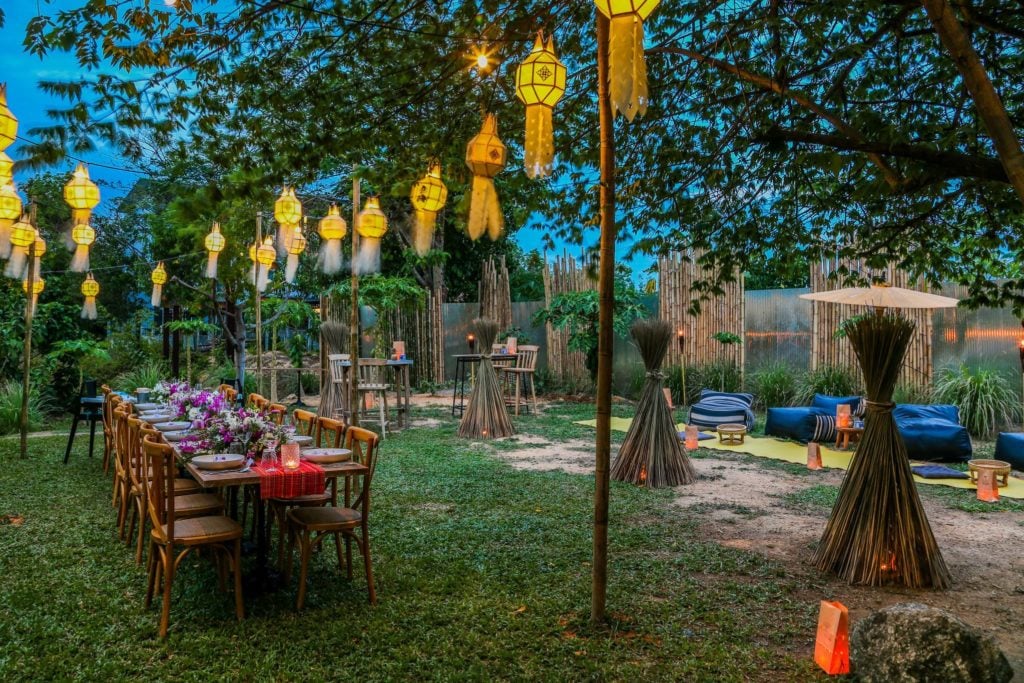 Having a Phuket wedding reception party dinner is an important consideration. Friends and family would probably love to join on the trip of a lifetime to celebrate the happy days together. However, not all venues tick all the boxes to serve as the ideal wedding resort for your party.
This is where a professional wedding planner advises about the best of Phuket's 1000 venue options for your vision, preferences and budget. Considering the overall setting, privacy and convenience/budget are important.
Receptions for groups of 20-50 people tend to run upwards of 30,000 to 300,000 THB. Given this big range, deciding about spending power from the outset will keep efforts on track.
Monk Blessing & Temple Wedding in Phuket
A Phuket Thai Buddhist Wedding Ceremony Ritual consists of the age-old tradition of bowing before monks, lighting incense/candles and making offerings of flowers and monk supplies. The monks will say a number of prayers, splash holy water on the couple and receive the donated supplies. This can be followed by a Traditional Water pouring ritual which involves family and friends splashing water over the hands of the happy couple while saying nice words to them. A string is tied over their heads to unite their spirits.
More flowers, of course, are used along with a conch shell and a third eye blessing ritual, for example. It is a fantastic cultural and spiritual experience to set a couple off on their lifelong path of loving devotion together.
A monk blessing and temple wedding ritual can run from around 45,000 THB up to 65,000 THB, which of course, includes the necessary photos, supervision, preparation and temple donations (just to name a few aspects of the typical full package, which can be customized) based on the couple's requirements.
Legal Wedding Information
A legal wedding in Thailand involves first checking with your Embassy on the latest requirements for your home country. Then couples will likely need to visit the embassy and work with a translation service to process documents which will require a week. Then those documents need to be brought to the town where you plan to marry, such as in Phuket, where you can finalize the wedding either at the government office or onsite at your ceremony.
Due to the extra costs and paperwork, many couples prefer to legalize their wedding back home and enjoy the island for their Phuket commitment ceremony's beautiful and affordable scenery. With their wedding in Thailand being their true wedding date. All the legal/translation assistance for registering in Thailand or Phuket will cost around 30,000 THB.
Wedding Photo Shooting
Of course, no wedding will be complete without plenty of timeless photos. That is why every complete wedding package will have at least an hour of photos during the ceremony and post-ceremony photoshoot. However, many couples will hire a photographer for 4 to 8 hours on their wedding day. The same goes for videography which is best accompanied by drone video/photos to add the "wow" factor of seeing Phuket from a bird's eye view. Very popular amongst Asians and increasingly with western couples is the pre-wedding or post-wedding photo shoot on a separate day.
Travelling around incredible beaches and viewpoints after a hair & makeup session, change outfits a few times and pose with the island's best photo spots.
A Phuket Pre-wedding photoshoot tends to run around 20,000 THB upwards, and wedding day photos usually start at 7,000 or 17,000 THB upwards with video and go up to 88,000 THB for a full-day event package with photos and videos.
---
This article is written in association with PhuketWeds.com and can help you plan your dream wedding by providing information on beaches, packages, venues, costs, photography and makeup services. This is not a paid post or advertising.
---
More Pages for Couples