Karlsson's Steakhouse in Patong
It might be strange to recommend a steakhouse to travellers coming a long way to Thailand, but there comes a time when we crave a good old fashioned steak. It probably happens to some of you during your holiday in Phuket, especially if you are not so 'hot about spicy food', a little meat break might be welcome.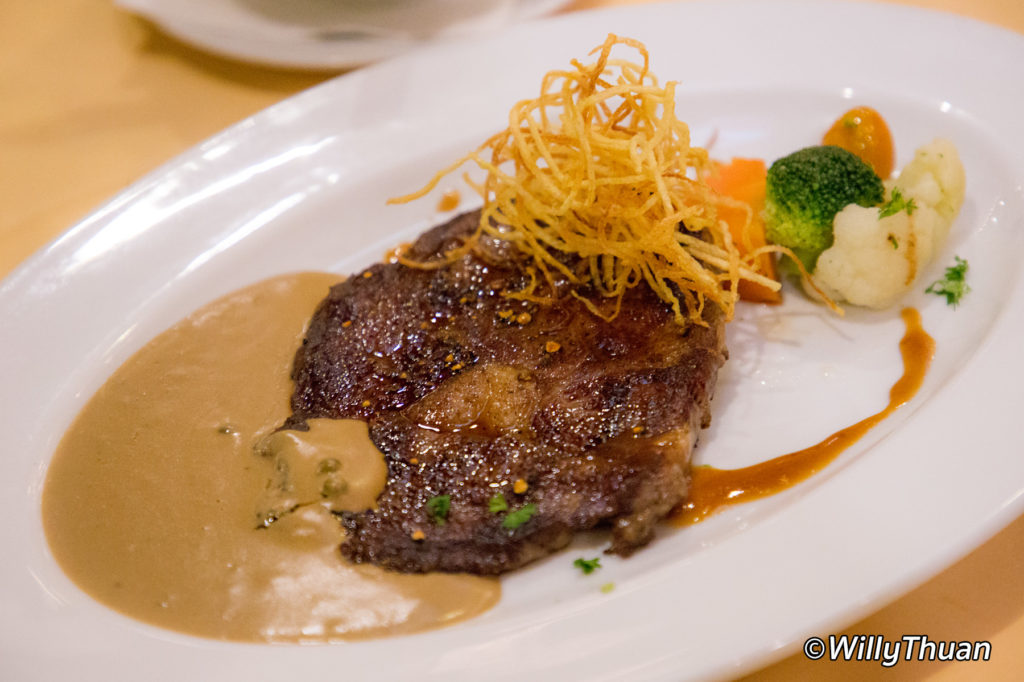 In more than 20 years spent in Thailand, I had the chance to try steaks in many restaurants around the island. They often range between expensive and very expensive. Some were really good, some were not, but overall, the good ones would always come with a high price.
But when I really want a good rib eye or fillet at the right price, I go straight to Karlsson's restaurant in Patong Beach. Not only because it's surprisingly affordable, but because in the past ten years I have been going there, I was always surprised by how consistent the quality of the steak was. No fancy decoration at Karlsson's, just a very friendly and smiley crew who will bring your steak cooked just right in a record time!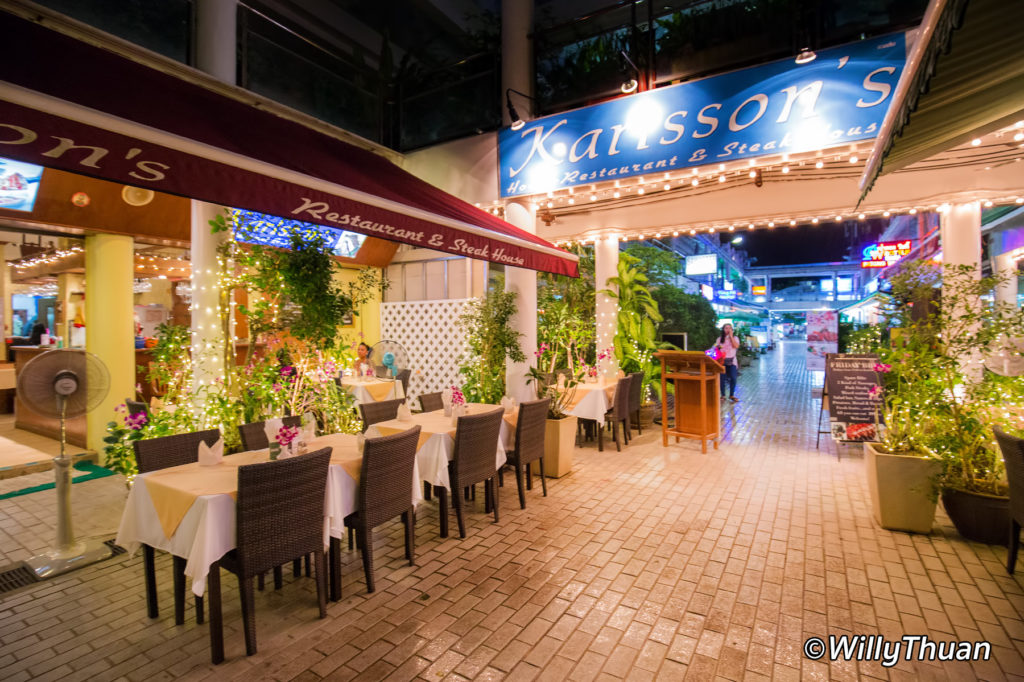 To give you an idea, a 200-gram rib-eye costs only 590 baht and 300 grams 770 baht; both come with nice big french fries. You also can select Thai food or pork chops or sausages from the menu.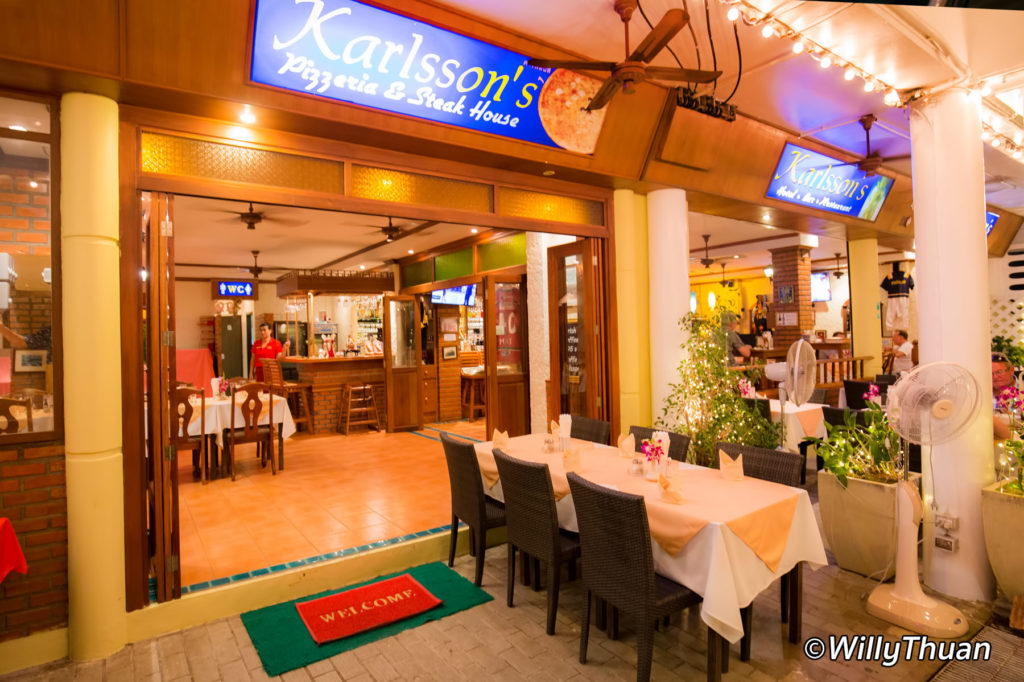 So if you are in Patong beach and you want something more energy-packed than your usual Pad Thai, do what we do: go to Karlsson's Restaurant and have a hearty dinner before starting your party night. Everyone knows it's better to drink on a full stomach, and at that price, you will still have enough money to party!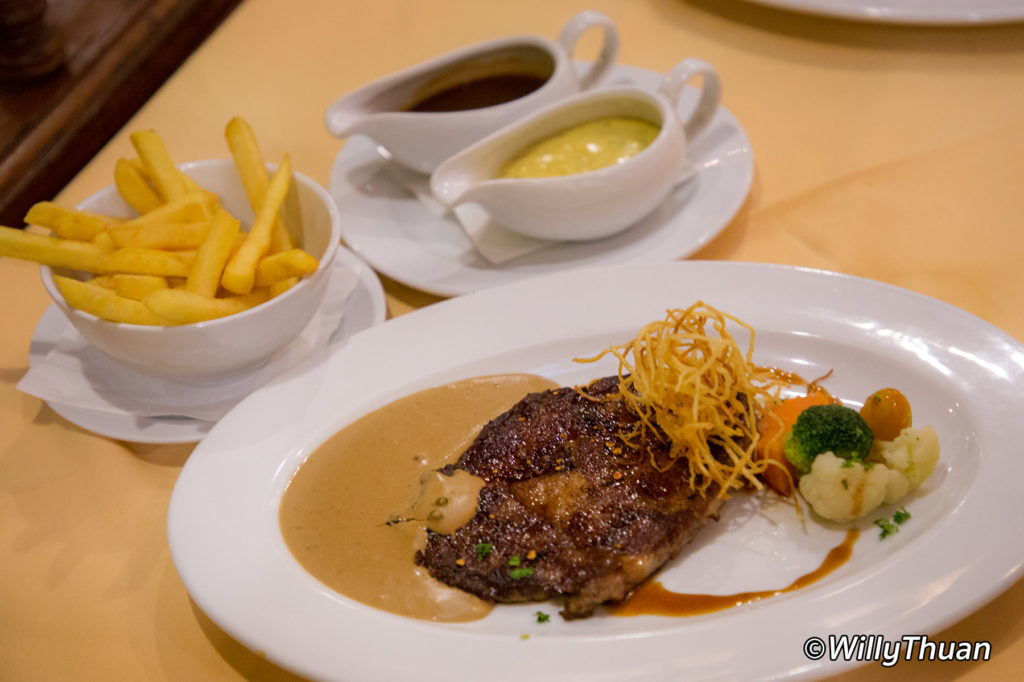 To find Karlsonns restaurant, go to the middle of Patong beach road, aiming at the tallest tower near the beach. From the beach, walk toward the tall Patong Tower until you reach the end of the alley.
As usual, we always pay for our dinners, so this is really a personal recommendation.
---
Karlsson's Restaurant and Steakhouse
Location: Patong Beach
Address: 108/16 Thawewong Rd, Patong, Amphoe Kathu, Phuket 83150
Open: 8 am – 12 am
Tel: 076 345 035
Price: very affordable
Facebook: https://facebook.com/karlssons.patong/
---
Karlsson's Restaurant Map