---
Is this the best Pad Thai in Phuket?
---
The Pad Thai Shop is a tiny restaurant on the side of the back road of Karon Beach. It's so small and modest; you would drive past it without paying much attention if it wasn't for its growing reputation and a large yellow signboard that says 'The Pad Thai Shop'. Despite its success, the shop owner probably chose not to change anything about the shop. Bare wood and brick walls, concrete roof, plastic chairs and plates and a bare black stove as old local shops usually are. Yes, you are here for an old-fashioned Pad Thai in a real, local shop, not for a fancy meal.
On the back wall, a large poster displaying a Lonely Planet article about the cook and his speciality hints that the chef is well aware of his viral popularity. He is a cool-looking man, and you soon can tell he will not rush for you. But first, you need to go to the 'counter' (a wooden table) and place your order. The menu also comes with photos, translated into English, Russian and Chinese. Almost all the dishes cost 50 baht, so you don't have to worry about how much this meal will cost. The lady at the counter speaks English, which helps a lot.
Of course, most Farangs go for Pad Thai or Pad See Ew (another type of fried noodles), but they also cook an excellent beef noodle soup (no pork there) which I prefer over Pad Thai. But we know you wanted to know about Pad Thai, so we ordered one. I don't think we need to tell you what Pad Thai is. In the unlikely case, you don't know: Pad Thai is a stir-fried rice noodle dish made of rice noodles, eggs, tofu, fish sauce, dried shrimp, garlic or shallots, red chilli pepper and palm sugar, served with lime wedges and often peanuts. It usually comes with bean sprouts, garlic chives and sometimes banana leaves on the side.
Get ready to wait because the place is quite busy, mostly local and just a few farangs (foreigners). No matter how full the restaurant is, Chef (do we say 'Chef' in a local shop?) seems to go at his own pace, so get ready to wait. Once you get it, get ready to eat because it's enormous! Or maybe I was looking so starving he thought I needed a Pee-Set (larger serving).
The verdict? The Pad Thai is good, but is it the best in Phuket? Well, I will have to leave this decision to your judgment because Thai food, mostly when simple, can be cooked in so many ways you have to find your sweet spot. I found it a little sticky and too sweet to taste, but it was great. So check out the map below and jump on your bike; go get yourself one of the best Pad Thai in Phuket and tell us about it!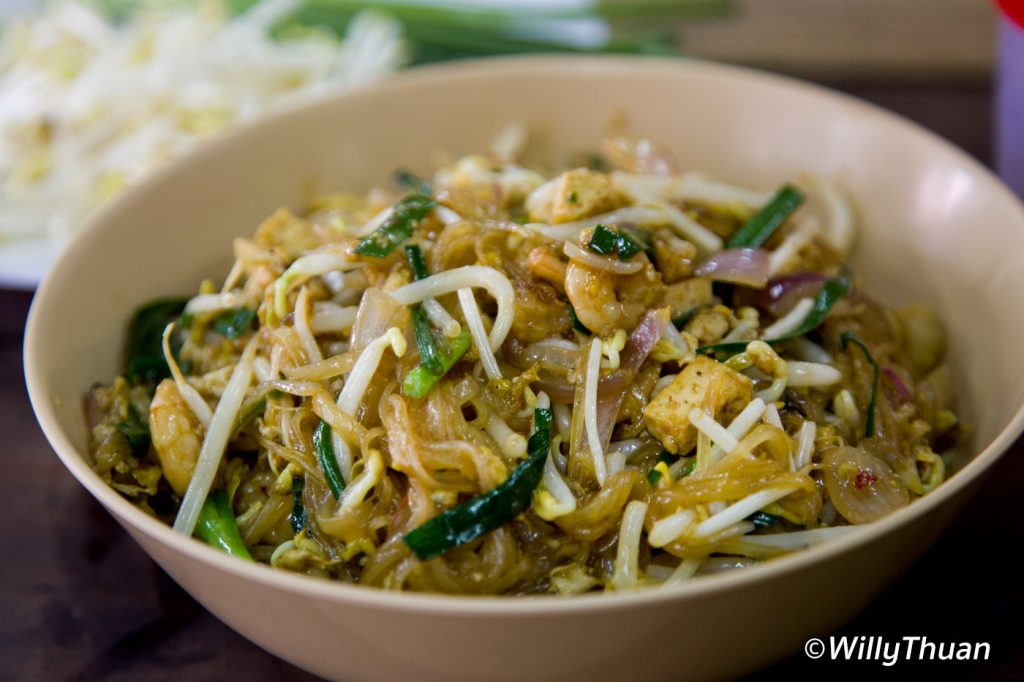 ---
The Pad Thai Shop Info
Location: Karon Beach
Address: Patak Road, Karon Beach, Phuket 83100
Open: 8 am – 7 pm (Sunday closed)
Price: cheap
---
The Pad Thai Shop Map
Get the directions on your phone: https://goo.gl/maps/4KiX6A5YhQ8fWzMv5
---
More Restaurants in Karon
---