What is Siam Niramit Phuket Show?
Siam Niramit Phuket is a surprising show narrating 700 years of Thailand's history. The stage is immense, and the choreography involving more than a hundred people is spotless. The narration is simple and clear enough for everyone to understand each scene. The superb sound system immerses you in a fantastic world based on centuries of Thai myths and legends. It is seriously impressive.
It took us a long time to visit Siam Niramit, and in a way, it was a mistake. (Siam Niramit opened in 2012). We didn't visit it before because taking photos inside the theatre is not allowed.
The Thai Village at Siam Niramit
Siam Niramit is all about Thailand. The large park surrounding the theatre recreates traditional Thai villages from the major regions of Thailand. Each wooden house displays what the province is famous for, food or handicrafts. It's nowhere like a museum. The Thai village is a beautiful photo playground and the boys and girls welcoming you in each home are fun and friendly. You are invited to try some local food and understand what this house was for and how people lived in it.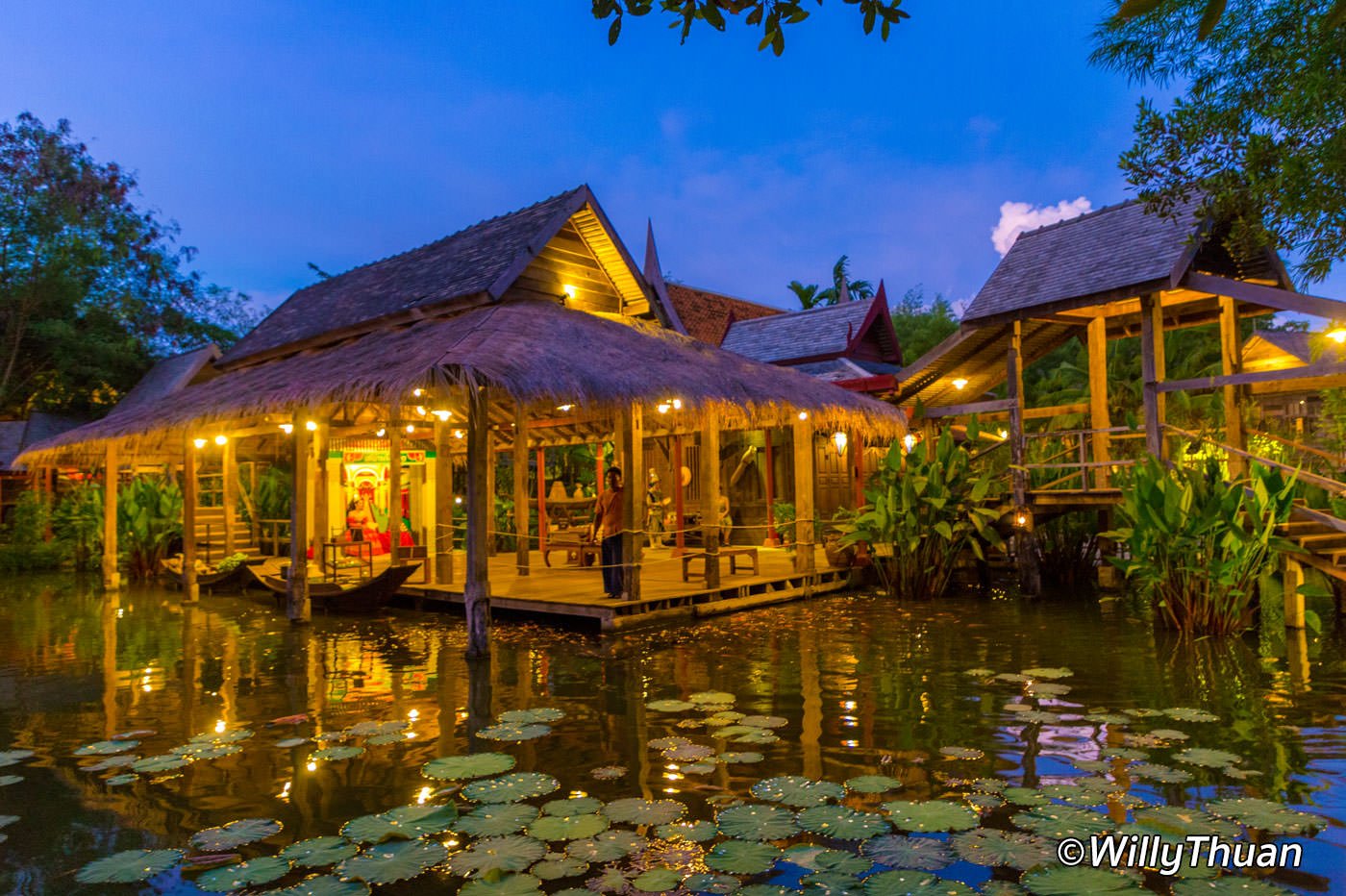 If you arrive early, you can walk around and take photos, or even play with an old-fashioned funfair. Actually, those balloon-popping games are still used in nowadays fairs. While waiting for dinner, you can eventually explore several large shops selling a mix of Thai silk and souvenirs from Siam Niramit. The clothing and accessories on display are well-designed and comfortable.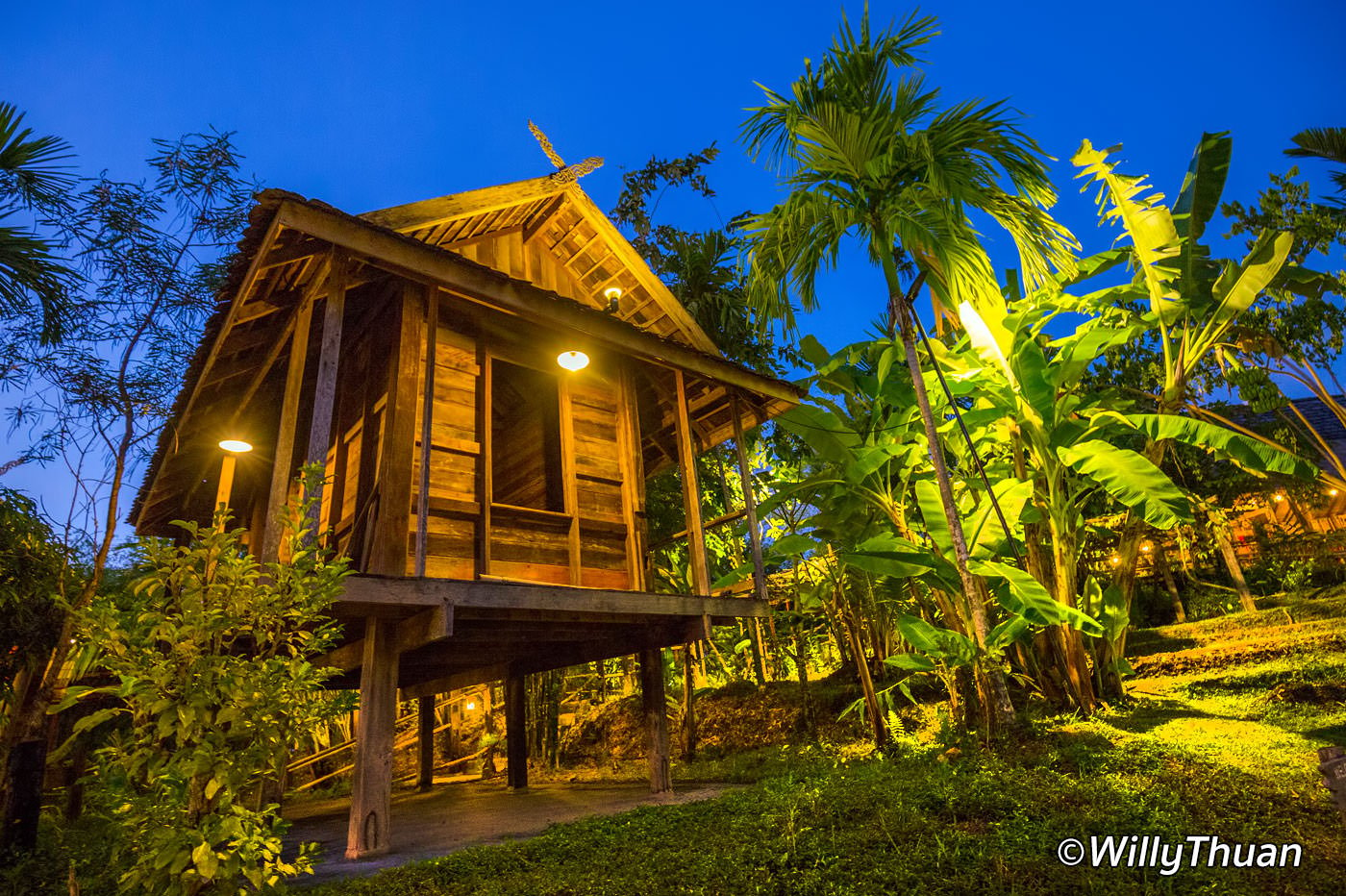 Siam Niramit Buffet Dinner
Open from 5.30 pm, the buffet dinner located upstairs is gigantic, able to accommodate a thousand guests. It is hardly used as most visitors prefer to come only for the show. We tried it, and while the choice is vast and the food is good, unless you are a big group, it's probably better to have dinner somewhere more intimate than this large room. On the other hand, dinner only costs 300 baht for adults and 150 baht for children, good value if you enjoy buffets!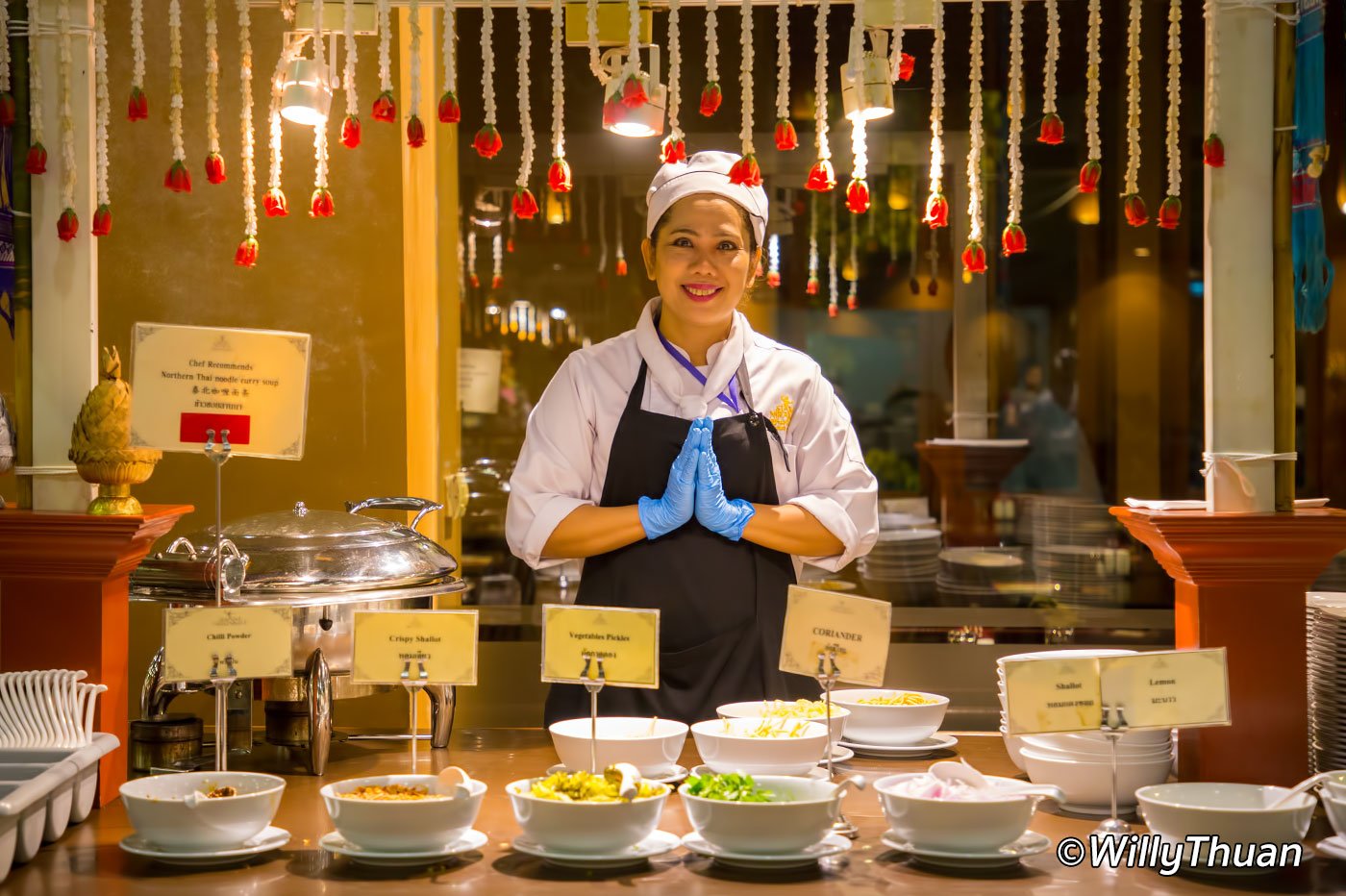 After dinner and before the show starts, you can enjoy an impressive warriors' parade with costumes and a couple of elephants. They definitely could do without elephants. The display takes place in front of a large Naga sculpture, a mythical Thai dragon standing in water.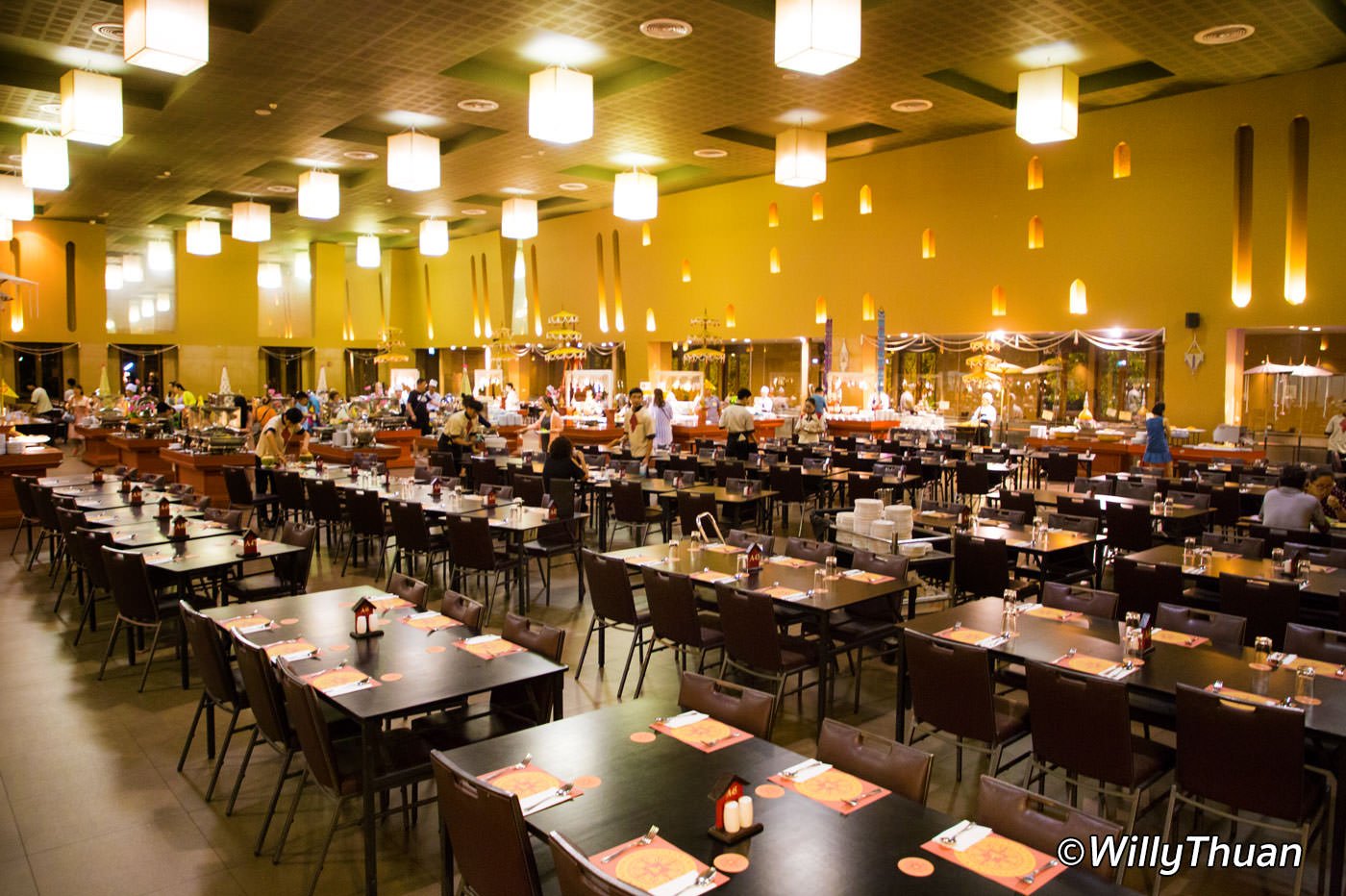 The Theater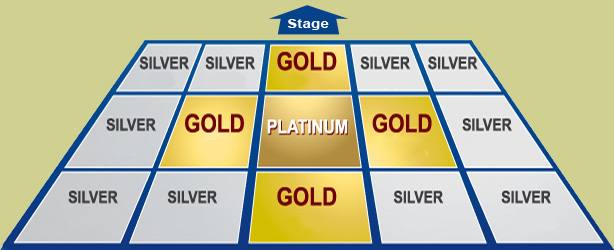 At 8.30 pm it's time for the show and you are invited to the theatre, and to deposit any camera or recording equipment at a dedicated counter. You can keep your mobile but don't even try to use it; staff are standing nearby to remind you instantly about the strict no photo policy.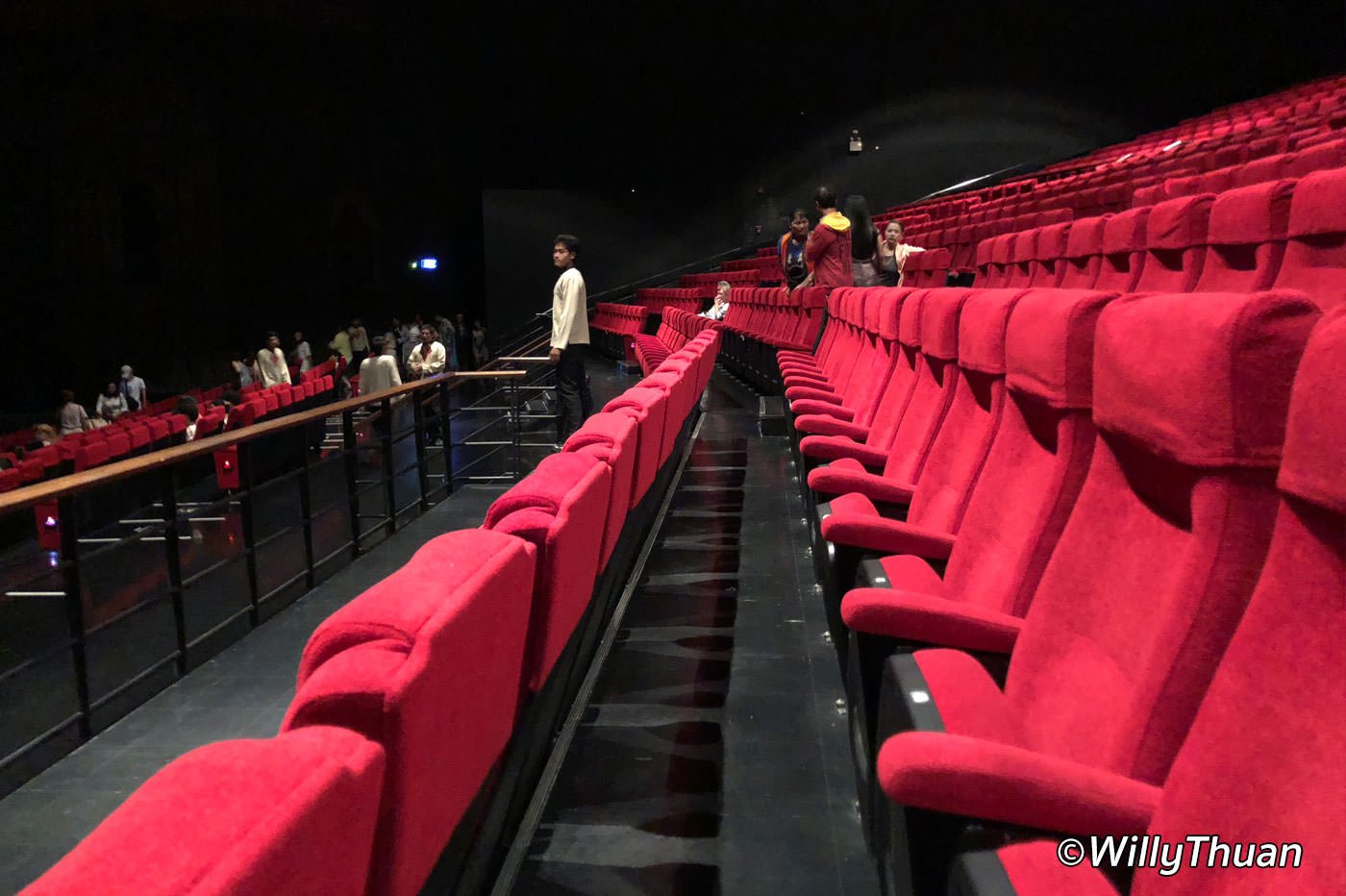 The amphitheatre is immense with the red velvet seats you can expect in theatres and cinemas. We booked a platinum seat to have the best possible view, but strangely the gold seats are closer to the stage! We asked, and the reason is that some performance happened between gold and platinum areas so we could enjoy the whole effect better. Anyway, the slightly elevated seats were perfect for giving us a complete view of the stage. Seats too close to the stage may not be as good as you would think. Note that before the show starts, just like in movie theatres, you will have to stand up for the national anthem.
The Show at Siam Niramit
Shows start with a long narration in semi-darkness that prepares you for the grand start with drums and a fantastic sound system. The show consists of 3 acts: Act 1: Journey Through History, Act 2: Three mythical worlds, and Act 3: Festivals of Thailand.
In the first act, scenes narrate the paste of each region and how they came together as one country: the North (Lanna), The South Seas, the Northeast (Issan) and the Central Plains (Ayutthaya). If you are a little familiar with Thailand's history, you will recognise each region, even in those tiny details that make the difference.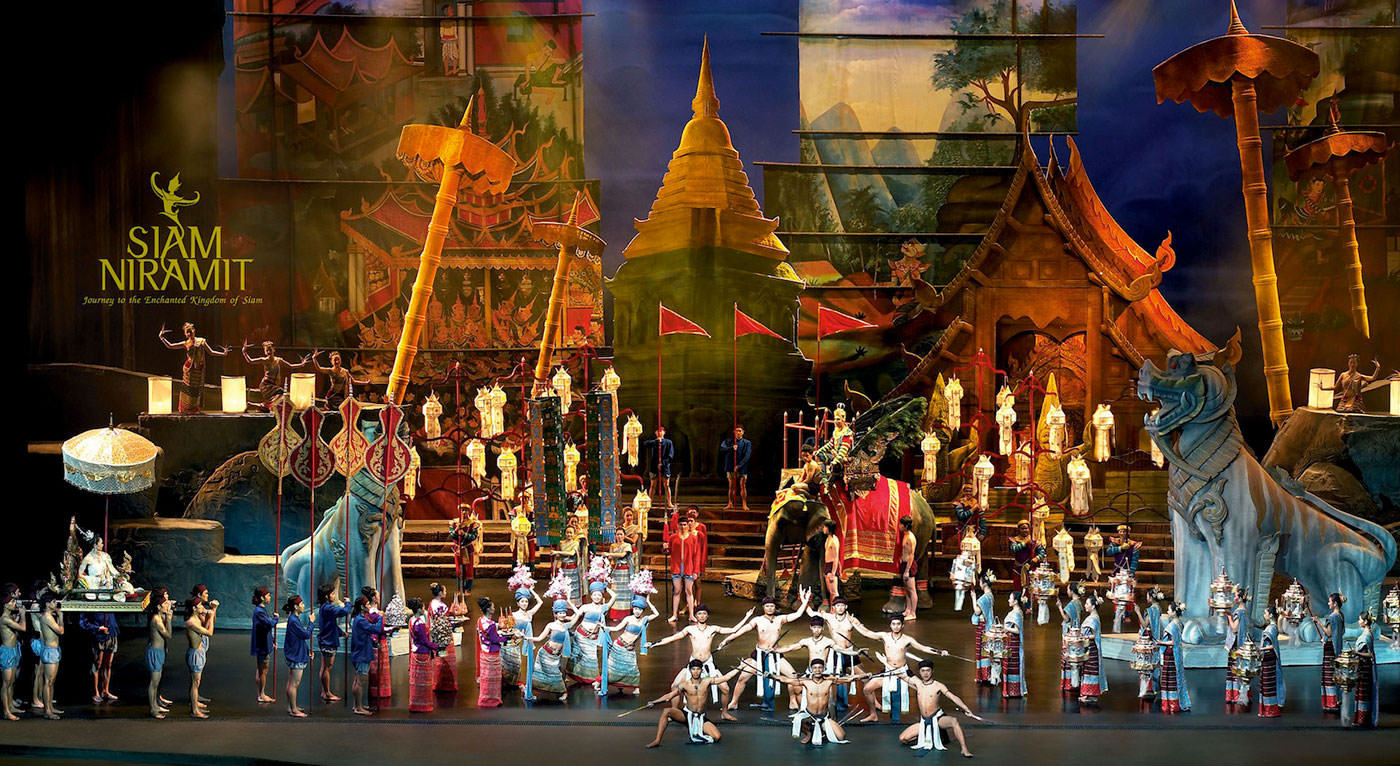 The stage is immense, and each scene is a feast for the eyes. The decors are amazing, lighting adds the dimension, and you are taken away. I used to work on stage for eight years so I might appreciate the smoothness of the transitions more than average. Some scenes are mysterious, beautiful, impressive, fun, enthusiastic or even scary (Thai hell is really scary!).
In act 2 (Mythical Worlds) some scenes are stunning and grab your attention. No cheap stage effects here: mythical angels fly and dance across the stage as freely as if they were real, some even zoom through the entire immense set. A river appears on the scene and actors jump in the water as monks drift along to receive morning alms. It's a non-stop feast for the eyes! If only we could share some photos!
Verdict?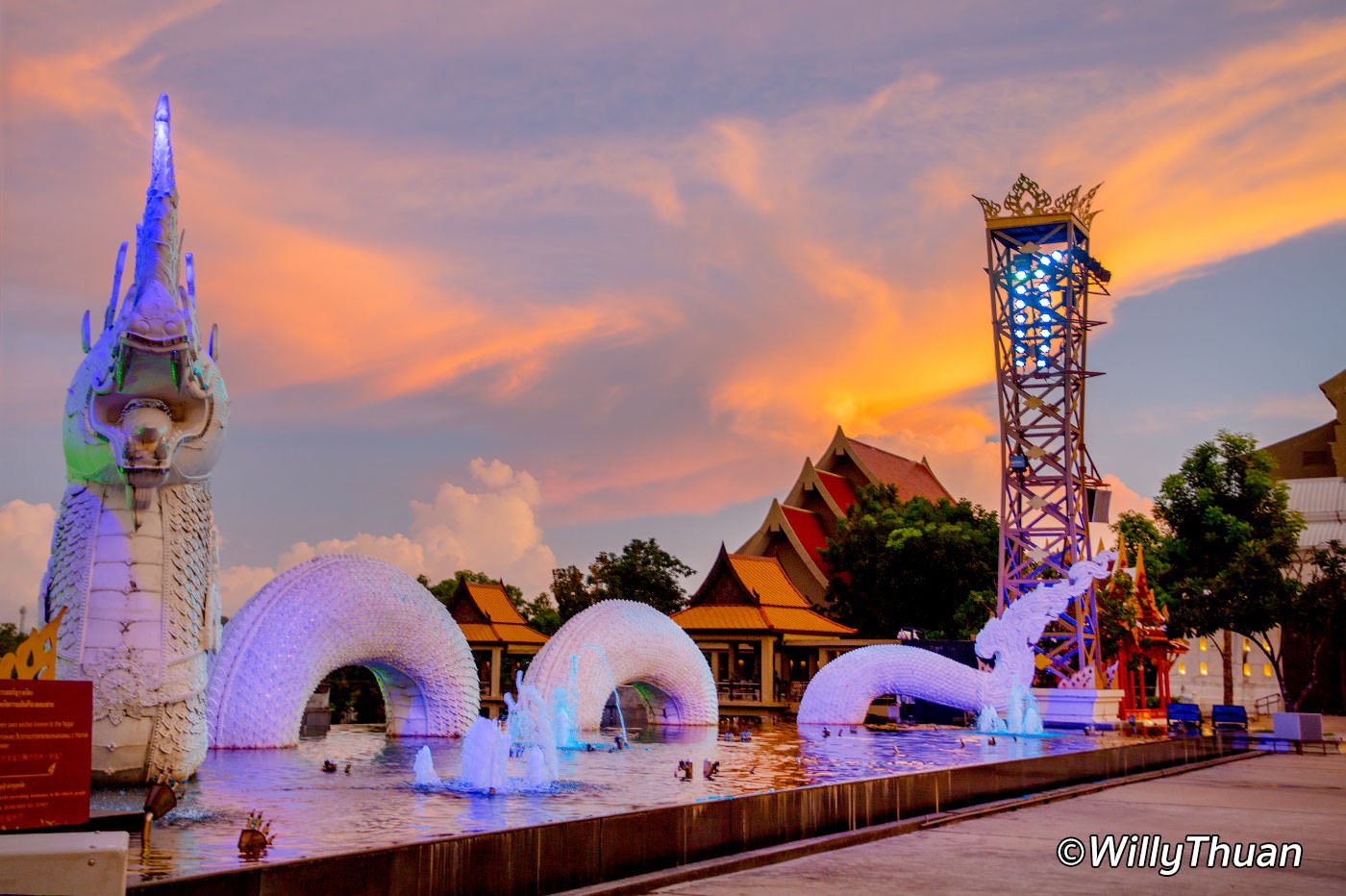 So the final big question is: should you save a night to see the Siam Niramit show? If you stay in Phuket long enough and grow tired of beach clubs and Patong parties, yes you should, just the show that starts at 8 pm will not stop you from going back to the party later but at least you will see something unique and memorable and a piece of Thailand rich mythology.
More Photos of Siam Niramit
---
Siam Niramit Info
Location: Phuket Town
Address: 55/81 Chalermprakiat Ratchakan Thi 9 Road, Tambon Ko Kaeo, Phuket 83000
Open: 5.30 pm – 10:30 pm (closed on Tuesdays)
Phone: 076 335 000
Price: 1,500 baht, Gold Seat: 1,700 baht, Platinum seat: 1,900 baht. +300 baht for adult dinner, + 150 Baht for children dinner, + 300 Baht for hotel transfer.
---
Siam Niramit Phuket Map
If you are on mobile, add the map here: https://goo.gl/maps/dbbZygdaTW8ZvAxR7
Things to Do at Night in Phuket
More places to visit