---
Where to find yoga classes in Phuket?
---
Phuket has many yoga studios and classes that can help heal your body and mind while you're on holiday. You can find yoga classes at many Phuket resorts, but if you're searching for a specific style or method of yoga, you're best to drop by one of the independent yoga studios around the island.
Here's a selection of 10 yoga studios in Phuket offering a range of classes, including Aerial, Hatha, Ashtanga, Bikram/Hot and Yin yoga. Many of these also offer retreats that combine yoga with detox or fitness programs for a more intense yoga training experience.
---
1. Yoga by Niti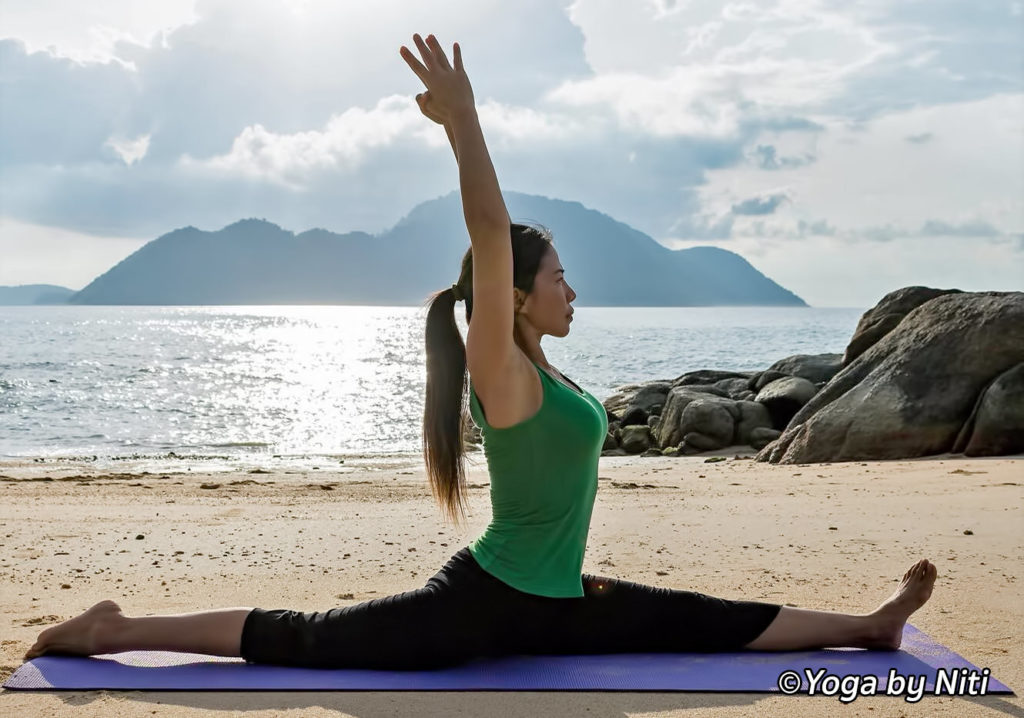 Yoga studio and healing centre near Nai Harn Beach offers a range of yoga classes and sound meditation. The studio was founded by Thachina "Niti" Nitikarn, who opened it after working at healing centres in Phuket and Bangkok. Khun Niti leads the crystal bowl sound meditation sessions, which require advance booking due to the small class size. Classes in Hatha, Vinyasa and Yin yoga are also offered, and they'll occasionally host fitness classes like Zumba or other meditation methods by a guest practitioner.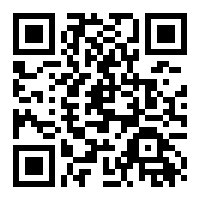 Price: 1 class, 350 baht
Location: Nai Harn
Address: 39/6 Moo 1, Sai Yuan Road, Rawai, Phuket
Phone: 061 917 1415
Website: https://www.facebook.com/yogabyniti
Phuket 101 receives 250,000 monthly visitors on average (500,000 pageviews/month).
If you wish to advertise on this space or other options available on Phuket 101, just contact us.
2. Belove Yoga Rooftop Studio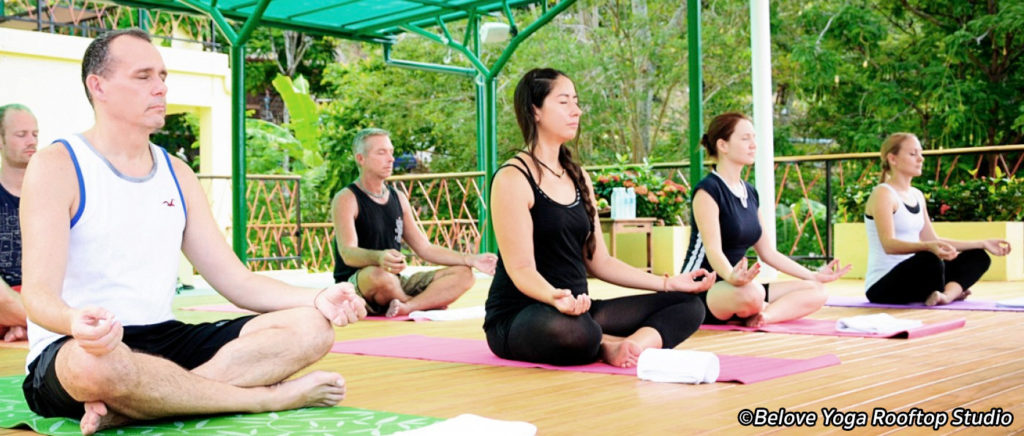 Found in CC's Hideaway Resort in the hills of Kata Beach, Belove offers a range of yoga classes including Kundalini, Ashtanga, Vinyasa Flow, Yin and Acro yoga. Pilates, Muay Thai and aqua yoga classes are also available. They hold at least two classes daily in their open-air rooftop studio, a morning class at 8.20 am and sunset classes at 5.30 pm. Many do the yoga classes as part of a wellness retreat at the resort, but drop-in guests are welcome to join.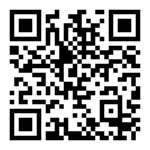 Price: 1 class 325 baht; 1 month unlimited 3,500 baht
Location: Kata Beach
Address: CC's Hideaway Resort, 84/21 Patak Road Soi 10, Karon, Muang Phuket, Phuket
Phone: 076 333 222
Website: http://www.ccshideaway.com/wellness.htm
3. Traditional Ashtanga Yoga Shala Phuket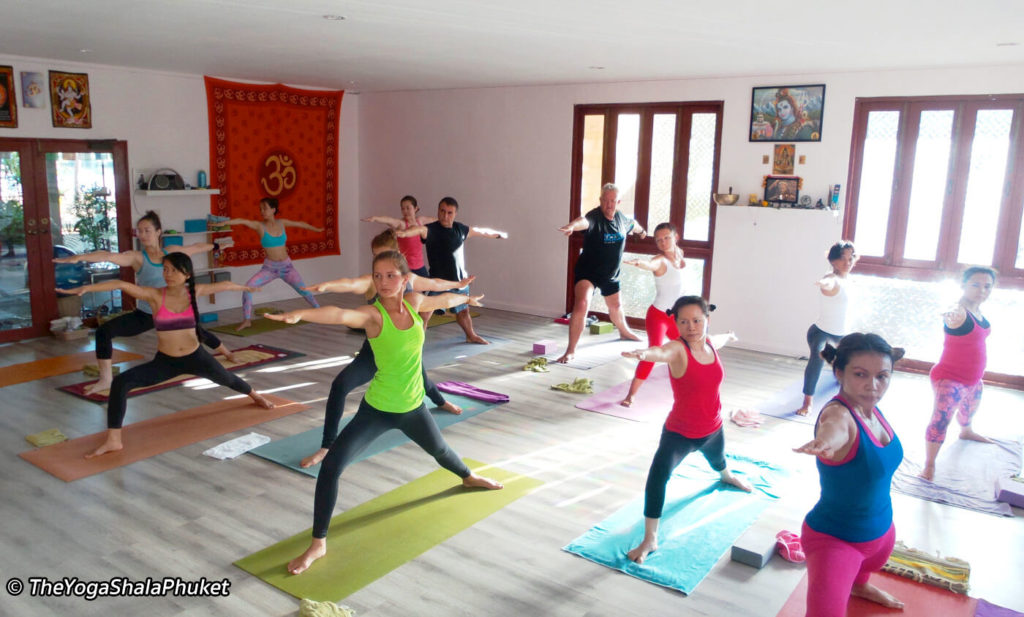 This studio at the clubhouse in Land & Houses Park in Chalong has traditional Ashtanga yoga classes in Mysore style and Led classes. Beginners are welcome, and the teachers work closely with each student using the art of adjustment. These are offered as part of TAYSP's yoga retreats, but classes are open to other students on a drop-in basis. A yoga teacher training course and detox and weight loss programs are also available. The price includes accommodation at nearby villas for those doing the full retreat or training programs.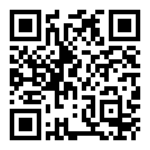 Price: 1 class 500 baht; 1 month unlimited 3,400 baht
Location: Chalong
Address: Clubhouse at Land & Houses Park, 26/8 Moo 8, Muang, Chalong, Phuket
Phone: 080 698 0813
Website: https://taysp.com/
4. Sumalee Yoga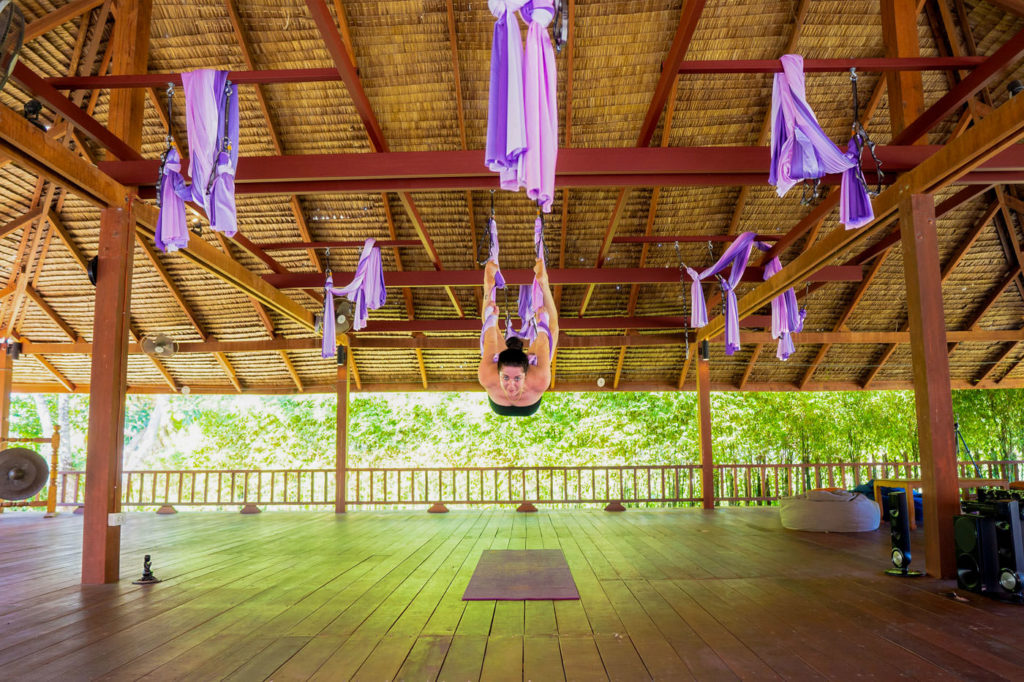 Sumalee Yoga is a traditional Thai-style open-sided sala located centrally on the east coast of Phuket. All equipment is provided at no extra cost, including mats, towels and water. There are group and private classes in vinyasa flow, Hatha and yin yoga. New in 2020 is our Aerial Yoga facility and Revitalize our vegan café. After your practice, you can enjoy a swim in the onsite pool next to the sala. As part of Sumalee Boxing Gym, you can opt for multi-day retreats that combine yoga practice with Muay Thai training.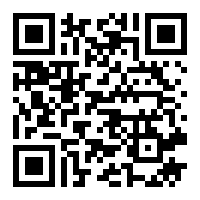 Address: 234 Moo 3, Soi Hua Tha, Sri Sunthon Road, Thalang, Phuket 83110, Thailand
Open: Monday – Saturday from 7.30 am to 6 pm (closed on Sundays)
Phone: 088 017 3018
Website: https://sumaleeboxinggym.com/yoga-studio/
5. Hill Club – Yoga Studio Phuket
Hill Club Yoga Studio is a yoga studio on the outskirt of Phuket Town specialising in small group classes, offering morning (Yin, Flow and Hatha Yoga) and evening (Yang Yoga) classes daily, striving to become a destination for Wellness Within Reach.
Location: Phuket Town
Address: 138/3 Soi Srisuchart View, Tambon Ratsada, Muang Phuket 83000
Daily Classes: 08:00am – 09:00 am and 17:30 – 18:30pm
Sunday: 08:00am – 09:00 am and 12:00 pm – 13:00 pm
Phone: 076 304 367
Special Prices: start at 450 Baht for a single drop-in session, 2,000 baht for a 5 class pass, and 3,500 baht for ten sessions.
Facebook: https://www.facebook.com/hillclub.phuket/
6. Yoga Connections Phuket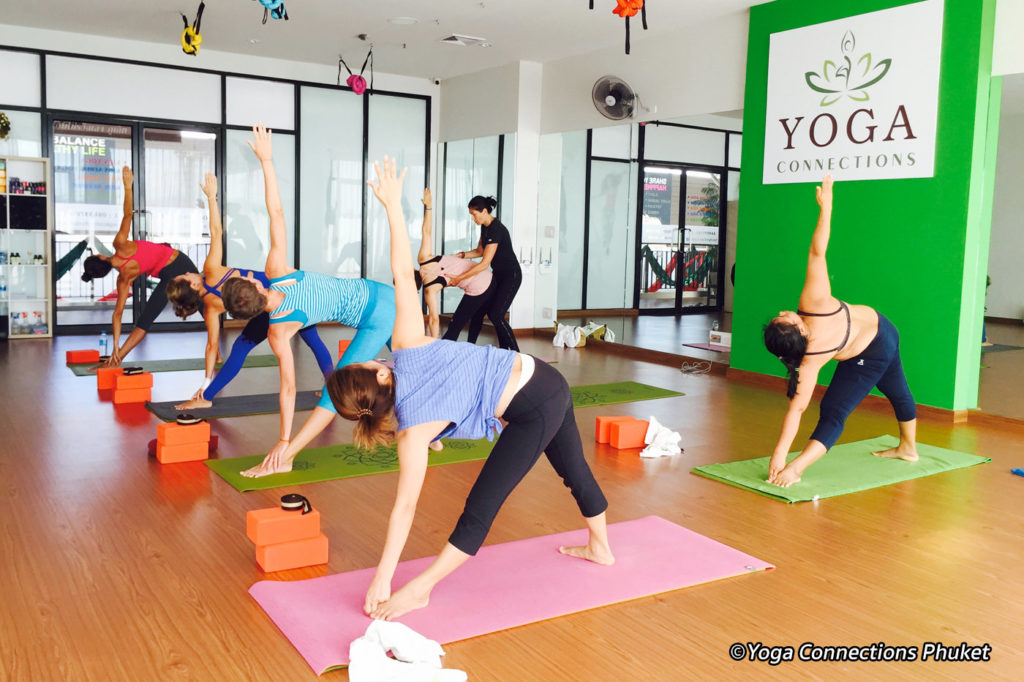 Yoga Connections has two branches in Chalong, one at Home Pro Village and the other on Soi Ta-Iad, the street famous for its Muay Thai training camps. They've more recently opened another studio on Sai Yuan Road near Nai Harn Beach. The studios offer a variety of yoga classes, including Aerial Yoga, Hatha, Ashtanga, Vinyasa, Power and Yin yoga. Advance booking is required for the Aerial class, held at the Homepro branch. Aspiring yogis could also sign up for their 200-hour yoga teacher training course.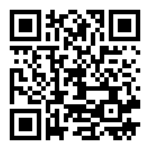 Price: 1-hour class 300 baht; 1 month 3,500 baht
Location: Soi Ta-Iad – Chalong
Address: 2nd Floor, Homepro Village Phuket, 61/9 Moo 10, Chaofa West Road, Chalong, Muang, Phuket
Phone: 087 885 8787
Website: yogaconnectionsphuket.com/
7. Kata Hot Yoga
Kata Hot Yoga offers classes three times a day on weekdays and twice a day on weekends. The studio, just a short walk away from the beach, was opened by Govert van Lankeren Matthes and classes are led by him and teachers from around the world. Classes follow the Bikram style of yoga in a classroom heated to 40 degrees Celsius with mirrors on the walls. Get ready to sweat as you combine 26 Hatha yoga postures and two breathing exercises in 90 minutes. They also offer 300-hour hot yoga teacher training programs.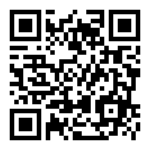 Price: 1 class 550 baht; 1 month unlimited 3,850 baht
Location: Kata Beach
Address: 217 Khoktanod Road, Kata Beach, Muang, Phuket
Phone: 076 605 950
Website: katahotyoga.com
Download Map >>
8. Yoga Republic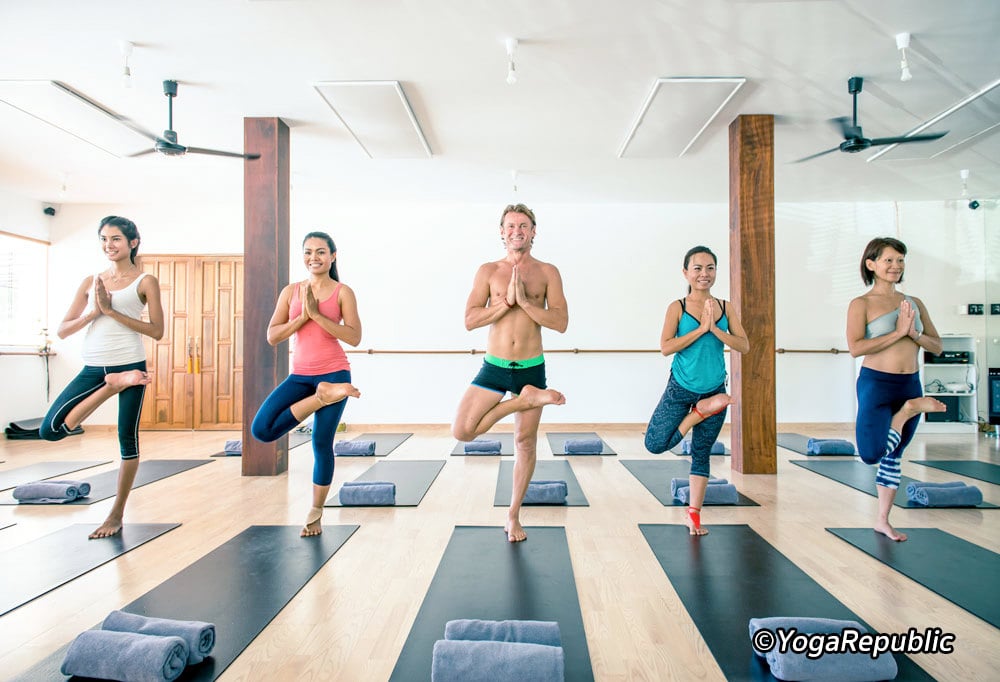 Founded by Australian Jack Farras, Yoga Republic offers Hot Yang and other yoga classes in a modern studio not far from Bangtao Beach. Hot yang is a sequence of 26 postures and Pranayama breathing in a 75-minute session practised in a room heated to 38 degrees Celsius. They also have Fusion Flow classes, which combine Vinyasa Flow with Iyengar and Yin yoga, gentle flow and Yin yoga classes. Goldie, the British celebrity artist and DJ, helped put this studio into the international spotlight when he mentioned in an interview that he does vinyasa here.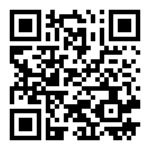 Price: 1 class 550 baht; 1 month unlimited 4,500 baht
Location: Cherng Talay
Address: 123/3-5 Moo 5 Srisoonthorn Road, Cherng Talay, Thalang, Phuket
Phone: 082 280 3914
Website: yogarepublic.co
9. Baan Yoga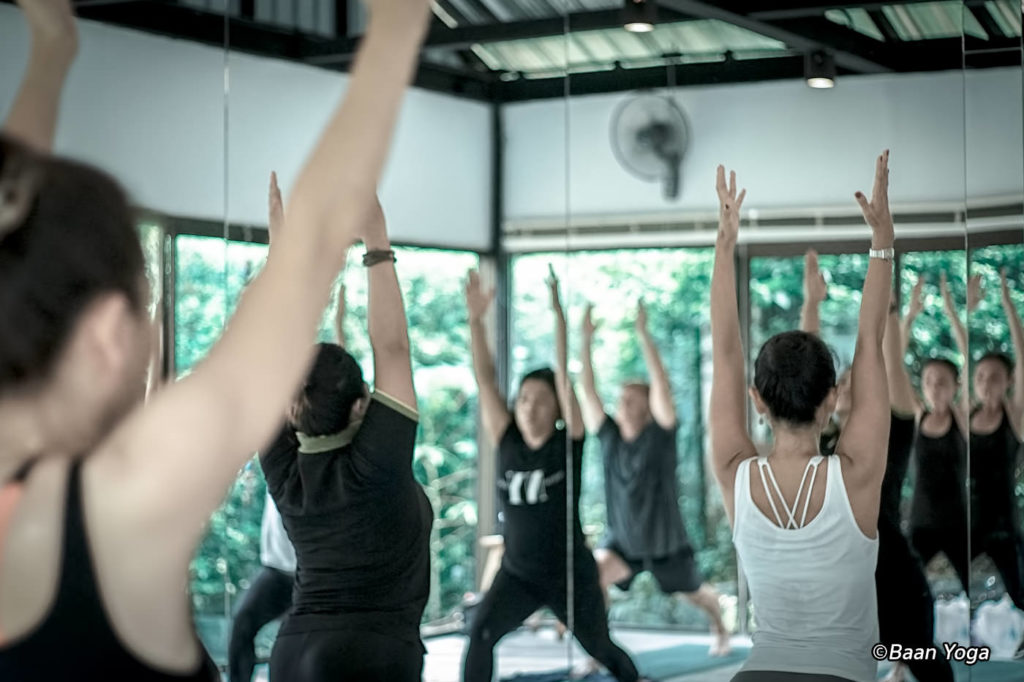 Found near Nai Yang Beach at Garden Cottage Resort, Baan Yoga Phuket teaches hatha yoga classes focusing on connecting the body and mind through yoga asana (posture), pranayama (breathing) and meditation. Sessions are open to all skill levels and experiences. Pilates and Zumba classes are also available here, as well as yoga retreats that include accommodation at the resort. Go for a smoothie or healthy snack in the café, and find yoga clothing, mats and other gear in the attached shop.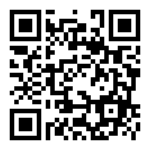 Price: 1 class 500 baht; monthly 2,800 baht
Location: Nai Yang Beach
Address: Garden Cottage Resort, 53/1 Moo 1, Sakoo, Thalang, Phuket
Phone 092 380 9200
Website: baanyogaphuket.com
10. Santosa Detox & Wellness Center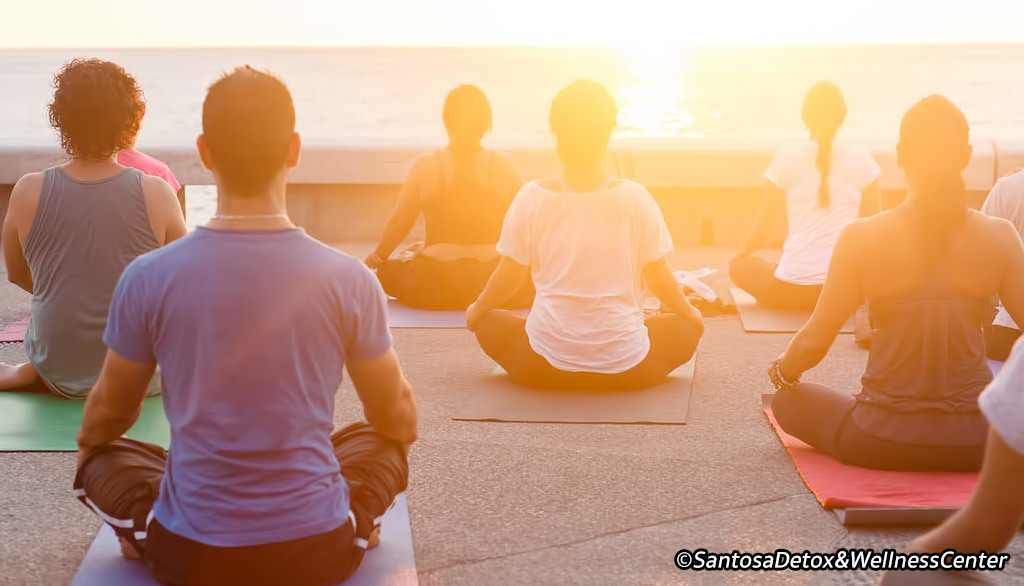 Set in the hills overlooking Kata Beach, this wellness centre and spa offers yoga and fitness classes as part of its detox, fasting and cleansing retreats. You don't need to be enrolled in the retreat to join a class; however, drop-in students are welcome. There are 3-4 classes a day, including Hatha yoga, Vinyasa hot yoga and Acro yoga. They also have Zumba, TRX, meditation and boxing classes, and a vegan restaurant in an open-air setting with ocean views.
Price: 1 class 350 baht; 10-class pass 3,000 baht
Location: Kata Beach
Address: 3 Soi Plak Che 2, Patak Rd, Karon, Phuket
Phone: 076 330 600
Website: santosaphuket.com
11. 5 Elements Hot Yoga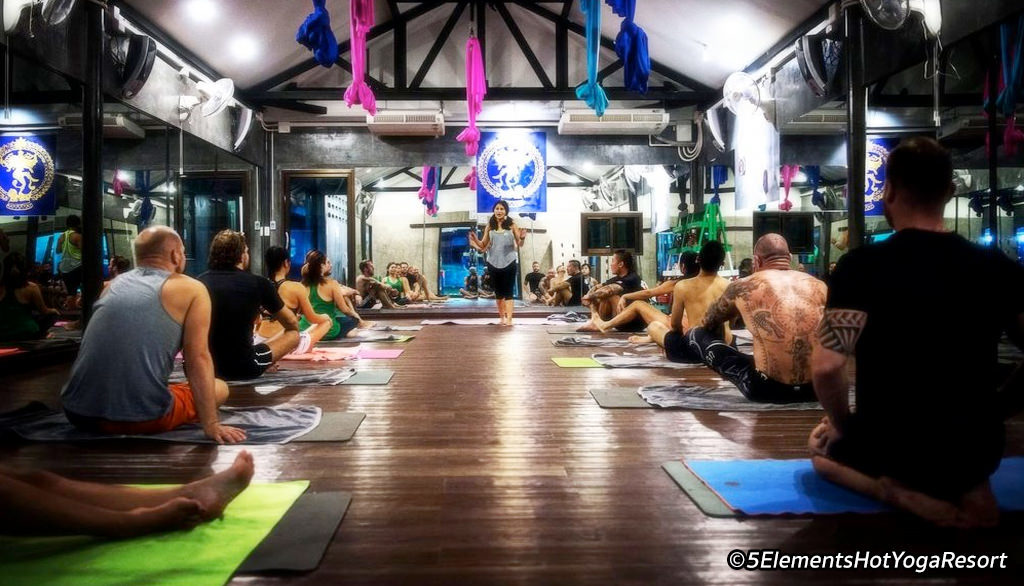 Found on Soi Ta-Iad in Chalong, this yoga studio caters to the martial arts crowd who train at nearby Muay Thai camps, but all are welcome to join the classes here. Formerly called Sutisa Hot Yoga, the studio has a mix of daily classes, including morning stretching meditation, Bikram hot yoga, Aerial yoga and Vinyasa Flow. They also have an ice bath, steam room and pool that you can access with a day pass if you're not staying at the resort. Yoga teacher training 200-hour programs are also available.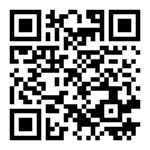 Price: 1-hour class 470 baht
Location: Soi Ta-Iad – Chalong
Address: 45/75 Moo 1 Soi Ta-iad, Chalong, Phuket
Phone: 094 592 2294
Website: 5elementshotyogaphuket.com
12. Phuket Action Point Fitness Retreat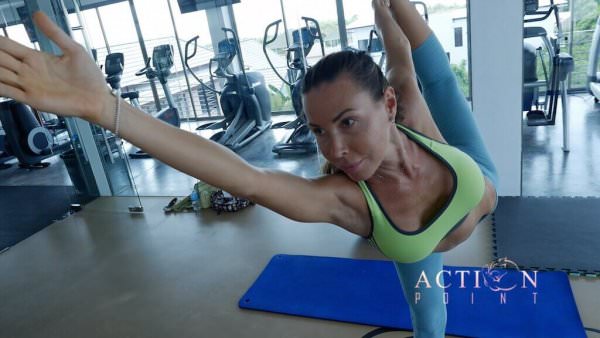 Phuket Action Point is a fitness centre near Nai Harn Beach that offers yoga as part of its fitness, weight-loss and wellness retreats. To join the yoga retreat, choose from a 7-day program to a 28-day retreat, with accommodation, yoga classes, Muay Thai and personal training sessions included. Yoga classes are also available on a drop-in basis. Hot yoga classes in the morning follow the Bikram method in a heated room with 26 postures to complete in 60 or 90 minutes. Yin yoga sessions are held in the evening.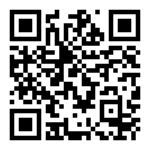 Price: 7-day yoga retreat 39,000 baht
Location: Rawai
Address: 63/53 Soi Saiyuan 10 Moo 7, Nai Harn, Rawai, Phuket
Phone: 076 226 506
Website: https://phuketactionpoint.asia/
---
Contact us via Facebook Messenger to add your yoga studio here
---
More reading