What to do on Railay Beach in Krabi?
Railay Beach is by far the most popular destination in Krabi. Even though you need to ride a longtail boat to get to the Railay, the place is busier than any other beach in the province. You also need to know that what is called 'Railay Beach' often refers to a group of beaches that include Railay West, Railay East and Phra Nang Beach. So what makes this Railay Beach so popular, and what can you expect to find there?
The Beaches of Railay
Once you know that Railay is a cluster of beaches, it's easier to understand its geography. A series of small alleys connect the 3 beaches, so you don't need to ride a boat from Railay West to the scenic Phra Nang Beach, as people often believe.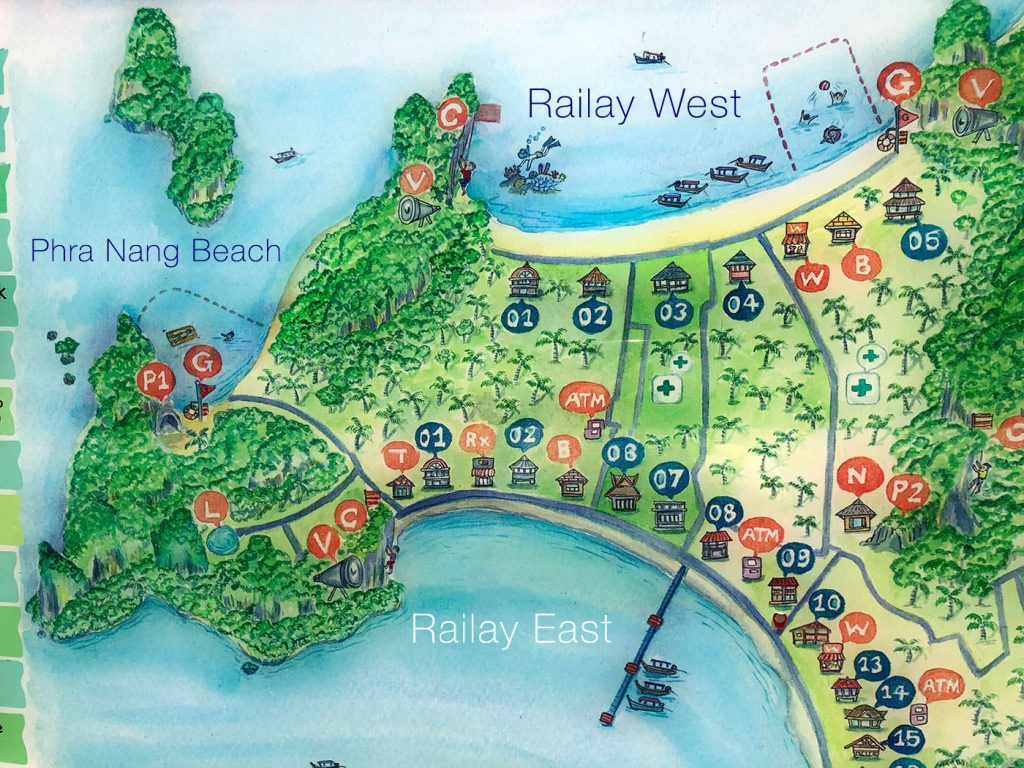 Railay West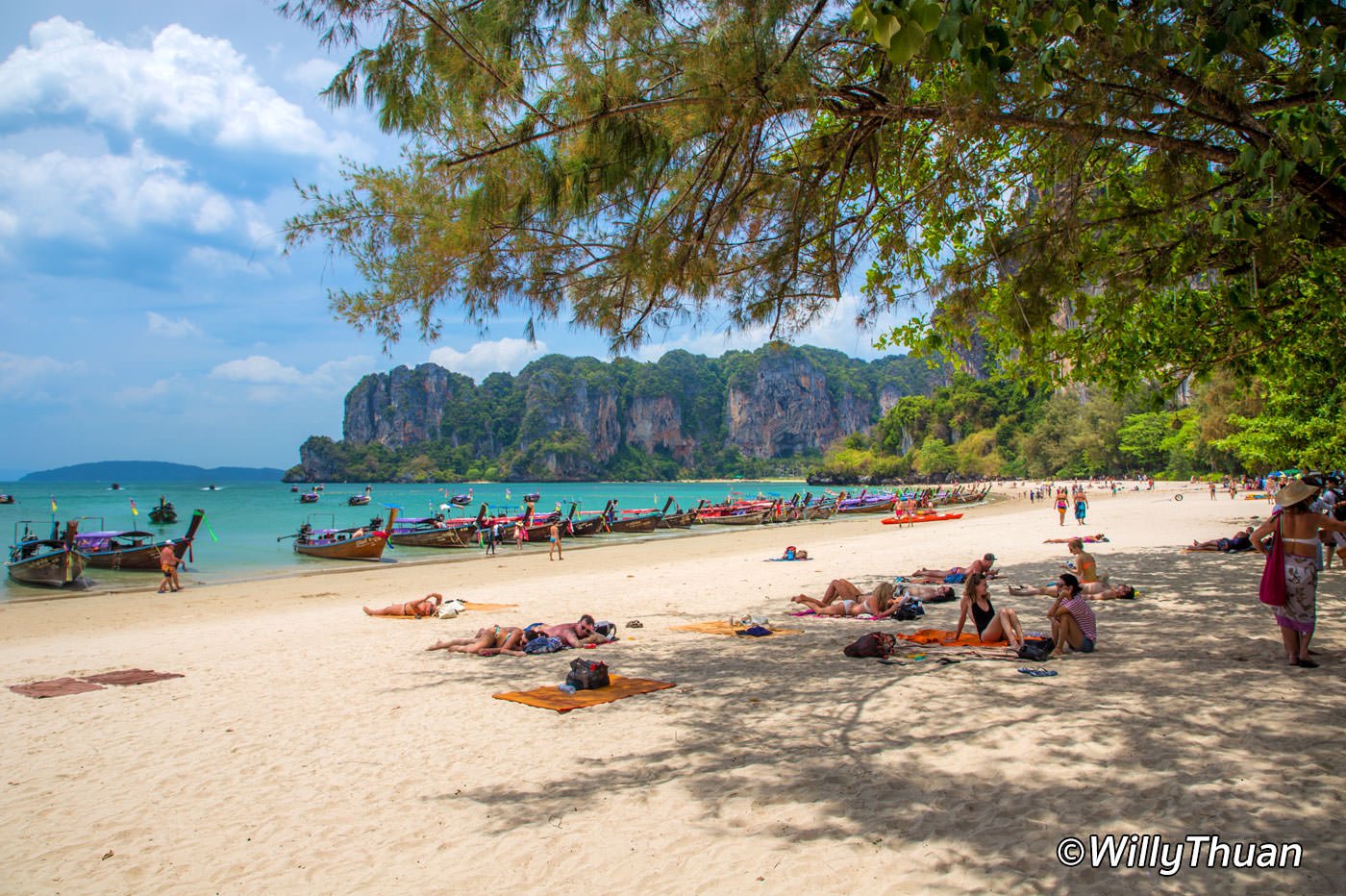 Railay West is where your boat will drop you from Ao Nang. It's a vast and beautiful beach with incredibly soft sand, surrounded by majestic limestone cliffs. All along this immense beach are hotels, bars and restaurants. This is probably where you should pick your hotel if you choose to sleep over. Most restaurants and bars have very welcoming terraces overlooking the bay, so picking one for lunch is easy. Don't expect to find local Thai food here, though; it's quite average.
Phuket 101 receives 250,000 monthly visitors on average (500,000 pageviews/month).
If you wish to advertise on this space or other options available on Phuket 101, just contact us.
Railay East
Railay East is not a beach; it's a muddy mangrove lined by a narrow concrete path that sometimes barely allows 2 people to walk side by side. There are some new attractive hotels on this side of the bay, but you need to know that there is no sand here, just mud and mangrove. The place often smells of mud or garbage. This bay has a few bars, restaurants and shops. Anyway, the beach is never far: the alleys that connect Railay East to Railay West are very short, so it doesn't matter where you stay. Most of the rooms in Railay don't have any sea view rooms.
Phra Nang Beach
Phra Nang is a narrow but scenic beach with an immense limestone rock standing tall. The famous Phra Nang cave is also located in this beautiful crescent of soft white sand. There are no shops, bars or restaurants on this beach as the exclusive Rayavadee Resort entirely occupies it. Resourceful businesses found a smart solution: a few longtail boats converted into floating bars spend the day anchored on the beach, selling all kinds of beer, soft drinks and fruit juices.
Phra Nang Cave
Phra Nang Cave is famous for sheltering hundred of phallic wood artefacts brought here by fishermen for good fortune (apparently, Phra Nang was an Indian princess who died in a shipwreck or the wife of a fisherman who died at sea). The cave is not very large nor deep, but there is always a crowd taking photos and selfies (slightly disrespectful to plain obscene). Swimming in the shade of the karst cliffs seems to be the next popular thing to do next to the cave.
How to Get to Railay Beach?
You need to catch a longtail boat from Ao Nang Beach. The price per person for a return ticket is 200 baht. You will spot the signboards or the booth selling tickets very easily along Ao Nang beach, so it's no worries. The boats leave when there are 10 passengers on board. This is valid both ways. Usually, you won't have to wait too long for the boat to fill.
Railay is now a small touristic village that reminds a bit of Phi Phi Island. Lots of small mid-range hotels occupy the beachfront of Railay West. However, if you want to experience something a little more sophisticated (and, of course, more expensive), try the Rayavadee Resort on Phra Nang Beach. Rayavadee is also famous for its 'dinner in a beach cave'. Staying overnight is a great way to see a different Railay and have the beaches for yourself without the day trip crowds.
View Railay Hotels on Map
What to Do in Railay?
On the beaches, you can rent kayaks and stand-up paddleboards. These are a great easy way to gently glide around the limestone cliffs and get different photos. After snorkelling, rock climbing is probably the most popular activity. With immense vertical limestone cliffs overlooking incredible turquoise sea panoramas, rock climbing is particularly rewarding. Climbing schools are well-equipped, well-trained and very affordable. Weirdly we also found a shooting range, but we didn't go in to see how this works.
Shopping in Railay
There are many convenience stores where you will find all those daily travel things you forgot and beers and drinks at a lower price than bars. Also, convenience stores are known to have the best air con system in Thailand since they realized that people often would just come in to cool down, and well, since you are here, how about ice cream?
You will find a couple of clinics, ATMs, tattoo shops, tailors and a shooting range! In addition, there are a lot of tour counters selling all kinds of activities and day trips tours. Tours usually include the 4 must-see islands nearby: Koh Poda, Koh Kai and its iconic chicken head shape.
You will find lots of bars and beach restaurants serving a tourist version of Thai food everywhere. However, once you pick a restaurant for your lunch or dinner, remember that life moves slower in Krabi, and it might take a long time before you get served.
Strangely there are a lot of Reggae bars, just like any tourist destination in Thailand. Reggae bars and tropical beaches can't live separately. I wonder if bars say 'Thai Bar' in the Caribbean islands.
Railay Beach Photos
Railay Beaches Map