---
A small paradise island near Phuket
---
Rang Yai Island is an unexpected little paradise just 5 km away or a 20 min ride from the east coast of Phuket Island. It is not a secret beach since it is part of some tour packages, but most individual travellers often forget it even exists. We decided to revisit Rang Yai Island to see if it was as beautiful as in our memory, and to our surprise, it was even more than the first time.
---
How to get there
We decided to leave a little early to have the island for ourselves and reached the Laem Hin pier around 9 am. Here you can book a longtail boat from the small tour office in front of the pier or try your bargaining skills directly with the longtail drivers standing near their boat. We picked the official ticket at 2,500 baht for the whole boat and the duration of our choice.
The good thing with the official ticket is that it comes in insurance (you don't need insurance until the day you need one), but most importantly, it guarantees that your pilot will be standing by on the beach at all times, allowing you to go back to Phuket whenever you feel like. The whole thing took 10 minutes, and we soon embarked on our private longtail boat.
The day was splendid, and the 20 minutes ride went smooth and enjoyable, with a superb blue sky over the small islands. We could even see the cliffs of Phang Nga Bay, reflecting the sun in the back. You first glide past Coconut Island (Koh Maphrao) and get a glimpse of the only hotel on this island. It does look inviting, and we might stay and review it one day, but we were hoping that people who chose to stay at this resort for their holiday are aware it was on its island, making access to Phuket beaches and nightlife quite tricky.
Soon we approached Rang Yai island, and to our relief, there was just another longtail boat delivering the restaurant supplies. Our pilot gently parked his boat on the beach and installed a small ladder to help us disembark.
Phuket 101 receives 250,000 monthly visitors on average (500,000 pageviews/month).
If you wish to advertise on this space or other options available on Phuket 101, just contact us.
The Island
And there we were! All alone on a paradise beach with white sand, lined with coconut trees and, most importantly, a very clear blue water as warm as a bathtub! The island is small with a U shape and a beach on each side. The landing beach is the most beautiful and has beach chairs, a restaurant and because Rang Yai is home to a famous pearl farm, and a pearl shop.
The restaurant only opens at 11 am, but the staff were happy to give us bottled water until then. We explored this gorgeous tropical island and walked to the end of the beach. You can see Rang Noi, a small island with a private hotel. The idea of a private island sounds tempting, but since there is no beach on it, it didn't succeed and is somewhat unknown.
You can spend your day swimming, relaxing in one of the many beach loungers in the shade of the trees, or even sitting at the tables of the exotic thatched-roof restaurant.
---
The Restaurant
Update: the restaurant was closed due to COVID
At eleven, we were starving and started to browse the well-illustrated menu. The photos always make it easier to choose as dish descriptions only would make it difficult for most visitors. Our expectation about food was not very high since it addresses entirely to tourists, but we were wrong, and the food was delicious. We ordered deep-fried fish, Yum Woon Sen (spicy seafood salad) and barbecued squid. The view of the blue sea, the green palm trees and the wooden restaurant with a thatched roof create a holiday atmosphere.
The Pearl Shop
We took the time to visit the pearl shop, which was also a pleasant surprise. The choice is vast, and the prices are reasonable. Of course, each pearl's colour and quality define the price, but the selection is extensive, and everyone can find something for their budget, even small. The staff is friendly and helpful, never pushy.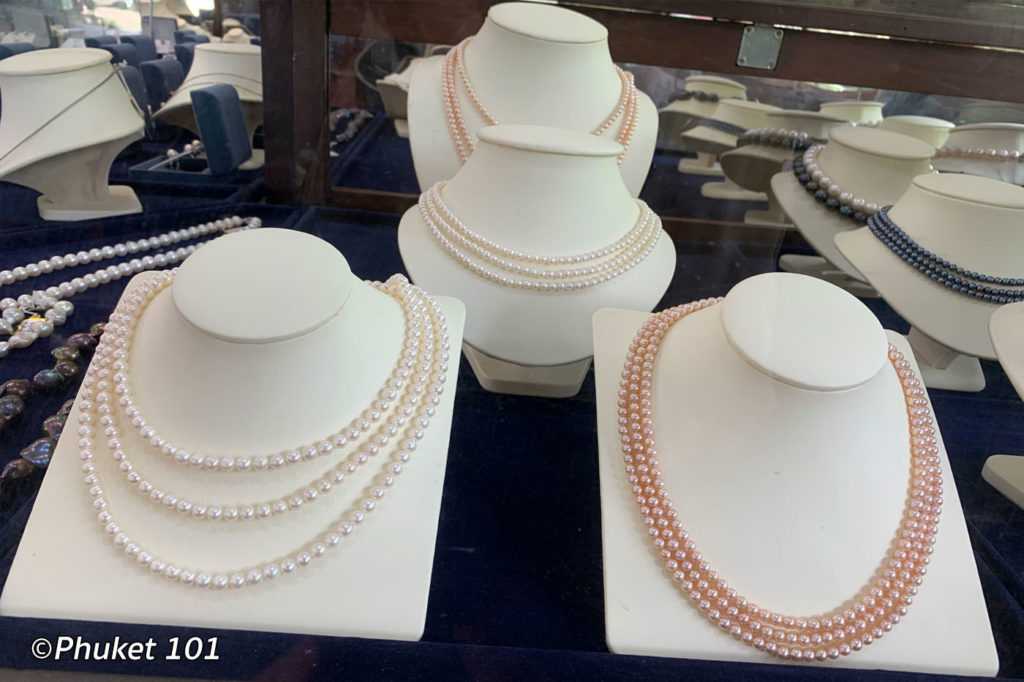 ---
Returning to Phuket.
In the afternoon, as clouds approached, we walked back to our boat, and our pilot was there, waiting for us as promised. It was a very well-spent Sunday. Just remember that tourists usually arrive around lunchtime, and while they might not be noisy, arriving early on Rang Yai is a great idea to have the whole island for yourself.
---
Rang Yai Island Photos
---
Rang Yai Island Map
---
More reading
---
Frequently asked questions about Rang Yai Island
✳️ How far is Rang Yai island from Phuket?
Rang Yai Island is 5 km from Phuket east coast, 15 minutes by longtail boat.
✳️ How do I get to Rang Yai?
You can just show up at Laem Hin Pier and get a longtail boat, or book a tour with a travel agent in the streets or your hotel reception.
✳️ What is there to do on Rang Yai Island?
You can enjoy swimming, sunbathing, snorkelling, lunch at the local restaurant and even shop at the pearl shop.
✳️ How big is Rang Yai Island?
Rang Yai consists of 2 islands. Rang Yai and Rang Noi. Rang Yai is 110 acres in size.