Peranakan Phuket Museum
The Peranakan Phuket Museum is a surprisingly interesting and beautiful display on Thepkasattri road, far away from Phuket town on the way to Phuket Airport and opposite Home Pro. Most people don't add museums to their list of 'Things To Do in Phuket' but in case of rain and if you are in the Thalang area you can visit this new museum.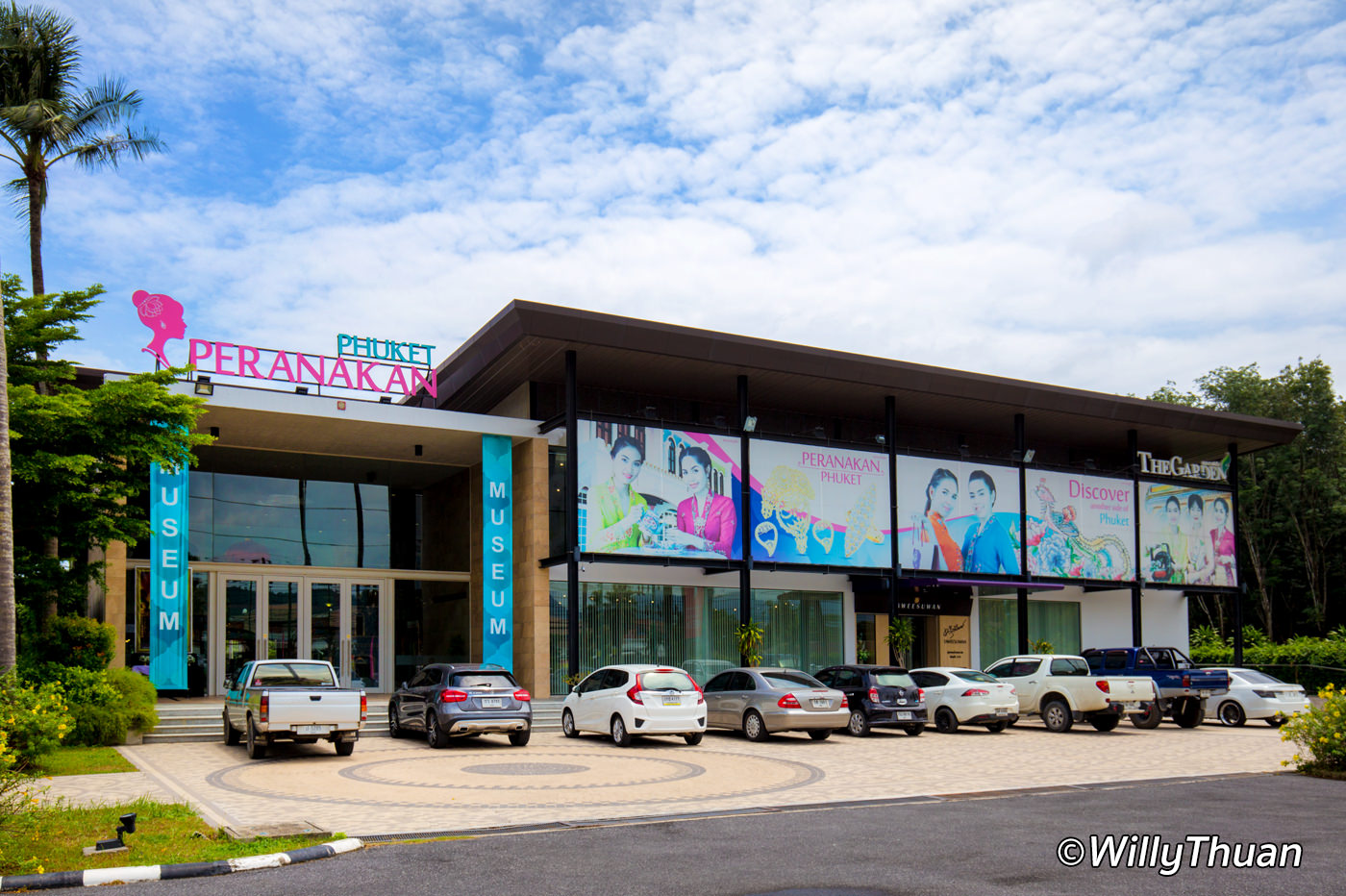 The Peranakan Phuket Museum is set in a large modern building so don't expect an old heritage house like the other small and rather elusive Peranakan museum in Phuket town. In addition to a quite large exhibit, this new museum also features a restaurant, a cafe and a large jewellery shop. The museum was an initiative of the owners of the shop, all of Peranakan descent, to share the fascinating history that shaped the Old Phuket Town.
Past the glass door of this modern building, the lobby transforms into an old Phuket street with a Sino-Portuguese shop-house facades and fun colours. On the ground floor are the Thai restaurants and traditional Peranakan jewellery shop and the ticket counter. Once you got your ticket in hand (unfortunately museum applies double pricing: 200 Baht for Thais and 300 Baht for foreigners), a young man speaking a good English walks you upstairs where the museum itself is located.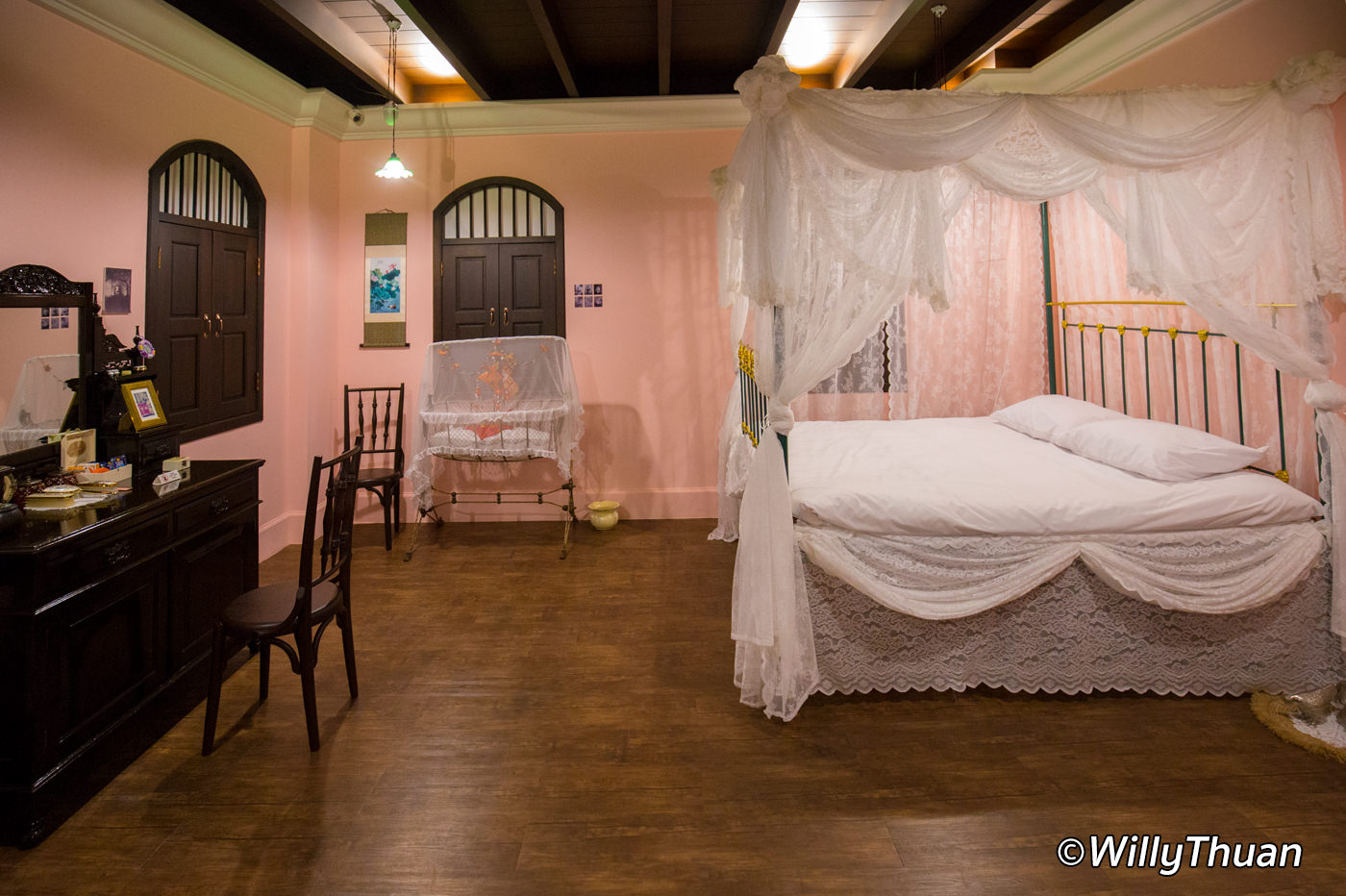 Displays range from short movie projections to illustrated panels describing the difference between several Sino-Portuguese types shop-houses in Thalang Road and Dibuk Road, in the historical centre of Old Phuket Town. That part was actually surprisingly interesting as we often think all the shop-houses we see in Phuket town are just the same. Further, a couple of miniature models of Phuket historical streets and typical houses offer a glimpse of the interior. Apparently the elongated layout of a shop-house is compared to a dragon with the head and the tail.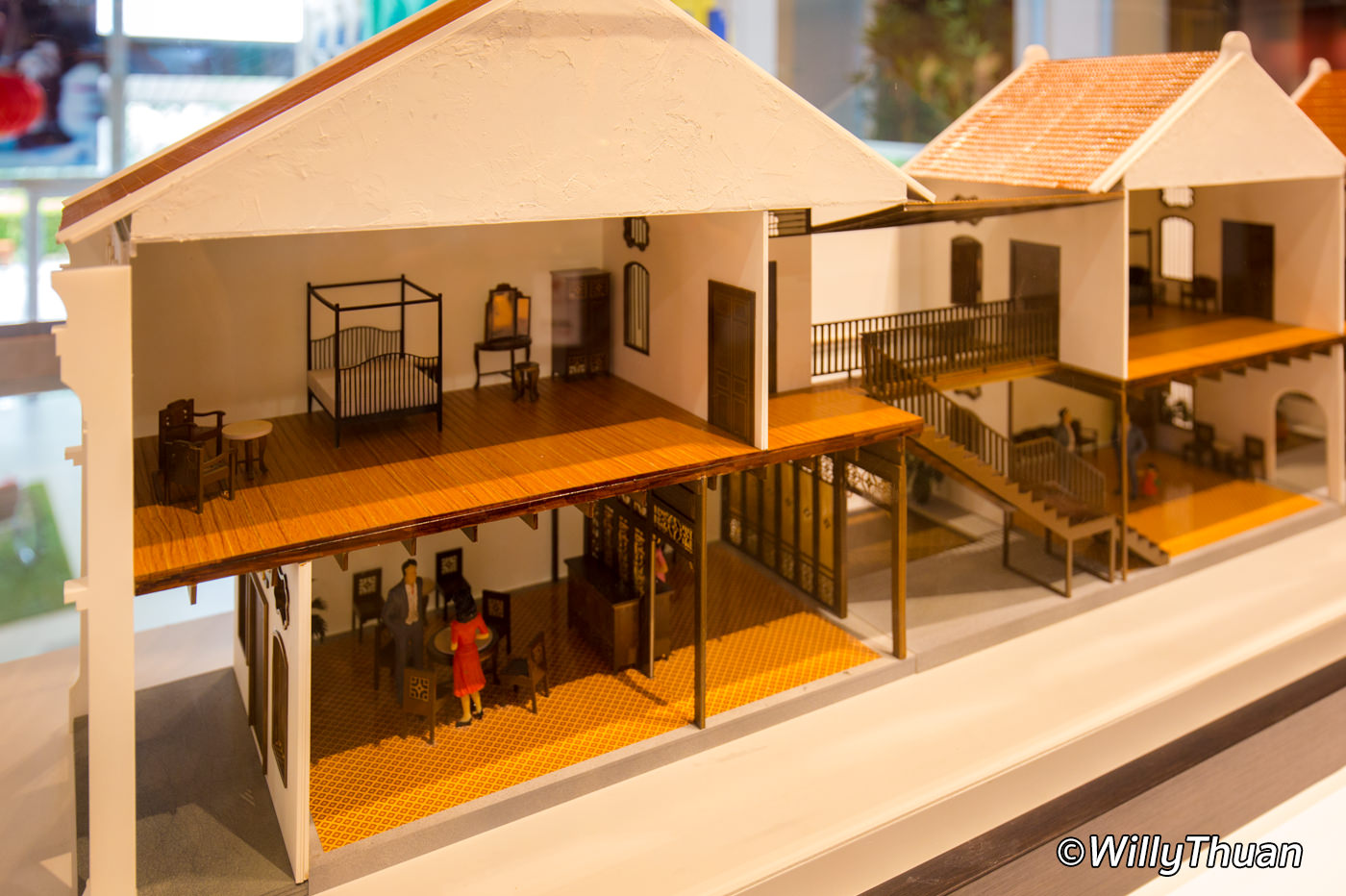 All is well explained and questions answered by the guide. You will learn how the Peranakan originally came to Phuket several centuries ago and that Peranakan is a word derived from a Malaysian word "Anak" meaning 'child', where "Peranakan" means 'child of a foreign man and local woman'.
Further a set of life-size old fashion shops and houses exhibiting traditional furniture is a photo opportunity. Another room is dedicated to the art of crafting those superb intricate Peranakan jewellery used in the Baba culture, especially for weddings and other celebrations. The workshop gives a chance to see what tools were used at the time. Two more rooms are dedicated to a series of beautiful and colourful Baba outfits.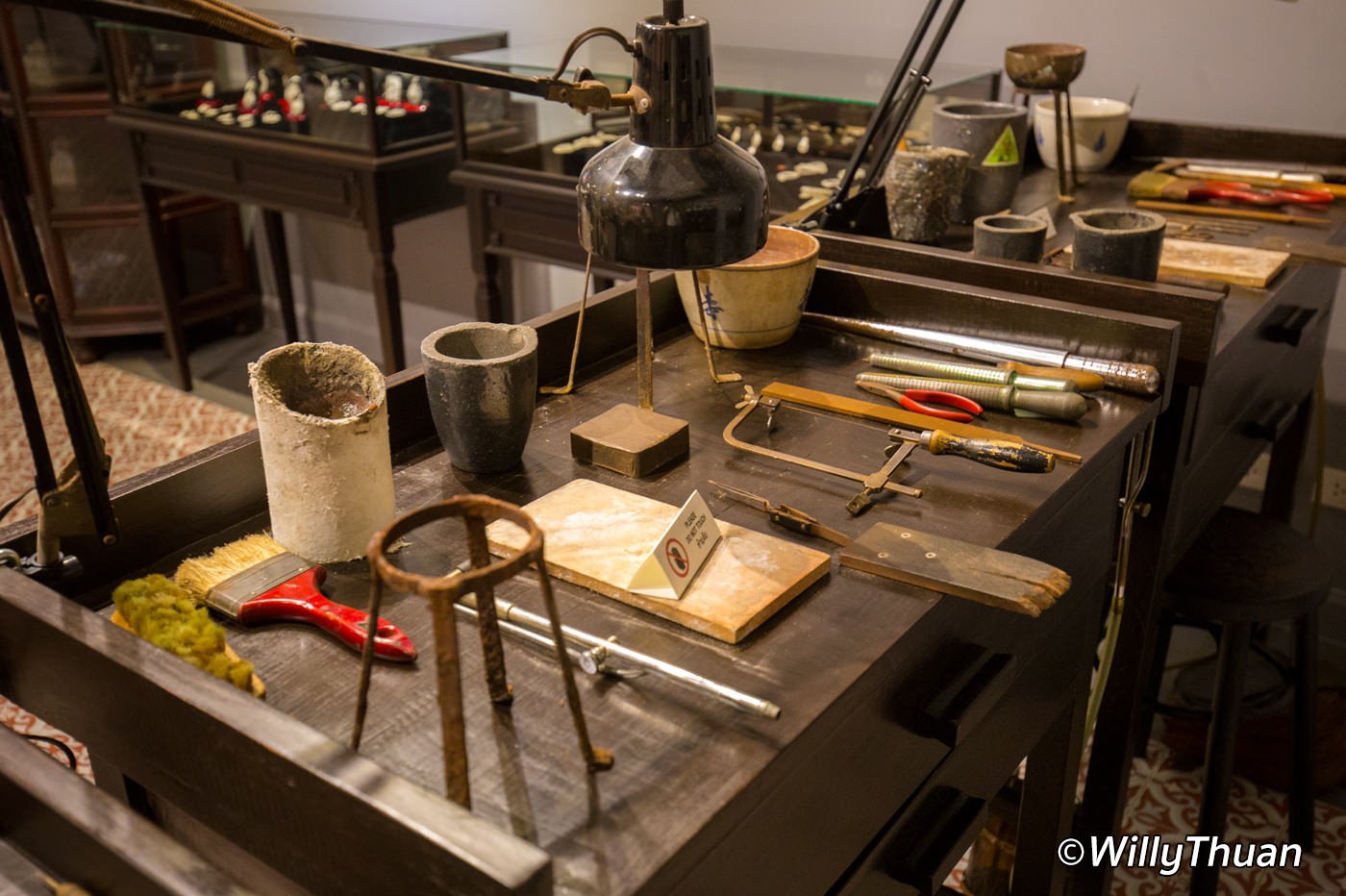 Once your visit is complete you will be invited to have a look at the jewellery shop. Of course this is the real purpose of the museum but you will not be pressured nor have the feeling that you should buy something. Just admire the craftsmanship, you will be surprised.
Don't forget to enjoy lunch at the Yaya Restaurant which serves a good typical Phuket cuisine and is not expensive. A chance to discover some dishes only available in Phuket.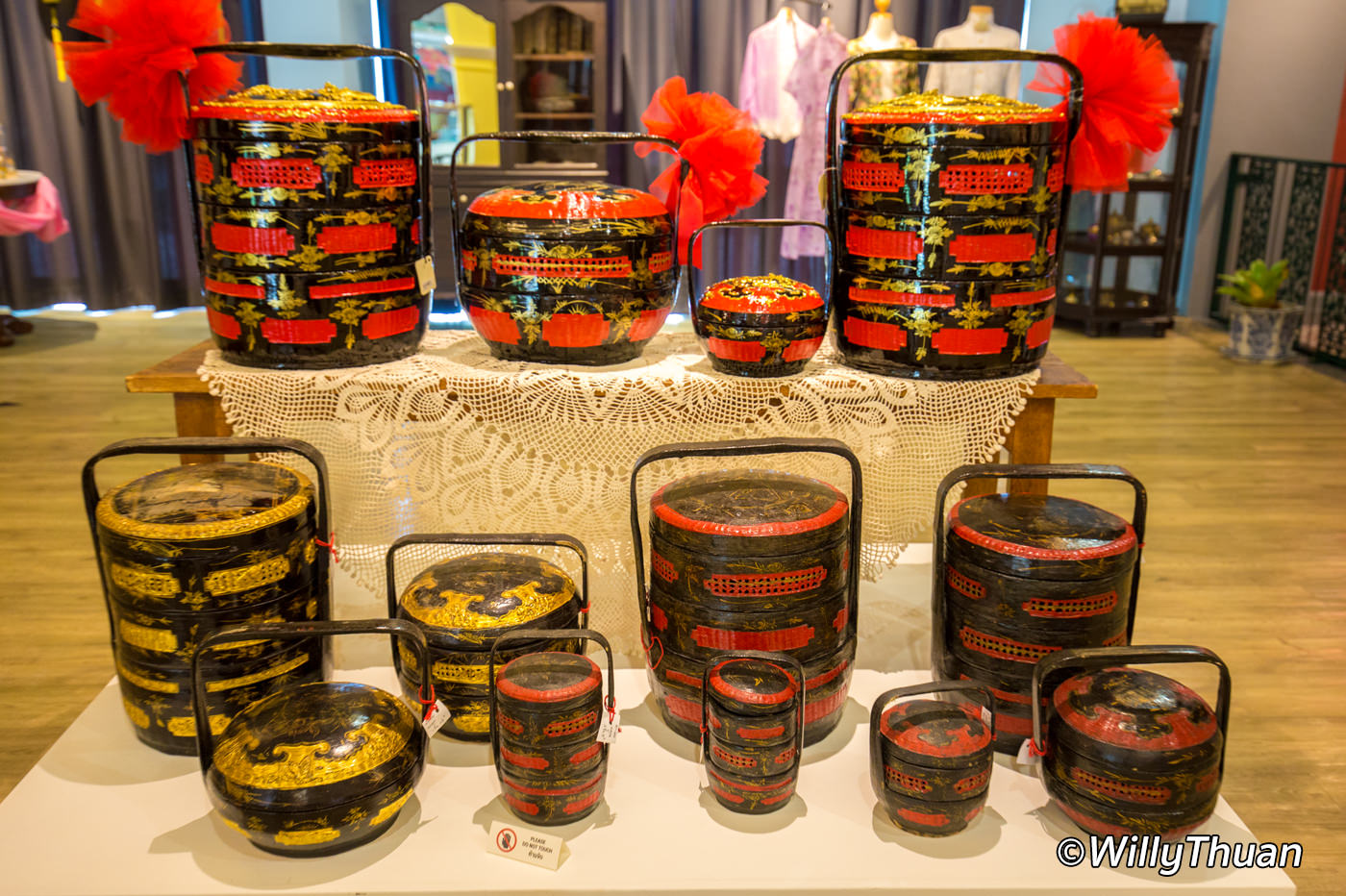 Overall this museum is a pleasant surprise if you happen to drive around this area and have time to discover a bit of the interesting Phuket history that is too often overlooked.
---
More photos
---
Peranakan Phuket Museum Info
Location: On the way to the airport
Address: 124/1 Moo 1, Sri Soonthorn, Thalang, Phuket 83110
Open: 9 am – 6 pm
Phone: 076 313 556
Price: 200 Baht for Thais, 300 Baht for foreigners
---
Peranakan Phuket Museum map