Staying in a heritage hotel in Phuket
Looking for a Heritage Hotel in Phuket Town? Phuket is home to some impressive heritage houses and historical sites dating back to its thriving tin mining days in the 1800s. Some of the shophouses and mansions built by Phuket high-society families and merchants a century ago have now been thoughtfully restored and converted into guesthouses, boutique shops and cafes.
For those looking for Phuket accommodation with some vintage character and retro charm, here are some of the best heritage hotels and guesthouses we've found. All of these are in or near Phuket Town.
---
---
Once a dingy dirt-cheap place to stay, the On On Hotel emerged like a butterfly from an extensive renovation some years ago as an attractive retro-chic hotel. Set in the heart of Phuket Old Town, it has mostly private rooms, but there's also dormitory accommodation with a shared kitchen and living area.
The hotel has refreshed its original Sino-Portuguese look with a lobby area featuring an open courtyard, vintage photographs and antique items like a stately gramophone. It's an ideal place to soak up some Old Town ambience, with sights like Sang Tham (Serene Light) Shrine and the Sunday Lard Yai street market nearby.
(PS, if you want to see what the On On used to look like, then watch "The Beach" movie, where it made an appearance on screen as the guesthouse where Leonardo DiCaprio had a dismal night's stay). Read more
Room rates: Private rooms start from about 1,200 baht
Location: 19 Phangnga Road, Talad Yai, Muang, Phuket 83000
Phone: 076 363 700
Phuket 101 receives 250,000 monthly visitors on average (500,000 pageviews/month).
If you wish to advertise on this space or other options available on Phuket 101, just contact us.
Hotel Verdigris, nestled in the heart of Old Phuket Town on Yaowarat Road, offers a unique and intimate experience. Inspired by the enigmatic Martina Rozells, a historical figure from the 18th century, the boutique hotel is thoughtfully designed by its young owner. With a prime location and a blend of historical charm and modern comforts, Hotel Verdigris is a remarkable gem in Phuket, providing guests with a memorable stay that reflects the rich heritage of the area. Read more
---
---
Address: 154 Yaowarat Rd, Tambon Talat Yai, Amphoe Mueang Phuket, Chang Wat Phuket 83000
Phone: 076 530 629
Bookings: See the rates
---
---
There are some lovely old Sino-Portuguese mansions around Phuket Town; sadly, some of them have been left to crumble for unknown reasons. In early 2019, one such 80 years old mansion was restored and converted into a new hotel called Sound Gallery House.
Sound Gallery offers a mix of private rooms and dormitories and an elegant lobby area with a grand piano, keeping with the music theme. It's a bit of a distance to the central downtown area of Phuket Town, but the historical sights of the Baan Chinpracha mansion and Thai Hua Museum are less than a 10-minute walk away.
Room rates: Starting from 1,800 baht for private rooms
Address: 33/6 Vichit Songkhram Road, Talad Neua, Muang, Phuket 83000
Phone: 076 608 854
---
---
Casa Blanca's whitewashed façade and baskets of bougainvillaea flowers give it a fresh, inviting look before you even step inside. This 17-room hotel offers a cosy place to stay with bright, well-furnished rooms and a small shared swimming pool.
Thoughtful details include large bouquets in the lobby area and rooms with unique colour schemes and artwork. The café on-site offers breakfasts and simple meals, while the hotel is surrounded by many of the excellent local Thai restaurants and street food that Phuket is famous for.
Location: 26 Phuket Road, Talad Yai, Muang, Phuket 83000
Phone: 076 219 019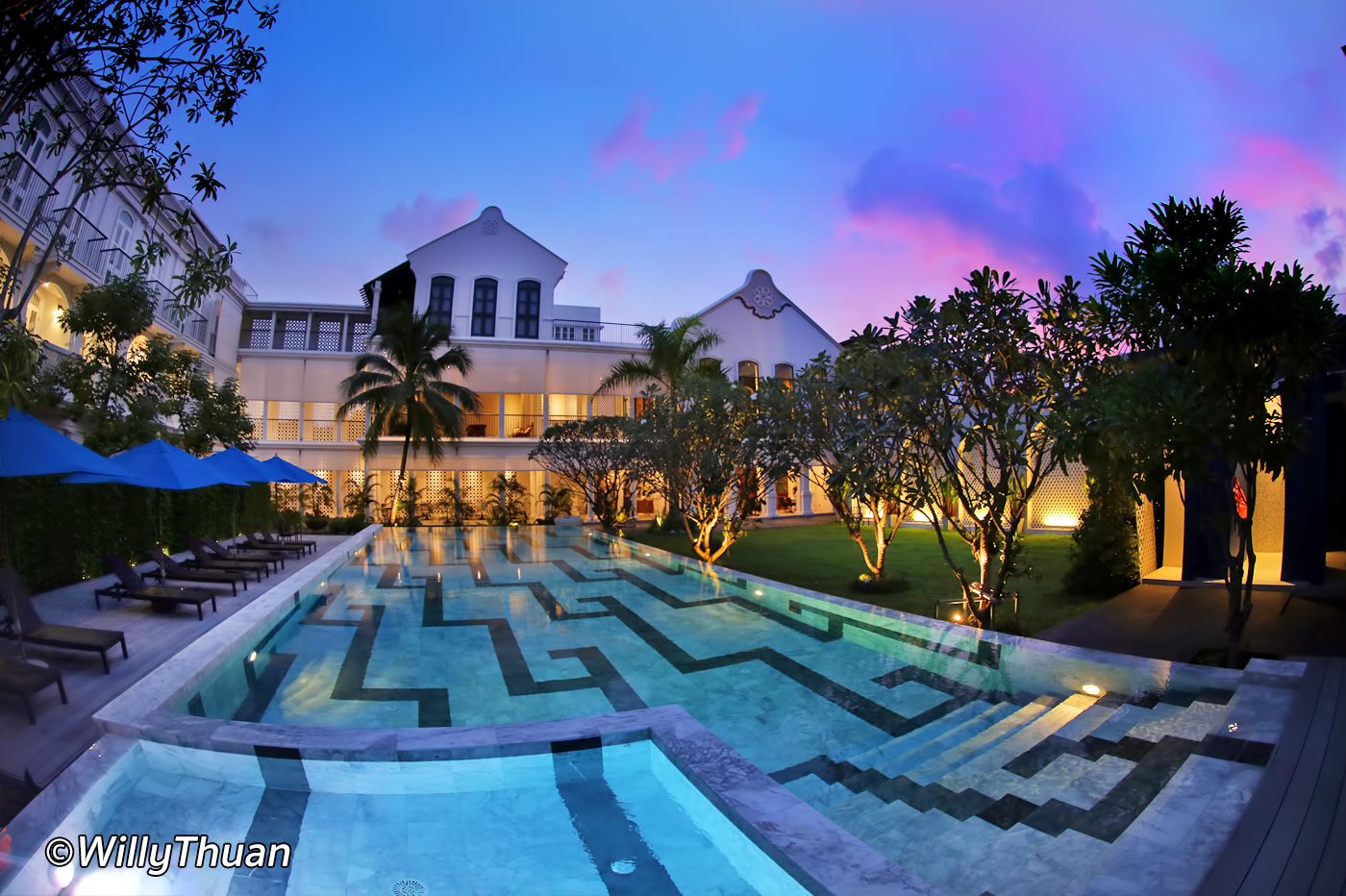 ---
---
Set just southwest of Phuket Town, Little Nyonya is a charming 43-room retreat built by a local family with a long history in Phuket. While it has modern facilities, the hotel features classic Sino-colonial architecture with grand archways, elaborate tiled flooring and intricate carved wooden doors. The building is wrapped around a large swimming pool and terrace, and its lobby and dining areas are open and airy.
The surrounding neighbourhood isn't very attractive, but the location is great if you're planning to do some shopping with the busy Naka weekend market just around the corner and Central Mall a few minutes drive away. Read more
Room rates: Starting from about 1,350 baht
Location: 63/2 Chaofa West Road, Wichit, Muang, Phuket 83000
Phone: 076 355 901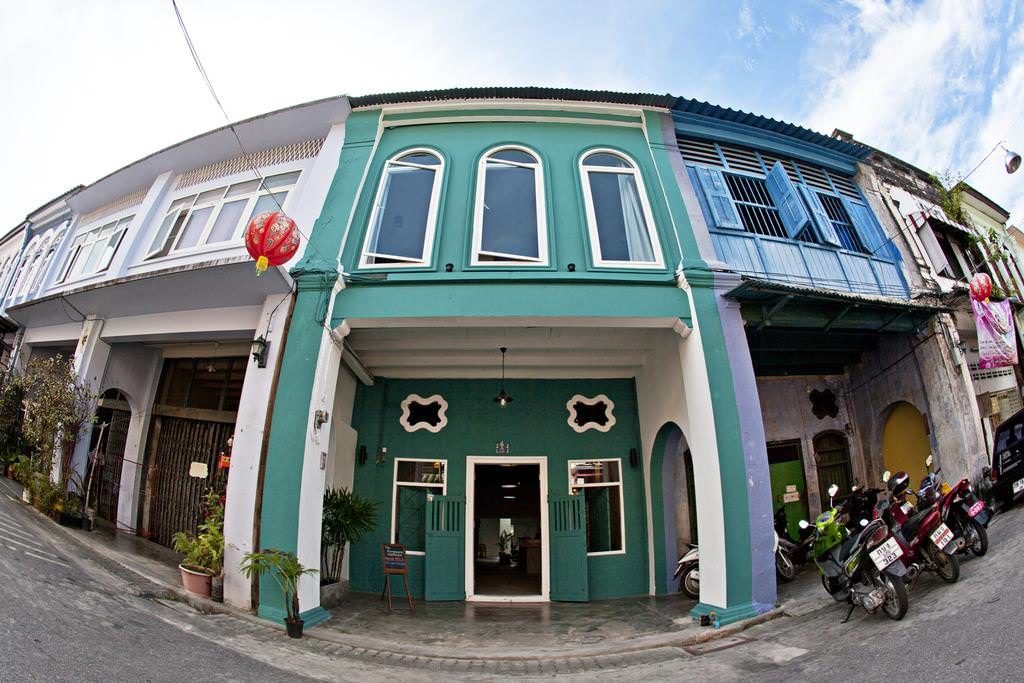 This tiny place with only four guest rooms is found along the colourful Rommanee lane, perfect for those who want to be immersed in the Phuket Old Town scene for a night or two.
The owners saved the shophouse from years of neglect by giving it a big makeover with many personal touches, including local artwork and photographs adorning the walls. Each room is brightly painted, with the two larger rooms at the front overlooking the street. A great spot if you're hoping to spend some time exploring the Old Town streets and markets.
Room rates: Starting from about 750 baht
Location: 15 Soi Rommanee, Thalang Road, Talad Yai, Muang, Phuket 83000
Phone: 076 214 488
Found right on Phuket's historic Thalang Road, the 99 Oldtown guesthouse offers 15 cosy rooms in a restored shophouse. Folding wooden doors lead to a lobby area softly lit with lanterns, giving it a hint of Chinese flair.
They've retained many classic Phuket shophouse features like a koi fish pond and louvred shutters. The rooms are small but well-appointed for the price with a four-poster bed, fridge and small desk. For anyone hoping to wander the Old Town streets and visit the Sunday night market, there are few places better located than 99 Oldtown.
Room rates: Starting from about 650 baht
Location: 99 Thalang Road, Talad Yai, Muang, Phuket 83000
Phone: 081 797 4311
The attention to detail gives this stylish hotel in restored shophouse heaps of added character. The Rommanee Classic's ground floor has a friendly, warm, inviting café with exposed brick walls and retro furnishings. The guest rooms upstairs are bright and thoughtfully decorated with Sino-Portuguese details.
Found right in the Old Town area, there are plenty of good cafes, bars and shops within easy walking distance, and on Sundays, you'll just need to step out the door to be right in the hubbub of the Lard Yai night market.
Room rates: Starting from about 600 baht
Location: 4, 6 Krabi Road, Muang, Phuket 83000
Phone: 089 728 9871
Found in a shophouse that's been made over with a quirky industrial vintage look, Quip adds some fun flavour to the Old Town area. The lobby and cafe is a stylish hangout area packed with eye-catching antiques and accents including a classic car that's been converted into the reception desk.
It's a bit of a trek up a creaky staircase to get to the guest rooms, but if you carry on to the top, you can reward yourself with a drink at the rooftop bar. This would be a great place to stay during the Phuket Vegetarian Festival (unless you don't like noise!), with the lively street processions going right past the guesthouse.
Room rates: Starting from about 800 baht
Location: 54 Phuket Road, Talad Yai, Muang, Phuket 83000
Phone: 084 246 2222
---
This small 21-room hotel sits just outside the Old Town area, but its lemon-yellow exterior is easy to spot. It's a clean and tidy place with bright rooms decorated with dashes of Sino-Portuguese accents like intricate wall panels. There's a small furnished area on the rooftop where you can relax and enjoy some views over the town.
OYO doesn't have a restaurant, but it's an easy walk away from some of Phuket's great local dining spots like Mee Ton Poe for a steamy bowl of fried Hokkien noodles and the yummy chicken rice shop, Kota Khao Man Gai.
Room rates: Starting from about 650 baht
Location: 89/1-2 Phuket Road, Talad Yai Muang, Phuket 83000
Phone: 076 355 899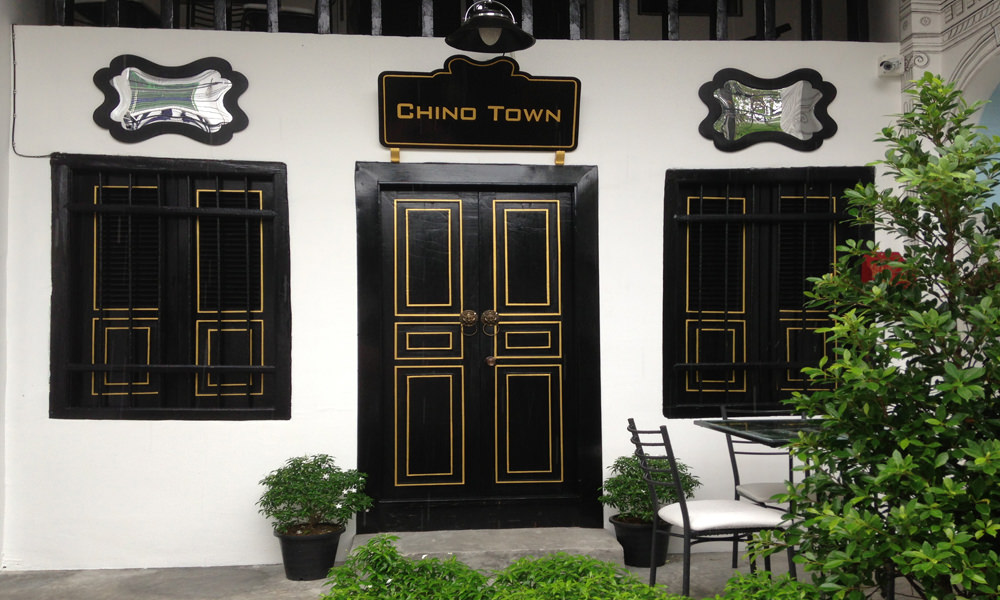 Tucked away behind the Thai Hua Museum, Chino Town Gallery is in a century-old shophouse with plenty of heritage charm. Designed to keep a Sino-colonial flavour, the exterior has a striking black-and-white colour scheme with an elegant double-entry door. Many walls inside feature large murals of the distinctive Old Town architecture.
Chino Town has private rooms and dorms with either four or six beds, which they sell as "family rooms" ideal for a group of travellers on a budget. Many Phuket Old Town sights are an easy walk from here.
Room rates: Starting from about 690 baht for private rooms
Location: 113 Soi Soon U-Thit, Yaowarat Road, Talad Yai, Muang, Phuket 83000
Phone: 076 684 005
---
Your Phuket Town Travel Guide
---
Your Phuket Town Travel Guide
More about Phuket Town
25 Amazing Sino Portuguese Heritage Houses and Mansions in Phuket
Phuket Vegetarian Festival 2023 – October 15th to October 24th