Shopping for Phuket Specialties
Had enough tourist food and want to try real Phuket specialities? When visiting Phuket Town, if you have a bit of time and are curious about Phuket real local food, you have to stop by Lor Rong Market. This little food place might just look like any others, but is, in fact, a very well known and popular venue for Phuket people and very few long-time residents. I drove many times in front of Lor Rong without paying much attention to it… until recently. I thought it was just a regular Thai food place, so just like many, I just went on.
Once you know about it, food on display looks a lot more interesting. It's not very big and looks very basic, but some of the sweets and dishes prepared here are real specialities and some can't be found anywhere else. People are very friendly and will be very pleased to see you trying the food they are very proud of.
Some Sweets:
Kao Maow Tod
Banana deep fried with a special young rice crumbs coating… very nice but certainly not diet-friendly!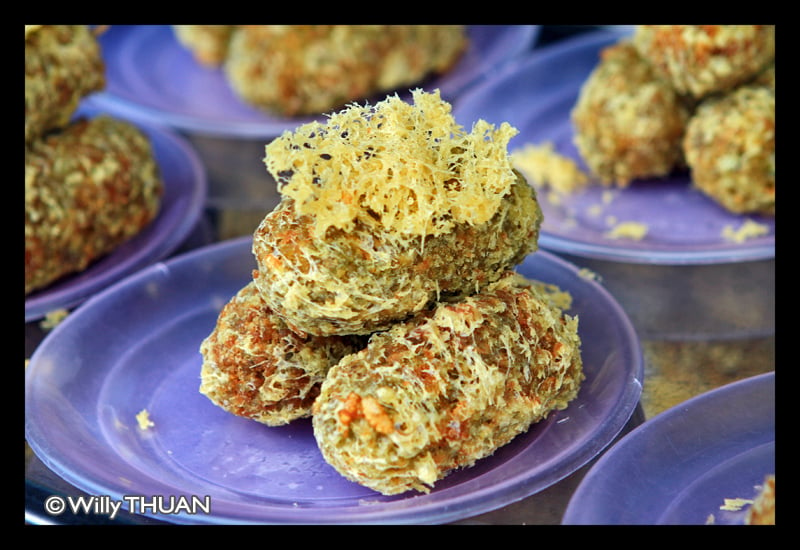 Kanom Krok Phuket Style
Small sweet made with coconut milk and rice flour, cooked in this fun looking pan with little clay lids. Phuket people eat it with sugar.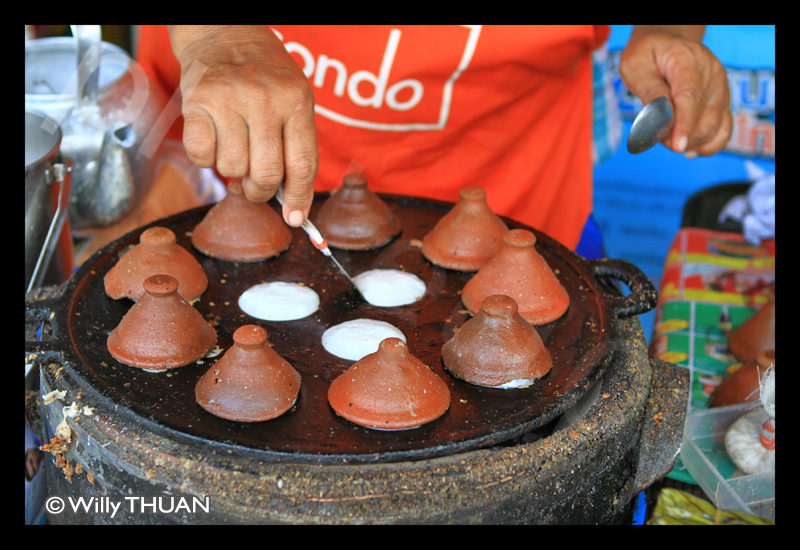 O Eow
Jelly made from banana with shaved ice and syrup.
---
Salty Dishes:
Poh Pia Phuket Style
Fresh spring rolls served with a sweet brown sauce, stuffed with red pork or shrimps, crispy pork, bit of lettuce and turnip.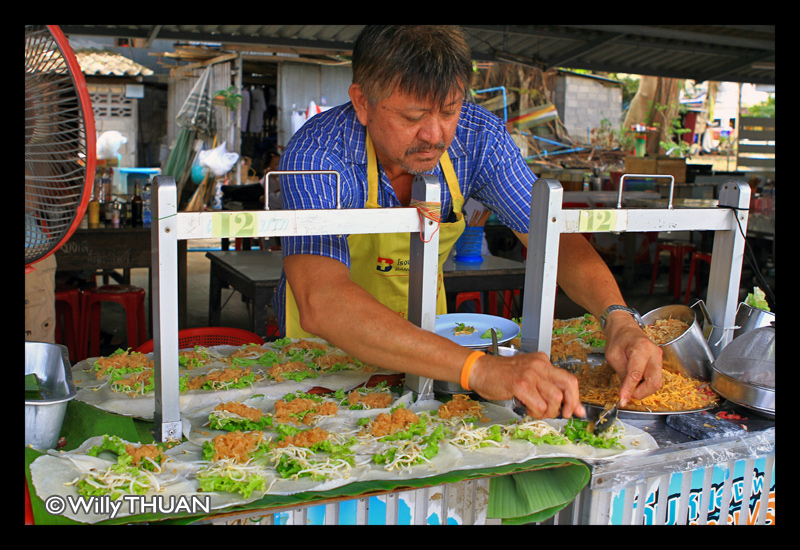 ---
Mee Hoon Kradook Moo
Fried vermicelli topped with fried shallots and spring onion, served with a clear soup and pork ribs. Excellent.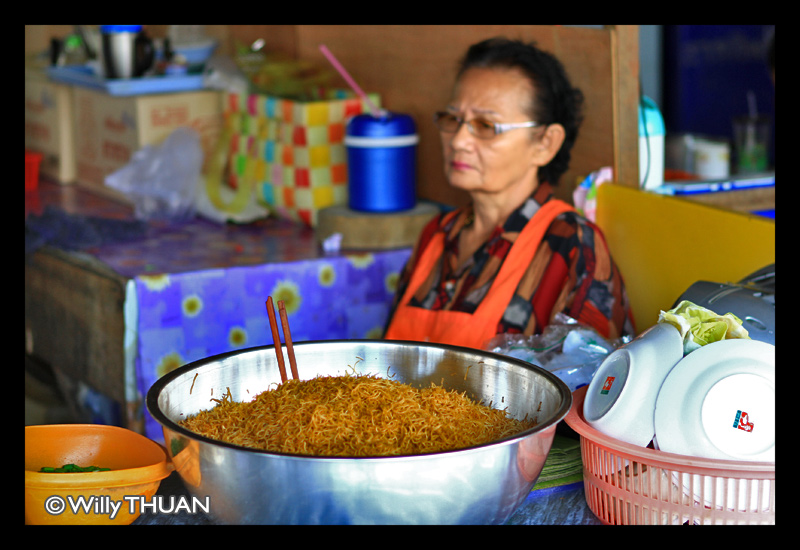 ---
Mee Thai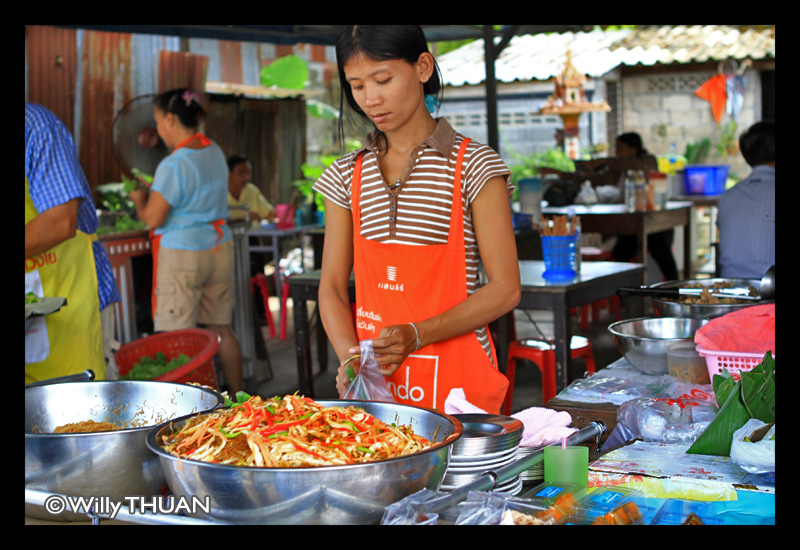 Same as above but with fried with brown sugar and coconut milk, topped with sliced omelette and served without soup. Try it, this is the only place where you can have it!
---
Loba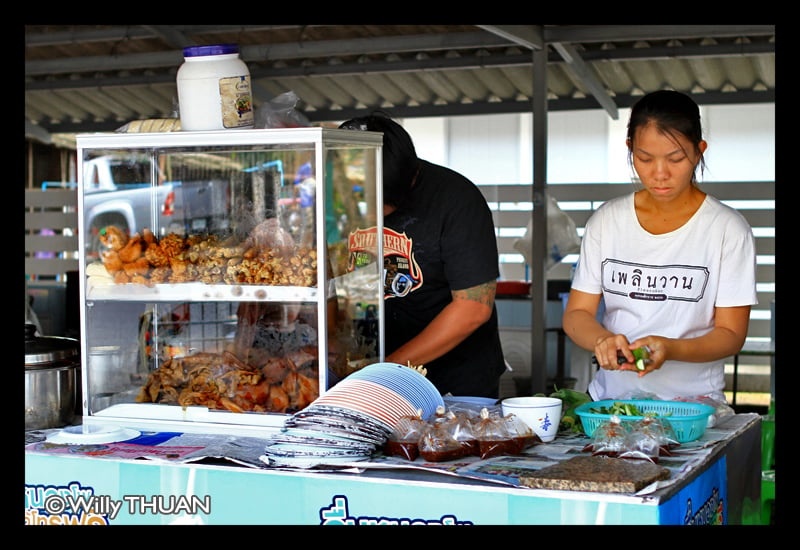 Deep-fried Pork giblets: intestines, ears and fat belly also served with sweet brown sauce and cucumber.
---
Where is the market?
Lor Rong Market is located past the local bus station, after the famous Jui Tui Shrine, on the way leading to Central Festival. If you have your own transportation, it is fairly easy to find. So you should stop over to sample some of these Phuket specialities. If you really can't make it to this area, some of these dishes can also be found in the middle of town at Loktien Restaurant, but it is always more fun to go out of the beaten roads and sit among locals.
---
Lor Rong Market Map