Three Monkeys Restaurant
Three Monkeys is new restaurant set in the Jungle somewhere between Phuket Town and Chalong, part of the popular Hanuman World Zipline attraction. With a beautiful and somehow unusual design, Three Monkeys restaurant has been a success from day 1, attracting a crowd of teenagers and young families. The restaurant is surprisingly large, built on several levels on the side of a hill overlooking Chalong area.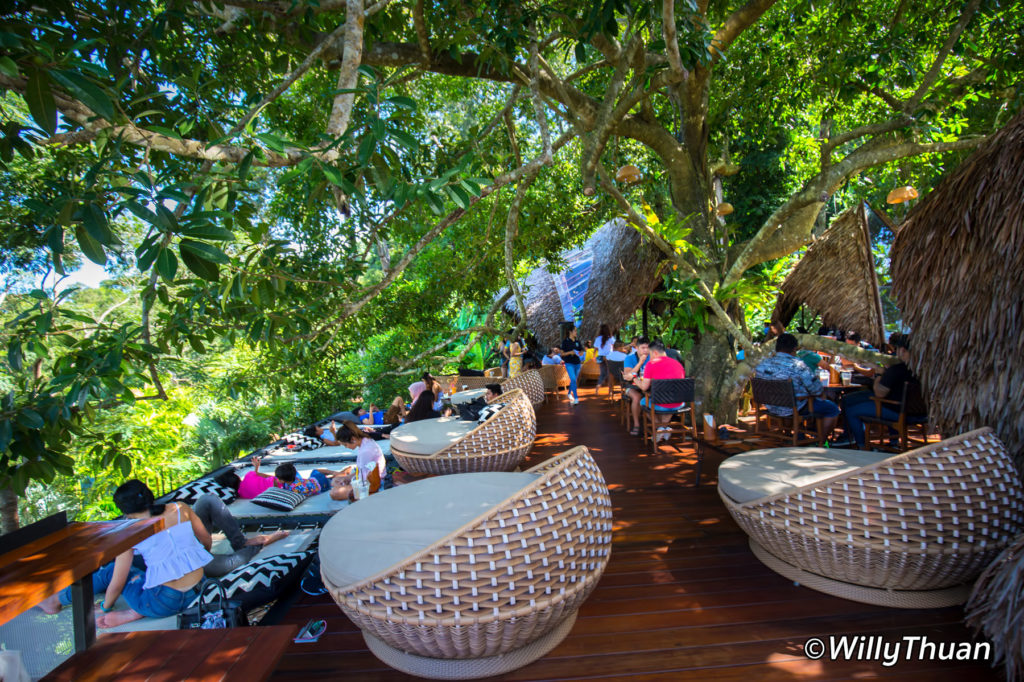 Mostly made of wood, Three Monkeys caught locals attention because of the curved shape of the thatched roof, surrounded by immense trees. During the weekend,the place is a playground for a lot of teenagers and wannabe celebrities who seem to dress up and make up just for the occasion. Wherever you look, people take each other's photo like Instagram's future depending on it. It's actually quite entertaining. So if you can avoid it, don't come on weekends, especially on Sunday. We went there twice and each time there was a 7 tables waiting list in front of ours.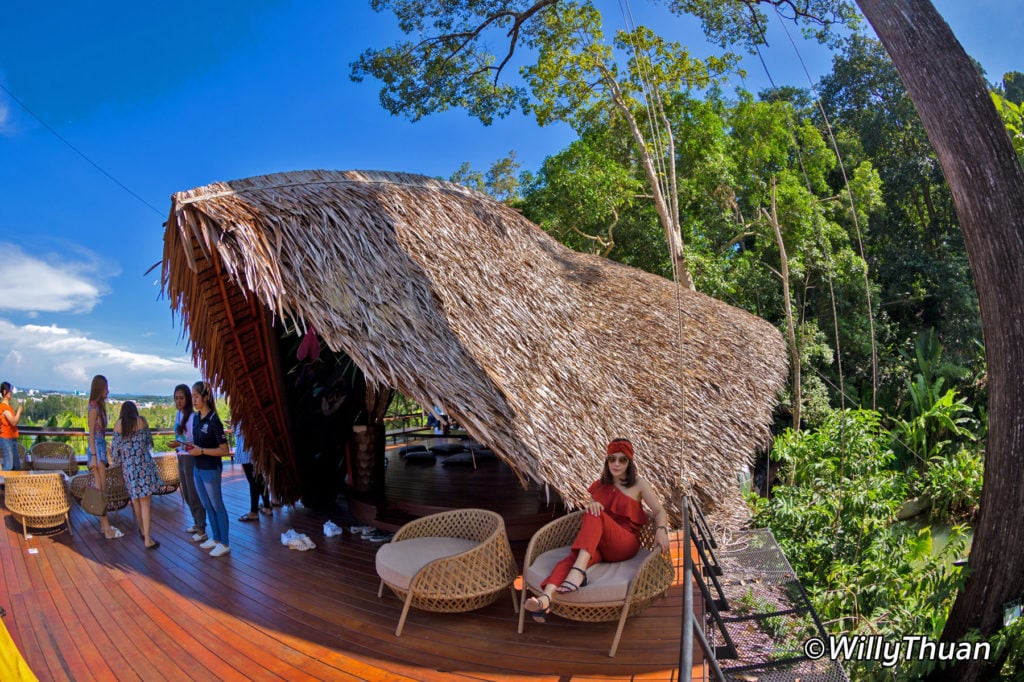 Overall the jungle setting is very pleasant and creative. The main restaurant is on the lower floor and offers air conditioning but it's not really the best part. What you really want is to sit at the top floor under that huge curved thatched roof. There you will sit around low tables directly on the wooden floor and enjoy the view with a nice breeze flowing through. The platform is immense and continues beyond the roof to reach another bar room and ice cream shop. You can also sit at one of the few comfortable sofa or to the delight of kids, lie down on nets suspended above the trees.
What to Eat at Three Monkeys
The restaurant serves mostly Thai food but surprisingly, there is also a Japanese counter. Not a fancy one but with a classic choice of sashimi and sushi to please the local crowd. The Thai food looked more interesting if you travelled that far to discover Thailand.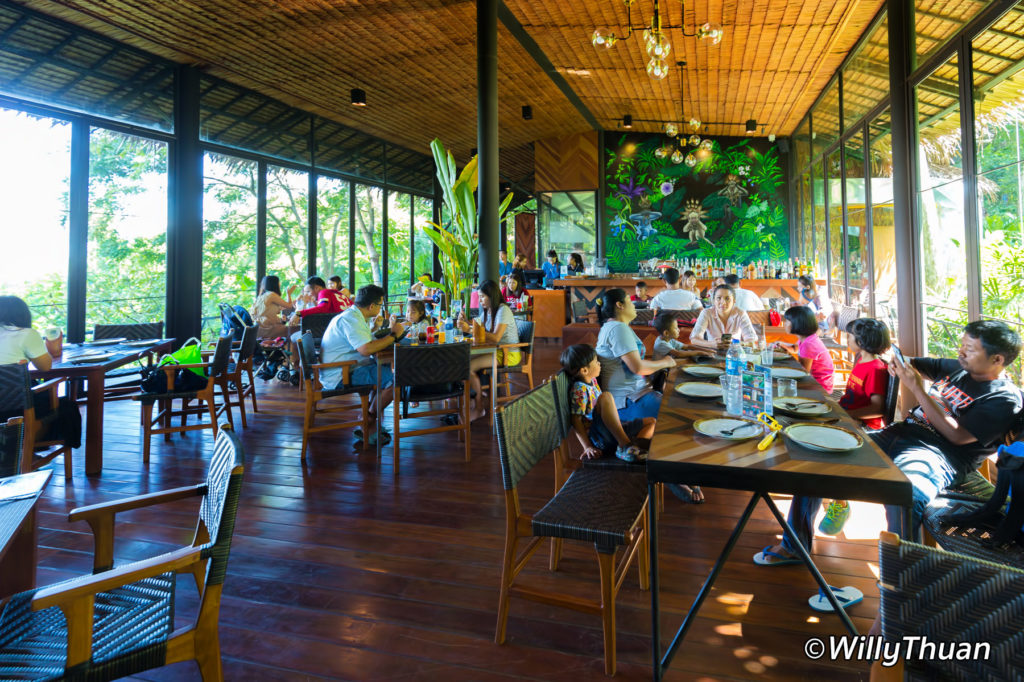 On average dishes cost between 180 baht and 220 Baht, with a few local specialties such as stewed pork belly for 220 Baht, a fried rice with seafood will cost you 150 baht and the classic Tom Yum Seafood at 250 Baht. Soft drinks are 60 baht, beers between 100 and 130 baht and a cocktail (from a long list) 290 baht. Staff is also very friendly and efficient, even during the extreme rush hour we experienced.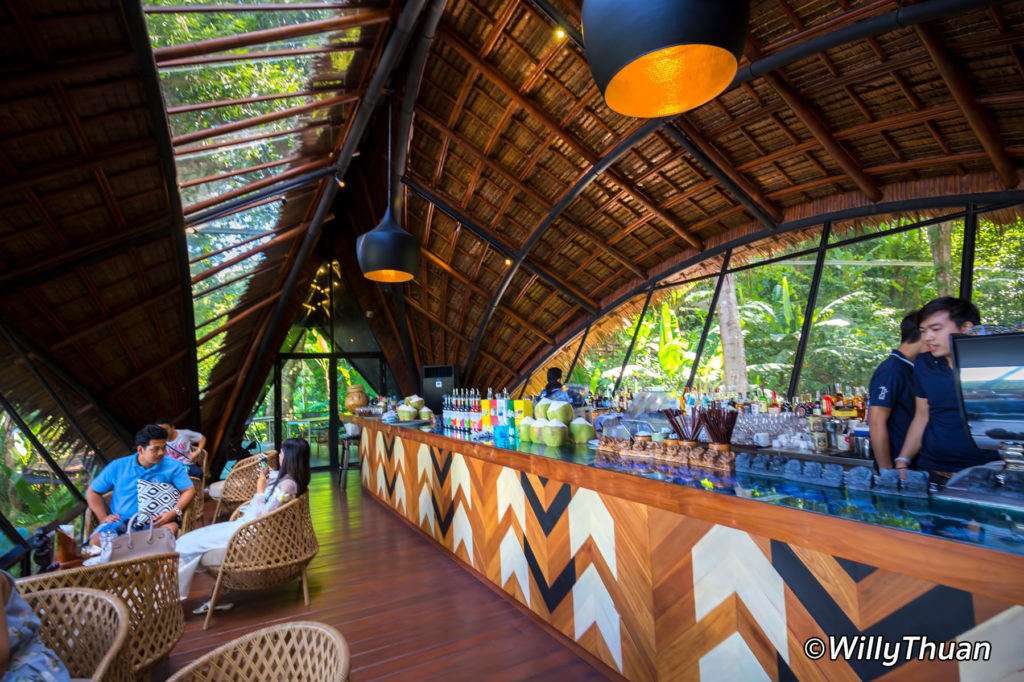 Three Monkeys is a bit out-of-the-way but is worth a stop if you are driving south in the direction of Wat Chalong or even the Big Buddha. Technically it is not so far from The Phuket Weekend Naka Market. (which is not the walking street market).
Just remember to avoid weekends, especially Sundays as the queue can be longer than 30 minutes and reservations are not possible.
More Photos of Three Monkeys
How to Get to Three Monkeys
Location: 105 Moo 4, Muang Chaofa Road, Amphoe Mueang Phuket, Chang Wat Phuket 83000
Open: 8 am – 10 pm
Tel: 098 010 8838
Three Monkeys Map