---
---
Inthanin Naithon is a delightful tiny restaurant hidden on the soft sands of the beautiful Naithon Beach, near Phuket International Airport. The place is hard to find, but it is worth the effort: first, the location right on the beach of the understated Naithon Beach is unique and enjoyable, and secondly, it is near the very popular Naithon staircase that has become so popular on Instagram.
For years we stopped over at Inthanin Naithon for lunch during our photoshoots. It is beautiful, relaxing, and the local Thai food served is really good. This spot is perfect for enjoying lunch while enjoying the beauty of the little known Naithon beach. Too often, people complain that the beaches of Phuket are too busy, and yet they miss entirely the beauty of this immense beach, blessed with incredibly soft sand and clear water (during the high season).
The restaurant is small but beautifully decorated and faces the beach. Guests can sit at one of the many small tables with green table cloths and white chairs on the terrace and the sand. Once seated with a cold drink in hand, the view of the Andaman sea and the surprisingly peaceful beach is so relaxing.
---
The food
During our last visit, the menu was still quite small because covid made it difficult for any restaurant around Phuket. The Thai food was delicious, and the team was friendly, adding to the pleasure of being on holiday in such a unique location.
Here are some of the items on the menu that day:
Pad Pak Miang – healthy local greens sauteed with egg in a traditional style (120 baht), Gaan Som Pla – spicy southern fish curry (150 baht), Gang Kiow Wan Kai – traditional green curry with chicken (150 baht), Pak Boong – morning glory vegetable topped with mushrooms (150 baht), Laarb Pla – an Isaan dish from north Thailand served with sauteed fish (150 baht), Pla Goong – sauteed shrimps with a creamy sauce (150 baht))
---
The Location
Inthanin Naithon is at the very south end of Naithon, an immense but now well-known beach located between Phuket Airport and Bangtao Beach, not far from the hidden Banana Beach. This superb bay has remained surprisingly quiet because it is away from the main roads and from the busy beaches of the southwest of Phuket.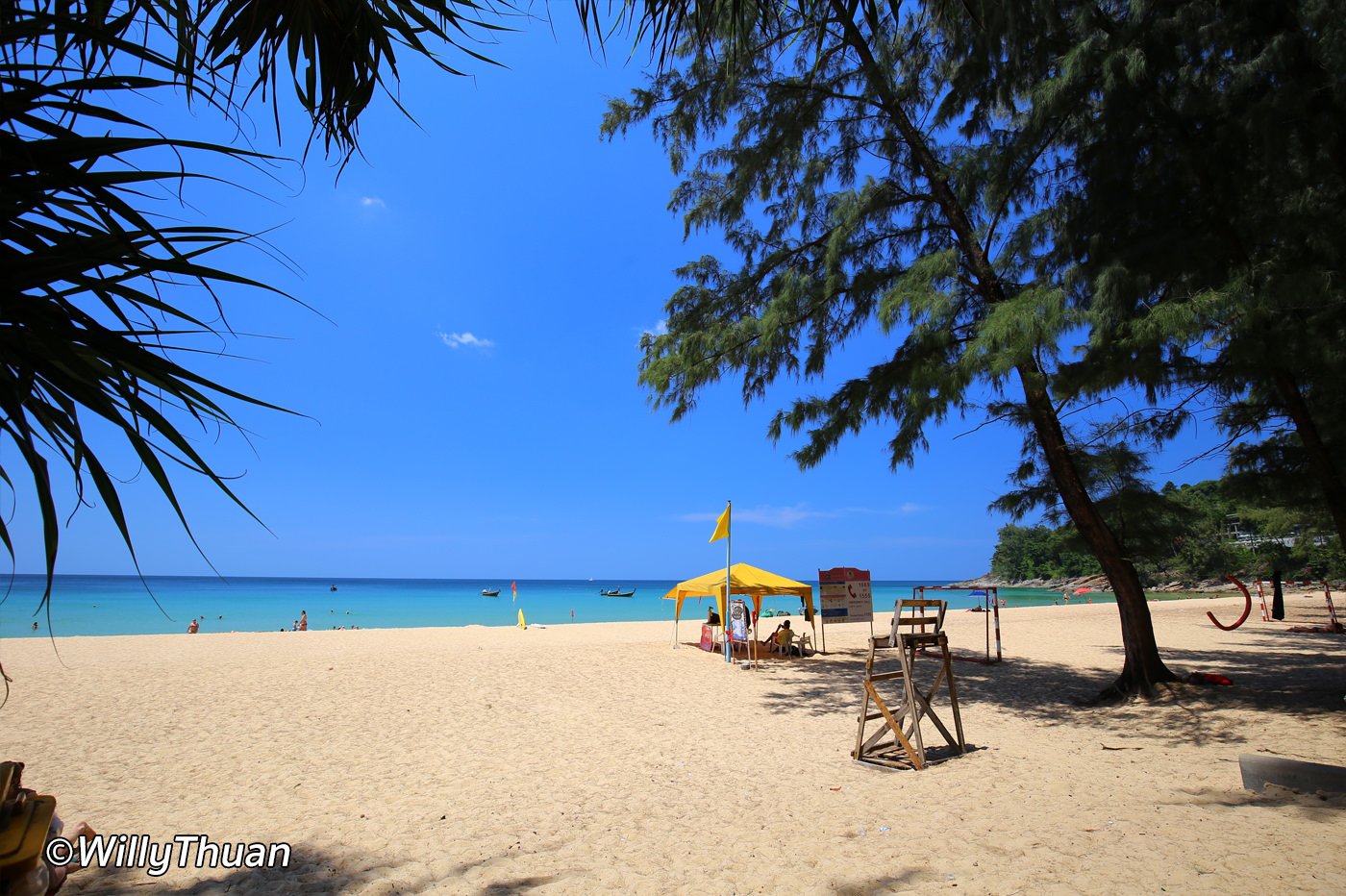 Once you reach Naithon, there are two ways to get to the restaurant. The easiest one is to drive down a short slope and park at the south entrance of Naithon beach. Just opposite of Baan Naithon School. Park and walk to the left; you will soon see the restaurant on the beach.
The second way is to walk down the now famous wooden staircase, turn right and walk past the rock formation. It's a bit longer but so exotic and nice that the Naithon staircase made it to the most popular Instagram spots in Phuket.
---
Inthanin Naithon Photos
---
---
More Restaurants in North Phuket
---
More reading