Best Restaurants on the Beach in Phuket
Eating on the beach at one Phuket beach restaurants is a great way to make the best of your tropical holiday. Thai food is great and cheap, the weather is warm all year round, the sea offers a fantastic backdrop and the sand is so soft under your feet.
In this page we only talk about the restaurants really set on the sand and not the restaurant 'close' to the beach: Our choice is all about having lunch or dinner ON the sand.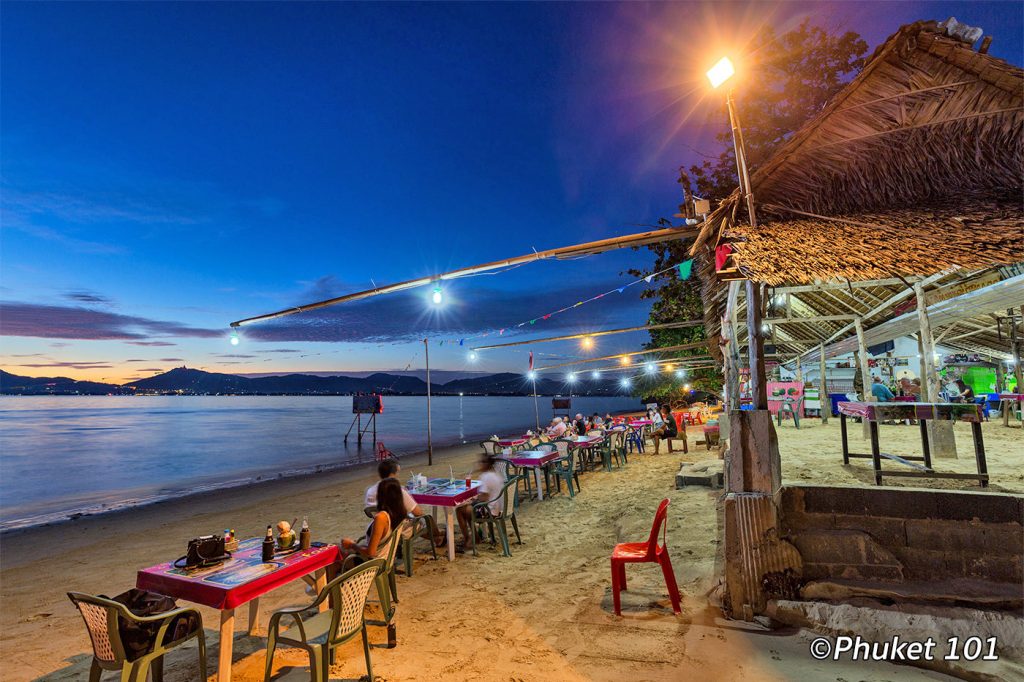 Beach restaurants were a common thing in Phuket before 'the big cleanup' of 2015, but most restaurants and beach clubs were found to be illegally build and therefore removed the hard way. Surin beach was very popular for the many great restaurants and clubs you could enjoy until late. All those are gone and Surin is now back to its natural state. A more recent example of this happened at the very popular Laem Singh Beach and no one saw it coming. This was a great place to hang with very popular restaurants in. Operation for more than 2 decades such as the famous 'Da Ali'. One day the owner of the land closed entirely the access to the beach and that was the end of it.
There were a few years of uncertainty and having a legal restaurant on the beach was a rare luxury. That was without taking Thai creativity into consideration. Today, once again, you can easily enjoy a beach lunch or dinner.
Here is a list of places where you still can really eat on the sand (or really really close to it). Surprisingly many travelers miss those places entirely even though they probably walk nearby.
---
Restaurants on the Beach in Patong
Chez Bernard Restaurant 6
Sabai Beach Restaurant
Sole Mio Bar and Restaurant
Patong Food Court
Patong Beach has a nice set of restaurants long-established restaurants really on the beach, all serving a decent Thai food and even continental breakfast at a good price. The two best known are probably Sabai corner and Chez Bernard, a restaurant opened for more than 20 years. The name is French because the owner is a french expat, but the food is Thai. Next to these are Sole Mio which is more recent and quite successful. Those are great at any time of the day and you can get a decent continental breakfast at 'Chez Bernard' with real espresso. All those restaurants are together in the central part of the beach, at walking distance from the famous Bangla road. Read about Patong Beach
Restaurants on Patong Beach
Map of Patong Beach Restaurants
---
Restaurants on the Beach in Kata
There is a long line of local wooden restaurants under the trees at the north end of Kata Beach, where a small river connects to the ocean. If you don't know where to look you might miss them entirely. They all look about the same so just follow your instinct and pick any, it's a very relaxing and inviting way to take a break from you morning suntan or beach-time. Prices are very reasonable and you can really eat on the sand! Read about Kata Beach
Map of Kata Beach Restaurants
---
Restaurants on the Beach in Kamala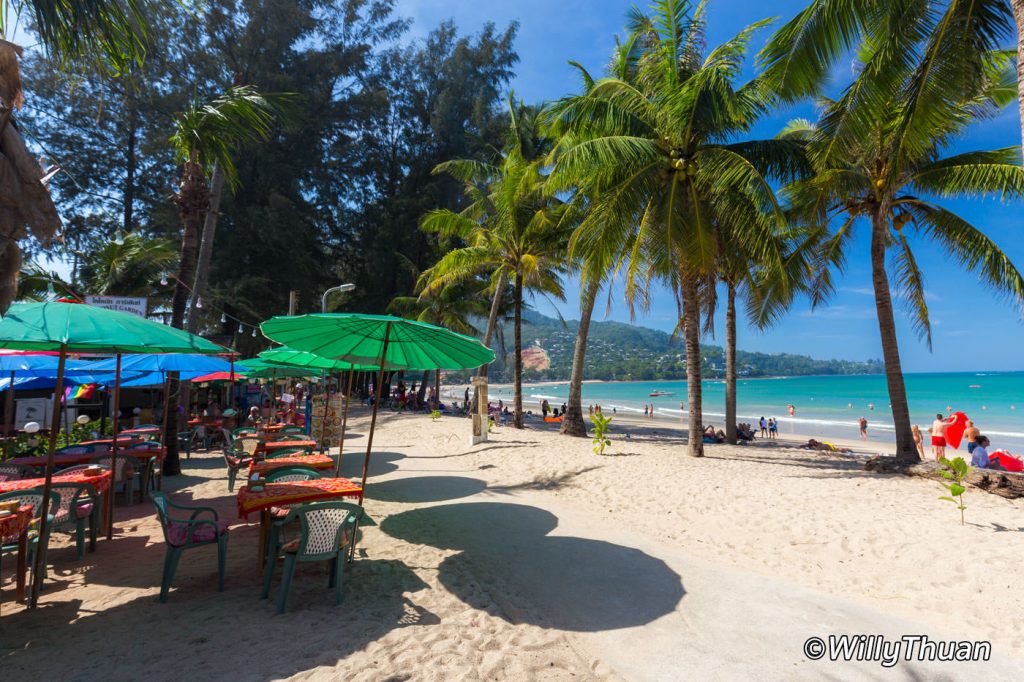 Kamala Beach has a lot of restaurants, bars and local food vendors lined up along the central part of the beach. At the contrary of other beaches, restaurants here are shops build with concrete so while the views are strikingly beautiful, the feeling might be a little less exotic than in Kata or Bangtao beach. Here too it is difficult to predict which will be open or closed on the day you arrive but overall this part of the beach is doing well. There is a little concrete path between the restaurants and the beach but the thing blends so well, it's a fantastic place to relax. Those beach restaurants are a great place to have your holiday breakfast! it's affordable and the view of the blue ocean is unbeatable. There are many names and it's a little difficult to recommend one in particular.
Further north, you can enjoy a more sophisticated dinner or some tapas at one of the beach clubs: Cafe Del Mar and HQ Beach Club.
Photos of Kamala Restaurants on the Beach
Map of Kamala Beach Restaurants
---
Restaurants on the Beach in Bangtao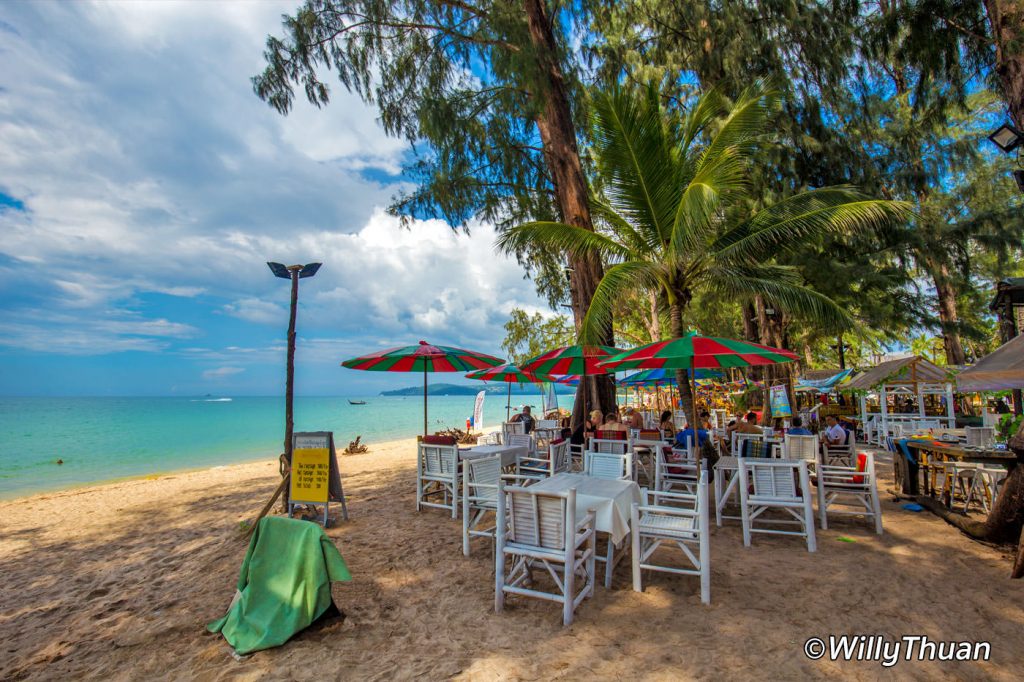 Bangtao Beach used to have some famous seafood restaurants built on the beach, but those are long gone. In recent years, restaurants owners adapted to the land restrictions and found new ways to serve lunch or dinner on the beach. Since then, business is flourishing and there must be at least ten restaurants lined up next to the Outrigger Resort!
Those restaurants and bars are quite cheap, all made of bamboo and palm roofs in the shade of huge Casuarina trees. Just go there and pick any, ultimately they are more or less serving the same food, each with their own specialty. Those restaurants are really on the sand and jus as expected, there are a lot of reggae bars nearby to relax before and after dinner.
For a while the only option was to dine at Casuarina Restaurant at the Dusit Thani Resort but it of course, being a 5-star hotel it is more expensive than local restaurants.
Green Leaf Restaurants
The Promenade restaurant
Casuarina at Dusit Thani
Beach Clubs in Bangtao
Photos of Beach Restaurants in Bangtao
Map of Bangtao Beach Restaurants
---
Freedom is a little paradise. It has everything: incredible soft white sand, amazing blue water, it's relatively peaceful, you can eat on the sand (just look at this photo) and it's just next to Patong Beach! There is a reason for this paradise to stay so quiet: you can only get there by longtail boat from Patong and it's not so cheap to ride it. (there is occasionally a path from the top of the hill but it's steep and not guaranteed to be open. And just to make things a little more complicated, it's only open during high season, which is about November to June. Read more
---
Restaurants on the Beach in Nai Yang
Nai Yang Beach is actually a little hidden gem if you enjoy spending a day on a beach we could consider a more 'local' beach. The beach is very wide with a lot of trees around, and it is quite peaceful for being away from the main roads. There are only a handful of hotels near the beach and a few restaurants set right on the sand. The setting is very relaxing and we love to stop there after our exploration of this part of the island. Sea almond restaurant serves wine and an interesting choice of local craft beers.
Sea Almond Restaurant
Good View restaurant
Map of Beach Restaurants in Nai Yang
---
Restaurants on the Beach in the North of Phuket
These restaurants are at the very north of the island and are great if you are staying in Mai Khao Beach. Thanoon seafood is well-known and really good. We stop there each time we drive the 10 hours it takes to go from Bangkok to Phuket. With little bamboo huts, Rim Pan is a little hidden gem found on the Phuket island side, at the feet of the bridge. Sai Keaw is also very local with some bamboo huts in front of the totally deserted beach of Sai Kaew
Sai Kaew Beach Restaurant
Map of Beach Restaurants in North Phuket
Map of Phuket Beach Restaurants