Jungle Xtrem Adventure Park Phuket
Jungle Xtrem Adventure Park Phuket is a fun activity for a day out in Phuket, but also a challenging one. Fortunately, almost everyone can do it! The Jungle Xtrem Adventure Park is set near Wat Chalong just behind the Phukana Golf course and claims to be the highest tree climbing in Asia.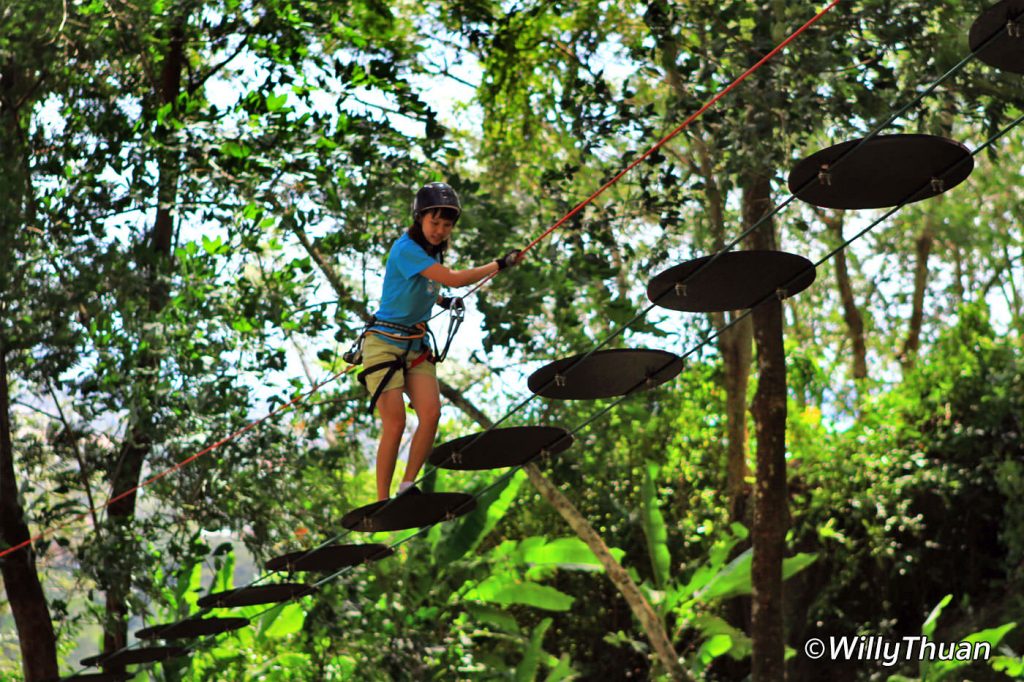 So we had to try… easy to reach and well organized, you will be very well coached by an English speaking professional. A short explanation of how to use your harness is followed by a short practice at ground level where you might feel a bit nervous thinking 'Ok, do this and do that this way and in this order looks fairly easy on the ground, but once high up there, am I going to remember which is which?"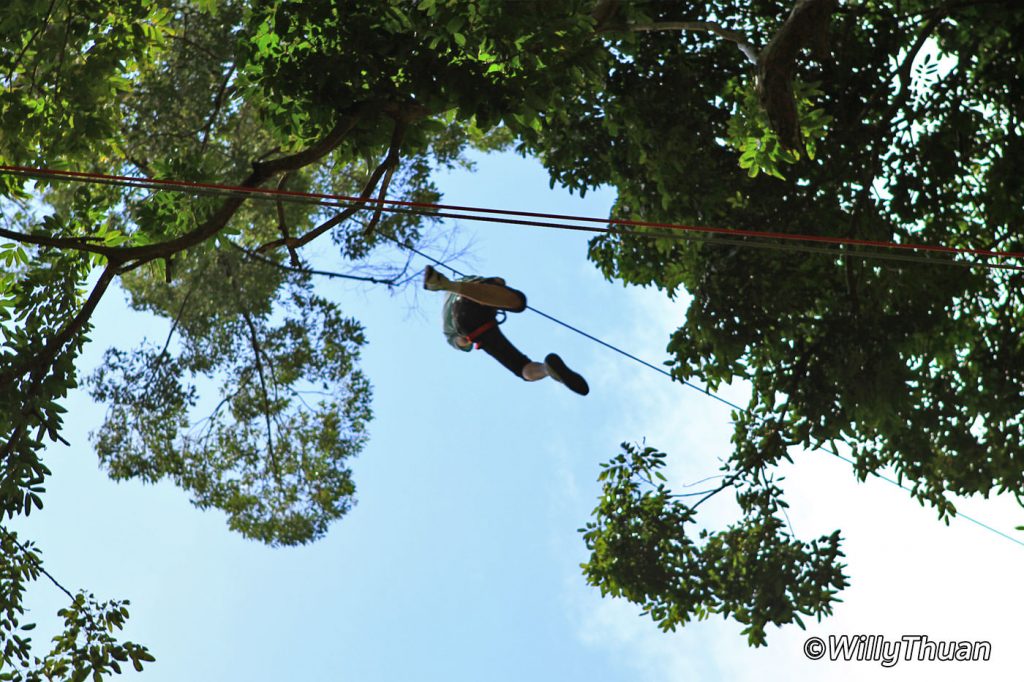 Training is thankfully short as everyone really wants to go up to the trees and see how high and tough the challenge will be. And up you go, a bit of a walk up to reach the first platform and it's time to apply what you just learn.
Surprisingly, it works! The ten-minute training applies just like a charm. The supervisor stays down to make sure we follow each step properly, no more than two people per platform, one person per course and the 'carabinners' (safety hooks) attached properly at all times. The whole exercise feels very safe and the equipment is very well maintained.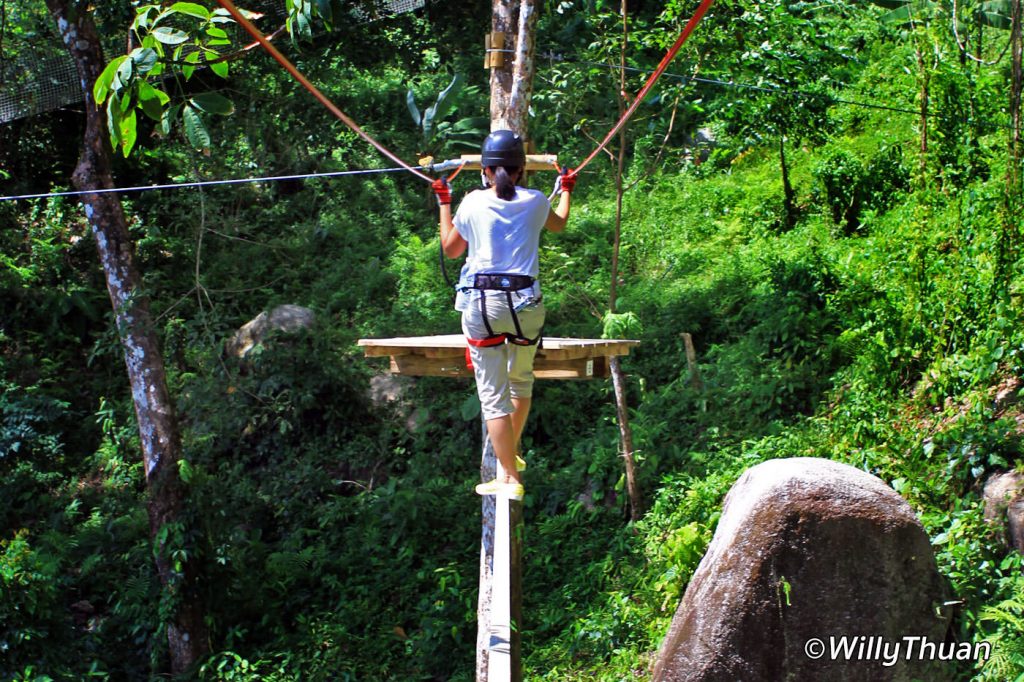 As you go, the challenges become increasingly difficult, but you have all the time in front of you, no rush if you need a break. You'll walk on all kinds of ropes bridges, nets, and cables to go from tree to tree, and the fly-down cables to move to more challenges.
There are circuits for the younger as well such as 'Accro Spider' a huge net suspended net where kids can safely play, so it is a great outing for families and safety is always well assured. Some challenges are pretty tough if, like me, you are scared of heights, so you might be a bit worried at first, but it was less scary than expected as you will be too busy keeping your balance to really think of anything else.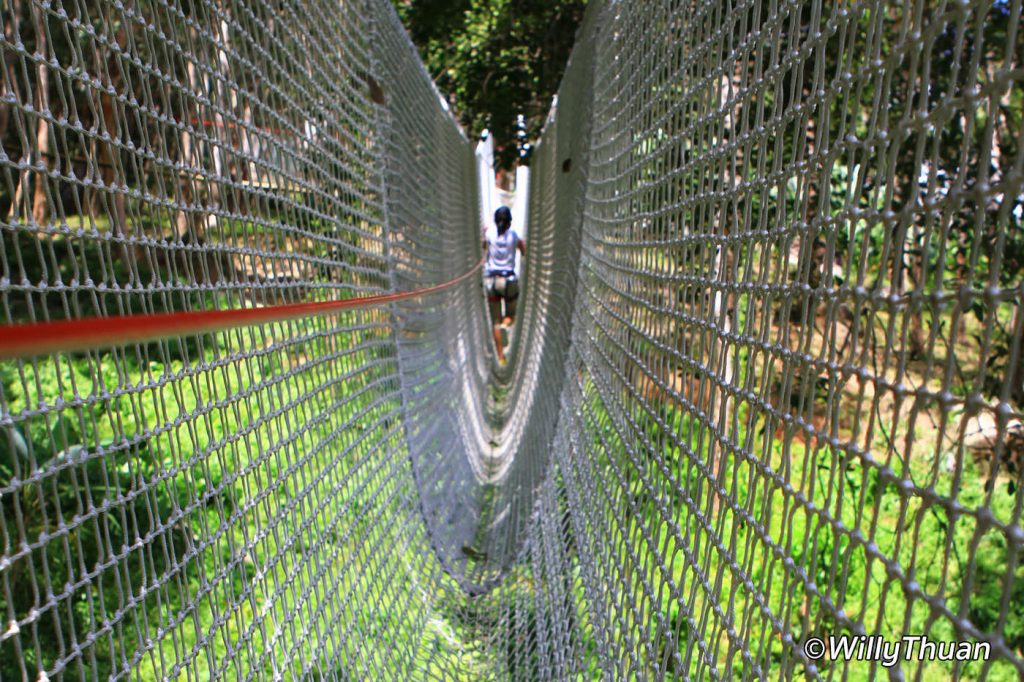 If you decide to give it a go, remember to wear proper sports shoes, short pants and sports pants are recommended. It is a bit pricey but the whole installation is checked regularly by safety professionals and botanical experts to make sure the environment is respected…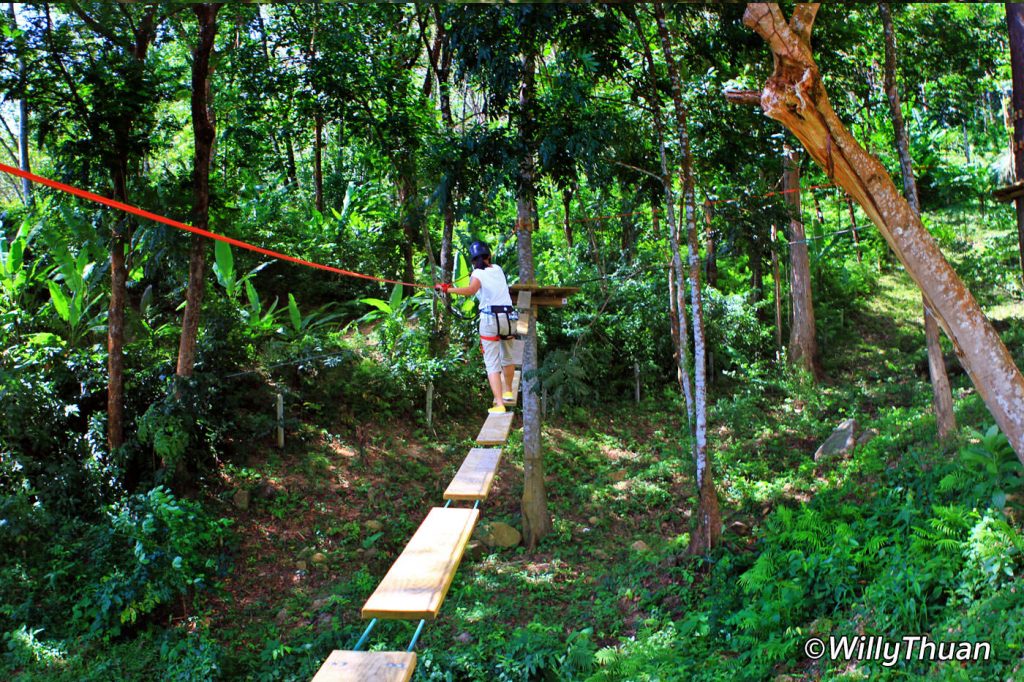 A great way to spend the day, combine a visit to Wat Chalong, get an amazing panoramic view of Phuket Island from the Big Buddha, do tree climbing and get a great Seafood lunch or dinner at Mor Mu Dong or Kan Eang Seafood.
Jungle Xtrem Adventure Park Phuket Info
Address: 54/17 Phuket Rd, Chalong
Open: 9 am – 6 pm now
Tel: 076 383 689
Prices: 2,900 Baht for Advanced Extreme Tree Adventure (62 Platforms)
1,900 baht for Intermediate Tree Adventure (40 Platforms)
Kids from 3 can play in the kids zone for 900 baht only. Kids from 10 years old can join the adult course
Jungle Xtrem Adventure Park Map