Which island is right for me, Phuket or Bali?
Phuket and Bali are two popular destinations in Southeast Asia, both with great beaches, marine activities, tropical island scenery, and cultural attractions. There's plenty for visitors to enjoy in both Phuket and Bali, so when planning your holiday island escape how do you decide which one to visit?
Choosing between the Thai island of Phuket and Bali in Indonesia might come down to your home location and budget. Phuket's international airport has many direct flights from Europe, the Middle East and across Asia, while Bali's international flight arrivals are mostly from Australia, as well as some cities around Asia and the Middle East.
But if the travel time and cost from your home country are not a factor in your decision-making, then choosing between Phuket and Bali is mostly about thinking of what you'd rather see and do on your tropical holiday. Here's a roundup of the distinctive features of each island to help you make that choice.
Beaches
Phuket has more than 40 beaches, with the most postcard-perfect white-sand beaches found along its west coast. Patong Beach is the island's most famous, with a busy 3km stretch of sand and lots of activities like boogie boarding or sailing to try. Karon, Kata and Kamala are less busy but still lively west-coast beaches, while Mai Khao Beach in the far north of the island offers a long and lonely strip of white sand to stroll. Phuket is also dotted with smaller, less accessible but lovely little beaches like Paradise Beach, Laem Singh and Ao Sane.
Many beaches around Phuket are good for swimming, standup-paddling and snorkelling during the calmer months of November through April, while Kata Beach is the go-to spot for surfing during the southwest monsoon season from May through October.
The Beaches of Bali
Bali is a much larger island, yet it doesn't have as many of those "tropical island fantasy" powdery white-sand beaches that you'll find in Phuket. But there's certainly no shortage of beautiful beaches in Bali, with long lengths of sand, clear turquoise waters, and rugged seascapes to explore. Plus you'll find lots of beach activities like snorkelling on offer, stylish beach clubs, and some of Asia's best surfing waves.
Kuta Beach is comparable to Phuket's Patong Beach for its size, quality and reputation as a party beach. Kuta is also one of the best places to surf in Bali, along with such beaches as Canggu, Padang Padang and the stunning cliff-lined Uluwatu. Seminyak Beach near Kuta also has good surf conditions as well as an upscale dining and nightlife scene, while Jimbaran Bay is home to luxury resorts and beachfront seafood dining spots – a good place to sink into a beanbag chair and enjoy some sunset cocktails.
Things to See and Do
Phuket is Thailand's largest island and the most developed for tourism so there's an abundance of activities to enjoy. Scenic boat trips to places like Koh Phi Phi and Phang Nga Bay are popular day trips, while diving, sea kayaking, wakeboarding, water parks, ATV rides, zipline parks, and sunset viewpoint visits are among Phuket's top outdoor activity choices.
For exploring Phuket's cultural side, there's the Big Buddha statue that sits high on a hill and Wat Chalong, as well as the Chinese shrines and charming Sino-Portuguese style shophouses and mansions in Phuket's historic Old Town district.
Things to Do in Bali
Bali is known for its vibrant arts and Hindu/animist traditions and many of the sights and activities here highlight its unique local heritage. The island's numerous festivals, daily rituals, traditional dance performances, and thousands of temples including the stunning seafront Tanah Lot and Uluwatu temples are among the fascinating cultural highlights to see in Bali.
Many soul searchers also flock to Bali for yoga, meditation, and wellness retreats. While there's no shortage of spas, yoga, massage, and fitness centres in Phuket, Bali probably edges it out for choice and variety. Exploring Bali's rice terraces and volcanic mountain landscapes, or going on diving trips, sunrise hiking treks, or whitewater rafting adventures also offer a sublime holiday experience.
Hotels
Phuket offers a wide range of accommodation choices, from hostels and budget guesthouses to 5-star resorts. There are also a growing number of luxury villas in Phuket, especially in the headlands near Surin and Kamala beaches, and the Rawai-Nai Harn beach areas.
The three busy beach resort areas of Patong, Karon and Kata have the most hotels, while Phuket Town is where you'll find more budget-friendly options. Near Bang Tao Beach is the sprawling Laguna Phuket resort complex, with a handful of luxury hotels like the Banyan Tree Phuket and Dusit Thani Laguna Phuket, and a genteel atmosphere of wide green gardens, a golf course, spas, dining venues and lagoons.
Hotels in Bali
Bali also has a wide choice of accommodation, and its hotels tend to be more affordable than Phuket. You'll find several smaller boutique hotels and guesthouses around Bali that offer good value for money, as well as budget-friendly hostels and homestays.
The beach areas like Kuta, Legian, Seminyak, Jimbaran, and Canggu have a good range of budget accommodations all the way up to uber-luxurious resorts and villas. Ubud also offers a wide range of places to stay, while those wanting a more secluded hotel could check out the stunning – and pricey – resorts near Uluwatu. Nusa Dua is comparable to Phuket's Laguna complex, being an exclusive resort area with luxury hotels like The St. Regis Bali Resort and leisure activities including golf to enjoy.
Dining
Phuket has a well-developed dining scene where you can find good eats on every budget. All around the island and especially in Phuket Town you'll find many modest-looking street stalls and restaurants turning out all the well-known Thai dishes as well as local Phuket favourites like Hokkien noodles. But if you want to splurge on a meal, Phuket has a decent range of upscale eateries as well, particularly in the luxury resorts that bring in top chefs to helm their restaurants.
There's also an abundance of good seafood restaurants in Phuket, with more local-style places along the seafront in Rawai and Chalong. International cuisines including Italian, Japanese, Indian, French, Turkish and Chinese are also found in Phuket, with Patong Beach probably having the most variety.
Restaurants in Bali
Bali might not have the sheer volume of tasty budget-friendly dining spots compared to Phuket, but it offers a good range of places to eat from the cheap local warung on the corner to inventive fine dining restaurants.
Bali edges out Phuket when it comes to beachfront dining, as Phuket has a limited choice of restaurants right on the sand. Bali's colourful mix of beach clubs and beachy seafood restaurants is a big attraction, especially in trendy Seminyak Beach, while those who don't need the sea views could head to Ubud to dine at such culinary hotspots as the award-winning Locavore restaurant or Hujan Locale.
Phuket is a popular tourist destination in Thailand known for its unique and diverse cuisine. The food in Phuket is heavily influenced by Thai cuisine, with an emphasis on seafood and spicy flavours. Some of the popular dishes in Phuket include tom yam soup, pad thai, and green curry. Additionally, Phuket is also famous for its street food, where you can find a variety of dishes such as grilled meat skewers, spring rolls, and fried rice. The street food scene in Phuket is vibrant and affordable, making it an excellent choice for budget travellers.
Bali Food Scene
Balinese food is known for its rich flavours and the use of herbs and spices. Some of the popular dishes in Bali include nasi goreng, satay, and babi guling. Balinese cuisine also features a range of vegetarian and vegan options, making it a great choice for those following a plant-based diet. Additionally, Bali has a strong coffee culture, and visitors can enjoy locally grown coffee at the many cafes and restaurants across the island. Overall, Bali offers a unique culinary experience that reflects the island's diverse culture and traditions.
Nightlife and Entertainment
Phuket is known for its lively nightlife and entertainment options, with many bars, clubs, and restaurants open late into the night. The biggest party scene is on Bangla Road in Patong Beach, while there are several wine and cocktail bars, divey watering holes and beach clubs around Phuket to enjoy a more low-key night out. Phuket Town is a good place to find live music and a more local nightlife vibe. Extravagant stage shows like Simon Cabaret, Carnival Magic, and Siam Niramit are also popular after-dark attractions.
Bali Nightlife
Bali also has a vibrant nightlife scene, but it is generally more relaxed and centred around beach clubs and live music venues. Most of Bali's nightlife action is in the Kuta, Seminyak and Canggu beach areas, with Kuta having a reputation as the rowdiest party place. Seminyak is a bit more chic and trendy, with DJ dance clubs and upscale bars, while Canggu has a more low-key ambience with its rows of beach bars with sunset views.
Shopping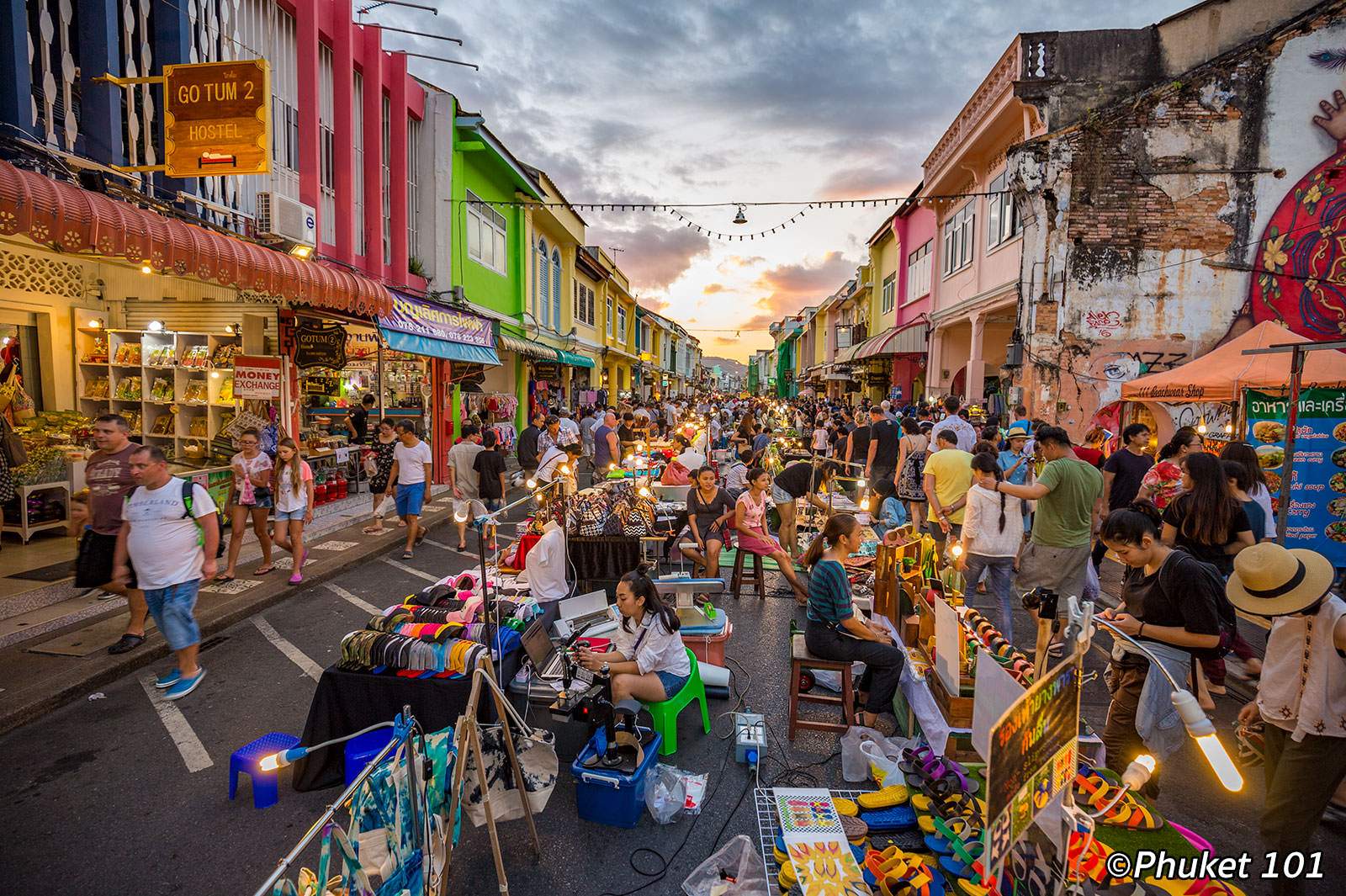 Phuket has a good variety of markets, street stalls, and shopping centres, with most of the shopping action in Phuket Town and Patong Beach. Shoppers in search of air-conditioned comfort and major retail brands head to malls like Central Phuket, Jungceylon, and the more recently opened Robinsons Lifestyle Thalang near the Heroine's Monument.
The Sunday Walking Street Market, Naka Weekend Market, and Chillva Market are fun places to shop for souvenirs, local food, handicrafts and cheap clothing, while the streets of Patong turn into a lively bazaar every night with all the usual T-shirts, trinkets, knockoff handbags, and Thai tourist swag for sale.
Shopping in Bali
Shopping in Bali often feels more like a treasure hunt, with its art markets and silversmith villages, handmade crafts by local artisans, and boutique shops brimming with fashions by local designers. For those in search of truly unique and finely crafted mementoes to bring back from their island holiday, Bali is a clear winner over Phuket as a shopping destination.
The streets and markets offer the best Bali shopping experiences, though there is also a range of shopping malls including Kuta Beachwalk and Mal Bali Galeria in Kuta, and Duta Plaza and Level 21 Mall in Denpasar.
Overall, both Phuket and Bali are appealing destinations with their own unique charms and attractions – really, you're not likely to go wrong in booking a flight to either island! Those planning a trip should consider their preferred activities, travel style, and budget when deciding which destination to choose.
---
More information