Funny Things in Phuket
Living in Phuket for so long has been the opportunity to witness many fun sights. We should get used to them, but sometimes, we still smile (or clench teeth) when we witness one of the following weird or strange things. We are not only talking about the good old 'Phuket Vegetarian Festival', of course: these 16 are strange things we encounter regularly. We all get shocked the first time, then it just becomes part of our landscape, and we could easily add another dozen without hesitation.
---
Every year in April, the Songkran water throwing ritual starts rather gently in Phuket Town in the morning. As the afternoon progresses, it turns into a full-scale water dogfight in Patong, Kata and Karon. It usually goes on in a hectic, gigantic wet war zone in Bangla Road until late at night. No one will stay dry, not even the cops! Read more about Songkran in Phuket.
[the_ad id="30528″]
---
2. Ice in Beer
To see locals and even long time expats fill up their glass with ice cubes is a weird habit that will shock you at first but will start making a lot of sense if you live here long enough and get tired of drinking warm beer. Some people never get used to it, though.
---
3. Second Hand Shoe Shop
Or should we say 'Second Foot Shoe Shop'? This kind of trade is probably the weirdest and oddest kind I ever saw (and smelled), but it is a general business in Thailand. You can go and see it for yourself at the Phuket Weekend Market. I suspect if your shoes are stolen in front of your house one night, you might be able to repurchase them here. (Remember, we don't wear shoes inside Thai houses, so if you have a brand new pair of Nike, don't leave them outside all night 🙂
---
4. Driving in the Rain with an Umbrella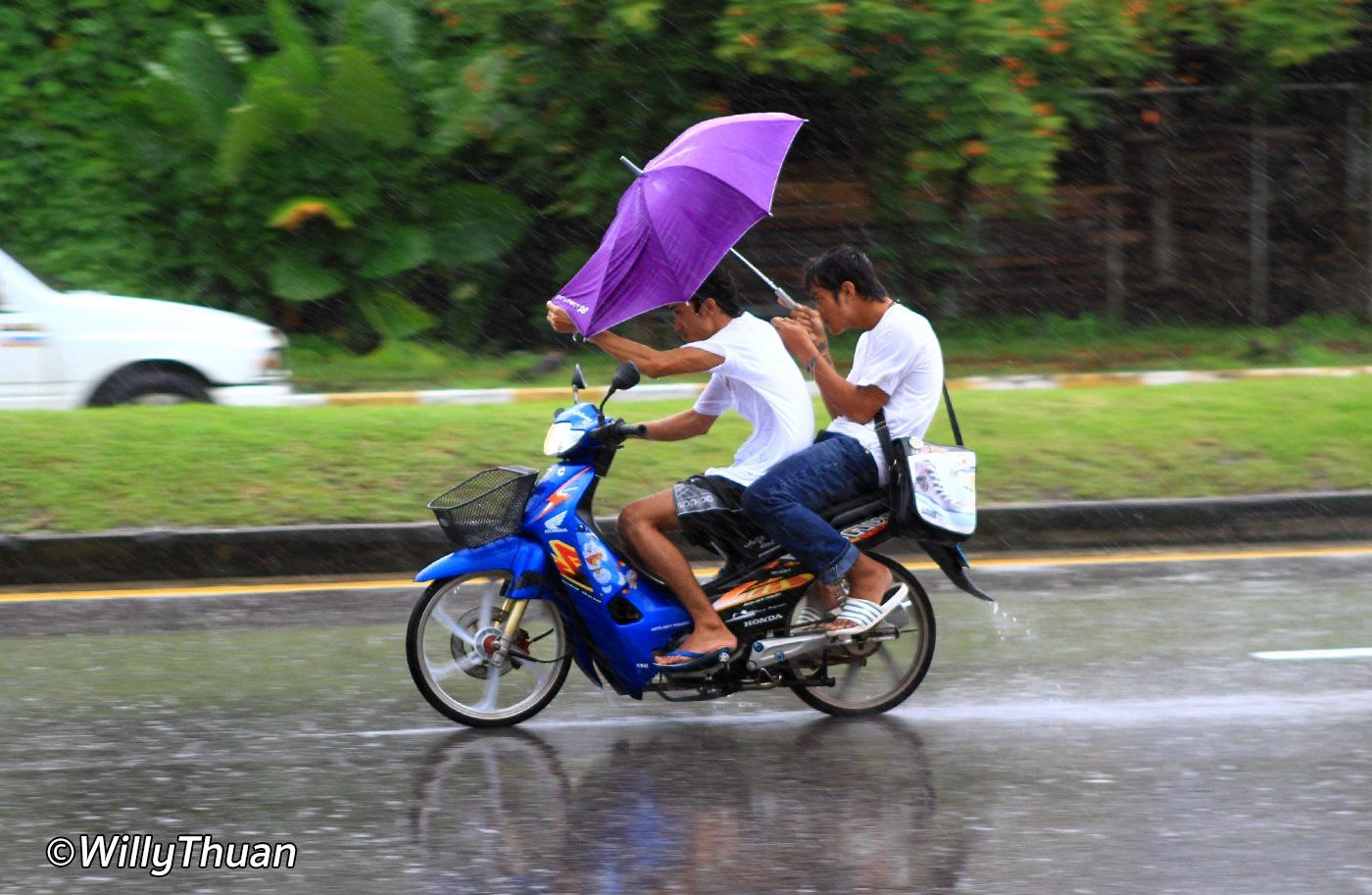 There is not much to say about that one: drive fast on a wet road, with no helmet, often only with one hand as the other hand is holding an umbrella against the wind. Anyway, with the rain on your face, you can't open your eyes, can you?
[the_ad id="30528″]
---
---
---
7. Gasoline in Whiskey Bottles by the Road
Don't get fooled when driving past some bars along the streets. The bottles you see on a table by the roadside might not be what you expect! It is widespread in Thailand to sell gasoline by the litre in glass bottles, as you see it in the photo. Don't try to drink it!
---
8. Four on a Bike (or 5)
It's such a common sight here to see three people on a bike. Of course, it's not legal, but that would mean stop a lot of bikes to do something about it. Now, how about four on a bike? Yes, it does fit; I once saw four cops in ununiform on a motorcycle! None of them was wearing a helmet anyway!
---
9. Rubber Strips to Clean your Tires
Since we are talking about tires, here is a little trick that works well. Hanging a dozen recycled rubber strips next to each of your tires will continuously clean them and keep them shiny black! Now I wonder if the solution is not uglier than the problem.
---
---
11. Garbage Made of Recycled Tires
Thailand started to recycle old tires long ago, and it is widespread to see these round bins along the roadside. It's pretty well done, and it might not strike you at first, but yes, these are tires smartly stripped and rearranged into trash bins, with their stand, handles and lid. And they last!
---
12. Helmet Abandoned on the Road
Not to worry, nobody crashed. Phuket people are sometimes so resistant to safety laws, lots of motorcyclists store their helmet in the front basket. A cop nearby? Not to worry: pop the helmet on your head, smile and keep driving casually. Then, few meters further, remove it and put it back into the basket! But often, while driving on a road bump, the helmet bounces off the basket, and since these are often made of cheap plastic, crashes on the floor.
---
---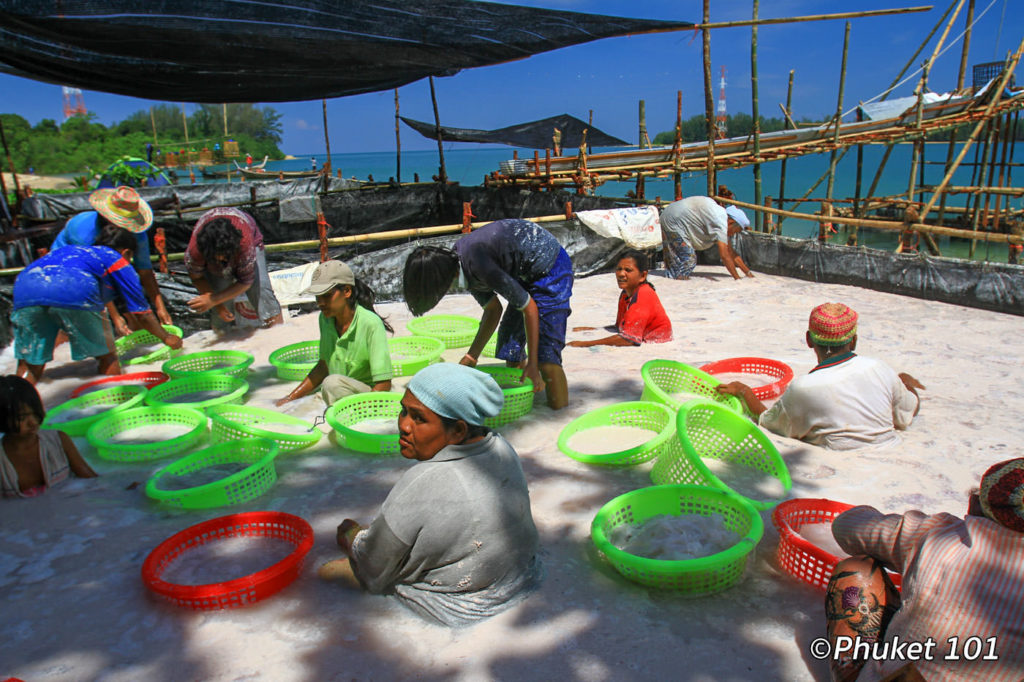 Yes, there is such a place in the north of Phuket called Haad Pak Phra Beach, where locals clean jellyfishes all day to dry and resell on a Bangkok market for culinary purpose. And the easiest way to do this cleaning operation? Sit in the middle of it and do the job on the spot. Weird and kind of smelly too. Read more
---
15. A Branch on the Road
It's not a decoration; it's a warning signal! Some hills in Phuket are steep and treacherous, and old cars or trucks often can't make it to the top and have to stop in dangerous curves. A triangle would be costly or complicated to collect once you got lucky enough to restart. So be smart: break a nearby leafy branch and drop it a few meters away from your troubled vehicle! Abandon it there once you leave; who cares anyway! read about the Art of Driving in Phuket
---
16. Dogs Sleeping on the Road
This is something I never saw anywhere else. You are driving at night on a curvy dark road and suddenly, right in the middle of the road, is a dead dog! Your first reaction is, of course, to break hard to avoid it, or if you are a good Samaritan like us, you might even stop to check if the dog is still alive. As soon as you approach, the dog will raise a lazy head with an expression like 'who dares intrude in my bedroom!' The dog is very much alive and enjoys the warm asphalt, knowing very well that cars will avoid him!
---