Is it safe to travel alone in Phuket?
Travelling alone in Phuket is known to be very safe, and the island offers a lot of options to solo travellers, depending on how alone you want to remain. We divided 'Travelling Alone in Phuket' into three main types:
Those who prefer to travel alone, but want to stay alone
Those who have no one to travel with and still want to travel (kind of halfway between the two above)
Those who wish to travel alone and want to meet new people along the way
---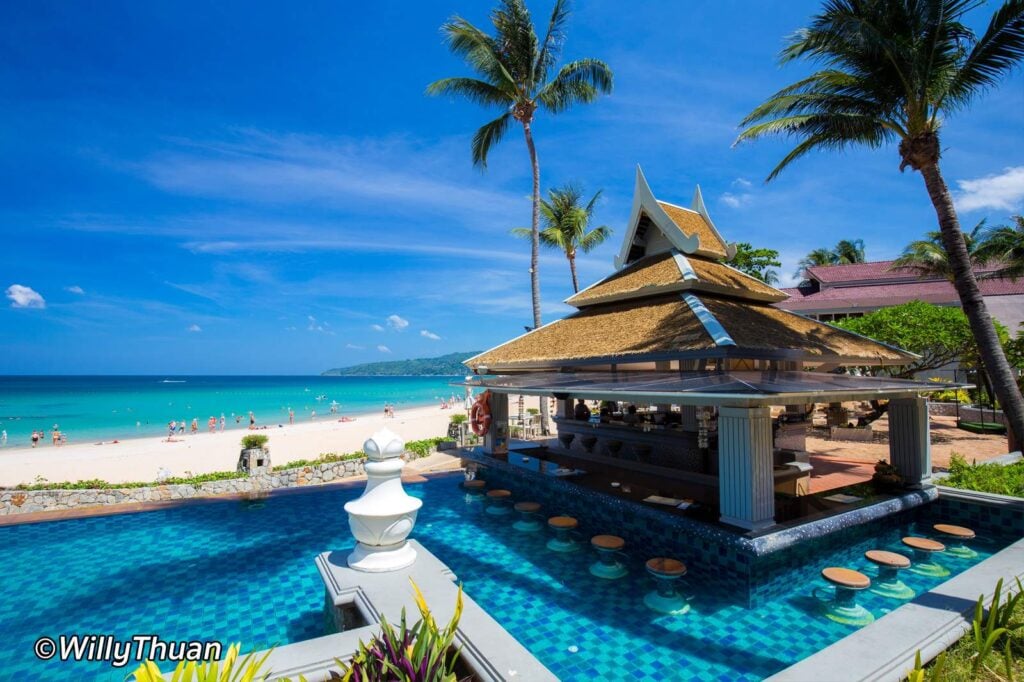 If you travel alone because you prefer to be, you probably want to avoid the crowded beaches. There are a few beaches with a good range of hotels on beautiful and peaceful beaches such as Bangtao Beach (northern end part) Nai Yang, Naithon and Maikhao beach. You won't be isolated, but you will be able to enjoy long walks on the beach without being disturbed.
If you travel alone because your friends couldn't come, but you are not desperate to meet other people, Kamala, Nai Harn and Bangtao Beach South are lively without being too isolated.
---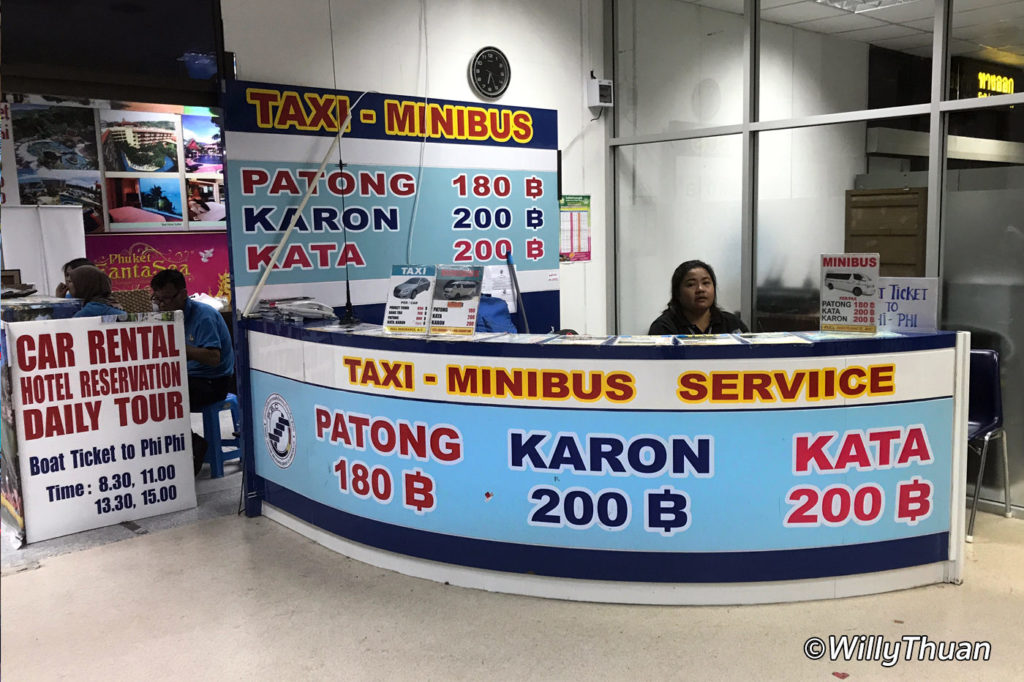 If you travel alone, and unless you can afford it and prefer to travel alone, there is usually no need to book an entire taxi for one person. In this case, your best option is a shared minivan. For 250 baht on average, you will share the van with people staying in the same area. It takes a little longer, but this is the best value for money and time spent. You could also use the smart bus, but it will take a lot longer, and you will still have to walk from the bus drop-off to your hotel. With a suitcase and bags, it can be difficult. Read more
---
Tuk Tuks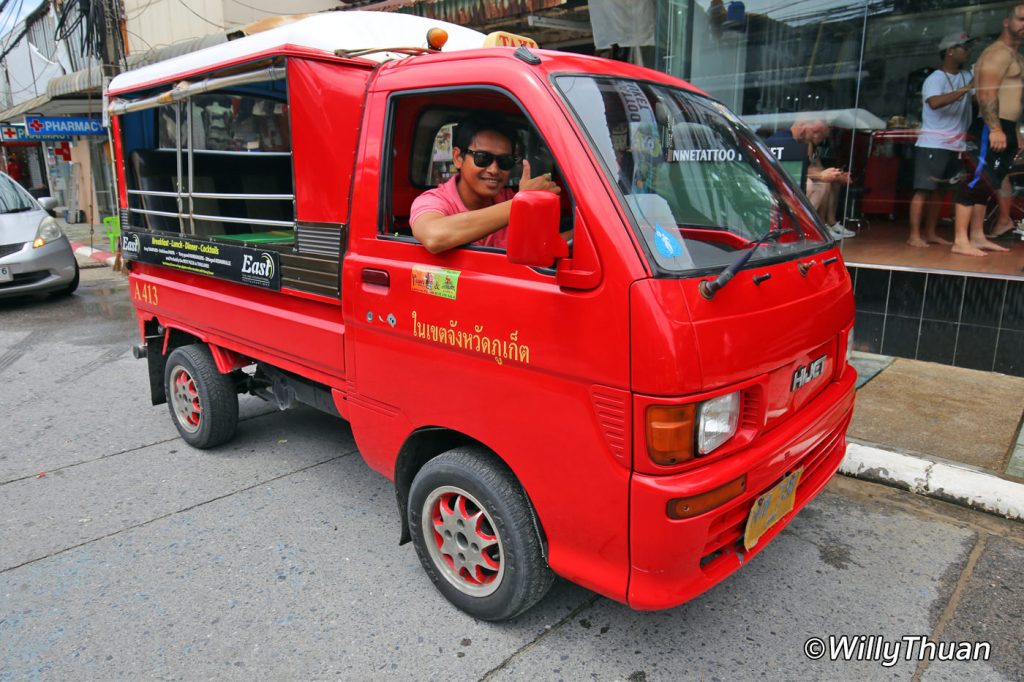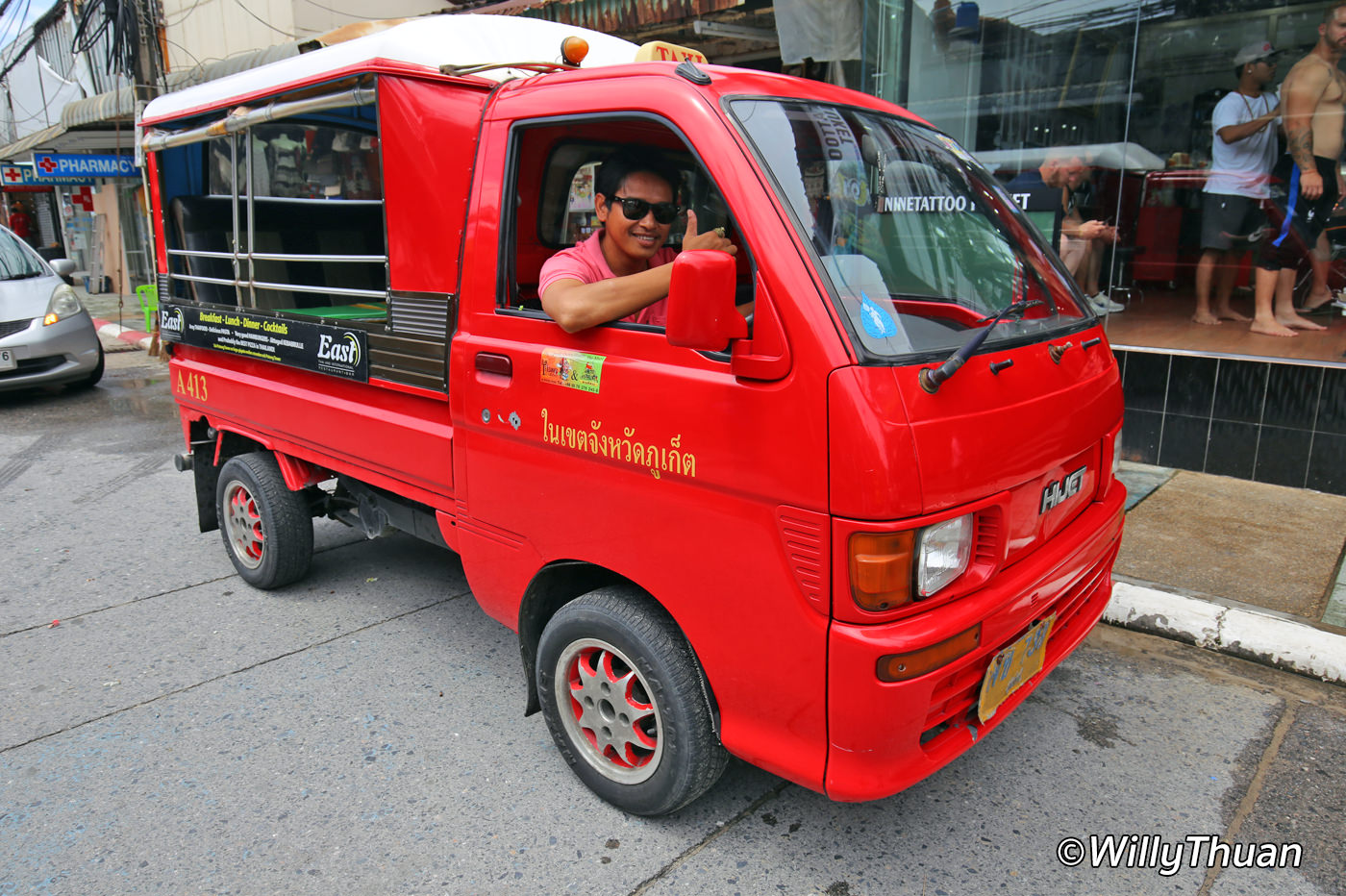 Tuk Tuk is the most versatile way to travel around. They are virtually everywhere at any time but can be costly if you go alone. Read more
---
Grab Taxi
Grab is a good, safe and convenient app widely accessible on the island (UBER is not available in Phuket as it was sold to Grab a long time ago.) Grab might take a little longer than Tuk Tuk depending on how accessible and how far from you they are. Here too, it is a bit costly when travelling alone.
---
Phuket Smart Bus is very affordable for a solo traveller. This convenient way to travel from beach to beach was long-awaited. As mentioned earlier, it is cheap, but it takes time as you need to wait for the next bus (every hour). Read more about Phuket Smart Bus
---
Motorbike Taxis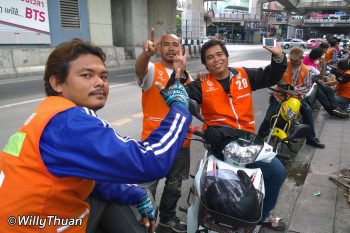 Motorbike taxi is cheap and fast but only available in Phuket city and a few beach towns. Just wave at them and ask for the price of your destination. You can bargain the proposed price a little.
---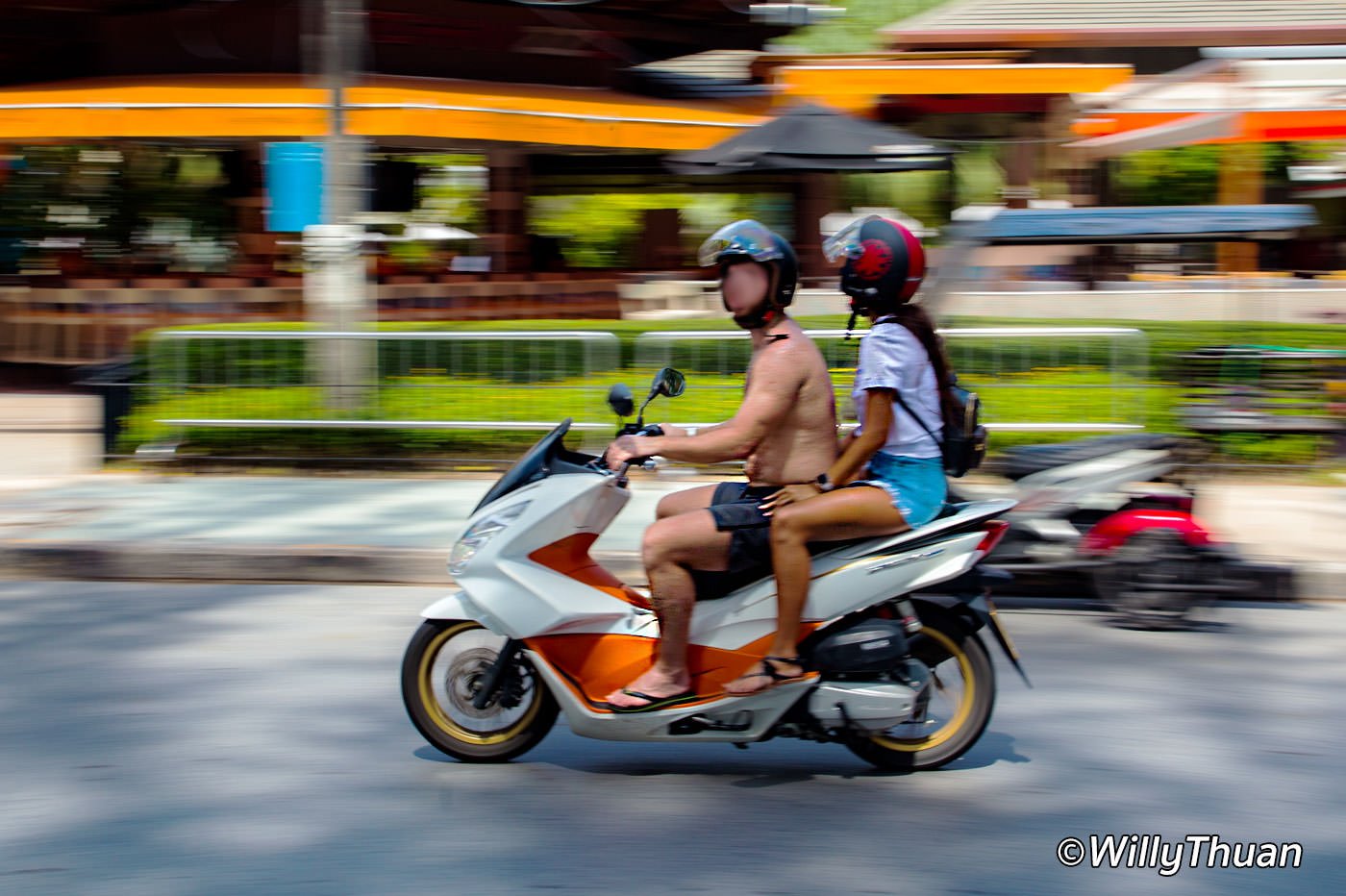 Renting a bike is a good investment for solo travellers if you feel confident driving in Thailand where road safety is notoriously poor. It is cheap, available everywhere and gives you freedom of movement. It is fast and easy to park too, but if you decide to party and drink, better take a tuk-tuk home. Driving a motorbike in Thailand is a serious responsibility: you should have a driving licence and decent travel insurance. Read the following:
1. Technically, a shop will let you can rent a motorbike with your country's licence, but in reality, an international license is needed.
2. Police controls will ask to see your international driving license. If you don't have one, you will be fined 500 baht payable on the spot.
3. Accidents are only covered by travel insurance if you have an international driving license, so think twice! Read more
---
Car Rent is also great to explore Phuket at your own pace. On the downside, it can be expensive, difficult to park in town and you may have to deal with rush hour. Read more
---
Renting a car with a private driver or a minivan for a day in Phuket is a great way to discover the island without having to stress out about directions, parking and even driving safety. Besides, the drivers are very knowledgeable and always try their best to accommodate your schedule and requests. Read more
---
4. Things to Do Alone in Phuket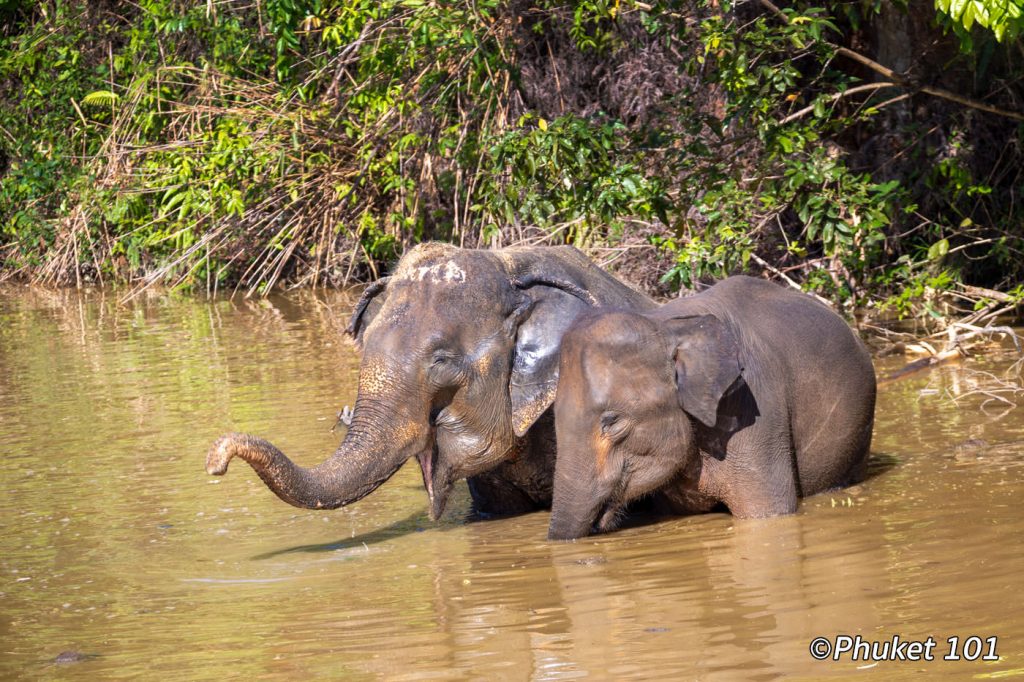 You actually can enjoy everything and anything when travelling alone in Phuket, but some activities will offer a chance to share the fun with other people in a very casual way, and even facilitate meetings with total strangers:
Other things to do on your own
---
5. Meeting People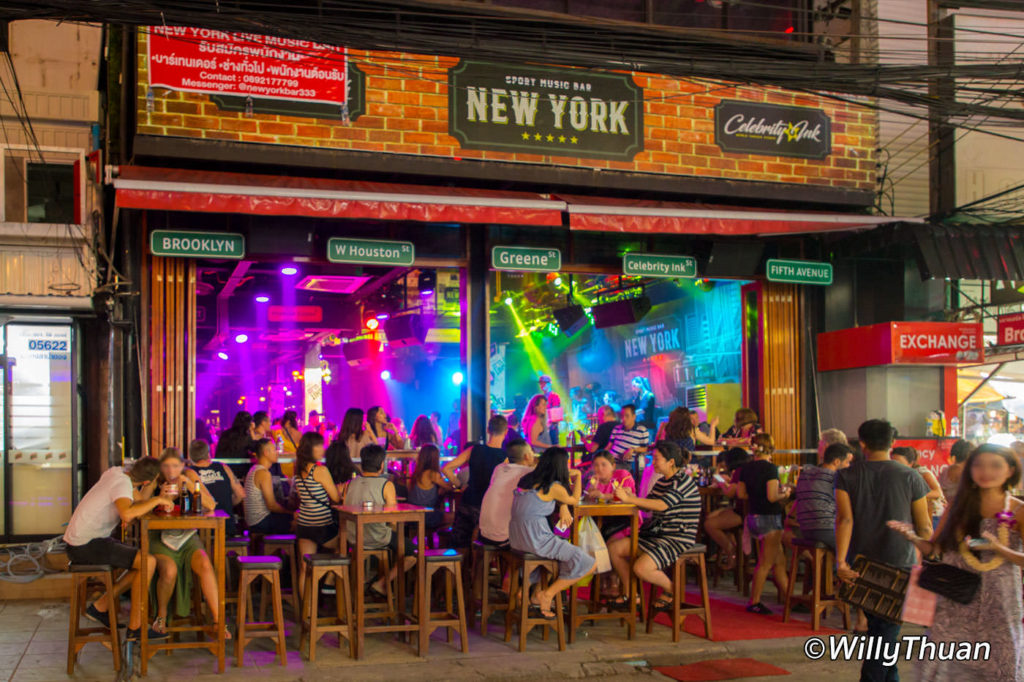 Except if you selected a remote beach, there will be plenty of bars and clubs to meet people in a very casual way. You will soon notice how easy it is to open a conversation with people on holiday (and even more after a drink or two)
You could also ask our Phuket 101 Community who is travelling on the same dates as you, seems to work!
---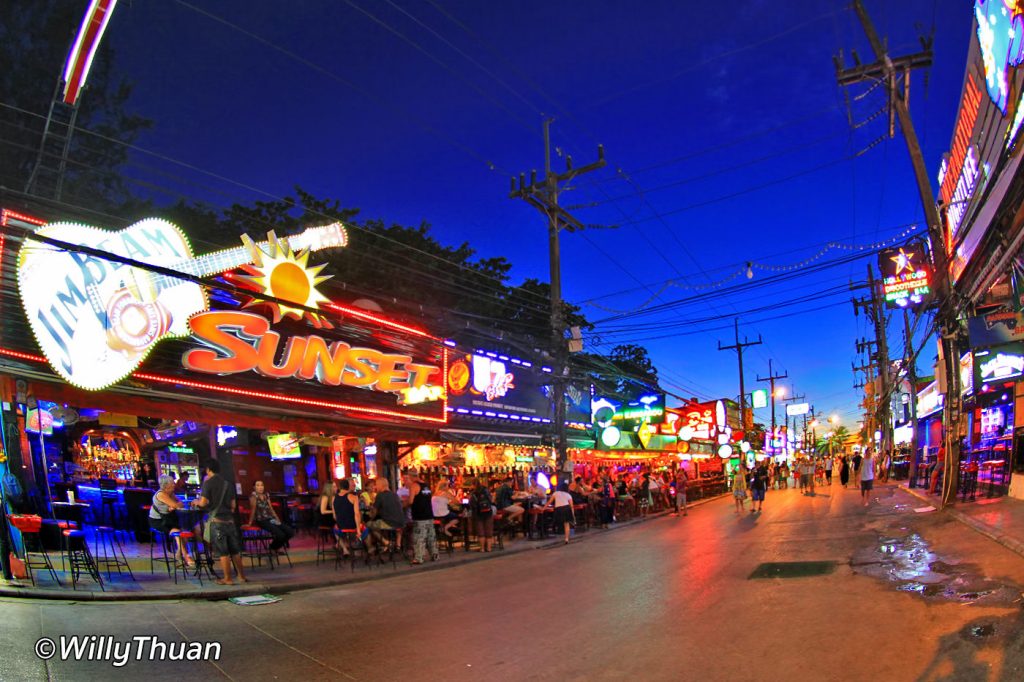 Visiting Phuket alone is not a problem, Phuket is known to be safe and solo traveller friendly. You only need to follow basic common sense rules.
Don't go back alone too late if your hotel is far from the centre. Aggressions are extremely rare, but why take a risk? When meeting new people, don't trust everyone blindly, keep a basic common sense on 'too friendly' people. Keep an eye on your belongings. Again, Phuket is safer than the vast majority of holiday destinations. Read more
---

Staying in a hostel is a great way to meet other solo travellers, and hostels in Phuket are surprisingly nice and welcoming! Read more
---
8. Other Tips
If you travel alone, may be a good idea to inform someone where you are going and carry some identification in case of an accident. Drive safe and don't fall for the usual scams (timeshare). As you will be walking alone, you probably look more approachable than couples or groups.
---
More reading