---
Things to see, do and try in Phuket
---
You are finally coming to Phuket, and that's great! So what makes Phuket so Famous? You heard a lot about it, your friends told you about it, and you probably have a list of 'things to see and do'. Phuket is a small island, only 48km long and 21 km wide, but surprisingly rich in activities. This might be one of the reasons Phuket is so popular. Here we list some things people loved most and talked most about on their first trip. There are a lot more (and that's why they come back) but if you tick all the boxes below, you will have a great time, good memories, fun stories to tell and photos to share. (Note that for now, we mostly list here what is on the island itself… there is a lot more all around)
Pick one of the 40 amazing beaches in Phuket.
Beaches are the obvious reason so many people come to Phuket. The beach, the sea, the sun and warm weather. There are more than 40 beaches in Phuket, so there is one for you. The majority are on the west coast, and those in the south are the busiest. Beaches in the north are also beautiful and a lot quieter.
Phuket 101 receives 250,000 monthly visitors on average (500,000 pageviews/month).
If you wish to advertise on this space or other options available on Phuket 101, just contact us.
Make your nights count as much as your days!
Hanging on the beach all day is fantastic, but what will we do after that? Go back to our hotel and way for tomorrow to come so we can do it again? No such chance! Phuket is an amazing party island that comes to life at night. It comes in all shapes and can be as wild or sophisticated as you want it to be. Patong and Bangla Road are where the real party is, with clubs, live bands, go-go bars and half a zillion beer bars. Other beaches often have a more modest nightlife, but you will never feel lonely… or thirsty. Phuket is also famous for rooftops, beach clubs and stage performances.
Try the freshest Phuket lobsters and King prawns sitting by the sea
Suntanning all day and partying all night is nice, but it doesn't stop here. Great food makes great holidays, especially when that great food is easy to find and not expensive. Thai food is one of the most popular cuisines in the world, and in Phuket, you get to enjoy some amazing fresh seafood.

Buy fun things you don't need at the night market.
People love night markets, tourists and locals alike. We don't have to explain why night markets invariably attract crowds. It's a fantastic display of local fun stuff and colours, exotic objects that catch your eyes, and things you think you need but don't. There is always a lot of local food to enjoy while singers and local bands add background music. It's a blast of sights, sounds and smells. It's exactly the reason you travelled all the way here.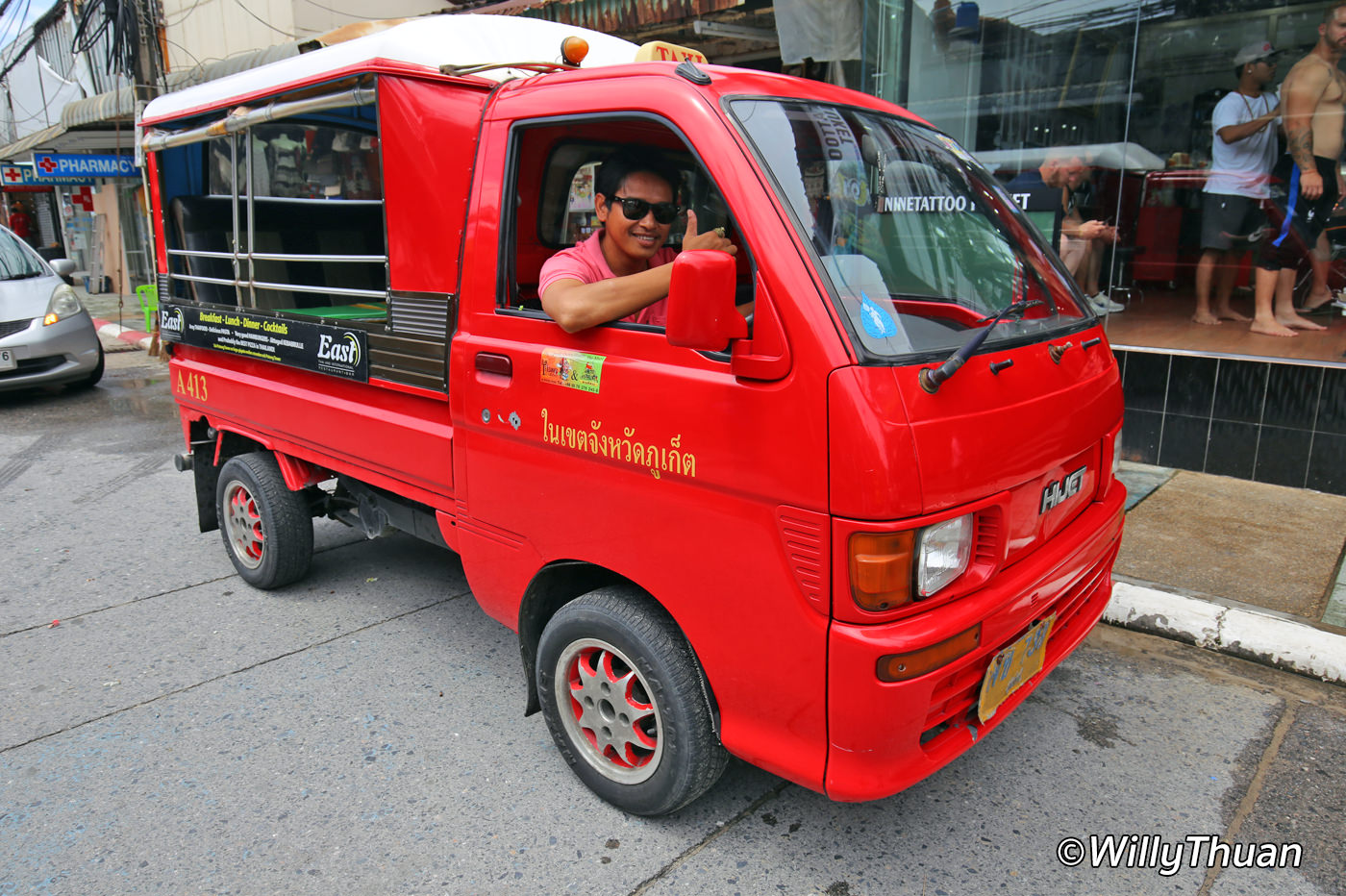 Take a ride on the wild side.
A lot was said about Tuk Tuks; what you read in the news is often the bad side. These iconic Daihatsu are colourful, small, fast and omnipresent. There is always a Tuk Tuk when you need one, which is very convenient. Some of them come with blasting sound systems and more flashing lights than a mobile disco… young travellers love going around in those, going from party to party. The wind blows through as you go, and it's a unique experience… Yes, Tuk Tuks can be more expensive late at night, but if you drink too much, a few extra baht are cheaper than a hospital bill. Don't drink and drive; ride a tuk-tuk to your hotel!
An amazing viewpoint
This 45 meters high white marble Big Buddha has been serenely sitting at the top of Nakkerd hill in the south of Phuket for more than a decade. It is impressive and is on many travellers' lists of places to visit. In addition, the panoramic view from up there is superb.
Diving in Phuket is easy to learn and affordable.
The waters of Phuket and the many superb islands are a diver's heaven. The sea is full of life and incredibly clear during the high season. Koh Phi Phi, the Similan Islands, Racha Islands and the King Cruiser wreck, to name only a few, are great dive sites for beginners and advanced. Many hotels work with dive centres to offer beginners diving courses in the hotel pool; it's affordable and easy. Liveaboards, day trips and even beach diving are available for all budgets and all languages.
Beaches are beautiful, but a visit to Phuket would not be complete without a walk through the old streets of Phuket town and the beautiful mansions and shop-houses. The town isn't big, so it's a great half-day of exploration. The city was recently renovated, and those ugly electric cables were buried, almost a miracle!
Take a selfie with a Ladyboy on Bangla Road.
Ladyboys in Phuket are very pretty, always very feminine and popular photo models… You can meet them in feather and glitter costumes on Bangla road, where they will urge you to take a photo with them, for a fee, that is. You can also enjoy the famous Simon Cabaret Show in Patong, where they perform every night. They can be so feminine; it sometimes is so hard to tell if they are boys or girls; we wrote a page to help how to recognise a ladyboy when in doubt
Rediscover what a real pineapple tastes like
Yes, there are a lot of great tropical fruits to enjoy in Phuket; mangoes, mangosteens and rambutan are among the favourites, so you might think pineapple is rather bland and common. Phuket pineapple is very famous and loved all over Thailand. It is very sweet, a little crunchy, and very flavoursome, so don't miss a chance to buy some at one of the street fruit carts or the market. Some local restaurants offer some free Phuket pineapple at the end of your meal, and to travellers' surprise, pineapple comes with salt and chilli powder on the side.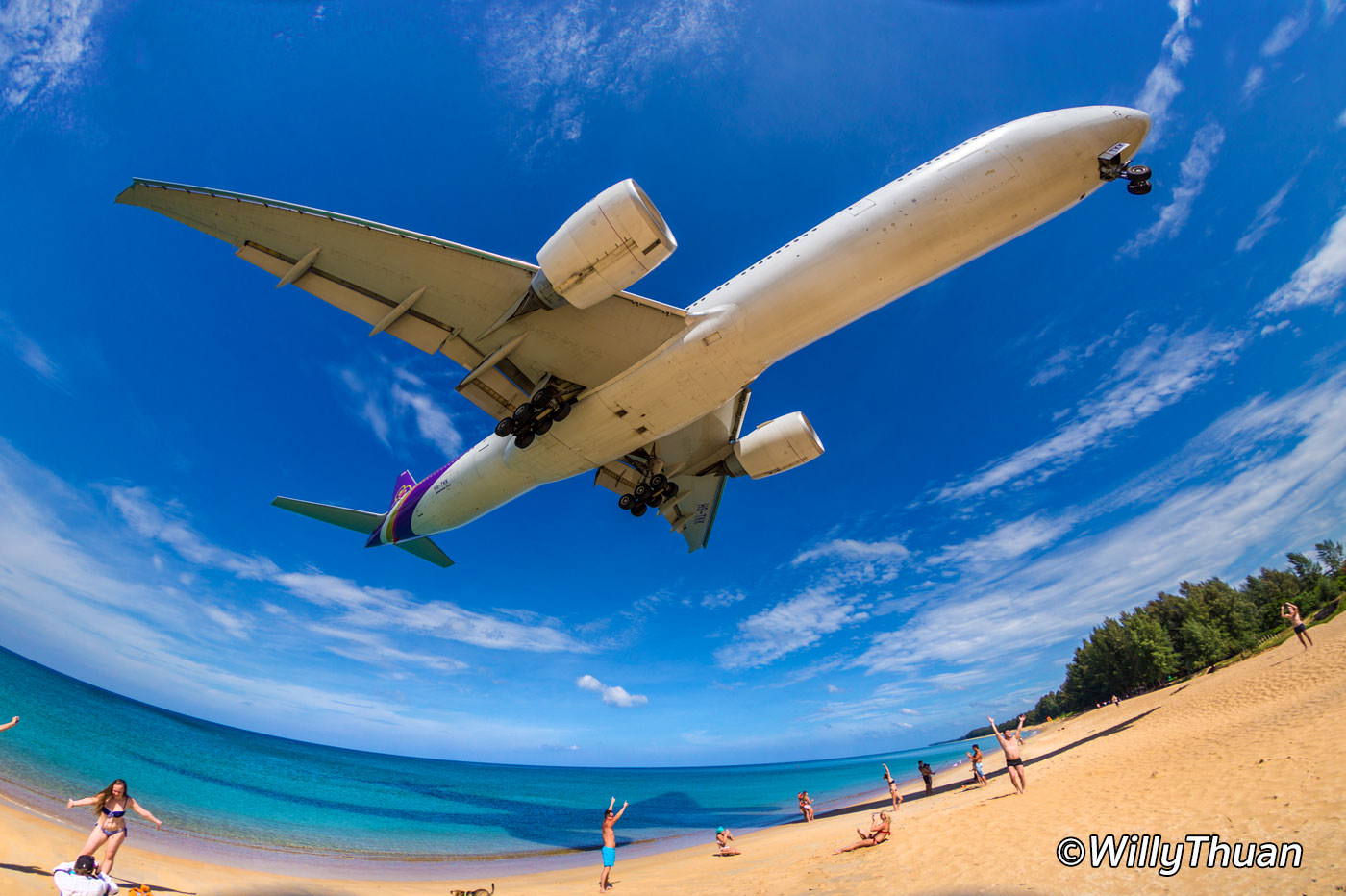 Get a selfie with a roaring plane just meters above you
Phuket is one of the few airports where planes hover extremely close to the beach when approaching the runway. The vision of planes landing this way is not new in itself, but standing in the path for a selfie has become incredibly popular since it became forbidden. Human nature is a wonder.
---