---
A long weekend in the Maldives
---
Spending a weekend at Como Maalifushi in the Maldives was a dream come true, even for us, who already live on the tropical island of Phuket. The Maldives always conjure images of a real remote paradise with the bluest water on earth, tall coconut trees gently swaying above the unreal white sand. Yes, it is expensive, and staying in one of those dream villas with private infinity pools is even more, but this was a one-time reward we promised ourselves to achieve. So we did and chose Como Maalifushi!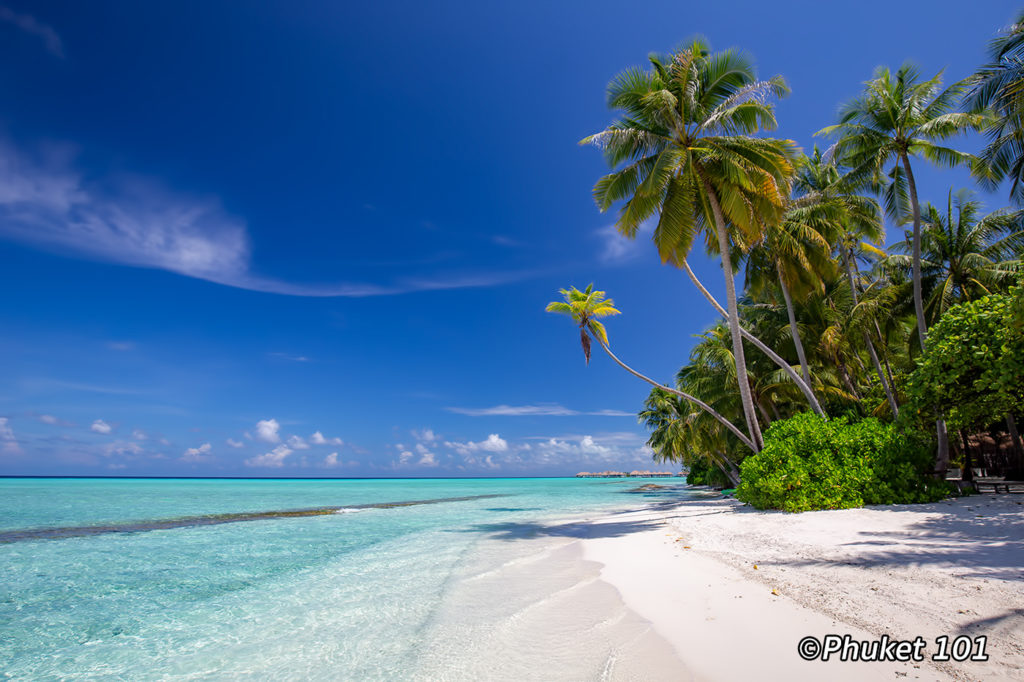 The day arrived, and we embarked on a Bangkok Airways plane to Male, the capital of the Maldives, for a 4.30 hours flight. From Male international airport, a Como Maalifushi van took us to the hotel's dedicated lounge at the seaplane airport. It was quite a sight—so many hydroplanes 'landing' and taking off in a non-stop aerial ballet. The most surprising moment was to see the black tips sharks swimming around the docked planes! We all know blacktips are not dangerous, but they triggered a lot of excitement among the boarding passengers!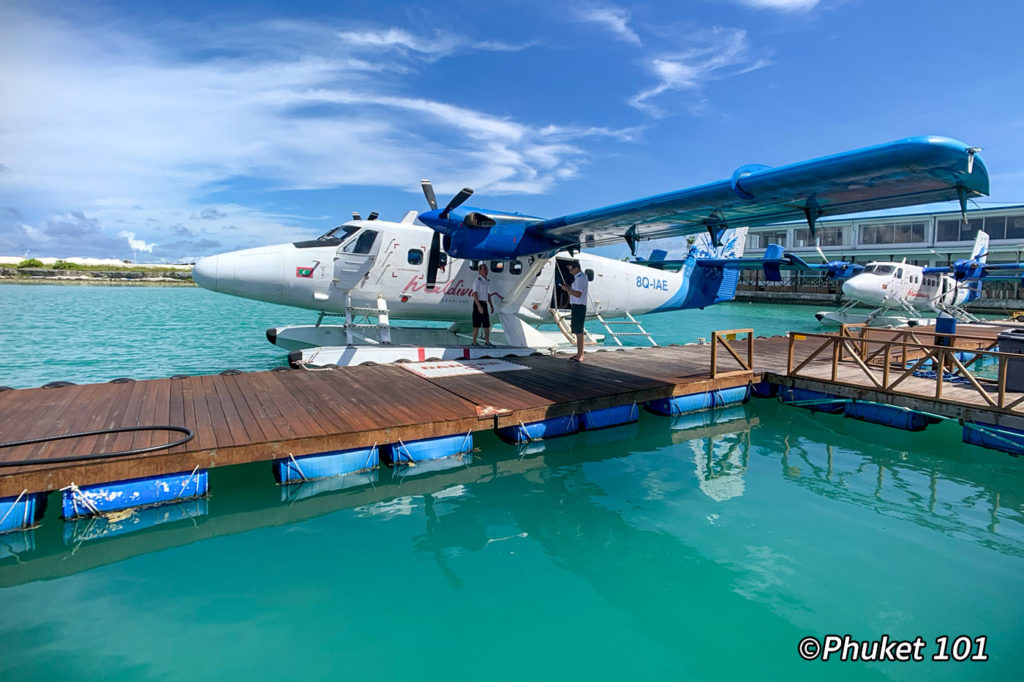 The 45 minutes flight to Como Maalifushi was the first clue that the Maldives was a destination like no other in the world. We were jaw-dropped by the incredible turquoise colour of the water surrounding thousands of atolls and islands.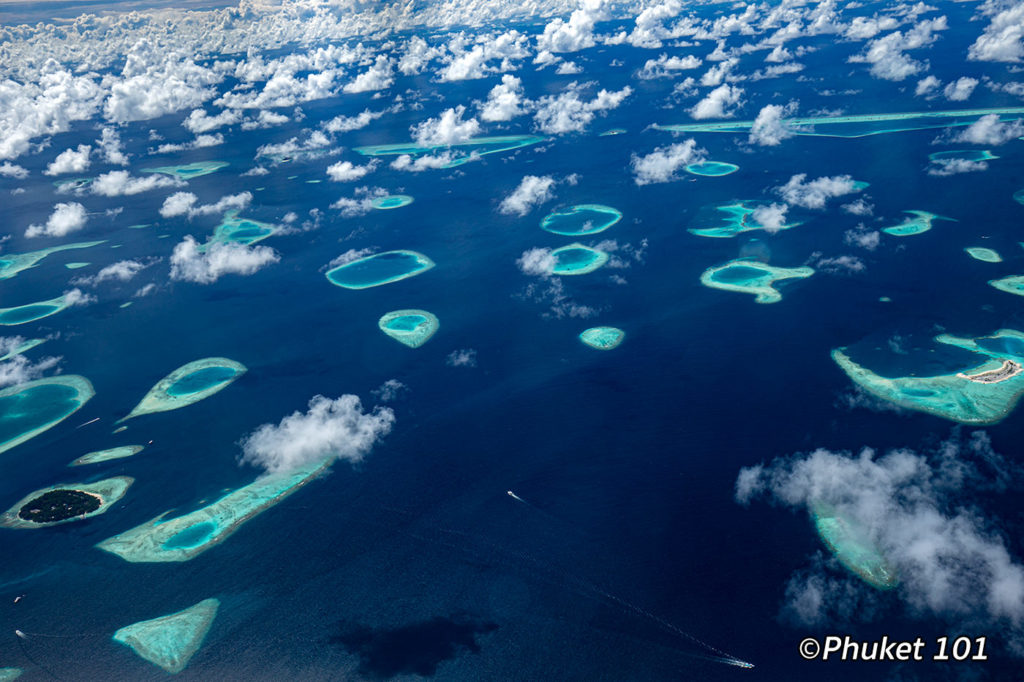 Most islands are deserted, but many are hotels, tiny villages and even small towns. To understand how the Maldives works, you need to imagine the Maldives like any country. Towns and villages are a few kilometres from each other, but instead of land and roads to connect them, you ride a boat in the morning to go to work!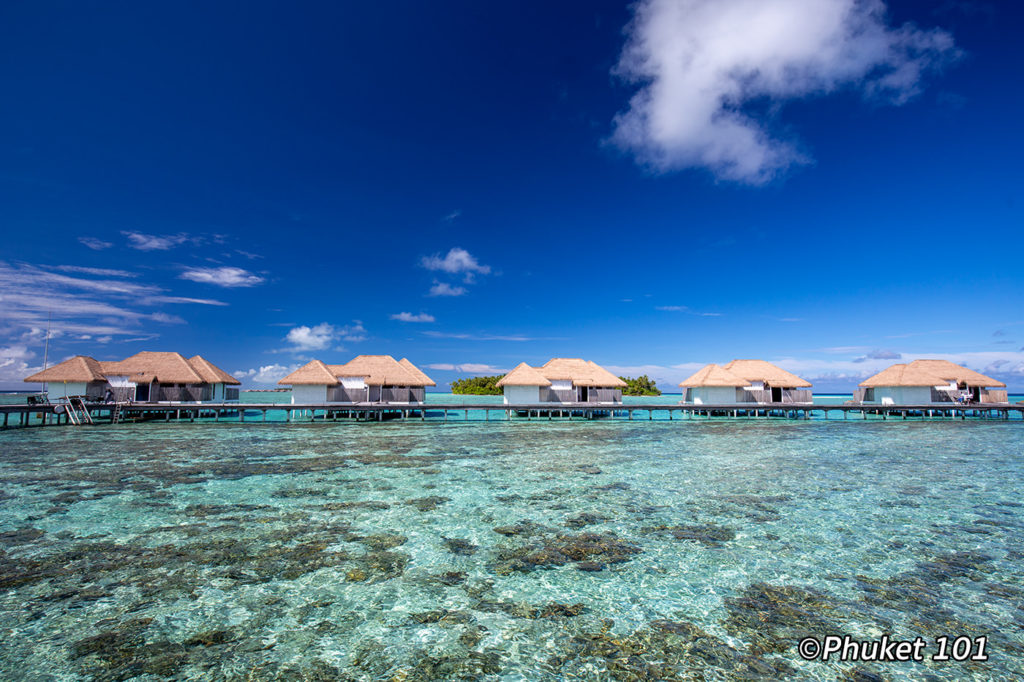 ---
The Water Villas
Our planes landed at a floating pontoon, and a shuttle boat took us to the hotel jetty nearby. The hotel team warmly greeted us and after a brief check-in, took us to our villa on an electric buggy. Like in most hotels in the Maldives, the villas are aligned on stilts along a narrow wooden path above the water, and yours can appear a little far at first. All the cottages come with bicycles, and you will soon rediscover the joys of riding on that relatively narrow bridge high above the sea.
The Water Villas at Como Maalifushi are vast, bright and offer a fantastic view on a pale turquoise blue ocean. With a large infinity pool, a big wooden terrace with a large shaded daybed in an open-air pavilion and loungers by the swimming pool. It is a real heaven to escape your busy life in a living postcard. The place is designed for you to relax and slow down. You can even walk down from your terrace directly into the sea, ask for free snorkelling equipment.
The indoor area is comfortable and bright; the bed is large and faces the sea. It is hard to describe how great it feels to fall asleep and wake up with the unobstructed view of the ocean in front of you. It is unique and unforgettable. Once you get up, there is a large indoor bathroom with a huge bathtub/Jacuzzi and an outdoor shower. The espresso machine is a much-appreciated feature because, with such a setting, you probably won't rush to the restaurant, but spend a long time enjoying your villas!
The layout and living space is perfect for spending a lot of time in your villa. Our holiday was a mix of work and relaxing, so it was excellent. Such an environment is ideal for concentrating without any stress, and once in awhile dip in your private pool to refresh yourself. Once in a while, the rain would approach and create a beautiful dramatic backdrop, then disappear in the back to reveal a rainbow. It is a unique experience.
---
Restaurants and dining
The resort features three superb restaurants: Madi, Tai and Thila.
Tai
Tai restaurant (which is Japanese for red snapper) is the best place to enjoy the sunset on a wooden deck, with a cocktail in hand. The terrace at Tai restaurant is where you will truly appreciate how special this moment is. After dinner, you will have the chance to see a lot of massive sharks swimming below the restaurant, attracted by the light. They are incredibly big and not dangerous, but it is quite a spectacle!
Thila
Thila restaurant is where you will enjoy your daily breakfast of lunch. The restaurant is both simple and inviting, with immense thatched roofs an no walls at all. You can enjoy the beauty of the tropical setting beyond the vast swimming pool.
---
---
The nearby island
You can book excursions with the resort: sailing, diving, fishing and other watersports, or cruises to a nearby island. With on three days, we wanted to take full advantage of the resort, our villa and the facilities available on location. We borrowed a kayak and paddled gently to the nearby island. It was a bit of exercise, but nothing overwhelming. We were rewarded by another heavenly setting with no one but us on the tiny isle, and again, those very tall coconut trees leaning over the clear water.
---
Conclusion
You have to see it the Maldives your own eyes to understand how it is, and a long weekend at Como Maalifushi is an unforgettable experience on many levels. The location, the hotel setting and the team all combine together to make your holiday will be one of a lifetime. well, we already planned a second visit! 😀
---
More Photos
---
Como Malifushi Info
Phone: +960 678-0008
Bookings and rates: see the rates for Como Maalifushi here
Facebook: https://www.facebook.com/comomaalifushi/
---
Como Malifushi Map